Cutting Wood (woodgrain papers, that is)
I love woodgrain papers. They are so versatile and add such wonderful texture to a page. Wood patterned papers are a fun addition to a kit, I always love using them. Despite their pattern they make a great neutral background, kind of like Kraft. I wanted to show you a technique I recently used on a layout using inner shadows (or inner bevel) to give my woodgrain paper some depth… almost as if it was a thin board of actual wood layered on my page instead of a flat piece of paper.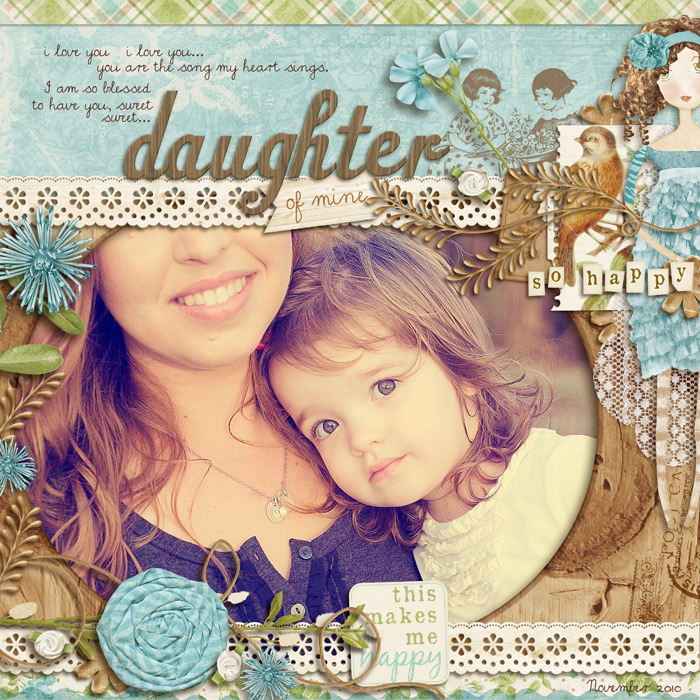 So, let's get started! Open a new layout and drop in your favorite woodgrain paper. I'm using one from A Happy Thought by Krystal Hartley (same kit used in the layout above). Clip a circle shape into the center of the paper. I used a layer mask to make mine so I could adjust the position, but you can also just use the circle selection tool and delete directly from the paper.

Now that you have your circle cut-out, go to layer > layer style > blending options (or simply double-click on the layer in the layers palette).

From the Layer Style window, check the box next to Inner Shadow. The first thing to adjust is the color of the shadow. Change your shadow from stark black to a warmer tone found in the shades of the woodgrain.

Double click the black color swatch to change it. In the Color Picker window, use the dropper tool to select a medium/dark shade from your paper, then click OK. You can go back and adjust this color later if it's too dark or light.
Now adjust the structure of your Inner Shadow. Here are the settings I used for mine:

Depending on the color of your woodgrain paper, you may need to increase opacity or change the blend mode to linear burn. Tweak with the settings to get the desired effect. Add a drop shadow, add a photo under the woodgrain layer, and start embellishing! (embellishments from Encitas by Krystal Hartley, mle card, and Tracie Stroud)
As you can see, this Inner Shadow method slices the wood at a dramatic angle… so one side of the circle has a beveled edge and the other is not. Another method for creating a deep cutout effect is the Inner Bevel, as compared to the Inner Shadow here: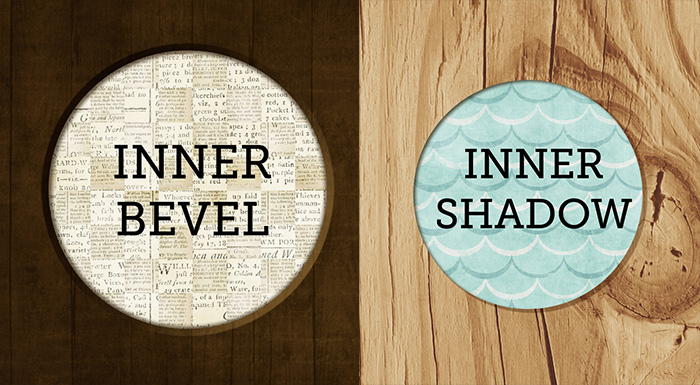 Here is how to create the Inner Bevel cut-out. Grab another woodgrain paper. For this illustration, I'm using a deep brown woodgrain from Kiss My Grits by Traci Reed and Krystal Hartley. Once you've got your circle cut-out, go to your Layer Style window again as we did the first time around. Select the box next to Bevel & Emboss, but do not check Contour or Texture. Now that you've selected Bevel & Emboss, change the color of the shadow just like we did the first time around… note that the color swatch is at the bottom of the window this time. Also note that you will have to select a color for the highlight as well! Use the dropper tool to select a light color within your woodgrain pattern.
Once you have your shadow & highlight colors selected, change your settings as shown:
Hey! What's this????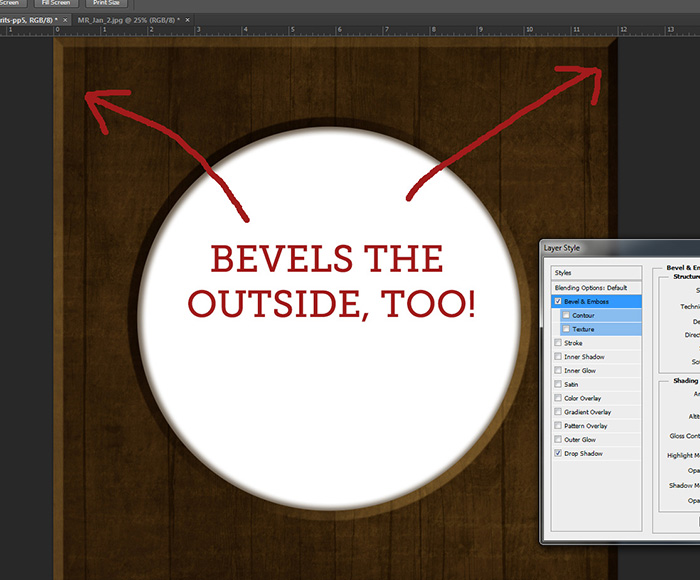 See what those arrows are pointing at? It's the one and only true flaw of the fabulous Inner Bevel technique… see, the entire sheet of paper gets beveled, including the outside edges. Advanced scrappers can right click on the bevel & drop shadow to create layers and crop away the bevel from the outside edges. Or, if you can't do that, a simple solution is to give your page a paper border like I did! Cover up the extra bevel, add a photo, embellish, and ta-da!  Here's a little quickie page I made from my tutorial example: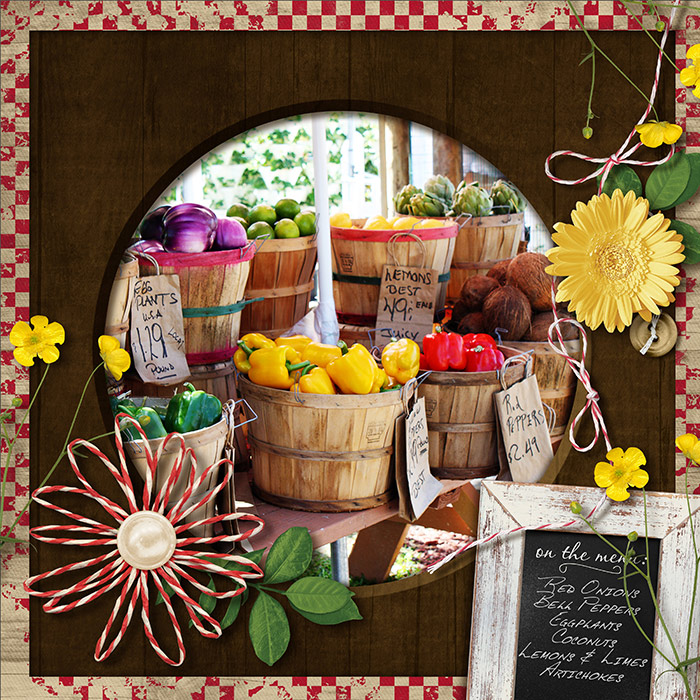 This technique can be used for all sorts of layouts… I hope it's given you a few new techniques and ideas for other ways to use woodgrain papers, shadows, and bevels! Thanks for following along with me! Happy scrapping!

~Brook (YepBrook)