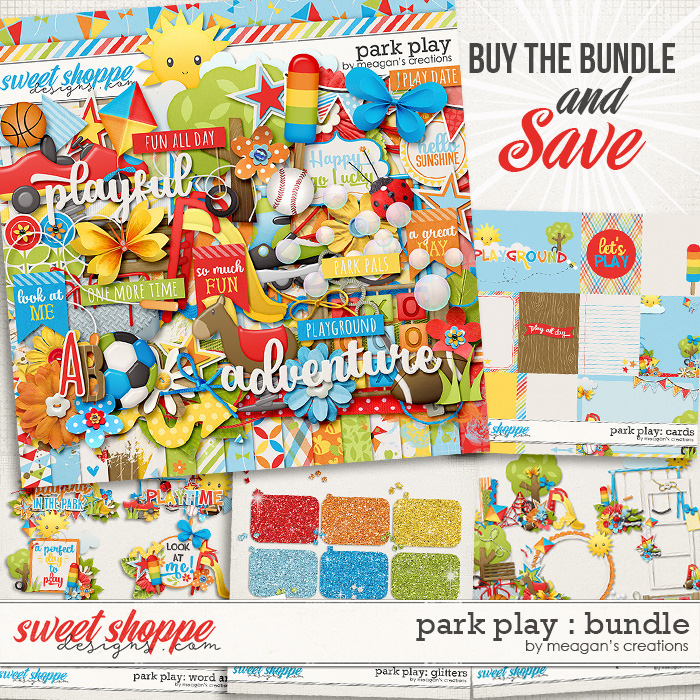 The entire Park Play Collection in one money-saving bundle! Scrap a playful and colorful album of your outside adventures! Includes the kit, cards, clusters, glitters and word art!
INCLUDES:
Kit: Park Play by Meagan's Creations designs. What a better way to spend a nice weather day than to play at the park. Included are twenty one patterned 12x12 papers, and ten grungy solid papers. Two alphas, one wood grain alpha including uppercase, lowercase numbers and symbols, and a second red hand written sticker alpha including uppercase, lowercase,numbers and symbols. This kit has ninety three embellishments including: two arrows, one banner, one baseball, one basketball, one bench, two bows, one set of bubbles, one bubble wand, two butterflies, six buttons, one climbing net, two clouds, eleven flowers, one football, two frames, some grass, inline skate, one jump rope, one kite, five labels, one lady bug, three leaves, one merry go round, three paints, one popsicle, five ribbons, two riding toys, one confetti scatter, one slide, one soccer ball, five stars, two strings, one sun, one swing, five tags, one tic tac toe game, two titles, one tree, seven word arts, and five word strips.
Cards: Park Play pocket cards by Meagan's Creations - set of eighteen journal cards, of eight different designs two orientations with two additional cards. Cards included: let's play, popsicle with place to journal, at the park label, striped bordered card with arrow, two clustered cards, play all day woodgrain card, playground title card, lined paper with stars, rainbow bordered card with space to journal and star. The cards coordinate with the Park Play digital scrapbook collection by Meagan's Creations.
Clusters: A set of 6 clusters in PNG format by Scrapping Creations by Thao using Park Play by Meagan's Creations. Includes a 12" border cluster, 2 frame clusters and 3 free-standing clusters to help you bring your pages together beautifully and quickly! Only the overlapping drop shadows are included so you can adjust them as you want.
Glitters: A set of 8 glitter styles in PS ASL file format and 12x12 JPEG sheets so you can add some sparkle and shine to your layouts!
Word Art: Park Play word art by Meagan's Creations - included in this set are six various word arts, clusters, and six stamps. Some are embellished and some are not so that they can be easily decorated to your liking or used as is. They are created to coordinate perfectly with Park Play digital scrapbook kit by Meagan's Creations. Phrases include: "Playing in the Park", "Playtime", "A Perfect Day to Play", "Look at Me", "Fun at the Playground", and "So much fun!".