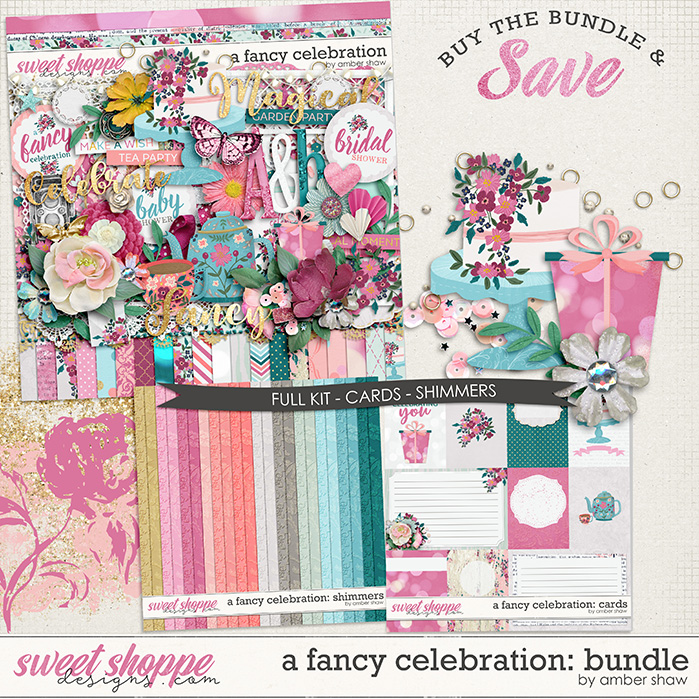 Who doesn't love to get all dressed up and do something really fancy with their girlfriends? I know I do! Celebrating milestones with the girls is always a good time, leaving us with the sweetest memories of friendships & family. This digital scrapbook kit is perfect just for those special, girly occasions like bridal showers, baby showers, birthdays, tea parties, anywhere where it's just the ladies! This kit has original illustrated art such as painterly florals, decorated cake, teapot, and a matching teacup. You won't find another scrapbook kit with these items in it!
Collection includes:

KIT: 1 embossed glitter alpha - provided in 3 color variations, upper & lowercase with numbers and some symbols, all provided as individual PNG files. 20 patterned papers - 11 solid papers. 2 banners, 2 bows, 1 butterfly, 2 buttons, 1 cake illustration, 1 camera sticker, 2 cards, 1 charm, 1 confetti, 11 flowers, 1 floral cluster illustration, 3 foliage, 2 frames, 1 gift, 2 hearts, 4 labels, 3 paint, 1 ribbon, 2 scatters, 1 stitches, 1 string, 1 string lights, 1 strips for journaling, 2 tags, 1 tea cup, 1 tea pot, 3 titles, 2 trim, 4 word strips.
CARDS: 10 pocket style journal cards (8) 3 x 4 and (10) 6 x 4
SHIMMERS: 24 shimmery shiny embossed digital papers in 12 colors. Each color provided in Floral Flourish and Fancy Tile patterns.