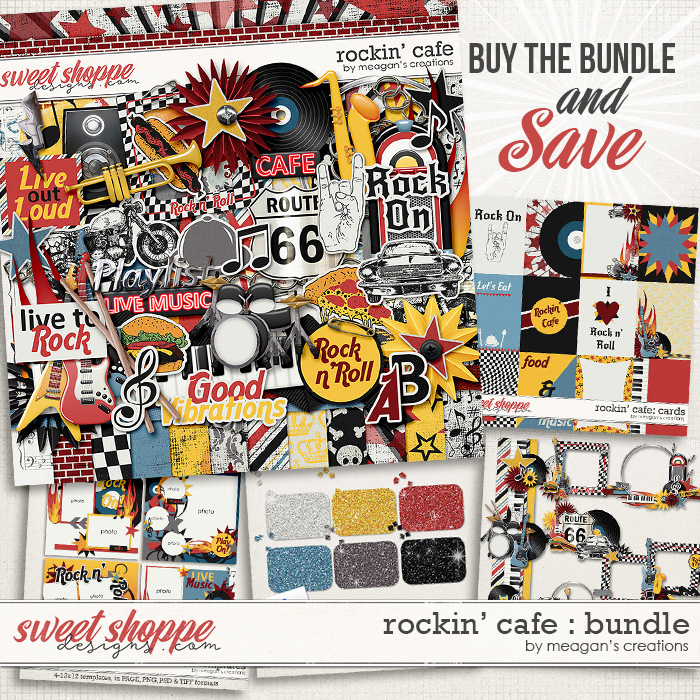 Get the whole Rockin' Cafe collection in one money-saving bundle! You get the kit, the cards, the glitters, the clusters, and the templates for one great deal! Includes the following packs:
Kit: Rockin Cafe Kit - Theme restaurants are always a fun place to visit. Good food and fun times will certainly follow. This kit can be used to document a fun evening out, or even scrapping your child's band concert . There are twelve patterned 12x12 papers, six solid papers, two alphas one burgundy colored alpha and one black alpha. Fifty-six embellishments include: one car, two chains, one dish, one drum set, one set drum sticks, two flames, three flowers, two frames, three guitars, one burger, one hand, one hot dog, one jukebox, one lightening bolt, one motor cycle, three musical notes, two paints, one set piano keys, two pins, one pizza slice, one vinyl record, four ribbons, one street sign, one saxophone, two screws, two neon signs, one speaker, four stars, two pieces tape, one trumpet, and six assorted word arts.
Cards: Rockin' Cafe journal cards by Meagan's Creations - set of twenty four journal cards, of twelve different designs in two orientations. Cards included: two clustered cards with space to journal, one card with phrase Rock On, card with record, card with phrase I heart rock n' roll, card with phrase Rockin' Cafe, food card with phrase let's eat, one checked pattern card, card with phrase food and music, card with piano keys, one star bordered card with space to journal, and one starburst card. The cards coordinate with the Rockin' Cafe digital scrapbook kit by Meagan's Creations.
Clusters: A set of 6 clusters made by the fabulous Scrapping Creations by Thao to coordinate with Rockin' Cafe by Meagan's Creations. Includes 3 frame clusters, a 12" border cluster and 2 free-standing clusters. Clusters include only the overlapping drop shadows and are larger than shown. Finish your pages beautifully and quickly with this set!
Glitters: A set of 6 glitter styles in PS ASL format and 12x12 JPEG sheets to coordinate with Rockin' Cafe collection. Add some sparkle and shine to your layouts!
Templates: Rockin' Cafe templates. Set of four 12x 12 templates in PSD, TIFF, PAGE, and PNG formats which can be used for PU/CU. This collection of four templates have plenty of spaces for photos and fun music themed elements perfect for scrapping an evening out or even a concert. These templates coordinate with the Rockin' Cafe digital scrapbook collection by Meagan's Creations.
PLEASE CHECK YOUR STASH. THIS PRODUCT WAS PREVIOUSLY SOLD AT ANOTHER STORE.