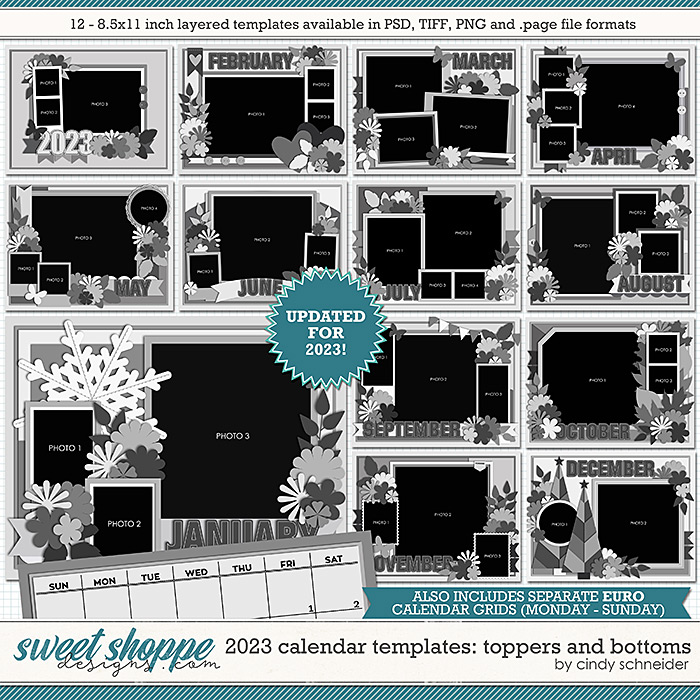 Create your 2023 calendar in a snap with these stunning monthly templates that are sure to get your creativity kicked into high gear!
PLEASE NOTE: THESE ARE THE SAME TEMPLATES AS MY 2020 to 2022 CALENDAR TEMPLATES, BUT WITH AN UPDATED COVER PAGE AND CALENDAR GRIDS. PLEASE CHECK YOUR FILES CAREFULLY BEFORE PURCHASING! IF YOU HAVE ALREAD PURCHASED THE 2020, 2021 or 2022 CALENDAR TEMPLATES AND WOULD LIKE TO UPDATE THEM FOR 2023, YOU CAN PURCHASE THE 2023 GRIDS HERE
This calendar collection contains 12- 8 1/2 x 11 inch topper calendar templates, a bonus cover template, a background bottom template, and well as calendar grids in png format for each month. These digital scrapbooking templates include basic drop shadows which can easily be removed or customized, and templates come in both .psd and .tiff formats. Also included are the individual PNG files for each of the templates, as well as the .page file for each template (SBC+3 users - photo drop-ins ARE included in the .page files) Separate 2020 Euro calendar grids (Monday to Sunday) are also included.