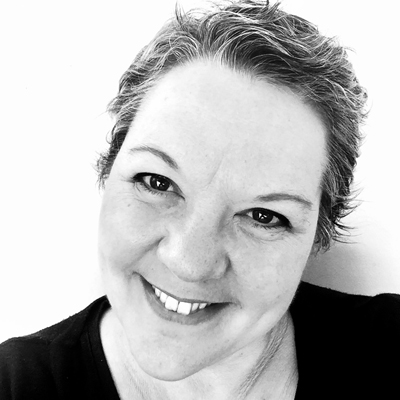 Where do you call home?
I live on the Gold Coast in sunny Queensland, Australia.
Tell us a little about your family…
My husband and I married on our 10th Anniversary and have been together for 23 years. We have one sweet little boy called Tige and a very aloof Russian Blue, called Sir Slinky.
When did you join Sweet Shoppe Designs & what's your favorite thing about being a member of the team?
I'm a newbie to the design team at Sweet Shoppe starting June 2020. I'm really excited to be here and look forward to working with the talented designers and scrappers in this sweet community.
How long have you been designing?
I began by designing free sketch templates in 2008 for scrapbook retreats and scrapbook stores. But it wasn't until 2012 when I set up a blog called Page Drafts that I offered monthly sets of coordinating templates along with paper scrapping tips and tricks. Then a few digiscrap friends suggested I offer my templates as editable layered templates and from there the The Nifty Pixel was launched in 2014.
What inspires you?
There are soooo many things that trigger an idea, it might be as simple as a colour palette, a word or an image that fires my creative side, then I just go with it. Though, 9 times out of 10 my end point is often somewhere completely different than where I kicked off from but thats what makes it so exciting seeing the designs reveal themselves.
Tell us a little bit about your design process…
Hands down Pinterest is my go too. It offers such a wealth of ideas but I have to be careful because its also a huge time waster hehe. I am partial to a mood board so have several secret boards that I've pinned lots of imagery, pattern and word art that work well together. These boards are constantly being edited but its interesting because you begin to see a theme unfold. I also like to check the World calendar for events. Every country celebrates an International/ National day of some sort so discovering what might be celebrated in the coming months is a great way to formulate an idea for a kit or template pack.
What is something we may not know about you?
My major at university was screen printing which might explain why I gravitated towards photoshop. There is something to be said about the order of layers that makes sense to me and gets my heart a flutter. I'm also an only child and tend to be pretty shy and awkward at times but hey a little cray cray is okay, right?