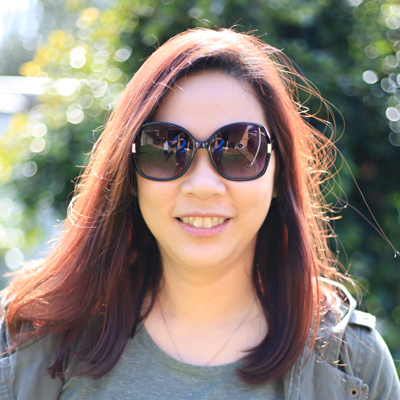 Where do you call home?
I am originally from Indonesia. Born, raised and married in Jakarta, my hometown. Then we got a bit adventurous, we moved to Singapore and lived there for almost two years before decided to move across the globe to United States. Landed in New York, worked and lived there for a couple years then, due to Kent – my husband's work, we got an offer to move down to Florida. Lived in Vero Beach, a beautiful little town by the coast. We loved this town and would love to call it home but life and work steered us to different way and now we currently live in Adelaide, South Australia.
Tell us a little about your family…
I've been married for almost 19 years to my dear hubby, Kent and have 2 kids, Rafael – who started uni this year and Rachel – who is currently in year 10. They are the main subjects of my layouts even though it's a bit harder now that they are older to get some photos.
When did you join Sweet Shoppe Designs & what's your favorite thing about being a member of the team?
I joined SSD back in 2012 during the Olympic Challenges Games, it was so much fun! I really enjoyed the challenges, got to know some scrappers and admire their works. It was amazing. I never left after that. I love the community in SSD, everyone is so helpful and supporting each other in our favorite hobby.
Where do you find inspiration for your pages?
I browse through pinterest and our gallery, I think we have a lot of talented scrappers in our community.
What are your must-have digi-scrap supplies and what kind of gear do you use for scrapping & photography?
I'm loving the artsy look on my page lately, so paints, splatters and scatters are my fave at the moment. I use photoshop CS5 and Canon 5D Markii for photography but I used my iphone8 a lot too these days. 
What is something we may not know about you?
I am a slow scrapper, sometimes it frustrates me but I learn to enjoy the process. I still wish I could scrap faster though (haha)