20 Questions with Misty Cato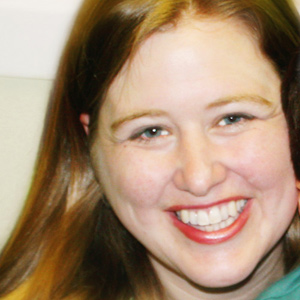 Happy 1st of the Month Sweet Shoppers! I'm back again to put another one of my fabulous designers in the spotlight! This month's featured designer is Misty Cato, and I'm sure you'll agree with me that Misty adds something really special to our team not only in terms of what she adds to our store, but also due to the wealth of information, ideas and tips she has rolling around in her head too! As usual, you're going to learn lots of neat things about Misty in our interview below and you'll also be able to snag her gorgeous Featured Designer kit, Smiles Are Never Wasted, FREE with your $10 purchase in the shoppe now through March 15th!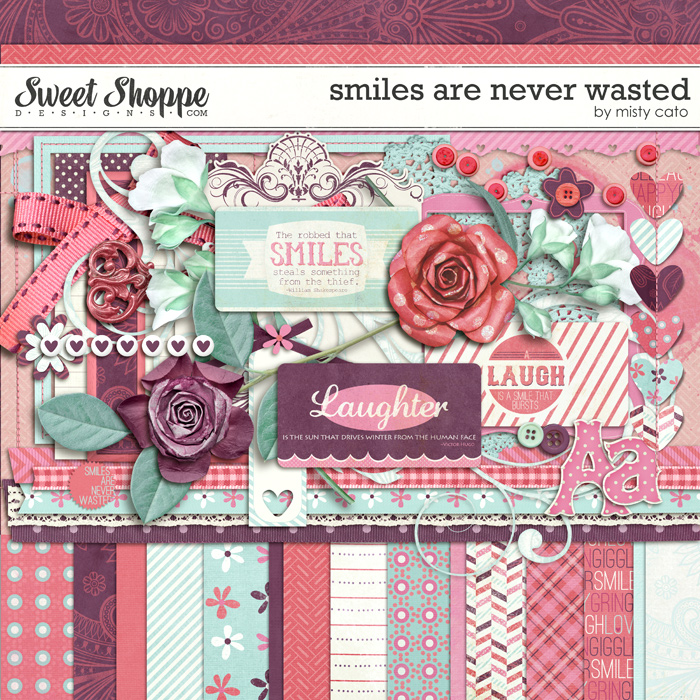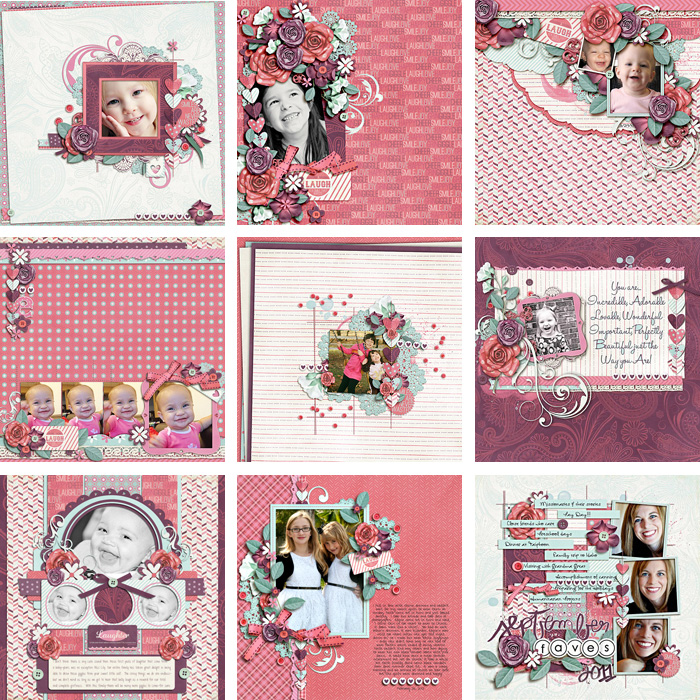 Just the Basics
Where did you grow up?
Oak Harbor, Washington.  It's a military town on Whidbey Island in the beautiful Pacific Northwest.
Where do you live now?
Everett, WA
What's your favorite guilty pleasure?
Sugar – jelly beans, conversation hearts, candy corn … apparently my taste buds never grew up.
Who's your favorite author?
At the moment I look forward to each new release from Louise Penny.   She writes wonderful mysteries that celebrate humanity and life. I want to crawl into her books, live in the small town of Three Pines and be friends with the characters in her books.
What is the last movie you saw?
My kids are watching Joseph: King of Dreams as I type this.  Does that count?
Who is the last person you spoke to on the phone?
I called my friend Wanda to ask if she could watch Mya due to a last minute scheduling fiasco.  She did. Friends are awesome.
Have you ever met a celebrity?
I met President Clinton briefly during his time in office.  Can't think of any others off hand.
If you were a crayon, what color would you be?
Blue green; According the Crayola Color Corner this indicates I'm cold, calm, relaxed, loyal and melancholy.  Probably accurate.
Have you ever wished on a star?
Yep, still do.
Read the book or watch the movie?
Definitely read the book.
Inside The Artist's Studio
Do you scrapbook too or just design?
I scrap, but not as much as I'd like.  My favorite pages are the ones that bring back the sweetest memories.  Like this one of my kiddos enjoying being together.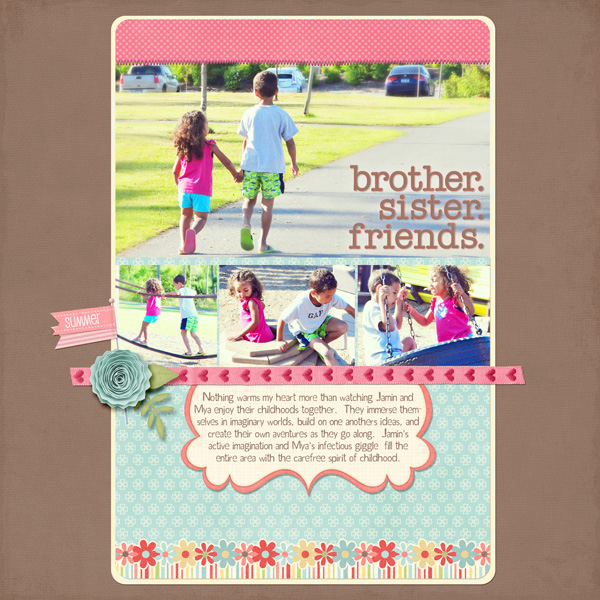 What is your "home office" or work environment like? Describe it or share a picture.
I have a tiny IKEA desk in the corner of our family room.  I'm afraid the surface looks a bit like a junk drawer.  Right now it's covered with bits of paper from school, a pile of cards and pictures and a pop bead necklace my daughter made for me.  You can see it in one of the photos below.  Think I should wear it to church tomorrow?  I would totally do something like that, BTW.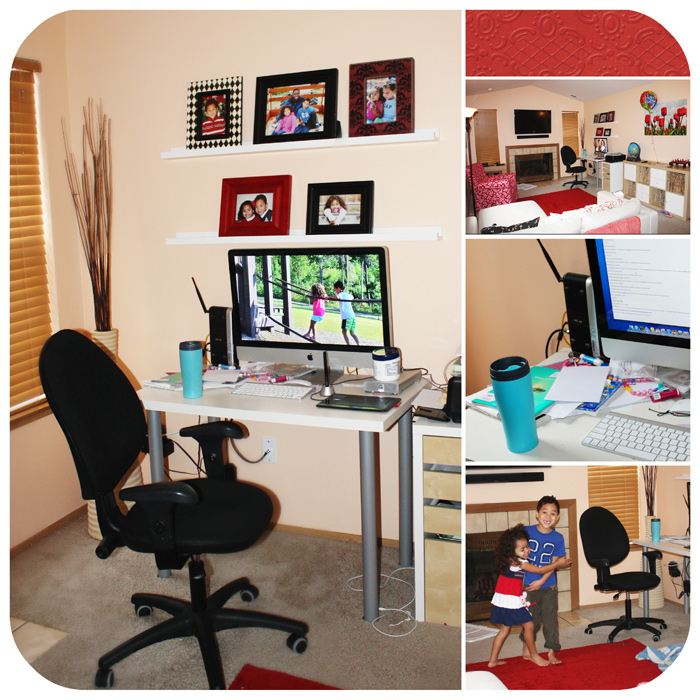 As you can tell by the photos, kids and coffee are never far away.  I like it that way.
What's your favorite thing about being a digital scrapbook designer?
I can set my own hours.  Making pretty things and playing with photos is much more fun that most other jobs I've done in the past.
What is the strangest thing you've ever taken inspiration from to design a kit?
Last week I released The Game is Afoot, inspired by Sherlock Holmes, which I didn't think was particularly strange, but as a friend pointed out, "blood splatters, revolvers and chalk body outlines aren't really appropriate for a scrapbook are they?"  I don't know, mobsters need to preserve their memories too right?  Still, I left out the gruesome stuff.
What kind of colors do you naturally gravitate toward and can count on getting great results from when you work?
I love working with rustic and nature inspired palettes.
Food For Thought
When did you first realize that life is short?
The night before my 8th birthday.  My mom lightheartedly said, "enjoy your last night of being 7, it will never come again."  I cried and tried to stay up the whole night so I wouldn't turn 8, I liked being 7.
When was the last time you felt lucky?
This morning when I looked into my Baby Girl's eyes.  Baby Girl, aka Mya, is 4, but always my Baby Girl. I just felt so blessed to be a mom to such precious children.
What is something you have always wanted since you were a kid?
A motorcycle.
What's one downside of the modern day world?
We spend more time looking at screens than we do people.
How would you describe your future in three words?
Together, let's go.
_______________
Now that you've gotten to know Misty a bit better, take a peek at some of her favorite products, and don't forget you can pick up her incredible and exclusive limited edition kit, Smiles Are Never Wasted, FREE with ANY $10 purchase made in the shoppe between now and March 15th!