The Quest for Birthday Adventure
Birthdays are always something I've tried to make very special for my daughters.   I love to celebrate each of them individually to show my kids how special they are to me.  For the past four years we have hosted my youngest daughter's, Hannah, birthday party at our house during Labor Day weekend.  We generally invite all of our family and friends – which means we start getting ready in June for the early September celebration (you know – new mulch, fix up the landscaping, clean the guest room, all sorts of house projects we've put off for the last year).  Well I decided that this year I wanted a break from that madness so I asked Hannah to find a place to host her birthday party.  Now, Hannah is not your typical 9, turning 10 year old.  She is more into building, video games, science, and sports versus tweeny girl kind of stuff.  So finding something that suited her personality and her age proved to be a bit of an adventure.   We spent weeks deliberating where to go, who to invite, figuring out what it would all cost and then changing our minds.  So, while my kids were taking their summer vacation with my in-laws I came up with an idea that was sure to win my daughter's heart.
We decided to allow Hannah to pick 3 friends to accompany here to Disney Quest in Orlando for the day.  We live about an hour and half from Disney so I knew we were going to have to talk to parents to see who would allow their daughter to attend.   After narrowing down our huge guest list we had a list of 5 potential girls to come with us.  I challenged my daughter to pick girls that she really liked talking with at school or playing with at the Y so we could build some new relationships.  (She's going off to middle school next year and I am determined to help her learn how to grow some new friendships this year so that the transition is easier for her next year.)
So using my digiscrapping skills, I came up with the invites below – which we handed out after I had already talked to each girl's parents'.  (I didn't want to give a girl an invite and have them really want to go and then their parents not be comfortable with us driving them so far.)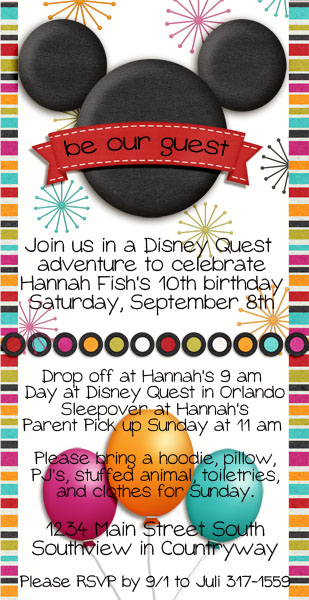 Party planning – We brainstormed on ideas for a good party favors and came up with giving each girl a plastic basket that they could bring in the car with them.  Inside we provided the following:  two little bags of chips for snack,  lip gloss,  a ring pop, a Crayola mini coloring pack that included some color sheets and markers, erasers that look like cassette tapes, 2 mini tubs of Play Doh, a Bath and Body Works hand sanitizer inside a glow in the dark holder (perfect for cleaning hands after playing games) and a glow stick necklace that Hannah beaded for each girl with black and glow in the dark beads.  To have the favors match our Disney theme, Hannah helped me cut out Mickey heads using my Cricut.  She then cut out each girl's name using the Cricut and I glued them on using a Zig 2 way glue pen. This is how they turned out.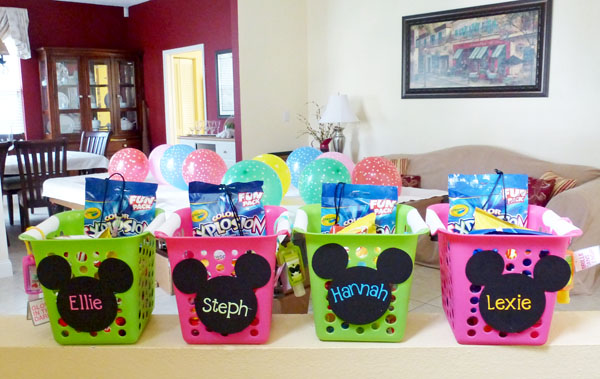 The big day arrive this past Saturday and after a lot of worrying if the girls would have a good time, would anyone get home sick, would everyone behave, etc.  I have to say that I feel like the most blessed mom in the world!  Remember: these were new friends she invited so I didn't know these girls very well.  All three of them had different personalities and none of them really knew each other and they all got along beautifully! Plus we ended up taking my older daughter Katie (13) with us (even though she said she didn't want to go) and she ended up being the leader of pack with the girls in way that really worked well.   So what did we do on our adventure?  Here's a few pictures to show you –
We left the house around 9:30 am and headed to Orlando.  After picking up our tickets at a discount ticket broker we spotted a CiCi's pizza which seemed like the perfect place to grab lunch before we started our gaming adventure.  What's better than pizza, pasta (salad for mom) and some brownies????  Here's the girls spelling out CiCi's by the sign (the birthday girl is the blonde one in the teal shirt).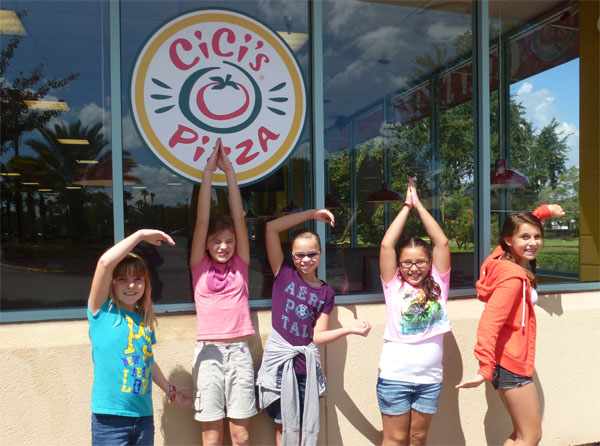 Next we headed to Downtown Disney to start our gaming adventure.  Before we went in a took a picture of each girl with Hannah and then a few group shots.  The individual shots were for a final thank you gift I planned to make the next morning before the girls went home.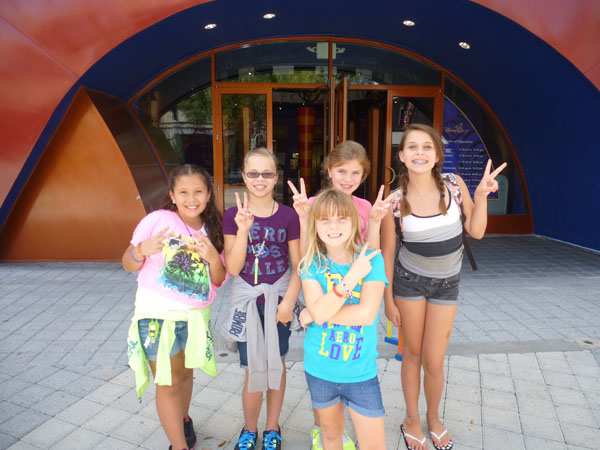 Once inside we had fun exploring each of the 5 floors. Here's a few things we learned about Disney Quest: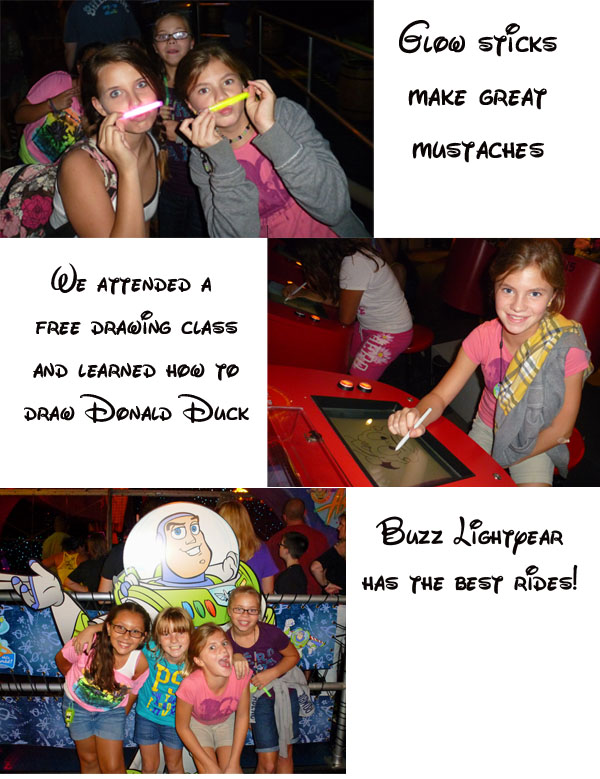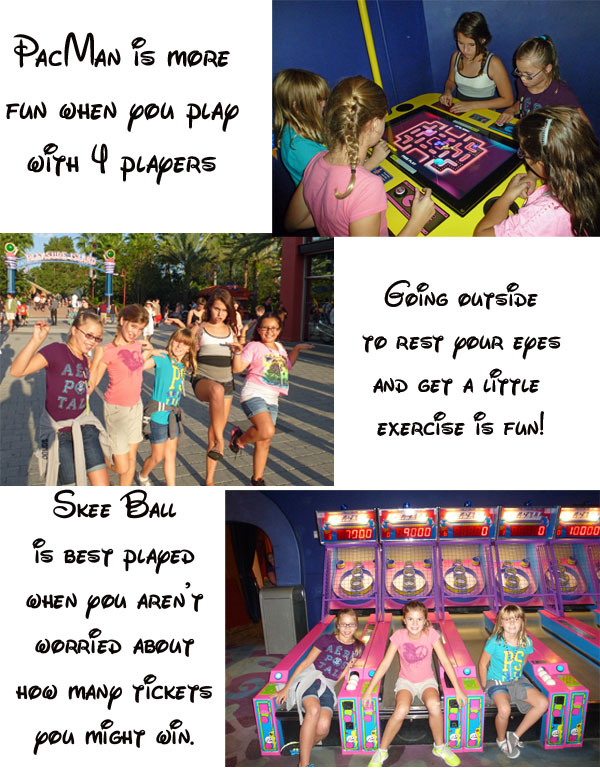 We left Disney Quest at about 10:45 and drove back to Tampa.  About 30 minutes in to the ride all the girls were fast asleep in the backseat.  Of course, this was just a nap because when we got home they were all wide awake again.  My husband and I left the girls downstairs with a movie, some popcorn and the TV remote and we finally fell in to bed for ourselves.  It was such a fun day and I have to say that I"m soooo proud of my daughter.  She has picked the nicest girls to be her friends.  Which made the day even more sweet!
As I cooked breakfast Sunday morning, I also made these cute keychains for the girls to put on their backpacks.  I thought it was a great way for them all to remember such a fun day!  I got the key chains at the Dollar Spot at Target early in August.  They were the cherry on top of a fantastic birthday!!!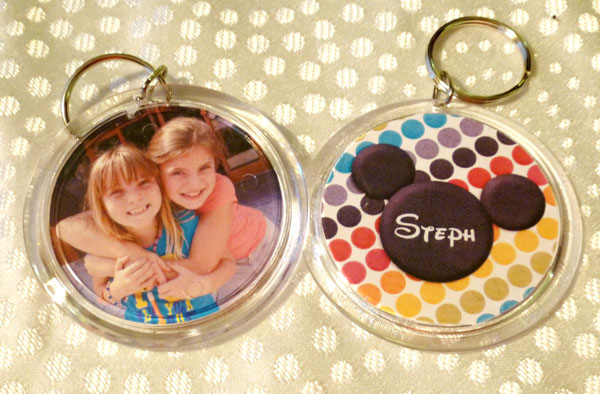 Supplies used to make invites and key chains:  Be Our Guest by Libby Pritchett