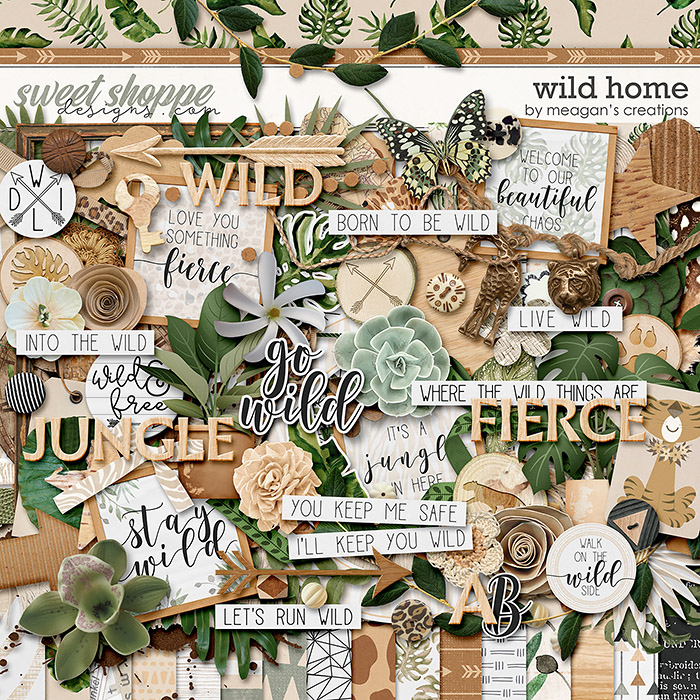 CLICK HERE to save $$$ when you buy the bundle!
Is your home wild and crazy but full of love? This exotic collection with browns and greens had neutral beauty to match all of your photos and show of the wild side but caring side of your home.
The kit includes 2 alphas- a wood block alpha and a scriptive black sticker alpha. Also includes 16 patterned papers, 12x12 JPEG size with designs including palm leaves, watercolor leaves, organic prints, wood, zebra, triangles, cheetah, arrows and more. Also includes 9 solids papers. There are more than 90 unique elements including: Three arrows, one bead scatter, three bows, one butterfly, seven buttons, two charms (tiger, giraffe), one clock, two clouds, one confetti scatter, one dirt scatter, one piece of ephemera, two feathers, fourteen flowers, three frames, one key, five labels, nine leaves, two paints, two potted plants, seven assorted ribbons, five stamps and signs with the following sayings: welcome to our beautiful chaos, it's a jungle in here, love you something fierce, stay wild, wild and free, two spinners, one staple, two stars, one set of stitches, one set of stitch holes, one set of stitches no holes, four strings, three tags, four titles: fierce, go wild, jungle, wild, two stamps: go wild and walk on the wild side, two word arts: walk one the wild side and wild with arrows, four wood slices: tiger palm frond, arrows, paw, seven word strips: born to be wild, I'll keep you wild, into the wild, let's run wild, live wild, where the wild things are and you keep me safe.