Sweet Shoppe Saturday 3/14
Hey, hey Sweet Shoppers! Your favorite day of the week is here, and WOW! what an incredible new release weekend it is! Our designers pulled out all the stops this week in so many ways with a phenomenal assortment of new goodies that are going to make your mouth water, a brand new featured designer freebie from Ru and a special project that's near and dear to my heart too! I have lots to tell you about this week, so let's get right to it with your first look at this week's amazing new stuff…

As I was looking through this week's new releases behind the scenes as they were being posted in our staff forums, I was seriously blown away by how fun and pretty everything is! The colors are amazing, there's just the right amount of whimsy and I am always so impressed by our designers' ability to be creative week after week! There are loads of new goodies and something for everyone, so be sure to stop by the shoppe to take a closer look at all of this week's yummy treats!
Like always, this week's newest treats will be 20% off through Sunday at 6am EST, but if that wasn't sweet enough, Ru of Studio Basic has created an awesome kit for her Featured Designer spotlight, and it's yours FREE when you spend $10 in the shoppe between now and March 26th! Be sure to check out our blog for lots of inspiration using her festive holiday kit, Lucky Me…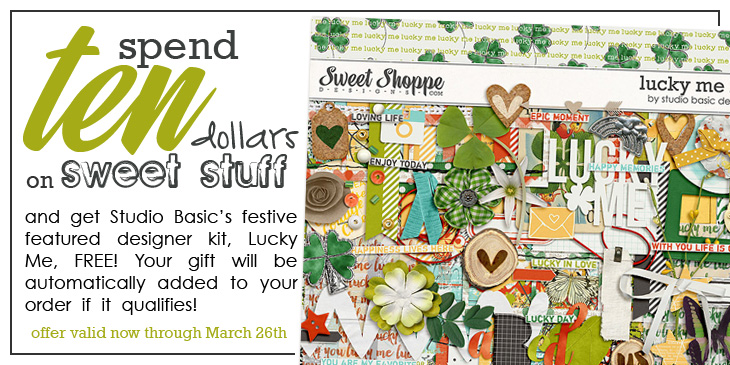 Finally, as I mentioned earlier, I have an extra sweet project to share with you guys tonight that's near and dear to my heart. As you guys know, in the midst of the excitement of our Birthday Celebration last month, we completely overhauled our shopping cart and server. What you didn't know is that at the time, our servers were being DOS attacked by thousands of IP addresses in China which nearly brought our business to a standstill. I had to make an on the spot decision to upgrade everything to protect our business, and while it was incredibly stressful, the upgrades have been amazing, and I think you guys will agree that the shoppe is more beautiful and functional than ever!
All of that said, the entire process was completely unexpected and very costly for me, so our amazing team of designers voluntarily stepped up to create the ultimate grab bag as a fundraiser for our home on the web! Home is Where the Art is, is an absolutely stunning collection of products which all coordinate together to provide a scrapping experience that's perfect for your favorite memories…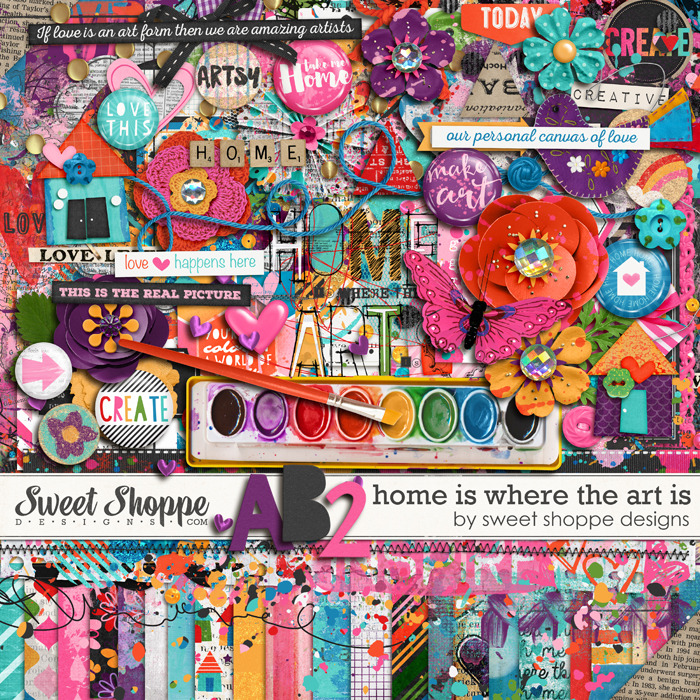 While that preview is stunning, it doesn't begin to show you just how gigantic this collection is. There are 25 individual packs in all and you can see each pack along with some beautiful inspiration from our Babes right on the product page! Home is Where the Art is just $10, and it will be available throughout the remainder of March. These products will never be sold individually, so we hope you'll show your support for our home on the web by picking up this amazing collection before it is gone for good. Each and every purchase is truly appreciated.
On that note, I'm off for the week, but I'll be here in your inbox next weekend with lots more sweet new stuff! Until then, keep making memories and scrap MORE!