Spotlight Sunday – Crystal Livesay

For the spotlight this Sunday, we're shining it on a community member! After thinking long & hard, Crystal (crystalbella77) kept popping into my head. Her layouts are drool-worthy & she's always a positive light in the forums. I've asked her some questions & I loved reading her responses. I hope you love them too! Everyone, meet Crystal Livesay…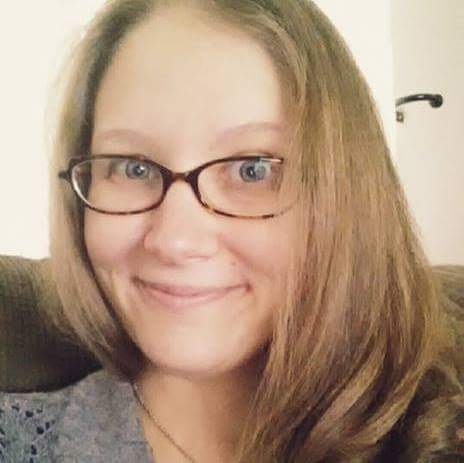 Can you introduce yourself so we all know a little more about you?
My name is Crystal and I live in rural Indiana with my hubby of almost 13 years. We have 4 amazing and beautiful kiddos ages 11 -7 months that I get to stay home with and homeschool. It's lots of fun! I am [obviously] a family person and a complete homebody. I kind of hate Indiana and would love to move South to where it is warm pretty much all year round, but it hasn't worked out yet. Maybe one day though! You can find me watching movies or one of my many TV shows I am addicted to if I am not chasing kiddos around! I used to be an avid reader but have struggled getting back into it since having baby 7 months ago. Soon I hope you will find me with my nose in a book!

How long have you been scrapping? How did you get into digital scrapbooking?
I have been scrapbooking for about 7-8 years now. When I was pregnant with my daughter Stella a friend of mine from my baby name board told me about it and I have been hooked ever since! You might recognize her around SSD as Mari/ lovely1m. It was perfect for me with little ones running around and on the way! It has been such a source of friendship (from the community) and creative expression for me. I honestly feel like I would be lost with scrapbooking. I had never paper scrapped, so it was all brand new and I love that I started out in digi. It's cheaper and cleaner LOL!
Can you describe your page workflow?
Most of my pages anymore are for the SSD Bingo challenges and CT work. So, I look at the kit that I have to work with for that week and then I read through the challenges on the bingo card and start envisioning a page in my head. Usually when seeing the challenges I can picture what I want to do with it and what story I want to tell, because it's important to me to at least have a few sentences on my pages. Then I look through my photos for the photo I was picturing. It is the first thing I open up in PSE. I get it all edited and ready to go. Next I open everything up. All the elements, papers, journal cards..etc. that I am planning on using. That is what I love about PSE and one of the biggest things that keeps me from switching to PS. I love the photo bin!!! As I am making my page elements are generally last to go on and I make some general shapes and clip papers to them. I love using papers as elements with fun shapes and things. Then I tweak from there, by throwing things on there and moving it around. If I can't find a place for it I remove it. It's kind of a random process but it works for me.
What's a must-have for your layouts?
Flowers. I think if you were to look in my gallery you would struggle to find a page without flowers!
Do you have a favorite "Go To" font?
CK MamaO! A friend found it years ago but it wasn't for sale anymore so she figured out who made it and contacted them and they said she could just have it and give it away to people. I LOVE it! It is what I wish my handwriting looked like.
Do you have any specific types of kits/products you're drawn too? Or maybe certain colors?
I have 3 boys, but I am always drawn to girly kits. The more flowers the better! HA! I also really love kits that have an introspective type of theme because I really like to do photo-less pages that are journal heavy. I find it very cathartic and a huge part of my own personal healing process when I am going through a tough time. I wasn't lying when I said I would be lost without scrapbooking. It has helped me heal through the most difficult times in my life. I love that and think it's really special. I hope designers know how big a part their art can be in a person's life.
Do you have a favorite tip to share?
Be creative and experiment and have fun with finding your style! I think people all have their own individual styles and stories to tell. Work on finding it and I promise you, you will be so at peace in your scrapbooking if you aren't right now. When I first started it was hard for me not to compare myself to everyone else who I admired and be a little jealous at their amazing teams and things. Once I found my style and what worked for me, it totally changed my perspective on scrapbooking in general. It was amazing! That's not really a technical tip…but a good word of advice I think. If you want a technical tip, one of my most favorite things to do is to shrink a template down. Cindy can tell you that I do it to hers all the time! I LOVE her style but it's not quite me, so I take her amazing templates and shrink them to more clustery and then it's more me!
I LOVE seeing your BINGO layouts in the gallery! What's been your favorite BINGO Challenge you've done so far?
OH! This is tough!!! The BINGO challenges have been so good for me!!! My favorite ever might be March Bingo 24: Scrap 24 photo from 7 days. It was sooooooooo hard! I mean I struggled badly with it. I worked on my page for days. For real. In the end I loved the result and was soooo glad I did it that I plan on doing one every month!  Here is what I had come up with: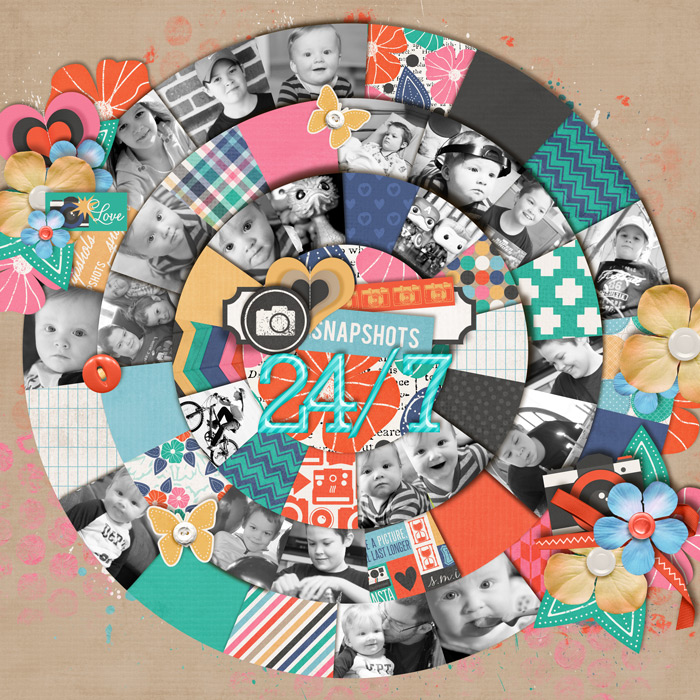 The blog is yours! Anything else you'd like to share? I'm so boring that I can't think of anything else anyone would want to know about me! Ha!
I asked her to pick 4 of her favorites pages. She said she picked one with each of her kids. How loving is that?
I love this one partially because I took it on Gabe's 11th birthday. He's just too big and so handsome. I also love it because it shows my style completely. A boy page full of flowers LOL!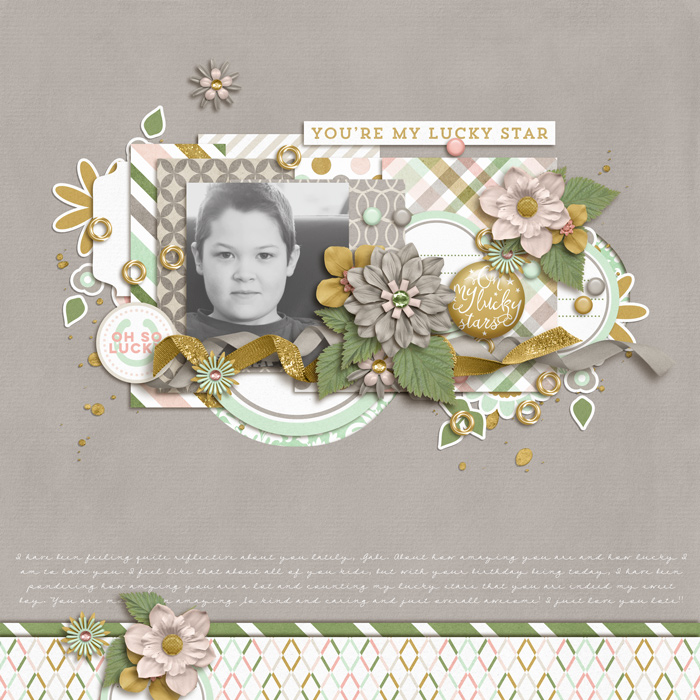 This photo is totally Ezra. Everything about it. He had been DYING for it to be warm. Winter seems to be the hardest on him and he was soooo glad it was finally nice outside!
My sweet girl. Most of my pages are of Stella because she lets me take photos of her the most. I just loved this one. Merida has always been one of my favorites and I think she's totally underrated! I was so excited when Stella wanted to dress like her for Halloween! She was such a beautiful Irish princess!
Sweet baby Jasper. I picked this one because it's one of the newest ones and it's so cute! Look at the baby chub!! I can't handle it! Like not even a little bit! He's way too cute for words!