Spotlight Sunday – Eveline Chowindra

For the spotlight this Sunday, we're shining it on a community member! You guys listed quite a few different community members that you said inspire you in the 20 questions thread during iNSD. Eveline (eve11ne) was someone that kept getting chosen so I thought it'd be great to get to know her better. I've seen her pages and am on a few different creative teams with her. She's fantastic! And her layouts? Beautiful! I've asked her some questions & I loved reading her responses. I hope you love them too! Everyone, meet Eve…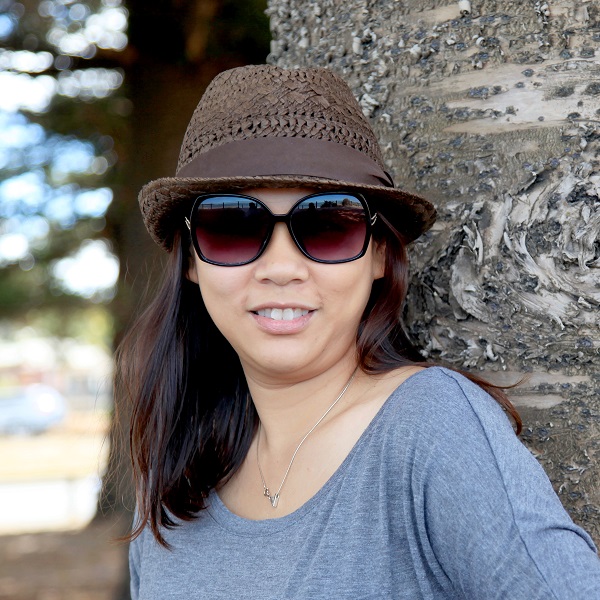 Introduce yourself!
Hi, I am Eveline, usually called Eve. I currently live in Adelaide, Australia with my hubby of almost 14 years and two kiddos, Rafael (13) and Rachel (10).
Originally we are from Indonesia but we've been living in 4 different countries for the past decade, from Indonesia, Singapore, USA (New York & Florida) and now Australia.
It's been quite an adventure to live in different places and we are ready to settle down but we're not sure if we want to live in Australia for good.
We are quite set here at the moment due to hubby's job but maybe we'll go back to the States later. I am a stay home at the moment but I've been working part time for the past 2 years during school hours and really loving it.
The part time job gave me time to pick up the kids from school and be with them after school doing other activities but also gave me a chance to be out there and just be me. I'm in job hunting at the moment so wish me luck!
How long have you been scrapping? How did you get into digital scrapbooking?
I've been paper scraping since I was pregnant with my daughter but soon after she was born, I found out that it's hard to keep up. I couldn't finish a page during her naptime and the clean up is just too much to handle so I started looking at digital scrapbooking.It took me few years to really get the hang on it and find my style but for the past 5 years I think I found what my style is and what works for me. I started active in forums here in SSD in 2014 (the summer games) and I regretted that I didn't do it sooner because they really helped me improve my skills in scrapping.
Describe your page workflow.
I'm a huge template user. I use template in 99% in my page. I usually started with the kit that I want to use (either for CT or personal page) then pick my photos then I'll go through my template stash.
I use CS5 to scrap and I always start with the template, modify it if it's needed then place the pictures. From there I go to papers, starting at the background papers then all the layered papers. When all papers placed, I play with the elements.
Scatters and paints are the last thing I put on the page before shadowing.
What's a must-have for your layouts?
Flowers but I'd love some foliage/leaf to go with them, it feels wrong to me to see the flowers without the leaves… lol
Favorite go-to font?
I am Darcy's fans, I have many of her fonts but DJB Please Explain looks a lot like my handwriting so I use it the most.
Do you have any specific types of kits/products you're drawn too? Or maybe certain colors?
Usually I'm drawn to the colors, I love bold colors combo.
Favorite tip to share?
Join the forum and the challenges and read lots of tutorials. They will help you to find your style and improve your skills. When I first started in digiscrap, I was too shy to join any challenges thinking 'there's no way I can make a page like that example page'. I dived into the summer games challenges here in SSD in 2012, thinking that prizes were too good to pass on. Well, of course I didn't win anything but everything change since then. I learned a lot and became more confidence to do more challenges.
Favorite BINGO Challenge you've done so far?
I think the Feb Bingo #15 : ROYGBIV. I immediately thought of a rainbow when I see that challenge so I know that my page will have rainbow in it (either photo or element). Then I saw the amazing Mystie's take on this challenge, I know that I'm going to scraplift it in the rainbow shape. It took me almost 3 days to finish that page but I loooove the result so much!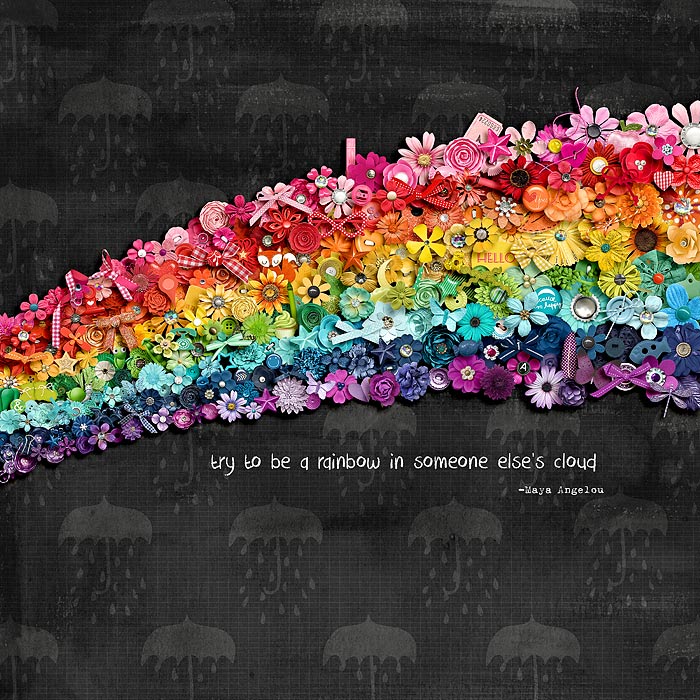 Anything else you'd like to share?
It's okay not to follow the trends. For example, I love seeing all the art journal pages. I tried few times but it's not my style so I accepted it. I still made one or two pages when I feel like to but I'm okay not doing it.
I asked her to pick her 4 favorite layouts. Check them out!
I love this pic of my daughter and would love to highlight it so the big photo placement on this template is perfect for that!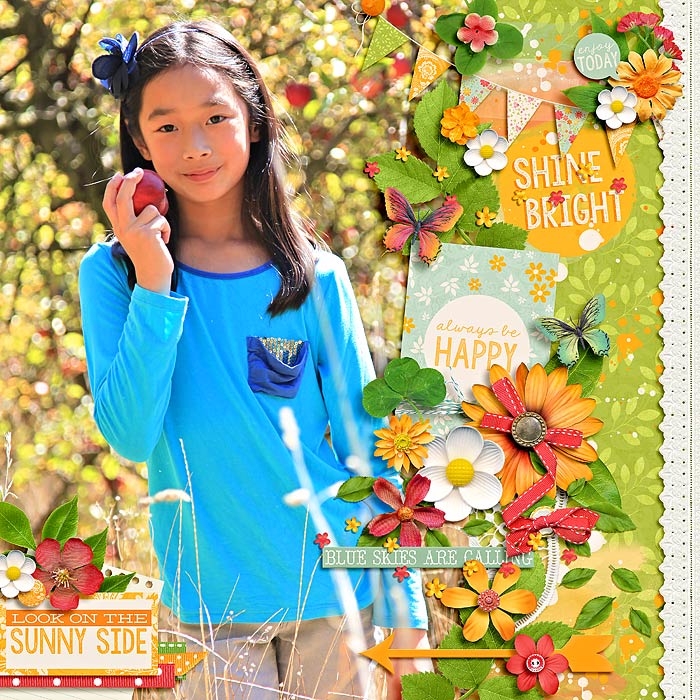 My husband is rarely in the photos because he hate having his picture taken so I was lucky that day to get good pictures of him (smiling!) with the kids.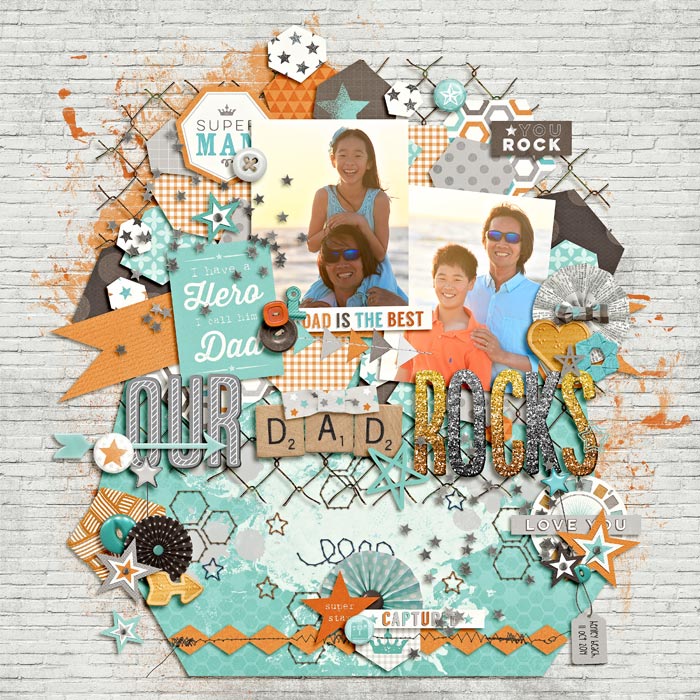 I usually struggle with photoless page but when I started making this page, it flowed flawlessly that I'm a bit surprised myself.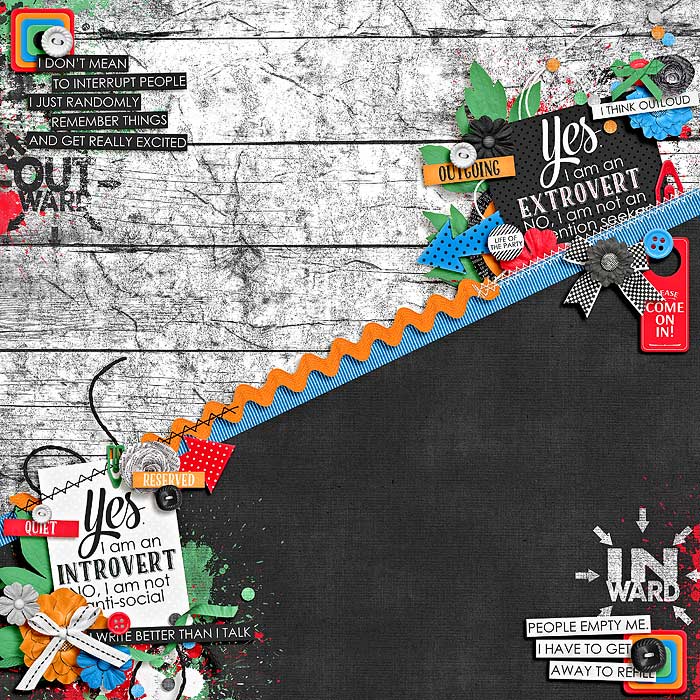 The last one is AAM page, another thing that I struggle with and is not in my comfort zone. I really need to make more of this to challenge myself.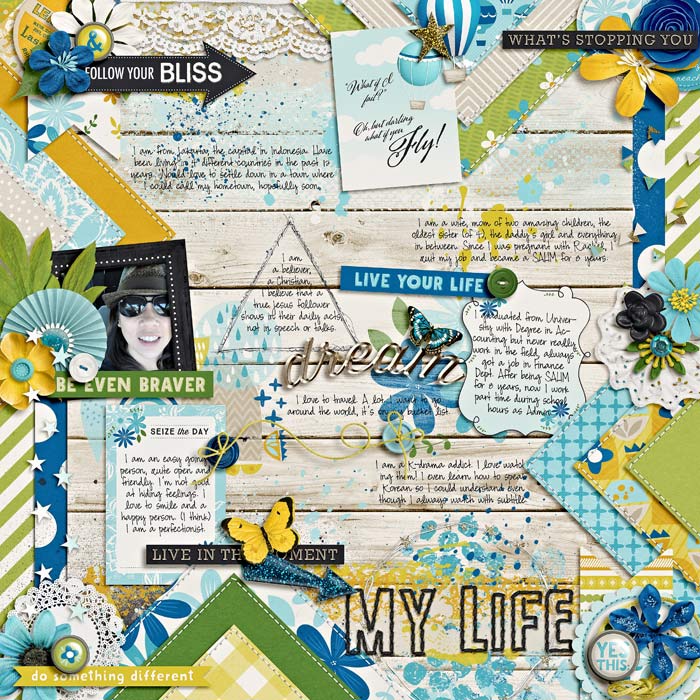 I hope you enjoyed getting to know Eve a little bit more! She's such a joy in our community and I love seeing her around. Hope you've been inspired by her like I have! Have a great week scrappers 🙂