We're adding a fun, new weekly post during this summer! We're having the SugarBabes hang out with Stacia and I on the blog. They're going to post whatever they want. That could get pretty surprising, right? 

 This week it's Lydia's turn!!
Hi everyone! I'm super excited to be here on the blog today to share something fun I've been working on. Today is Father's Day here in the USA. One of my favorite things about Mother's Day is seeing the cute questionnaires that my kids fill out about me. Unfortunately, my kids know exactly how old I am, so that particular question is never flattering. Haha. 😀 But, it's always fun to see what other interesting things they will say about the things I like to do, my favorite food, and the things they love about me. However, when Father's Day rolls around, my kids don't always answer those same questions about my husband. I think that's because it's something they usually do at school, and Father's Day happens during summer break. So, this year, I'm going to make sure my kids fill out some questionnaires for their dad; we need to spread the love!
A quick Google or Pinterest search will bring up plenty of free printables or lists of questions that can be used for this kind of project. I'm pretty lucky to have an amazing dad that I really admire and respect, so I decided that I wanted to answer questions about him. After looking at all the options, I put together my own list of questions that are more applicable for an adult father/child relationship but still fun and mostly lighthearted. This is the list I came up with:
What is your dad's name?

How old is your dad?

What is you dad's favorite way to relax?

What is something your dad always says to you?

What is something your dad works hard at?

What is your dad's favorite food?

What is your dad's favorite treat?

What is something your dad has taught you?

What is something your dad is really good at?

Where is your dad's favorite place to go?

What makes your dad happy?

What is your favorite memory with your dad?

What is your favorite thing about your dad?

Why do you love your dad?
How do you know your dad loves you?
After I answered these questions about my dad, I decided to scrap the list. And, this is what I came up with: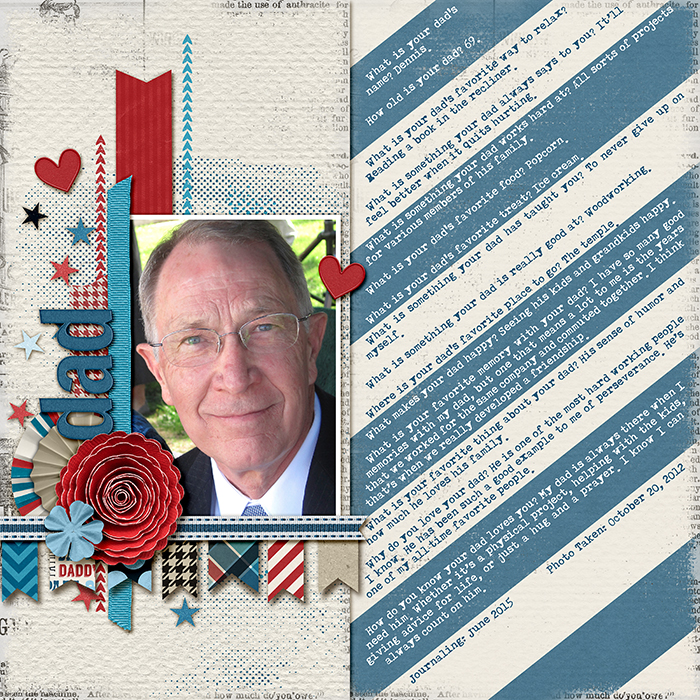 If you decide to create a layout about your dad, your kids' dad, or someone else who has played the roll of a father in your life, I'd love to see those layouts! So be sure to link me up in the comments! And, to all the wonderful dads out there . . . HAPPY FATHER'S DAY!!