Sweet Shoppe Saturday 9/12
Hey Hey Sweet Shoppers! Your favorite day of the week is here, and after a lively Summer of Love here at SSD, things are back to normal around here this week! There are still lots of yummy treats for you to enjoy from our amazing team of Designers and Babes, so let's get right to it with your first look at this week's sweet new stuff…

We hope you've enjoyed our sweet summer of extra Spend $10 offers, but we're back to our regularly scheduled program of a new Featured Designer offer every two weeks starting now! This week, one of our newest designers is in the spotlight and I think you're going to love what she's created for her special offering…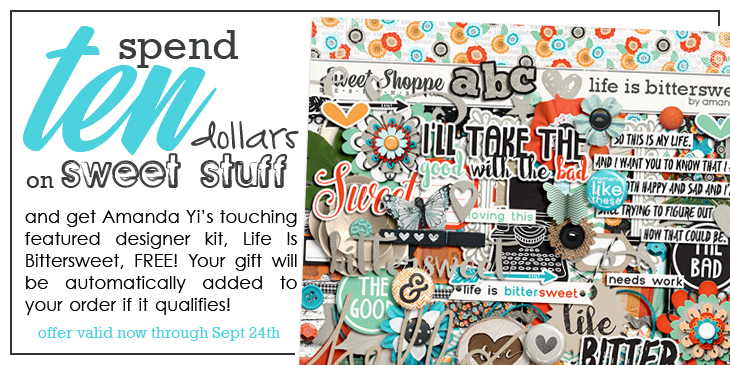 Seriously, how fabulous is Amanda? We absolutely adore having her on the team, and I love seeing what she creates week after week! If you're already an Amanda fan, you're sure to love her latest kit and if Amanda is new to you, this beauty is the perfect way to try her out just for buying what you love anyway! It's a pretty sweet deal, so head to the shoppe before the 24th so you don't miss it!
In other news, I wanted to make sure that you knew our newest Bingo card has been available since September 1st! There's still lots of time to scrap along with our monthly challenge system so you can score some Sweet Rewards which add up to amazing savings in the shoppe…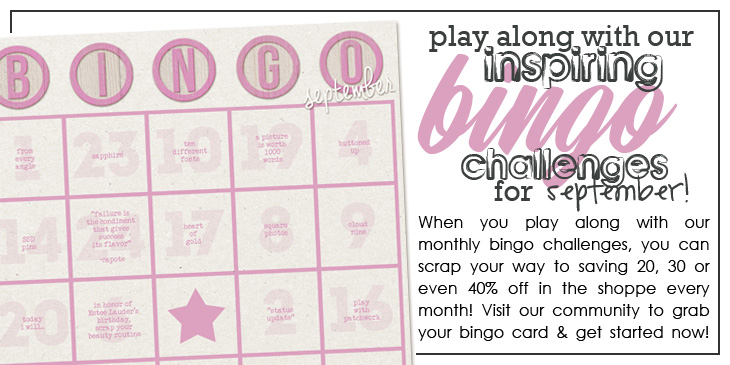 Our Bingo Challenges are an easy, fun and inspiring way to earn discounts every single month here at SSD, so I hope you'll jump in and get involved if you aren't already playing along!
On that note, I'm off for the week, but I'll be here in your inbox next weekend with lots more sweet new stuff! Until then, keep making memories and scrap MORE!