Spotlight Sunday – Anelia
For the spotlight this Sunday, we're shining it on a community member! This time, we're getting to know Anelia (username is the same too!), who has some eye-catching layouts in the gallery. She's always all-in with the Bingo Challenges and keeps some of the conversations going in the forums.
Meet Anelia…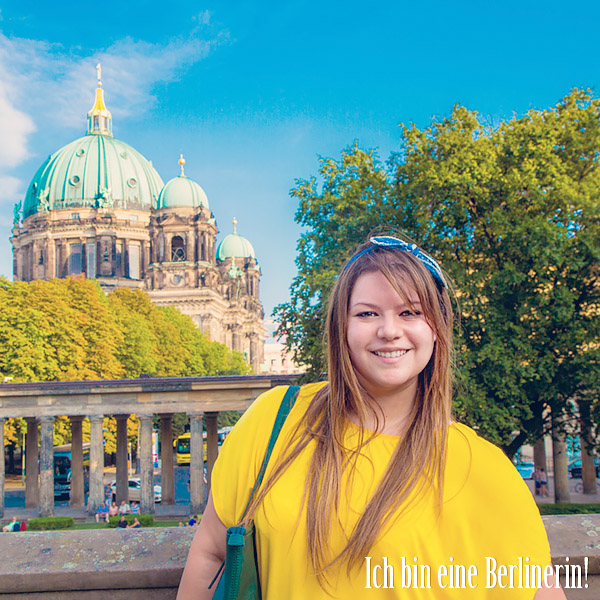 Can you introduce yourself so we all know a little more about you?
I know it's hard to guess but still — my name is Anelia, I'm a 31 years old Leo. I live Bulgaria which is small country with amazing nature in the eastern part of Europe. I've been married to my husband for 3 years now but we've been together for 10 years. I don't have children yet but I'd really love to have one and I really hope 2016 will be my year to make this dream happen. I work as a graphic designer in a local private language school and I really like my job. I absolutely love pets and dogs being my soft spot, I currently have one dog which I love to scrap from time to time.
Aside from scrapbooking, a few of my favourite things are photography, cooking, singing and traveling. I absolutely LOVE singing and usually do it just for no reason. It often happens that I open my eyes in the morning and I start singing a tune — as if I was dreaming about it lol.
I currently study German because I am slightly obsessed with Germany but honestly, this language is very difficult for me and I just hope my will to learn won't fade away too fast 😀
What else? Except that I really love taking selfies, I'm not sure what else to share — there's many things I could say about me because there's too much stuff I love, enjoy or can do but let's stop here and see what's next.
How long have you been scrapping? How did you get into digital scrapbooking?
I've been digi scrapping since February 2009. I had absolutely NO IDEA what scrapbooking was — neither traditional, nor digital. I was hanging in a local forum where girls (like Blagovesta Gosheva who I "met" there) were having fun practising their professional or hobby Photoshop skills and we used to organize different challenges like retouch, collage, makeover, etc. There were some ladies who obviously knew about digital scrapbooking and were posting some freebies from time to time to help us with our challenges. At first I couldn't get the idea because I was thinking "Hm, why would I need to do this to my photos?" but then I just got fascinated by the possibilities. I was actively scrapping for 3 or 4 years, I was CTing for a few designers and then I took a brake. In the next years I was just occasionally scrapping for my own pleasure and was shying from stores because I didn't want to get too involved.
Can you describe your page workflow?
Sure. I usually start with the photo(s) I want to scrap. Then I choose the kit I want to use and then starts the hard part lol. I'm on original layout scrapper most of the times so the first thing I do is place the photo on my blank page and then I add the background paper. This part actually takes the longest because I try at least half of the paper in a kit and sometimes I like more than one choice and I either try to combine them or really decide which one is a better match. The next step is the photo frame – either I use a frame element from the kit or I go simple with a white stroke and subtle shadow. Then I add the title (if I want to have one) because I always want the text to be clearly visible. After that comes the easy and my most favourite part in the process which is clustering — I absolutely enjoy layering flowers, leaves and embellishments. I experiment and have fun and want to add this, that and that. I can go crazy with the clusters if the kit is versatile enough. If there's going to be some journaling, I add it and when I'm ready with the whole thing, I can apply some finishing touches, depending on the layout. On some of my layouts I like adding a glow which I do with the brush and play with the blending modes.
I sometimes like to use templates because there's a variety of AWESOME ones and when I want to scrap with a template, I first open the template and if there are things I don't want to have on my page, I remove them and start with the photos, paper, title and then embellishments.
What's a must-have for your layouts?
Emotion and aesthetics to me are a must-have for each and every page I make.
For layouts I intend to print a DATE is a must-have. I really want to know when the photo was taken because let's face it – we all forget!
Do you have a favorite "Go To" font?
Yes. I have tons of fonts and am usually drawn to handwritten fonts but nothing beats Helvetica for me. When I don't want a handwritten font, I most often use Helvetica. I can clearly read Helvetica without wondering if this is "a" or "o".
Do you have any specific types of kits/products you're drawn too? Or maybe certain colors?
I always enjoy kits with a few unique elements like illustrations, doodles or creative word art.
I equally love themed and everyday, all-purpose kits. Colors are what makes me decide whether to buy or not. I'm drawn to either rich traditional color palettes or trendy ones. I like contrast. I'm not very much into darks or neons though. Orange is the color I somehow avoid. I am immediately drawn to kits with pink and gold. I also love templates with a lot of photos or non-traditional design.
Do you have a favorite tip to share?
When I was making my first steps in digital photography I used to read a lot of online tutorials. In one of those tutorials I learned the most important thing for photography which I believe applies to everything if we want to improve our skills. The tip is:
PRACTISE, PRACTISE, PRACTISE.
Then the tip had a second part which absolutely applies to photography AND visual art and that is:
LIGHTING, LIGHTING, LIGHTING (think shadows, direction of light, rings a bell?)
So today I'm sharing the best tip (for me): PRACTISE, PRACTISE, PRACTISE. LIGHTING, LIGHTING, LIGHTING.
Ok, here's a bonus one: when you resize your photo to upload in online galleries, you might want to sharpen it a bit 😉
I LOVE seeing your BINGO layouts in the gallery! What's been your favorite BINGO Challenge you've done so far?
I enjoy most of the pages I've done for the bingo challenges over the last months but without any doubt, the page I made for THEN and NOW prompt this month is my favourite one because when I started it I just wanted to use an older and a newer picture of myself. I'm in LOVE with the capital of Germany — I've visited Berlin for 4 times since 2006 and so I decided to use a picture from my first trip there in 2006 and my last one from last year 2015 because in those two years I visited the same sightseeing – the palaces in Potsdam. When I was looking at the pictures from both trips I noticed I had visited the exact same sights in the gardens and decided to use two pictures from both trips. Then I noticed I had pictures in the exact same spots and I had posed in the exact same way. This is curious because I'm not in front of the building's entrance but rather at the back of the Chinese Tea Pavillion which is round and you can actually take your picture anywhere because the whole thing is adorned with those golden pillars and statues. I had taken exactly the same photo of the building's top too. So when I placed those photos on my blank page I decided it could look cool and I'm really happy with the result. When I showed the page to my husband he was impressed and we both decided this is my most interesting layout so far.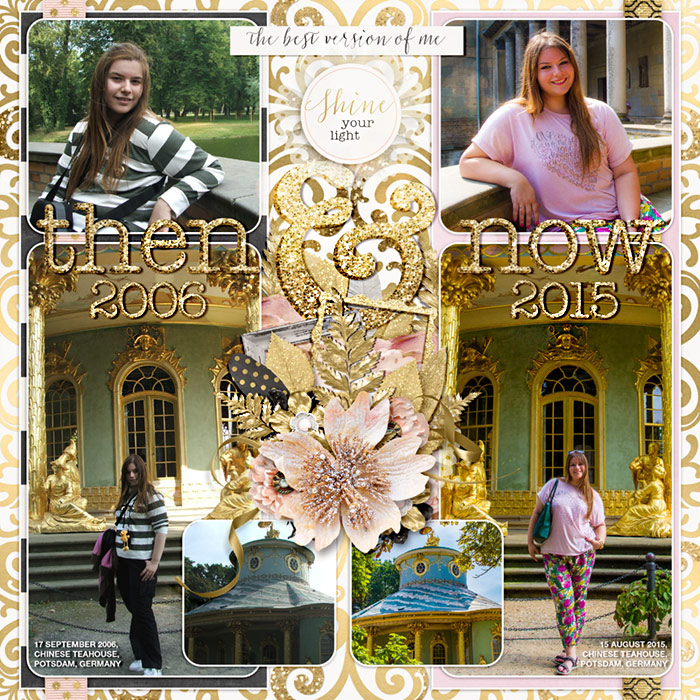 The blog is yours! Anything else you'd like to share?
Thanks! I'd like to share a few things.
I know SweetShoppeDesigns since 2009 and it was a dream store for me because the products I could see there were absolutely amazing and I was drooling over them. Back then, on rare occasions during the years I'd buy something to indulge myself.
When a few month ago I decided I wanted to start scrapping my photos again I decided I needed to check what's new. I checked a few of the stores I remembered but couldn't find the style and quality I was looking for. So, I decided to check SSD and thought to myself "Yes, this is it!" and decided I would shop and hang only here.
I want to thank SSD for hosting the Bingo challenges each and every month and for giving me (and many more, I am sure) the opportunity to both improve my scrapping skills and to win those sweet rewards.
One more thing – I'm so happy Blagovesta Gosheva became part of the most amazing digiscrap store! *hug* Oh, and last, but not least – I want to thank all the fabulous designers for making the BEST digiscrap products, the CT girls for inspiring me with their amazing layouts and I want to thank Robin for being the sweetest and the most helpful candy keeper.
I then asked her about her 4 favorite layouts. Here they are!
"Remember this moment" – I knew this would be the first layout I'd pick out because I'm very proud of it. I love the way it turned out because I was working with the "Congratulations" kit by KCB which has nothing to do with this photo of my husband's which I took during a walk we did on one of the hills in my town. I used a few tricks to make it look this way — I made a wall and a floor with two pieces of paper and then I "hung" the picture but it looked too empty. Then I wanted to add something to the "floor" area and I heavily distorted a few elements and added shadow by hand. When I was done with the page, I applied a "lighting" filter to make it more dramatic. I'm proud of it because Kristin Cronin-Barrow spotted it in the gallery, left a lovely comment and even featured it on her Facebook page. Thanks, Kristin! It means a lot to me.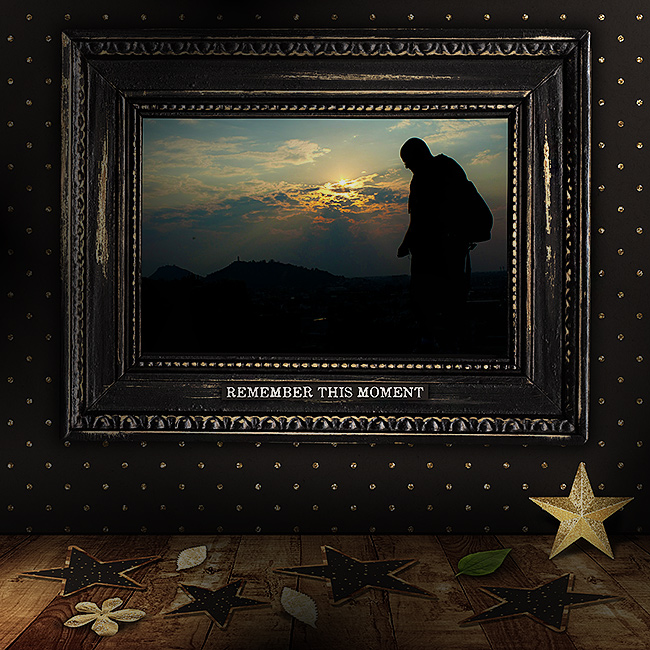 "Imagination" – I picked out this layout because I'm very much into fantasy pages. I used an extraction of very basic and ordinary photo of me but that silly smile made me go in a funny and a bit childish direction so I added some "silly" accents like the crown on my head and the star in my hand (where I actually hold my glasses hahaha).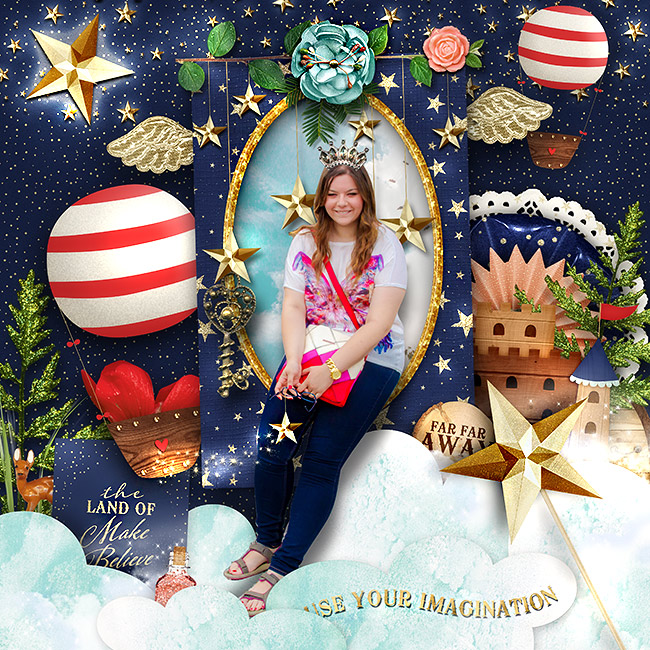 "Feel the magic" – I am somehow in love with this layout because of all the AMAZING colors — these are exactly MY colors. I love the split paper design and the central position of the photo. The picture was taken in a really "magical" situation in Schönbrunn Palace which is the former imperial summer residence located in Vienna, Austria. I was so fascinated by the majestic beauty of the architecture and the whole setting that I took a million photos there. This shot is one of my favourites because of the wind in my hair, the dreamy look and the silly mouth expression.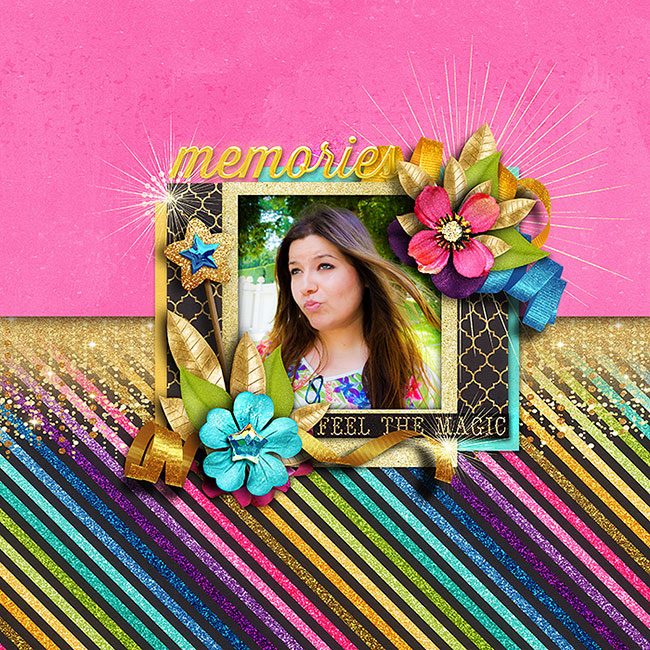 "Never grow up" – It was hard to decide which should be the last layout to pick out. Although this page uses the same kit as layout #2 above, I decided to show it anyway. The reason is I absolutely love pocket style pages by other scrappers but have hard time scrapping it myself.

This is one of my few attempts at pocket scrapping and I like the result. It shows everything I am – a woman by age but a child at heart; a warm smile and a silly face; a dreamer and a realist.