Featured Designer FWP – Libby Pritchett
Happy Friday friends! It's a new day and we're debuting a new Featured Designer, Libby Pritchett! We get a special treat this time around because Libby decided to team up with the wonderful Erica Zane to create her new FWP kit, A Work in Progress. We think you're going to love it, take a look . . .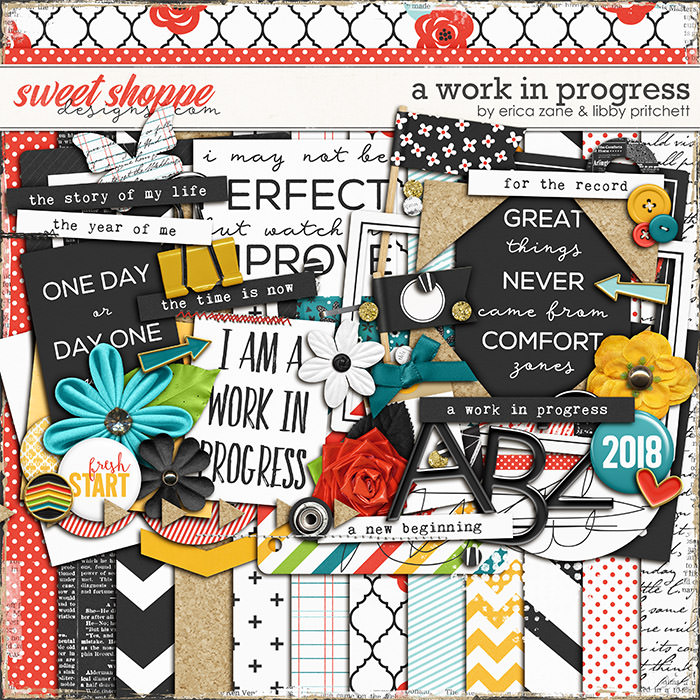 I asked Libby what inspired her to create A Work in Progress and what her design process was. I also asked her what she thinks her strength as a designer is and what she would consider her "signature" . . . or what others would recognize her for. Here's what she had to say . . .
Erica and I were brainstorming on ideas for our collab, and she showed me this color swatch that she had put together. I was instantly taken with it! I loved how fresh it felt. With my Featured spot being in January, we agreed that it was the perfect pallet to use for a "new beginnings" type of kit. We didn't want to do a traditional "New Years" or "Resolutions" kit as we wanted to keep the theme nice and generic so that it would be useful for many different topics.

I think my biggest strength as a designer is in creating masculine kits. Some designers make lovely kits in soft colors and beautiful florals, but that's never been me. I love darker colors and a messier style. I don't know that I would call that my signature style, but it's definitely my favorite thing to design!
The Babes created some super fun layouts with A Work in Progress! They really show off how versatile Libby's kit is, and we hope their pages inspire you.
So go fill up your shopping cart with $10 and A Work in Progress will automatically be added for FREE! This special offer will only be available through Friday, January 26th when our new releases go live, so don't delay! And don't forget to come back next week when we have a little sneak peek into a fun, new bi-weekly sale that we're going to do involving our amazing featured designers this year! Have a great weekend!SaveSave
SaveSave
SaveSave
SaveSave
SaveSave
SaveSave
SaveSave
SaveSave