Sweet Shoppe Saturday 12/1
Sweet Shoppers, December is upon us, and I can hardly believe the last month of 2018 is here! It's been an amazing year for me, but I know that for others, it hasn't been the best. No matter what the last year has brought your way, I hope you're ready to send 2018 off in style and welcome 2019 with open arms!
We have lots of sweetness in store for you this month, and while I can't wait to share the details, you'll have to wait a little longer to find out what we're up to! In the meantime, we have some scrumptious new goodies hitting the shoppe tonight, so without further ado, here's your first look at…
As usual, all of our newest goodies are 25% off until Monday at 6am EST, and if you haven't already got your fill, there are some seriously gorgeous new holiday treats hitting the shoppe tonight! Among them is one of the most anticipated new releases of the year because…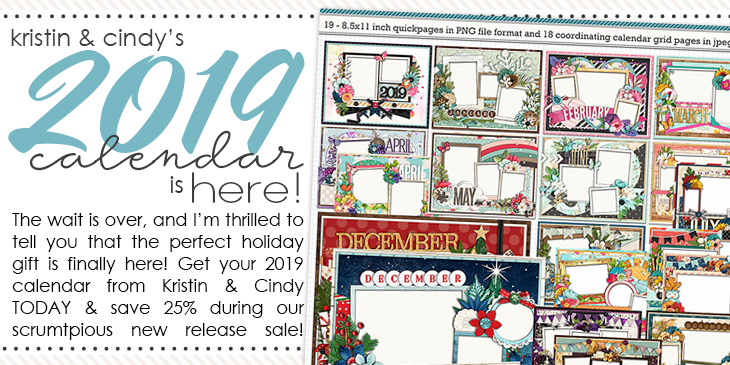 I can't tell you guys how many emails I've received over the last few weeks asking when these beauties would be released, so I'm ecstatic to finally get these to you guys just in time for all your gift giving needs! You can pick up the already designed quickpage calendar created with Kristin's products or Cindy's 2019 calendar templates that are perfect for creating a one of a kind 2019 calendar with any of your favorite products too, so head to the shoppe NOW and get creating!
Finally, speaking of gift giving, Sweet Shoppe gift certificates are the perfect way to send a little sweetness to your favorite scrapper this holiday season! If you're looking to surprise a friend in the community or a relative with a physical gift, don't forget you can have the code sent to your email address for delivery via a forum PM or a printed gift to be delivered in person…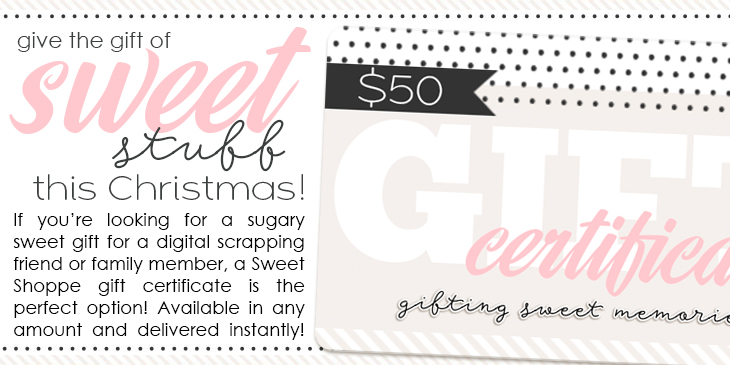 On that note, I'm off for the weekend, but I'll be here in your inbox on Tuesday with a scrumptious Featured Designer 15 sale from Alice of Red Ivy Designs!
Until then, keep making memories and scrap MORE!