Featured Designer FWP – Erica Zane
Happy Friday friends! It's a new day and we're debuting a new Featured Designer! As you know, over the past year and a bit, we've had all of our designers in the spotlight as our featured designers, so we've started fresh with a new series of featured designer FWP products that will center around the letters of the alphabet! Erica Zane is up next with the letter "F", and she has an amazing kit for us—F Is for Favorites. I have always loved Erica's style. Her color schemes are always pleasing to the eye and make me want to play around in Photoshop. Take a look . . .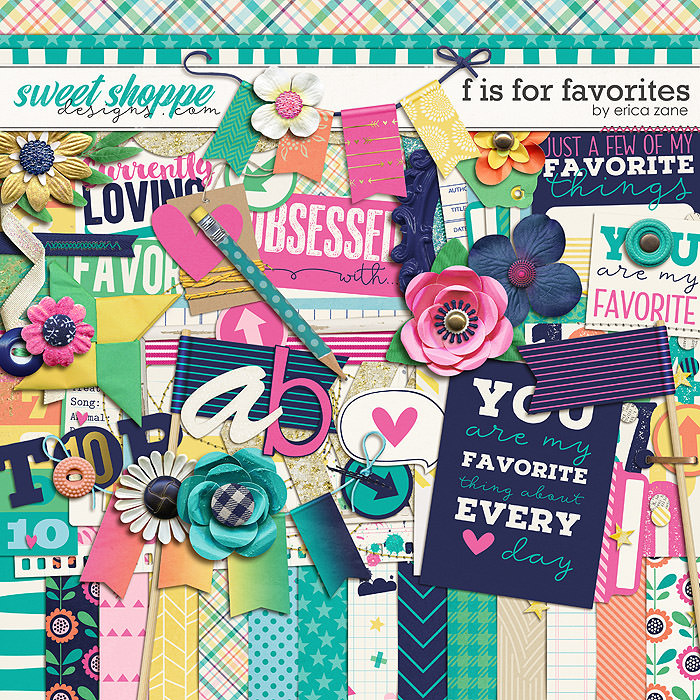 I asked Erica a few questions about this kit and the process she went through to create it. Here's what she had to say:
Tell us a little bit about the direction you took for your letter of the alphabet.
After much debating, I wound up making my featured kit about favorites . . . things you may be currently obsessed with or things you just love in general. But there is enough material in there to make a page that has nothing to with favorites at all if you want to take it another direction.
Did you find it difficult coming up with a concept for your letter?
It was only a bit difficult to narrow down. I just had way too many ideas & kept changing my mind! When I found out I had the letter F, I took a scrap of paper and started writing all the words I could think of that started with F. I enlisted the help of my oldest and ended up with quite a big list! But with my indecisive nature, I went through MANY of the words & different color ideas until I finally settled on this combination.
I also asked Erica a few more questions about herself, her love for this hobby of ours, and some of her favorite layouts or products:
What kit are you most proud of creating in the last year? Why?
Freaking Out . . . I just finished it for Black Friday & it about did my poor body in with all the late nights but it was worth it! It is just so me in so many of those word art pieces. I love the colors too, so overall, it just makes my anxious, stressed out heart happy when I see it.
When you aren't designing digital treats, what do you spend most of your time doing?
I work at my daughter's elementary school during lunch hours trying to maintain order in the cafeteria (it never maintains . . .), running errands, doing the usual house stuff that no one wants to do including me (laundry is the pits), chauffeuring my high schooler to all manner of after school things (ugh), church activities/meetings, taking care of my 4 kids, and squeezing in random lunch dates with my hubby! Weekends are a blur, and I feel like we need an extra day in there.
Starting with any letter of the alphabet, show us 5 kits in your shoppe that have names beginning with consecutive letters.
I was curious how far I could go, I actually have A–I covered, but after that I have too many holes to string more than 3 or 4 in a row . . . guess I know what my next kits are starting with.

(& if you want the rest . . .)
The Babes created some gorgeous layouts with F Is for Favorites. They really show off how amazing Erica's kit is, and we hope their pages inspire you.
So go fill up your shopping cart with $10, and F Is for Favorites will automatically be added for FREE! This special offer will only be available through Friday, December 21 when our new releases go live, so don't delay! And don't forget to come back next week when we have a little sneak peek into our fun, bi-weekly sale involving our amazing featured designers! Have a great weekend!