Featured Designer FWP – Cheri of Dream Big Designs
Happy Friday friends! It's a new day, and we're debuting a new Featured Designer! As you know, over the past year and a bit, we've had all of our designers in the spotlight as our featured designers, so we've started fresh with a new series of featured designer FWP products that will center around the letters of the alphabet! Cheri of Dream Big Designs is up next with the letter "K", and she has an amazing kit for us, K is for Kisses! This kit is absolutely perfect for this time of year—right after Valentines Day! Take a look . . .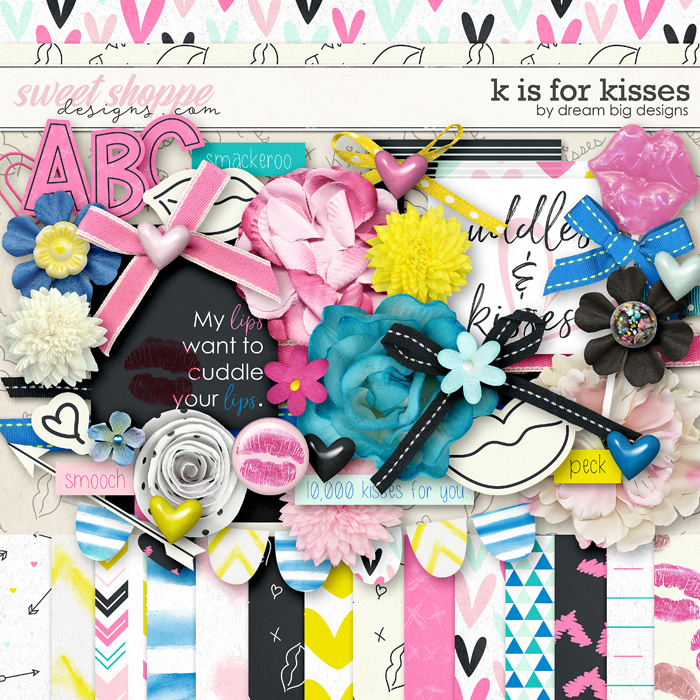 I asked Cheri a few questions about this kit and the process she went through to create it. Here's what she had to say:
Tell us a little bit about the direction you took for your letter of the alphabet.
I chose to go with Kisses. I thought it would be perfect for all those Valentine photos we just took.
Did you find it difficult coming up with a concept for your letter?
It was a little hard. I first wanted to do a boy themed kit. But thought K and kisses was so perfect it kinda just came together. I also loved the palette I came up with—fun and flirty, with some bold colors thrown in.
I also asked Cheri a few more questions about herself, her love for this hobby of ours, and some of her favorite layouts or products:
If you could use one word starting with the first letter of your name that describes something about you, what would your word be and why?
Consistency. When I have a passion for something it is pretty easy for me to be consistent with it. I have always loved exercise so that has always been a constant in my life.
Your Featured Designer 15 is coming up, what product are you most excited to put on sale?
We are SUPER BIG NASA fans in our house, and I love how Discover Space came together and celebrates all thing Space.
Do you have any plans for kits or collections coming in the future? Get us excited about what's on the horizon for you!
I have LOTS of boyish themed kits planed along with more sporty kits. Baseball is next on the list.
When you aren't designing digital treats, what do you spend most of your time doing?
I also own a clothing boutique and it's another way for me to be creative. I love fashion and design and spend a lot of my time working that other business. I also have five kids, so they take up the rest of my time. lol!
Do you have a design soulmate? Someone you can always count on to bring out the best in you as a designer? Who is it and why are you so proud of what the two of you have created together?
I just adore Amanda Yi. I love her style and her kits are always so fun to scrap with. Our styles mesh so well.
The Babes created some gorgeous layouts with K Is for Kisses. I was seriously blown away by the wonderful, unique pages the Babes creates with this kit! They really show off how amazing Cheri's kit is, and we hope their pages inspire you.
S0 go fill up your shopping cart with $10, and K is for Kisses will be automatically added for FREE! This special offer will only be available through Friday, March 1 when our new releases go live, so don't delay! And don't forget to come back next week when we have a little sneak peek into our fun, bi-weekly sale involving our amazing featured designers! Have a great weekend!