Featured Designer FWP – Meagan's Creations
Happy Friday friends! It's a new day, and we're debuting a new Featured Designer! As you know, over the past year and a bit, we've had all of our designers in the spotlight as our featured designers, so we've started fresh with a new series of featured designer FWP products that will center around the letters of the alphabet! Meagan's Creations is up next with the letter "L", and she has an amazing kit for us, L Is for Listen! I absolutely love the theme of this kit. You could take it in so many different directions when using it for a scrapbook page . . . so many possibilities! Take a look . . .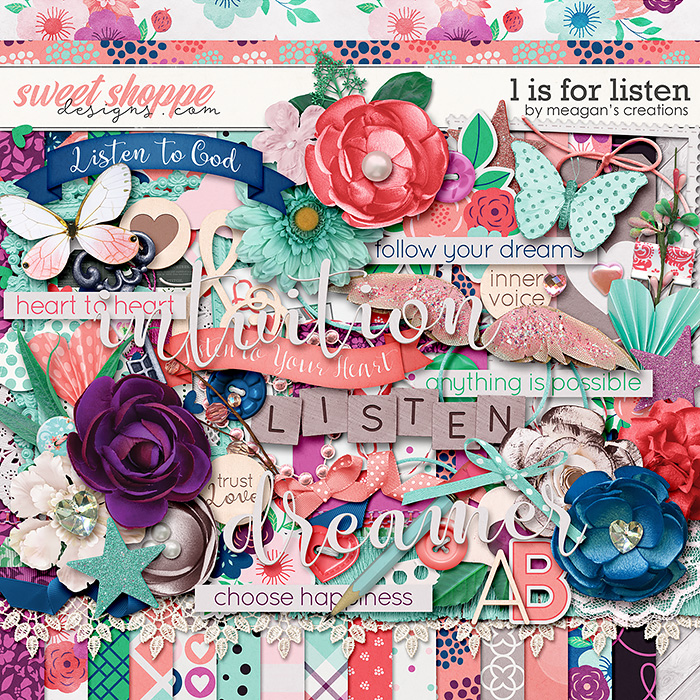 I asked Meagan a few questions about this kit and the process she went through to create it. Here's what she had to say:
Tell us a little bit about the direction you took for your letter of the alphabet.
I wanted to make sure my kit was something that a lot of people could relate to. I took some suggestions from my CT and really loved the one about "Listen." So many times in our busy schedules, we forget to slow down and just take some moments to ponder and listen to what our heart is telling us, what God is telling us, or just our inner voice. I think sometimes it may not be the right choice but then we'll have no regrets knowing we followed our heart. So I wanted the kit to be elegant, soft, and classic. Hope you feel I nailed that.
Did you find it difficult coming up with a concept for your letter?
I tossed around a lot of ideas at first but once I settled on "Listen," I felt really inspired and the workflow went quickly. The palette really called out to me as the perfect fit with some additional colors added and I had a lot of fun finding some inspiration online.
I also asked Meagan a few more questions about herself, her love for this hobby of ours, and some of her favorite layouts or products:
What kit are you most proud of creating in the last year? Why?
I'm most proud of creating my "Dragon Trainer" collection. I was really nervous about starting this one because originally my "I Am A Viking" collection was my "How to Train Your Dragon" themed kit attempt. I think most designers agree that revamping an old kit can be daunting. Sometimes the mojo isn't there to create the same thing again or you worry you'll just create the exact same product. Instead, I went with a much brighter palette and played around with some more custom elements to better capture what has happened in the trilogy since the first movie and I feel it's a much better representation of the HTTYD series. "I Am a Viking" is still a fun collection and one I'm proud of, but I do like my revamp and feel like it came out just as I had envisioned.
Create and share a playlist for us of music that gets you in the mood for being creative!
I listen to Pandora a lot while I design. My station was mainly an Adele station but has since increased to include Florence + the Machine, Ingrid Michaelson, Sara Bareilles, The Paper Kites, The Lumineers, and Jonsi to name a few. Here are some of my favorite songs to listen to:

1. "Malleable Beings" by The Paper Kites
2. "The Cave" by Mumford & Sons
3. "The Chain" by Ingrid Michaelson
4. "Shake it Off" by Florence + the Machine
5. "Angela" by The Lumineers
6. "Keep Breathing" by Ingrid Michaelson
7. "Kolnidur" by Jonsi
8. "Someone Like You" by Adele
9. "Feathersone" by The Paper Kites
10. "She Lit a Fire" by Lord Huron
11. "Sister, Brother" by Beta Radio
12. "Worn" by The Hunts
13. "Cosmic Love" by Florence + The Machine
14. "Ho Hey" by the Lumineers
15. "The Truth is a Cave" by The Oh Hellos.
16. "To Build a Home" by The Cinematic Orchestra
17. "Done You So Wrong" by The Paper Kites
18. "This Woman's Work" by Kate Bush
19. "The Call" by Regina Spektor
20. "Breathe Me" by Sia

Well, that's just a start! I like to listen to more Indie Pop, and I'm finding I like Folk as well. Just something relaxing with sweet voices and a great melody.
Do you have a contest, call or giveaway that you want to share with our readers? Tell us about it!
I will set up a forum post here soon but I wanted to do a giveaway. I wanted people to post their favorite kit/layout using my kits in the forum and next Tuesday I'll choose a random winner using random.org. The random winner will get a $15 Gift Certificate to my store.

The Babes created some gorgeous layouts with L Is for Listen. I was seriously blown away by the wonderful, unique pages the Babes creates with this kit! They really show off how amazing Meagan's kit is, and we hope their pages inspire you.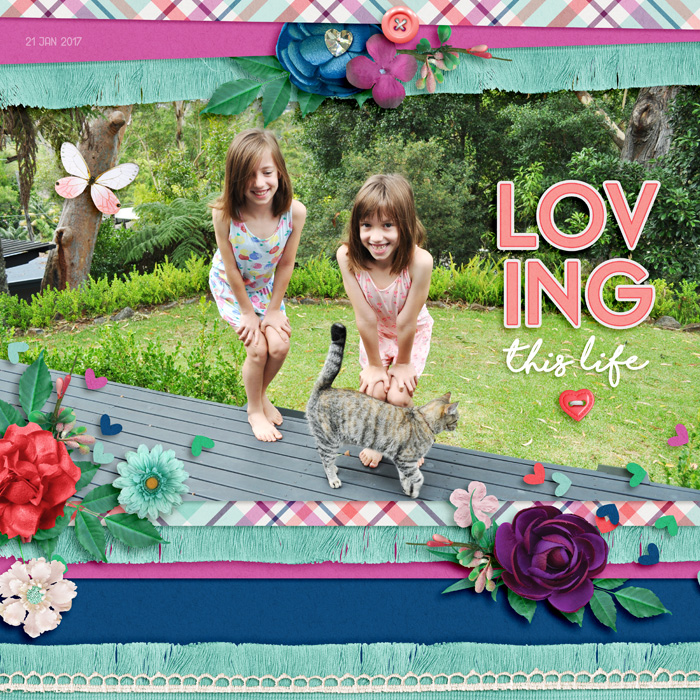 S0 go fill up your shopping cart with $10, and L Is for Listen will be automatically added for FREE! This special offer will only be available through Friday, March 15 when our new releases go live, so don't delay! And don't forget to come back next week when we have a little sneak peek into our fun, bi-weekly sale involving our amazing featured designers! Have a great weekend!