Recently we noticed a thread in the forum asking for people to share any new favorite fonts they had found.  We actually were already working on this Sugar Babe Sunday, where we asked the team to share some of their favorite and most-used fonts!  We hope you enjoy this collection, which includes some fun fonts as well as some clean ones that work well on any layout.  Be sure and check out that forum thread as well and leave a comment if there is a font that you really love.  Let's see what the Babes are using on their layouts these days…

I have three of my favourite fonts in this layout! I often use a combination of these:
Fox in the Snow for the title 'Little Snuggler'
Typical Writer for the journalling
DJB Tell Your Story (a Darcy Baldwin font previously sold at The Shoppe) for the date – this is the closest thing I've ever found to my own handwriting so I use it a lot for journaling
Veteran Typewriter is one of my go-to fonts.
KG Miss Kindergarten is my favourite journaling font. It's easy to read, yet handwritten enough to give the personal feel.
I've had this font for a while and keep coming back to it for fun title work, like in this layout.  I used SNF Sketchbook and put a large stroke around it to make the large letters for my acrostic.
American Typewriter is my favorite go-to font. It's clean, classic and works for almost any type of layout.
KG Like a Skyscraper is my go-to font!
Architect's Daughter is my long-term fave.
Barbershop in Thailand is one of my favorites to create titles. It was once a font you had to use for one of the bingo challenges.  It's also the font of my current siggy.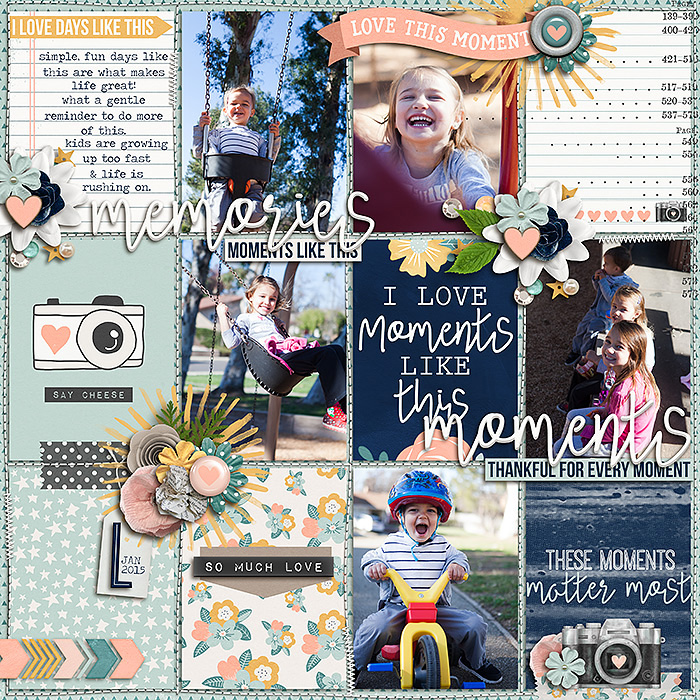 Elysio (Thin or Hairline) is the font I use most often on my pages. It is readable and I really like the modern style.
Journaling: Pea Jenny Script
I've had this font for a long time and still love it.