Featured Designer FWP – Digilicious Design
Happy Friday friends! It's a new day, and we're debuting a new Featured Designer! As you know, over the past year and a bit, we've had all of our designers in the spotlight as our featured designers, so we've started fresh with a new series of featured designer FWP products that will center around the letters of the alphabet! Christine of Digilicious Design is up next with the letter "U", and she has an amazing kit for us, U is for Untamed. We all have a side to us that just wants to break out and run free, and this kit is perfect for telling all our wildest tales! Take a look . . .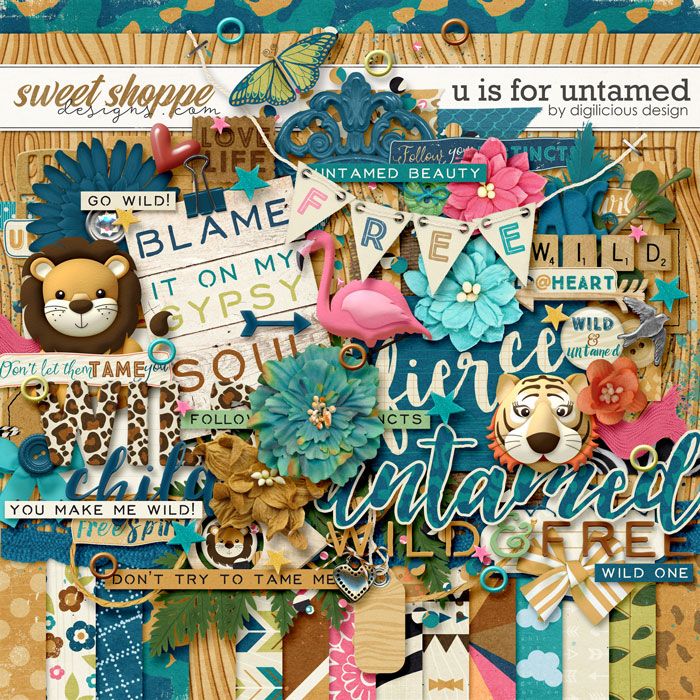 I asked Christine a few questions about this kit and the process she went through to create it. Here's what she had to say:
Tell us a little bit about the direction you took for your letter of the alphabet.
I love bold, solid colours, and a bit of cutesy, so that was a must-have when I was deciding what direction to go in! I was tossing up between Untamed and Unbelievable, but I thought the one I chose had more to work with, from a designer's perspective and a scrapper's. We all have a little bit of wild tucked away in us somewhere, so there's plenty of potential for a wide variety of layouts.
Did you find it difficult coming up with a concept for your letter?
Definitely fun!! Once I decided on the direction, the ideas flowed and I really enjoyed putting it all together.
I also asked Christine a few more questions about herself, her love for this hobby of ours, and some of her favorite layouts or products:
Starting with any letter of the alphabet, show us 5 kits in your shoppe that have names beginning with consecutive letters.

When you aren't designing digital treats, what do you spend most of your time doing?
I have a super busy schedule these days! I have a cleaning business which I started almost 2 years ago when I became a single mum. It's doing really well now and fills up my day between 8am and 3pm when the kids are at school, Monday to Friday. I'm also a Personal Trainer and teach boxing classes and cross circuit a couple of times a week. And then there's SPORT!! Oh my goodness, between my 2 boys and me, our afternoons and weekends are jam-packed! The boys are into tennis, soccer, taekwondo, and scooter riding. I play touch football, netball, and do a bunch of other fitness stuff. I crave quiet weekends.
Are you addicted to anything? What is it and why are you addicted?!
Coffee and almonds . . . coffee for obvious reasons—I don't think I could get through the day without it! And almonds, well . . . I'm not sure how that exactly came about, but I eat them by the bag full!! I have a bag in the car at all times and a tub in the pantry. I'm dairy intolerant so it's one of my calcium sources, and they're a good healthy snack, so I don't plan on giving them up any time soon. And if I don't have either of them, I get withdrawal symptoms – seriously!
Share a selfie of you in your natural habitat!
Not a very attractive pic, lol, but it's taken up at my favorite place . . . a mountain just down the road from my house that I climb regularly. It's my place for quiet reflection, solitude, and calmness. I kind of feel like I have a special bond with this place.
I was seriously blown away by the wonderful, unique pages the Babes created with this kit! They really show off how amazing Christine's kit is, and we hope their pages inspire you.
S0 go fill up your shopping cart with $10, and U is for Untamed will be automatically added for FREE! This special offer will only be available through Friday, August 23 when our new releases go live, so don't delay! And don't forget to come back next week when we have a little sneak peek into our fun, bi-weekly sale involving our amazing featured designers! Have a great weekend!