Featured Designer FWP – Lliella Designs
Happy Friday friends! It's a new day, and we're debuting a new Featured Designer! As you know, over the past year and a bit, we've had all of our designers in the spotlight as our featured designers, so we've started fresh with a new series of featured designer FWP products that will center around the letters of the alphabet! Allie of Lliella Designs is up next with the letter "W", and she has an amazing kit for us, W is for Weather. Weather is one of those things that can really affect my mood. This kit is perfect for telling all those weather-related stories, good or bad! Take a look . . .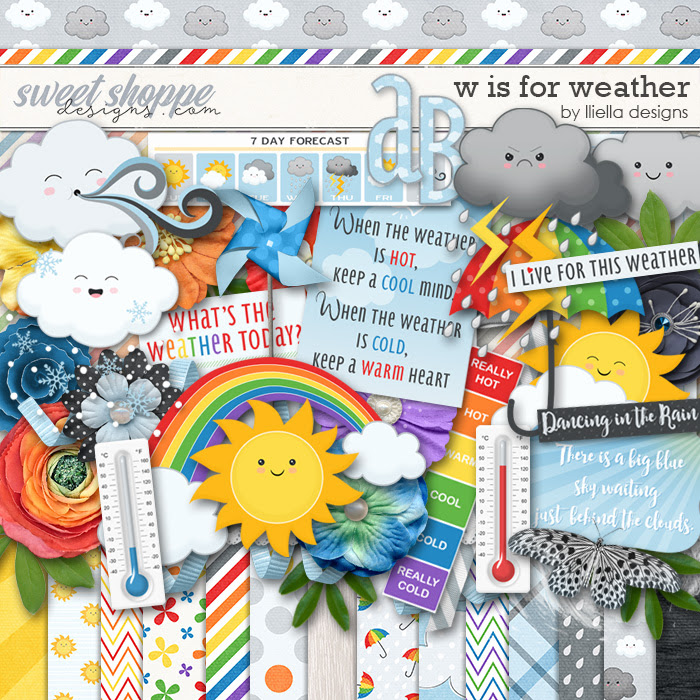 I asked Allie a few questions about this kit and the process she went through to create it. Here's what she had to say:
Tell us a little bit about the direction you took for your letter of the alphabet.
I went with weather since it is a rather general theme and can be used by anyone.
Did you find it difficult coming up with a concept for your letter?
Thankfully, no. I had one other theme I was thinking of, but I'm so glad I went with weather because I really like how it turned out.
I also asked Allie a few more questions about herself, her love for this hobby of ours, and some of her favorite layouts or products:
Starting with any letter of the alphabet, show us 5 kits in your shoppe that have names beginning with consecutive letters.

When you aren't designing digital treats, what do you spend most of your time doing?
I am recently on a low carb, high fat diet. I love searching online for keto versions of my favorite foods. I didn't cook before, but now I am learning to cook and bake!
Create and share a playlist for us of music that gets you in the mood for being creative!
I have a microSD card full of my favorite songs, which I play on my portable speaker—songs by The Fray, Bon Jovi, Gorillaz, Gin Blossoms, BgA, Earth Wind & Fire, Aerosmith, Oasis, Crowded House, Bush, Erasure, Goo Goo Dolls, New Radicals, Backstreet Boys, Coldplay, Eminem, Toad the Wet Sprocket and more!
I was seriously blown away by the wonderful, unique pages the Babes created with this kit! They really show off how amazing Janet's kit is, and we hope their pages inspire you.
S0 go fill up your shopping cart with $10, and W is for Weather will be automatically added for FREE! This special offer will only be available through Friday, September 20 when our new releases go live, so don't delay! And don't forget to come back next week when we have a little sneak peek into our fun, bi-weekly sale involving our amazing featured designers! Have a great weekend!