Featured Designer FWP – Misty Cato
Happy Friday friends! It's a new day, and we're debuting a new Featured Designer! As you know, over the past year and a bit, we've had all of our designers in the spotlight as our featured designers, so we've started fresh with a new series of featured designer FWP products that will center around the letters of the alphabet! Misty Cato is up next with the letter "X", and she has an amazing kit for us, X is for X-hale. Many of us have been wondering what kit we would see for the letter "X". It's definitely not an easy one to tackle. But, Misty figured out such a fun and unique way to use this letter as inspiration for her kit! Take a look . . .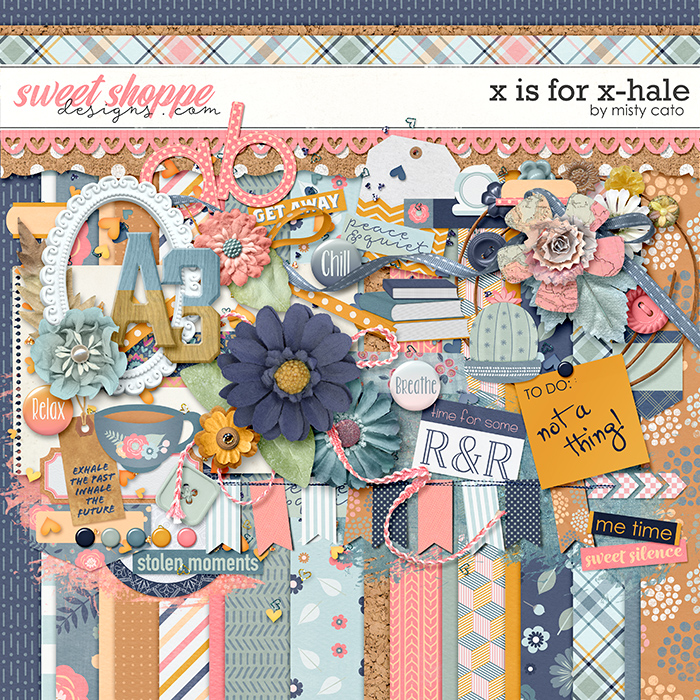 I asked Misty a few questions about this kit and the process she went through to create it. Here's what she had to say:
Tell us a little bit about the direction you took for your letter of the alphabet.
My daughter has a clear phone case and she likes to create collages of her favorite things and insert them between the case and phone to 'customize' her phone. Her most recent collage is full of images of sweat pants, lip balm, candles, and succulents. She mentioned they were all things that helped her "take a deep breath." With that, the idea for X Is for X-hale bloomed. You'll even find an illustrated succulent in the kit.
Did you find it difficult coming up with a concept for your letter?
I've known X would be my letter for a while, so it's been percolating in the back of my mind. I started by considering words that actually start with X. After eliminating chemical components and medical conditions, I was left with words like Xerox and xylem—not very inspiring. My family threw out gems like "X is for XXX". Quickly it became apparent I'd have to fudge X a bit to come up with a theme; x-treme, x-cellence, x-tra large, and x-wing fighter were all considered until settling upon x-hale via my daughter's cell phone collage inspiration.

I also asked Misty a few more questions about herself, her love for this hobby of ours, and some of her favorite layouts or products:
Is there another designer on the team who you find particularly inspiring? What about a Babe?

I love looking through Babe Jacinda's gallery. She uses all components of scrapbooking (photos, text and scrap supplies) to create meaning in her pages. Every page of hers tells a story. Additionally, she often creates with a clean, linear approach that appeals to me.
Your Featured Designer 15 is coming up, what product are you most excited to put on sale?

Look for all of the Destinations templates to be on sale. These are among my most popular template sets. They are designed for creating eye-catching pages quickly. The Destinations templates are ideal for travel albums or anytime you want to focus on multiple photos to tell your story.
Show us the last layout you scrapped!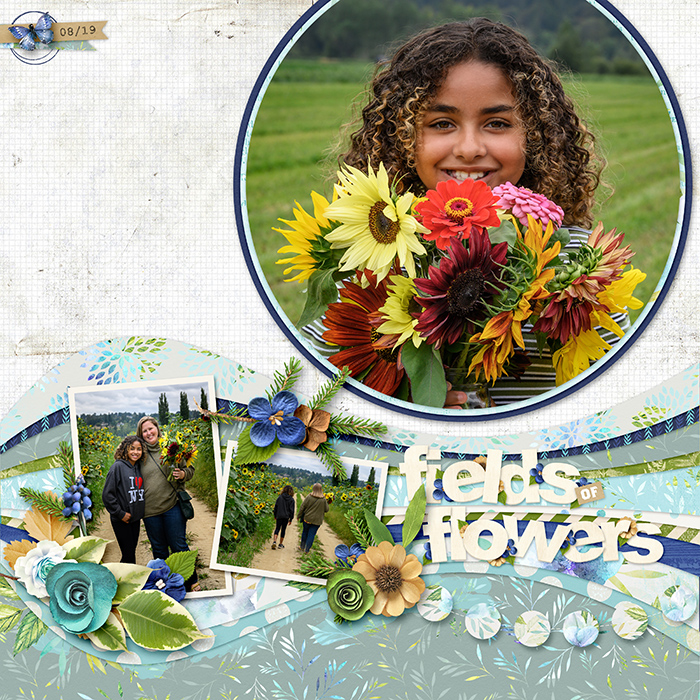 Give us a sneak peek at a product that will be released in the next two weeks. An inspiration board maybe? Papers?

Here is a glimpse at what I am working on right now. The photo is my daughter and her best friends just prior to starting middle school. The tween years are said to be a bit of a rollercoaster, but the "up" moments are full of energy and enthusiasm. I've loved watching them embrace opportunities, clubs, causes, sports, and new class options with a sense of adventure and optimism. That vibe, along with a bit of their fashion choices (mirrored sunglasses and checkered patterns) inspire Bright Future arriving in the shoppe on October 5th.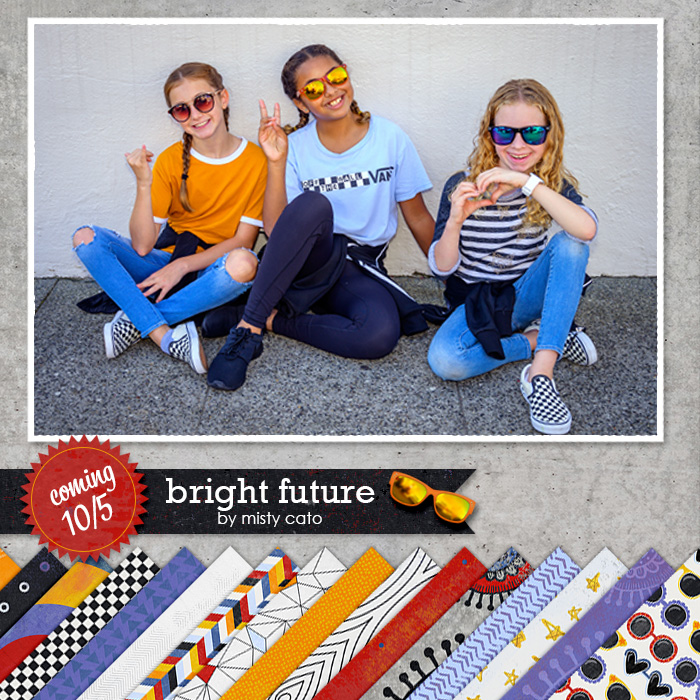 I was seriously blown away by the wonderful, unique pages the Babes created with this kit! They really show off how amazing Misty's kit is, and we hope their pages inspire you.
S0 go fill up your shopping cart with $10, and X is for X-hale will be automatically added for FREE! This special offer will only be available through Friday, October 4 when our new releases go live, so don't delay! And don't forget to come back next week when we have a little sneak peek into our fun, bi-weekly sale involving our amazing featured designers! Have a great weekend!