Featured Designer FWP – Jennifer of Simple Pleasure Designs
Happy Friday friends! It's a new day, and we're debuting a new Featured Designer! As you know, over the past year and a bit, we've had all of our designers in the spotlight as our featured designers, so we've started fresh with a new series of featured designer FWP products that will center around the letters of the alphabet! We have now reached the end of the alphabet, and Jennifer of Simple Pleasure Designs is up with the letter "Z"! She has an amazing kit for us, Z is for Zipadeedoodah. I have to admit that I'm a little sad to see the end of this alphabet series. It has been so fun. But, Jennifer's kit is so cute and unique, I think it's the perfect way to finish this fun Featured Designer series. Take a look . . .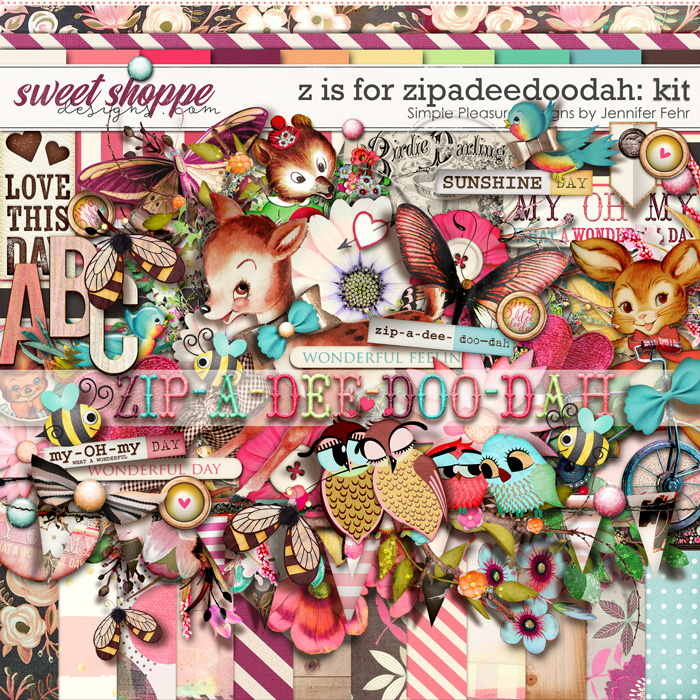 I asked Jen a few questions about this kit and the process she went through to create it. Here's what she had to say:
Tell us a little bit about the direction you took for your letter of the alphabet.
My take on the letter Z was a tricky one! I wasn't exactly sure what the HECK I was going to do. ? BUT, then one morning I remembered this song from childhood. My Dad was always whistling tunes & singing to us as kids, and THIS song was one of his faves: Zip-a-dee-doo-dah, zip-a-dee-ay! My oh my, what a wonderful day!
Did you find it difficult coming up with a concept for your letter?
As soon as I thought of this idea, it brought back such special memories, and I KNEW I had to run with it! It has actually become one of my absolute favourite kits EVER, and I have had SO much fun bringing it all together! It ended up having a vintage/retro, whimsical, Disney-esque vibe! Romantic, storybook sweet with a little whimsy. . . .

I also asked Jen a few more questions about herself, her love for this hobby of ours, and some of her favorite layouts or products:
Is there another designer on the team who you find particularly inspiring? What about a Babe?

I have had the great privilege to work with Rubia Padilha of Studio Basic Designs on a few collaborations now, and I have to say she is one of the sweetest people I have ever met! Not only is she immensely talented but she is OH so creative and wonderful to work with!  She and I have an ongoing joke now, and she often refers to me as her Scrap Wife! ? She is an incredible lady and SUCH an inspiration to me on SO many levels!
Create and share a playlist for us of music that gets you in the mood for being creative!
I am SUCH a fan of listening to music while I design, and our home is pretty much NEVER silent—there is always music playing somewhere (or Mom is singing). ? Here is a playlist I have put together sharing a TON of songs that are a part of my Jam on any given day. I won't even TELL you how many playlists I have. ? It's called Jen's Designing Jam.

https://music.apple.com/ca/playlist/jens-designing-jam/pl.u-kv9lR55T7WAD80
Share a selfie of you in your natural habitat!
Here is a layout of me and one of my boys in my office/design space. ?
Do you have a design soulmate? Someone you can always count on to bring out the best in you as a designer? Who is it and why are you so proud of what the two of you have created together?
My design soulmate would have to be Em Stafrace of the Nifty Pixel! She and I have become the greatest of friends over the last few years after I discovered her layouts on the Digital Scrapbooking Gallery. I reached out to her and BEGGED her to come join my SPD team. I am beyond blessed to have her! Since then she has pushed me in so many ways, taught me SO much, and works with me on so many different project collaborations, designs, and previewing! She is SUCH an incredible woman, and her talent ALWAYS amazes me! Her designs and layouts are among my ABSOLUTE faves in the universe—they are truly like candy for the eyes! Here is just ONE of her many ultra amazing creations! This one is using my Featured Designer Kit: Z Is for Zipadeedoodah. Honestly I could share dozens; they are all magnificent!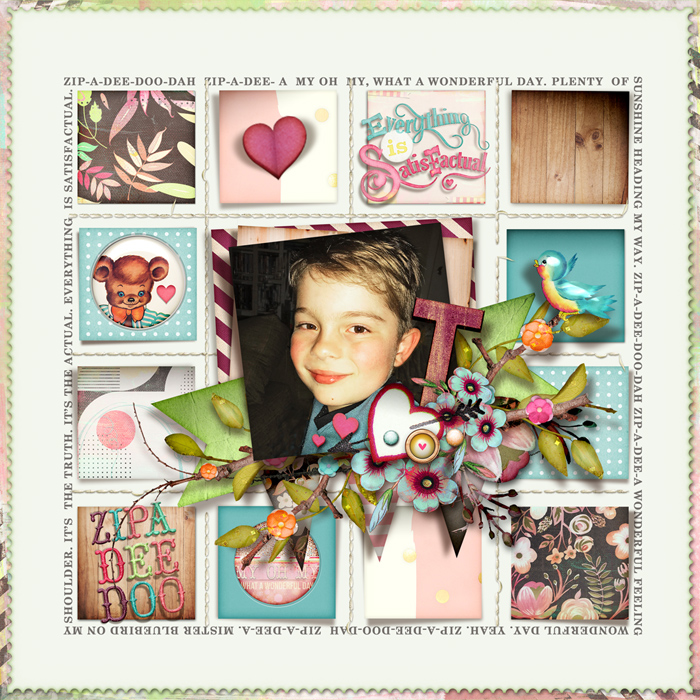 I was seriously blown away by the wonderful, unique pages the Babes created with this kit! They really show off how amazing Jen's kit is, and we hope their pages inspire you.
S0 go fill up your shopping cart with $10, and Z is for Zipadeedoodah will be automatically added for FREE! This special offer will only be available through Friday, November 1 when our new releases go live, so don't delay! And don't forget to come back next week when we have a little sneak peek into our fun, bi-weekly sale involving our amazing featured designers! Have a great weekend!