Black Friday 2019 is HERE!
Hey, Hey Sweet Shoppers! As promised, I'm here in your inbox a day early this week to kick off our biggest sale of the year! That's right, Black Friday is upon us, and this year's promotions are as scrumptious as they've ever been! Like last year, we've got some sweet steals for you to take advantage of all weekend long including some seriously fun limited time doorbuster offers you won't want to miss! I know you guys are eager to get shopping, so read on for all of the details of what's going on this weekend here at the sweetest spot in town…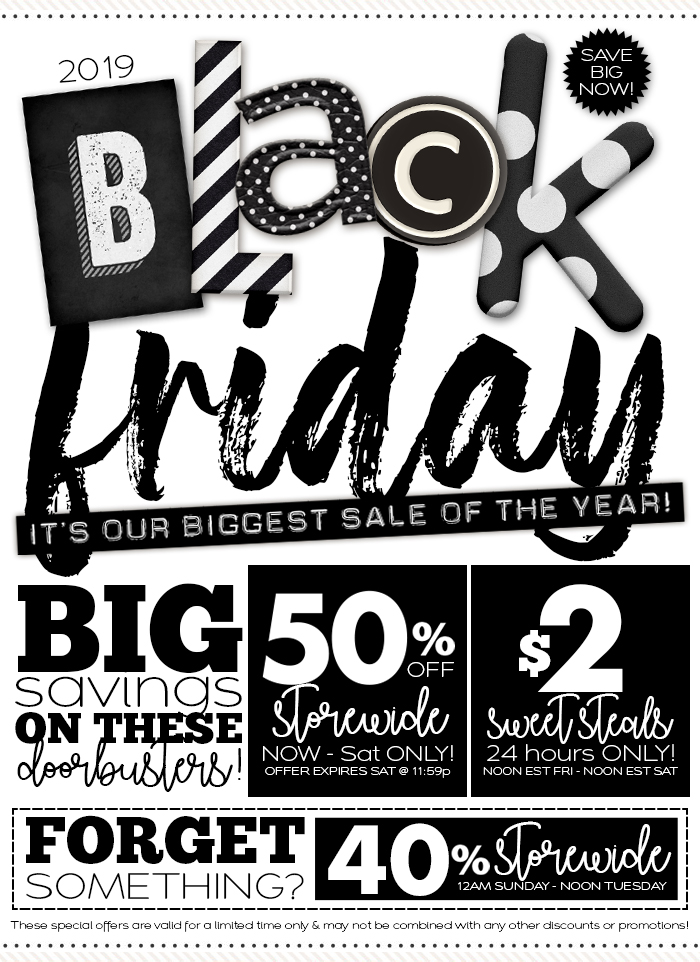 As you can see, we're kicking off our Black Friday event with an absolutely screaming deal for those of you who shop over the next 48 hours or so because we're giving you guys the biggest discount we ever offer on ALL of our products STOREWIDE! This fantastic offer expires on Saturday at 11:59pm EST, but even if you miss our initial offer, you'll still be able to snag a sugary-sweet 40% off for the remainder of the weekend too!
Every single product in the shoppe is a breathtaking 50% OFF during this incredible sale including all of our newest releases, and there are more than 150 delightful new goodies making their debut tonight! The designers have been working hard to make this Black Friday incredibly festive and fun for you guys, so without more babbling from me, take a peek at…
Those tiny pictures don't do this week's new releases justice, and with so many new releases hitting the shoppe, we can't include them all. Be sure to take a closer look at our special Black Friday category so you don't miss a single one of this week's new treats! While you're shopping this weekend, we also have an exclusive limited time offer on our gorgeous 2019 Black Friday mega-collection, Crafty Lady…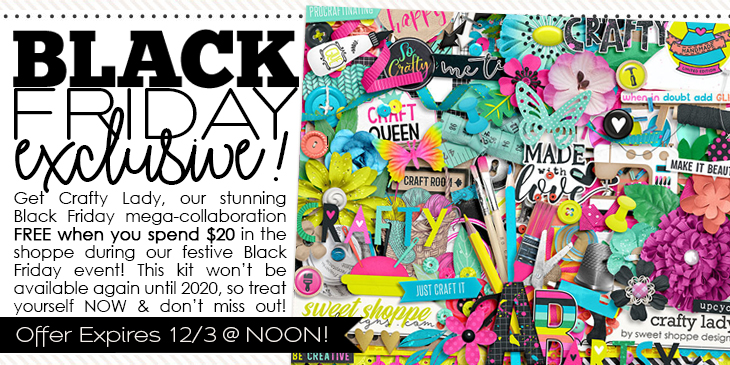 As you can see, when you spend $20 in the shoppe during our Black Friday event this weekend, you'll also pick up this beauty absolutely FREE! Our entire team seriously adores this massive tribute to being a crafting addict, and of all of our collabs this year, we think this one is a MUST HAVE! This sweet offer expires on Tuesday at Noon and won't be available again until our Flashback Finale event during our Anniversary in February, so be sure to stock up soon so you don't miss out on having this fun kit in your stash NOW!
If all of this isn't scrumptious enough, and you're looking for MORE ridiculously sweet steals this weekend, you'll definitely want to come back tomorrow starting at Noon EST because tomorrow's doorbuster offer has been so popular over the last couple of years, we're doing it again for 2019! Like last year, our designers have each picked a favorite kit or template pack from their stores, and those yummy treats will be just $2 each for 24 hours ONLY! I've seen the kits and templates in this doorbuster deal, and they are going to be an amazing splurge, so be sure to stop by tomorrow afternoon and evening to spoil yourself!
Finally, our music inspired mix-tape series of Featured Designer freebies continues in full swing with a brand new holiday kit from Melissa that will have you singing Santa Baby in your head all weekend long! If you know anything about Melissa, you know that she loves holiday kits and looks forward to making them every year, so it's no surprise that she chose a holiday tune for our ongoing series of kits! Santa Baby is yours FREE when you Spend $10 in the shoppe over the next couple of weeks…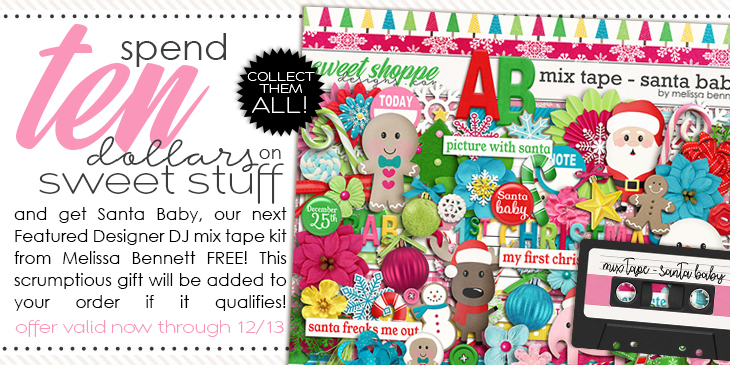 On that note, I hope all of our friends in the U.S. are having a wonderful Thanksgiving and that each of you makes the most of Black Friday. Whether that's staying up until the wee hours of the morning to grab this year's steal of a deal at your favorite retail outlet or staying cozy in bed to make the most of your online shopping, we wish you an amazing and memorable holiday shopping season!
I'm sure to be popping up in your inbox this weekend with reminders on what not to miss, so until next time sweet friends, keep making memories and scrap MORE!