Featured Designer FWP – Erica Zane
Happy Friday friends! It's a new day, and we're debuting a new Featured Designer! As you know, we just finished our series based on the letters of the alphabet. It was such fun to see what the designers did with the letters they were assigned. And now we have a new series to look forward to!! Our designers are going to compile a mix tape for us! Each designer is going to create a kit inspired by a song that they love and share the results with us! I can't wait to see what they have in store! Erica Zane is up first, and she has created an adorable template set called X's and O's. Take a look . . .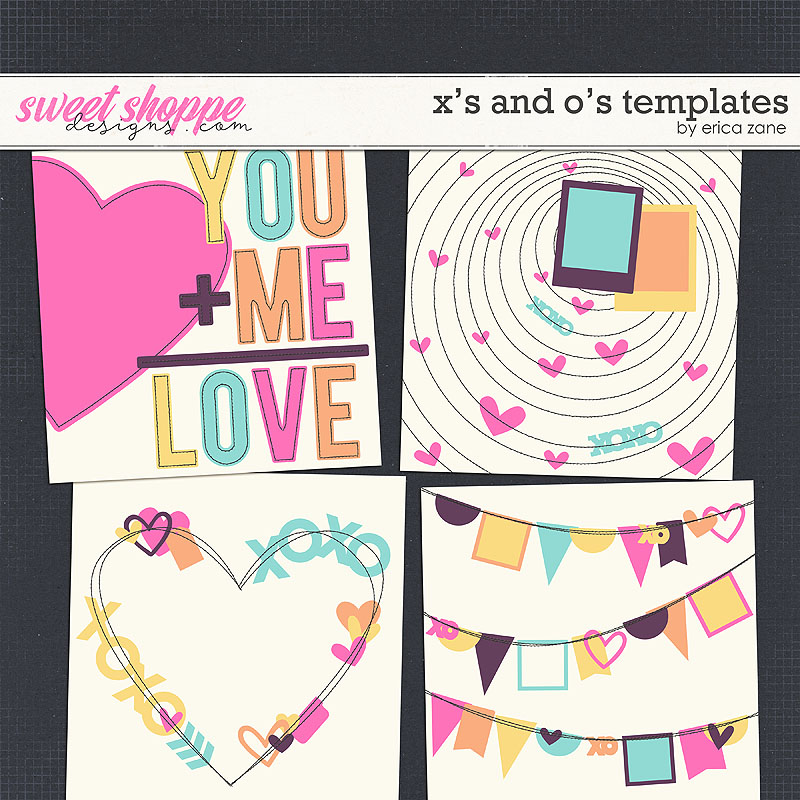 I asked Erica a few questions about this template set and the process she went through to create it. Here's what she had to say:
What song did you choose as your inspiration? Why does it speak to or inspire you?
I chose the catchy song Ex's & Oh's by Elle King (sorry in advance for getting that stuck in your head). I had asked my husband for some current, popular song title ideas as I don't listen to the radio much these days, but apparently he doesn't either, lol. He did add this song as we were brainstorming the few names we knew.
How did you decide what direction to take your kit after choosing the song for our mix-tape?
As soon as my husband mentioned this song, I immediately started singing the chorus, and I thought it would be fun for a template set full of hearts, so I ran with it.
I also asked Erica a few more questions about herself, her love for this hobby of ours, and some of her favorite layouts or products:
What kit are you most proud of creating in the last year?
Beauty AND a Beast. I started out with some word art ideas and it just took off until I ended up here. It's one of those kits I wasn't sure I'd like as I was working on it and I almost started over but I'm glad I kept going!
Show us the last layout you scrapped!
I made this page using my Daily Dose bits for the SSD Mystery Grab Bag—just one of those days I felt like I can't sit at my desk for five minutes without having to head somewhere!
What is the last book you read?
I love reading but have to limit myself or I will get nothing else done—I get sucked into a book and lose all motivation. The last book I read was Oathbringer by Brandon Sanderson from the Stormlight Archives. I read the first two books last summer and had been waiting on the third, which I thought was the final book, so I saved it for our beach trip this year and just started over with book one again to read them through. Sadly, it was NOT the final book so now I have to wait at least another year to continue, sigh. I am super impatient with book series', but I get invested in them and feel like I NEED to know how their stories end or I can't stop thinking about it.
Give us a sneak peek at a product that will be released in the next two weeks.
Coming soon. . . . I may have the munchies.

The Babes (and Erica herself) created some amazing layouts with this template set. I just love seeing how they each bring their own style to their layouts and show off the versatility of each product in the Shoppe. I hope their layouts inspire you!
S0 go fill up your shopping cart with $10, and X's and O's will be automatically added for FREE! This special offer will only be available through Friday, November 29 when our new releases go live, so don't delay! And don't forget to come back next week when we have a little sneak peek into our fun, bi-weekly sale involving our amazing featured designers! Have a great weekend!