Featured Designer FWP – Ponytails Designs
Happy Friday, friends! I can't believe how quickly December is flying by. We've been in a whirl here at our house, but we are enjoying the holiday season and looking forward to a little time off from work and school. Today, I'm excited to introduce Natasha of Ponytails Designs as latest Featured Designer!
As you know, we just kicked off a brand new theme for our Featured Designer freebies, and this year, our designers are going to compile a mix tape for us! Natasha has created an elegant Christmas kit based on a song by Willie Nelson, Pretty Paper! Take a look . . .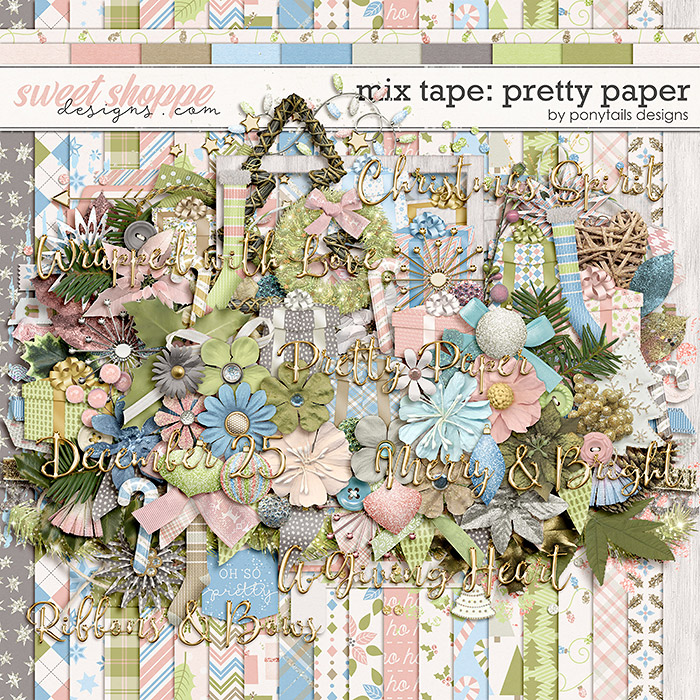 I asked Natasha a few questions about this template set and the process she went through to create it. Here's what she had to say:
What song did you choose as your inspiration? Why does it speak to or inspire you?
The song I chose is Pretty Paper by Willie Nelson. It's a very sweet, slightly sad song about remembering the true meaning of Christmas. It reminds you to slow down a little and actually see the people around you.
How did you decide what direction to take your kit after choosing the song for our mix-tape?
I definitely wanted a soft colour palette for this song to match the tone. I used pastel pink, blue, and green instead of the more typical red and green. I accented it with glitter and gold to give it a tad bit of the Christmas sparkle. The kits is full of things like gifts and bows and ribbons, since on the surface that's what the song is about. I tried to use the words to add the deeper meaning in the song.
I also asked Natasha a few more questions about herself, her love for this hobby of ours, and some of her favorite layouts or products:
Create and share a playlist for us of music that gets you in the mood for being creative!
I'm writing this on my iPhone from a Vegas hotel room so I can't really access playlists right now, but when I design I'm generally listening to good 'ol country music from the likes of George Strait and Brad Paisley. Or I'm on the other side of the spectrum and bopping away to classic 80s tunes. That music makes my heart happy! (My inner self is still an 80s teenager!)
What kit are you most proud of creating in the last year? Why?
I really love my Elf Antics collection. It's bright and fun and just makes me smile. We have a lot of fun with our Elf each December. My daughter just loves it and so I feel inspired to be creative with it.
Is there another designer on the team who you find particularly inspiring? What about a Babe?
Where do I even start with this one? All of our designers are amazing and I swear I have a little hero-worship going on for several. LOL. I think maybe I'm most inspired by Studio Basic. Her style is so very different from mine but I absolutely love it. She does "messy" so well and I wish I could achieve a little touch of what she does so (seemingly) effortlessly. She has inspired me to try a little bit more at any rate. When I wanted to do a colour-run themed collection she seemed like a perfect choice to pair with! Add to all that the fact that Ru is one of the sweetest ladies out there!
Do you have any plans for kits or collections coming in the future? Get us excited about what's on the horizon for you!
I've got several In the works but the two I'm really focusing on for after the holidays is an empty nest theme and a Fortnite theme. Both are requests from my team. And there's a good bet you'll see something related to babies/grand babies in the near future as I'm about to become a first-time grandma this spring! Now THAT'S something to be excited about!!!

The Babes created some amazing layouts with Pretty Paper, and as always, we love seeing how each member of our talented team brings their own style each and every page they create! They are brilliant at showing off the versatility of each product in the Shoppe, and we hope their layouts inspire you…
With that, go fill up your shopping cart with $10, and Pretty Paper will be automatically added for FREE! This special offer will only be available through Friday, December 27th when our new releases go live, so don't delay! And don't forget to come back next week when we have a little sneak peek into our fun, bi-weekly sale involving our amazing featured designers! Have a great weekend!