Featured Designer FWP – LJS Designs
Happy Friday, friends! We've made it through the first little bit of January. My kids are back in school, and life is getting back to its usual routine after the holidays. It's been really nice to get back on a regular schedule. Today I'm excited to introduce Lorie of LJS Designs as our Featured Designer!
As you know, we just kicked off a brand new theme for our Featured Designer freebies, and this year, our designers are going to compile a mix tape for us! Lorie has created a super fun kit for us, Manic Monday. Take a look . . .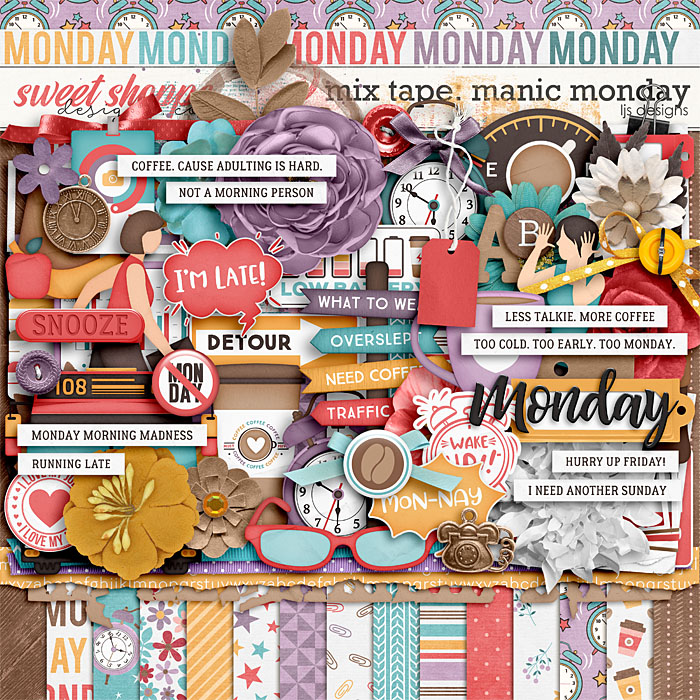 This song and the Bangles album that it comes from were a big part of my younger years. And, I just LOVE that Lorie chose this song to inspire her kit.
I asked Lorie a few questions about this kit and the process she went through to create it. Here's what she had to say:
What song did you choose as your inspiration? Why does it speak to or inspire you?
Since music is one of my biggest inspirations, I usually have no trouble picking a line or song to use, but I actually struggled with this one because I was over thinking it. I wanted a song, and therefore a kit, that everyone could relate to and scrap with. On Thanksgiving weekend, my family and I were sitting around the table playing games and I mentioned my struggle with choosing a song. Being my family, they decided to help me figure it out and started giving me suggestions. After about an hour of me rejecting everything from I Will Always Love You to We Will Rock You, my niece suggested Manic Monday and I knew it was the one. After all, everyone has had a crazy Monday morning, right?
How did you decide what direction to take your kit after choosing the song for our mix-tape?
I am an incredibly literal person, so of course I stuck to the lyrics to create the kit. It's all about not being a morning person and running late, for whatever reason.
I also asked Lorie a few more questions about herself, her love for this hobby of ours, and some of her favorite layouts or products:
Do you have any plans for kits or collections coming in the future? Get us excited about what's on the horizon for you!
I've begun planning/brainstorming a kit called Cabin Fever that will be geared toward outdoor activities and events that happen during the winter. It will have a lumberjack/woodsy vibe to it and a more neutral color palette with pops of red and pine green. Of course, that is what I have planned, but how it turns out is a different matter all together. When I am creating, I tend to follow my muse more than my outline, so things often come out different than I originally intended.
You can check out Lorie's Pinterest inspiration board for Cabin Fever here.
Is there another designer on the team who you find particularly inspiring? What about a Babe?
Honestly, this team is so talented, it would be impossible for me to name just one. But there are certain things that people do extremely well that inspire me. I love the light in Kristin's kits; everything she creates seems to glow. I don't know how she does it, but I think it is what makes all of her kits stand out. I think Willie chooses some of the best color palettes I've seen. Picking colors is a challenge for me, so I really respect that talent and have used some of her beautiful blues as inspiration for kits. I am a huge Disney Fan, so of course I love everything Flergs does. Her kits always have a sparkle which gives them that magical feeling Disney kits should have. Bobbie and Ru have those great messy papers that I love. I think they are both good at thinking outside the box and truly being creative in a way that I can only aspire to. Cindy's composition amazes me. I wish I had her sense of where to put things because my previews would be fatastic. I took a lot of Traci's design classes through Scrapaneers and learned so much from her that she continues to inspire me every time I open my program to design. Really, I could go on and on because everyone here has something special and unique about their designs that calls to me. It's much the same with the Babes—so much talent and so much to love. I don't actually have a favorite. I get giddy when any of them scraps with my kits.
Are you addicted to anything? What is it and why are you addicted?
With a full time job and trying to design full time, I don't have a lot of free time, but when I get the chance, I love to watch true crime shows or read murder and mayhem fiction. I am not a blood thirsty person and usually close my eyes or skip the bad parts, but I am super curious about things and like knowing how and why something happened. So I guess my addiction is seeing behind the curtain or being in the know. That and Gibbles Barbeque Potato Chips. I can't get them in Indiana, but every time my family comes from PA, they bring me a bag. Honestly, it's one of my favorite parts of their visit. LOL
Show us three layouts from your creative team that made you smile when you saw them.
I love everything my creative team does, but these are standouts.
The Babes created some amazing layouts with Manic Monday, and as always, we love seeing how each member of our talented team brings their own style to each and every page they create! They are brilliant at showing off the versatility of each product in the Shoppe, and we hope their layouts inspire you. . . .
With that, go fill up your shopping cart with $10, and Manic Monday will be automatically added for FREE! This special offer will only be available through Friday, January 24th when our new releases go live, so don't delay! And don't forget to come back next week when we have a little sneak peek into our fun, bi-weekly sale involving our amazing featured designers! Have a great weekend!