Featured Designer FWP – River Rose Designs
Happy Friday, friends! January is almost over, and February is fast approaching. Time just keep on flying by! Today I'm excited to introduce Bobbie of River Rose Designs as our Featured Designer!
As you know, the current theme for our Featured Designer freebies this year is a Mix Tape. Each designer will create something inspired by one of their favorite songs, and et the end of the year, we will have an amazing mix tape compilation! Bobbie has created a beautiful kit for us, inspired by a song by Westlife, Hello My Love. Take a look . . .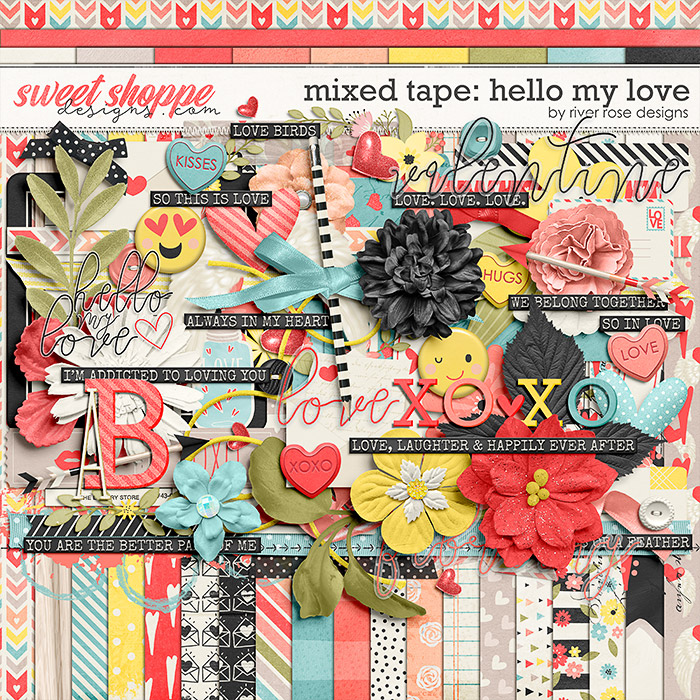 Valentine's Day is coming up, and this kit is perfect for documenting all the people and memories that you love.
I asked Bobbie a few questions about this kit and the process she went through to create it. Here's what she had to say:
What song did you choose as your inspiration? Why does it speak to or inspire you?
I chose a Westlife song called Hello, My Love. The words just spoke to me, and we all know February is just around the corner so I knew I wanted to do something lovey-dovey.
How did you decide what direction to take your kit after choosing the song for our mix-tape?
I actually chose a different song oringinally but after starting the kit it just wasn't working for me, so I switched to my current song.
I also asked Bobbie a few more questions about herself, her love for this hobby of ours, and some of her favorite layouts or products:
What song is your "anthem" for living, designing, relaxing?
I LOVE, LOVE, LOVE this One Republic song called I Lived! Because I think in life it doesn't matter if it feels like you've lived big or small, it matters that you're happy with the things that you've done and are planning to do for your future. This is a great song to dedicate to my children as well. Here's a link to the song if you don't know it and care to listen to it: https://youtu.be/KINfQbfZwik
Do you have any plans for kits or collections coming in the future? Get us excited about what's on the horizon for you!
I will have a Day to Day Collection, and another lovey-dovey collection is in the works.

Show us three layouts from your creative team that made you smile when you saw them.
I love this one from ellasspace! The pictures are just absolutely perfect for the theme of my Live Loud Collection.


Everything about this layout from biancka using For the Boys collection is just perfect! The photos, the layout, everything!

This photoless layout from craftytam really caught my attention. She used the Messy Collection, and I just can't say enough how much I love the way she used the notebook for journaling, the clustering, just everything.
The Babes created some amazing layouts with Hello My Love, and as always, we love seeing how each member of our talented team brings their own style to each and every page they create! They are brilliant at showing off the versatility of each product in the Shoppe, and we hope their layouts inspire you. . . .
With that, go fill up your shopping cart with $10, and Hello My Love will be automatically added for FREE! This special offer will only be available through Friday, February 7th when our new releases go live, so don't delay! And don't forget to come back next week when we have a little sneak peek into our fun, bi-weekly sale involving our amazing featured designers! Have a great weekend!