Featured Designer FWP – Meagan's Creations
Happy Friday, friends! We've come to the end of another week. This week was full of snow in my neck of the woods, so I'm looking forward to snuggling up with a good book a little later—my favorite winter activity! I hope you're finding time to do something you love as well.  Today I'm excited to introduce Meagan Tuck of Meagan's Creations as our Featured Designer!
As you know, the current theme for our Featured Designer freebies this year is a Mix Tape. Each designer will create something inspired by one of their favorite songs, and at the end of the year, we will have an amazing mix tape compilation! Meagan has created a beautiful kit for us, inspired by a song by Florence + the Machine, Shake It Out. Take a look . . .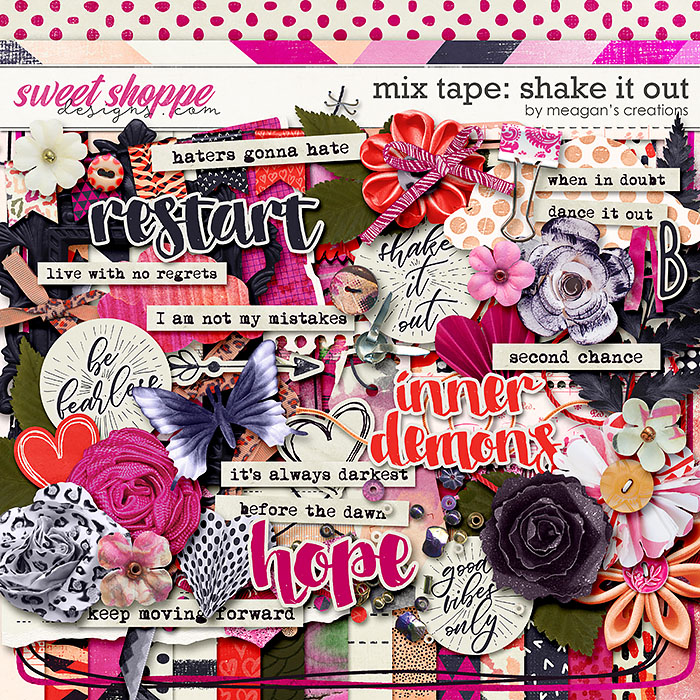 I love the theme of this kit—all about moving on from the past and being brave! And the deep, rich colors are just amazing!
I asked Meagan a few questions about this kit and the process she went through to create it. Here's what she had to say:
What song did you choose as your inspiration? Why does it speak to or inspire you?
I chose the song "Shake it Out" by Florence + the Machine. It's a song about letting go of the past, not beating ourselves up about our mistakes, and just restarting. It's such a powerful message to me to stop the negative self-talk and just keep moving forward. No good comes from dwelling on things we can't change. My One Little Word last year was "compassion," for myself and others. I think it's so important that we forgive ourselves so we can get to a healthy place to make improvements.
How did you decide what direction to take your kit after choosing the song for our mix-tape?
I don't know if you've ever seen a Florence + the Machine music video. I remember the first time I did. My sister showed me and commented, "Look how she dances." It's a bit erratic! Her music can have this real exotic feel, so I knew right away I wanted a bold but "messy" look and loved playing with an inked up/watercolor feel.
I also asked Meagan a few more questions about herself, her love for this hobby of ours, and some of her favorite layouts or products:
Do you have any plans for kits or collections coming in the future? Get us excited about what's on the horizon for you!
I've had several questions about my Doctor's Visit and Moment in Time series. I do plan on continuing the Doctor's Visit series, with more specialties being covered. I have a cardiac one planned, a head one (MRI, CAT scans, etc.), a new Dentist kit, therapy (speech, occupational, physical, etc.), internal (kidney, bladder, appendix, etc.), and a mature, more adult-themed hospital collection. It's a lot of research, but it's fun making some custom elements and seeing the kits come together.

I also have the series "Moment in Time," and I'm highlighting a decade in US History. So far, I've done 1920s and 1930s. I plan on continuing with the decades through at least the 90s but I've also had requests to go back further in the past, colonial times and such. I think those would fit the Moment in Time theme great! These also involve a lot of research and I'm learning things, too! I do love historical fiction so this is a fun and interesting task. I'll have to be sure I don't get distracted while researching!
Show us the last layout you scrapped!
I had some farmer's market pictures but it was a lot of face paintings so I thought using Brook's and my "Summer Soundtrack" kit was just perfect for this! The colors are so fun and vibrant that I felt it captured the mood in the pics well!
When you aren't designing digital treats, what do you spend most of your time doing?
When I'm not designing, I'm taking care of my 2-year old. I have three older kids who are all in school. I also mentor math tutors online part-time. I love hunting for a good deal, so I'm often coupon-hunting or planning out my grocery trips. In the last few weeks, I'm also working on learning Spanish using a free app, Duolingo. It's pretty fun!
The Babes created some amazing layouts with Shake It Off, and as always, we love seeing how each member of our talented team brings their own style to each and every page they create! They are brilliant at showing off the versatility of each product in the Shoppe, and we hope their layouts inspire you. . . .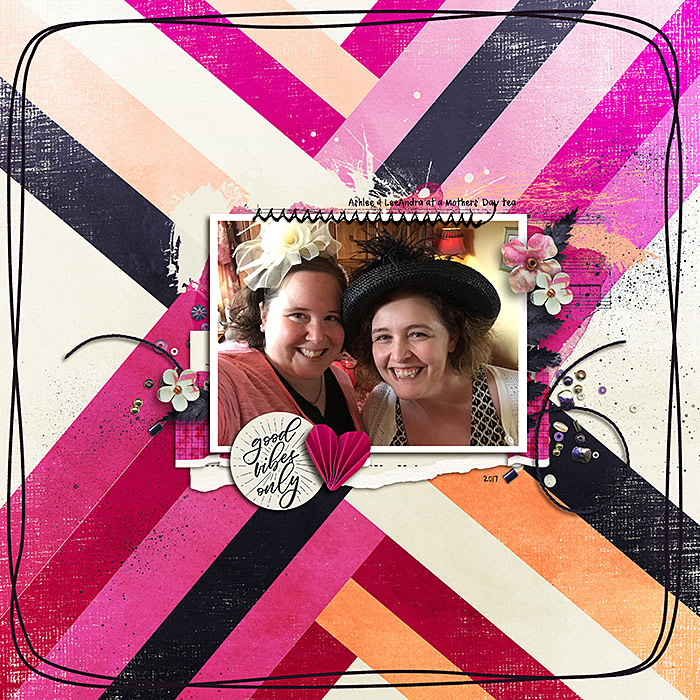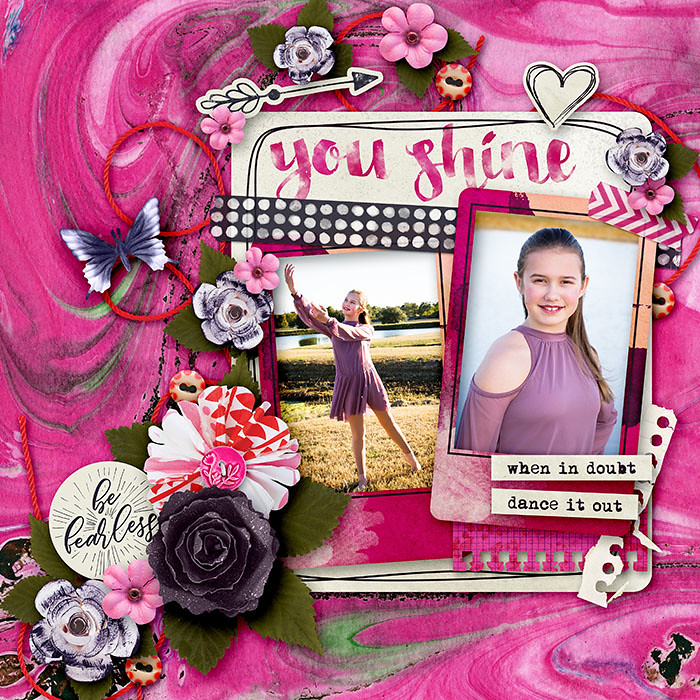 With that, go fill up your shopping cart with $10, and Shake It Out will be automatically added for FREE! This special offer will only be available through Friday, February 21st when our new releases go live, so don't delay! And don't forget to come back next week when we have a little sneak peek into our fun, bi-weekly sale involving our amazing featured designers! Have a great weekend!