Sweet Shoppe Saturday 2/8
Happy Friday Sweet Shoppers! Your favorite day of the week is here, and since our 14th Birthday Celebration is ongoing, I have so, so, sooooo much to tell you about tonight! In addition to a heap of scrumptious new releases, we also have two incredible free with purchase offers for you this weekend including a brand new featured designer freebie, and our fabulous 14th Birthday mega-collection, One 4 All, which will be FREE with your $20 purchase all week long!
While all of that is pretty sweet, that's not the end of it! If you've checked out this week's sweet peeks thread in our community, you may have noticed that we also have some fresh faces joining our team this weekend! I can't wait to show off our newest designer's goodies and tell you about this week's special promotions in the shoppe, but before I get to that, here's your first look at…
Our entire team works so hard during our birthday celebration to make sure that each weekend shines, and this week is no exception! There is so much gorgeous new stuff hitting the shoppe tonight, and best of all, everything NEW is 25% off all weekend long, including a heap of gorgeous goodies from the newest members of our sweet team!
Yep! You read that right because this week we have not one, but TWO, incredible new additions to the shoppe, and between the two of them, I think our 2020 line-up of designers is complete, and absolutely FABULOUS! I seriously can't wait to talk about these two talented women, so without further babbling from me…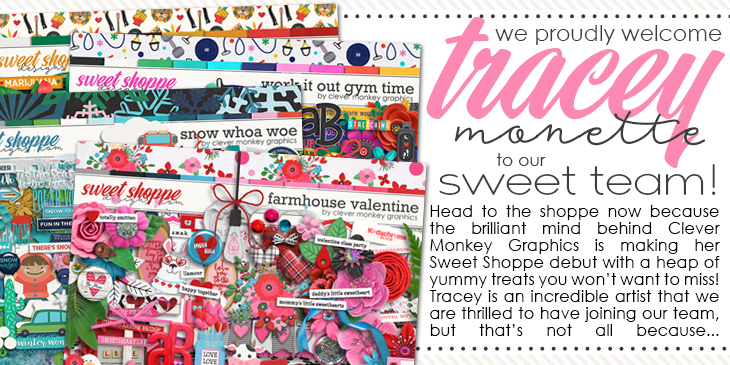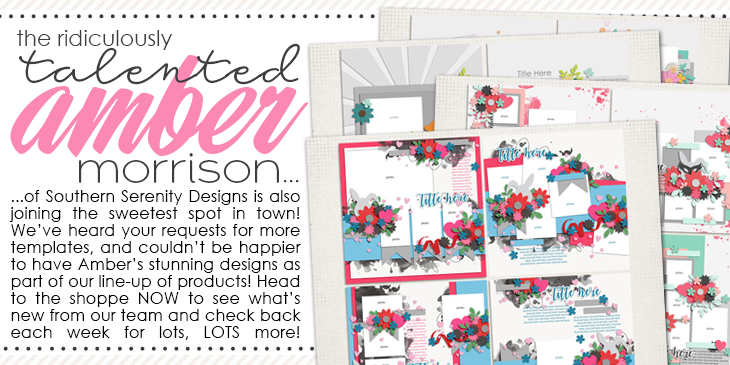 Seriously, how did we get so lucky? Both Tracey and Amber are industry veterans who bring so much experience and beauty to the shoppe! Tracey's one of a kind illustrations, impeccable eye for color and overall whimsy have made her stand out for years, and we are so proud to have her finally call SSD home! And when it comes to the tools that make scrapping quick and easy, we couldn't have asked for more in a template designer than what Amber brings to the shoppe in her detailed and cluster-heavy templates which are totally beautiful!
We know you guys are going to love these two designers, and couldn't think of a better way to make our 14th Birthday celebration sweet as can be, but we're going to try because in addition to their debut, we also have a couple of irresistible FREE with Purchase offers for you this week too!
First up, a brand new designer went into the spotlight this afternoon as our latest featured designer, and the kit she's created for our 2020 mix tape series is inspired by one of my favorite songs from Florence and the Machine! Meagan Tuck of Meagan's Creations chose Shake It Out for her Featured Designer freebie, and the bright colors and inspiring message are sure to make you fall in love…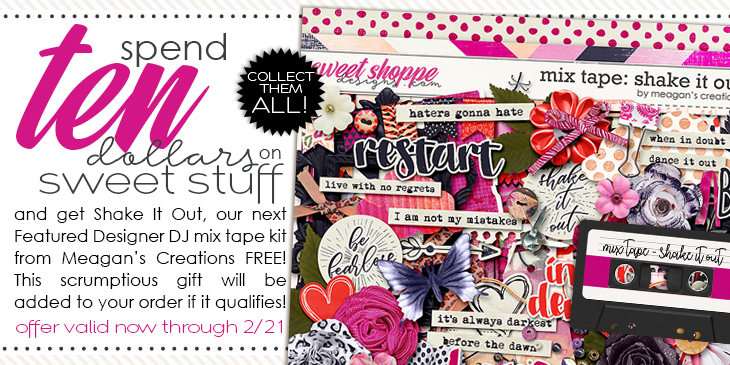 You can get to know Meagan a little better in her feature on the blog this week, so I hope you'll check that out! Meagan works so hard, and brings incredible products to the shoppe week after week, and this must-have beauty is no exception!
And speaking of must-have beauties, our limited edition, 14th Birthday Mega-Collection is here and HUGE! One 4 All is one of two mega-collections our team of designers created for our month long celebration, and this one is FREE when you spend $20 or $25 in the shoppe over the next week! Check out the details…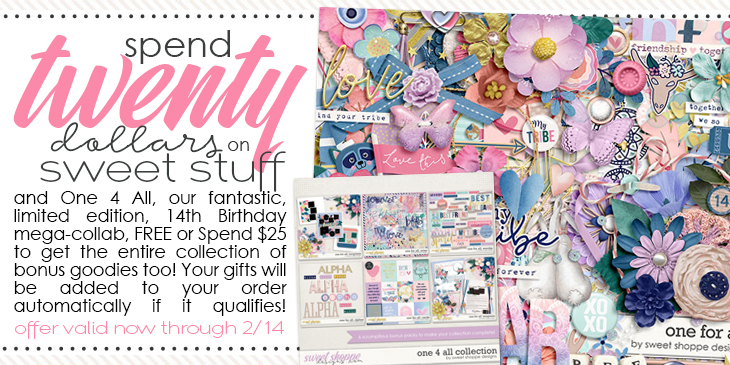 We love the play on One 4 for our 14th birthday, and One 4 All is a tribute to finding your tribe and loving them hard! This breathtaking collection is seriously MASSIVE, and whether you spend $20 for the kit alone or splurge an extra $5 for all of the add-ons too, you're going to get an amazing limited edition collection from our team that we know you're going to love, so don't miss it!
Like always, our Babes worked incredibly hard behind the scenes to make our newest goodies shine, so I wanted to share a heap of layouts from the team which I hope inspire you heading into the weekend…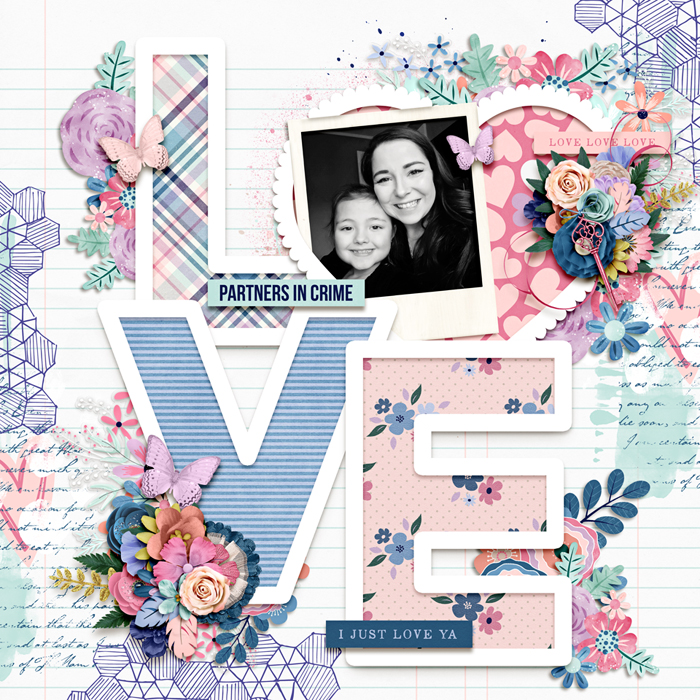 layout by SugarBabe Holly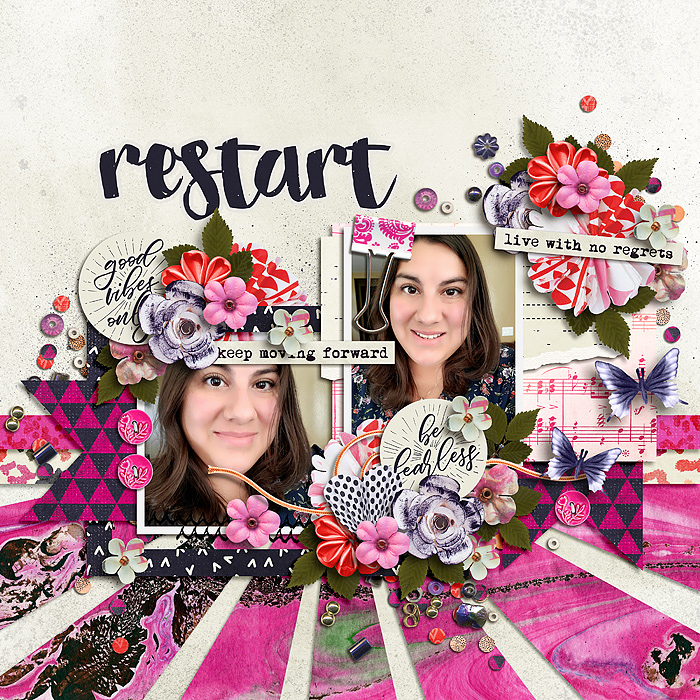 layout by SugarBabe Mary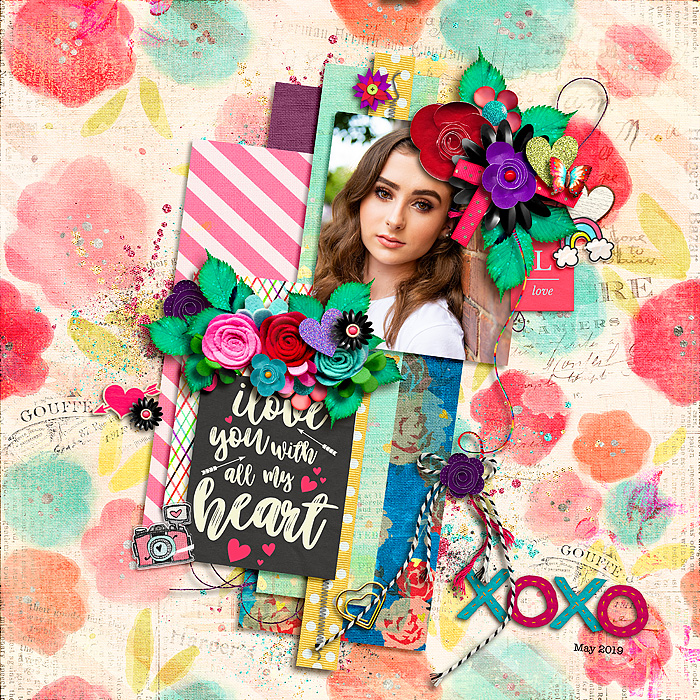 layout by SugarBabe Kendall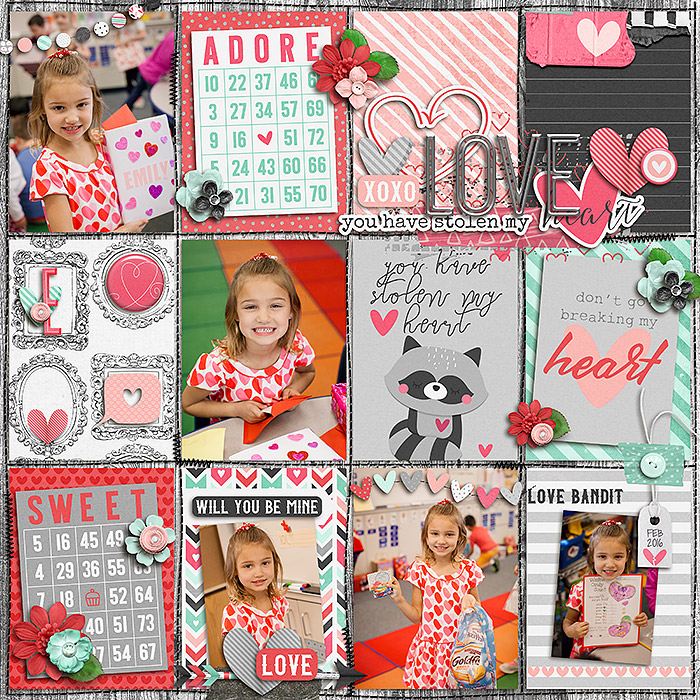 layout by SugarBabe Krista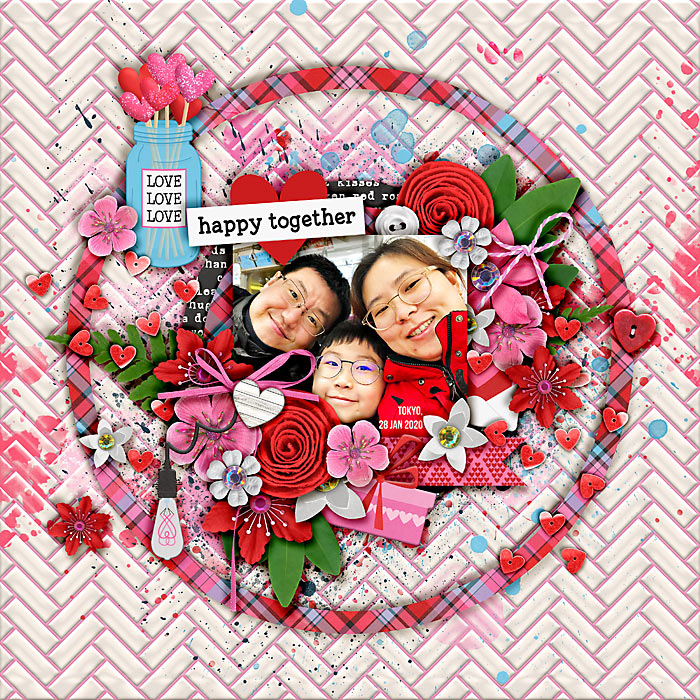 layout by SugarBabe Sherly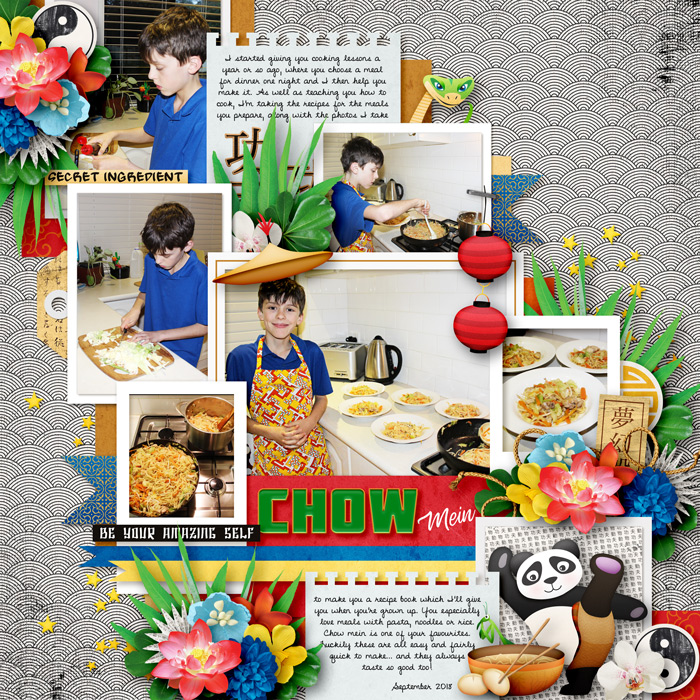 layout by SugarBabe KimB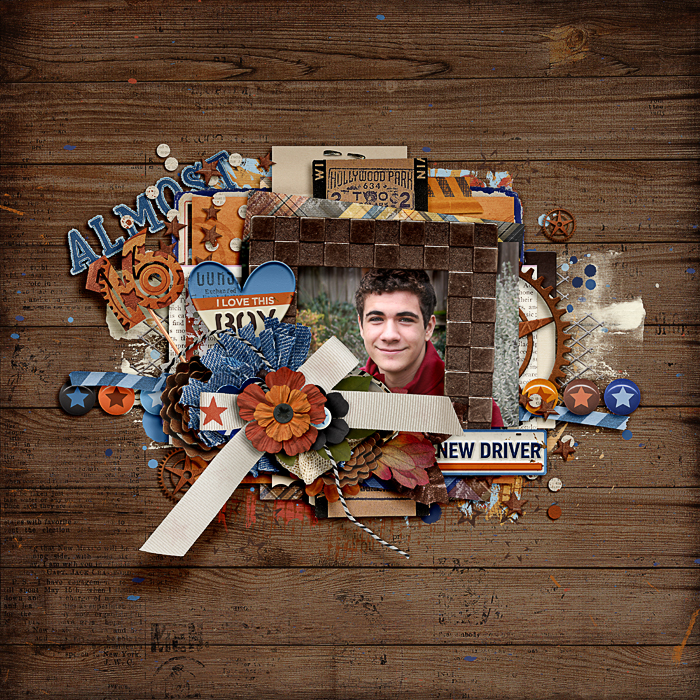 layout by SugarBabe Sheri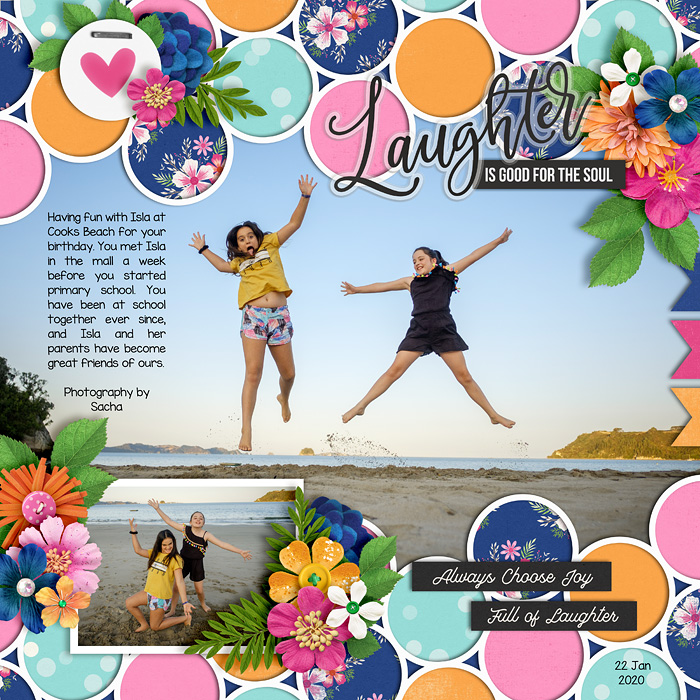 layout by SugarBabe Jacinda
Whew! Before I go… don't forget that Party Game-A-Day is ongoing in our forums, and you'll want to make time to join us each day for playful games, scrap challenges, fun conversations, and more, because when you do, you'll collect the pieces to the second of our 14th Birthday mega-collections, One 4 the Books…
The designers have outdone themselves with this amazing collection, so even if you haven't played along so far, there are still a heap of scrumptious free gifts to gather for helping us celebrate our 14th Birthday! Like we say each year, it may be our birthday, but the gifts are for YOU!
With that… I'll be here on Tuesday to keep the party going with our latest set of midweek steals, but until then, keep making memories and scrap MORE!