Featured Designer FWP – Digilicious Design
Happy Friday, friends! We've come to the end of another week. How's everybody doing? Wherever you are in the world, I hope you and your loved ones are safe and healthy. I'm really grateful for our sweet community, especially right now when things are so strange. It's good to have a bit of consistency here in our little corner of the interwebs.
Today I'm excited to introduce Christine Mortimer of Digilicious Design as our Featured Designer!
As you know, the current theme for our Featured Designer freebies this year is a Mix Tape. Each designer will create something inspired by one of their favorite songs, and at the end of the year, we will have an amazing mix tape compilation! Christine has created a beautiful kit for us, inspired by a classic Lionel Richie song—Stuck On You. Take a look . . .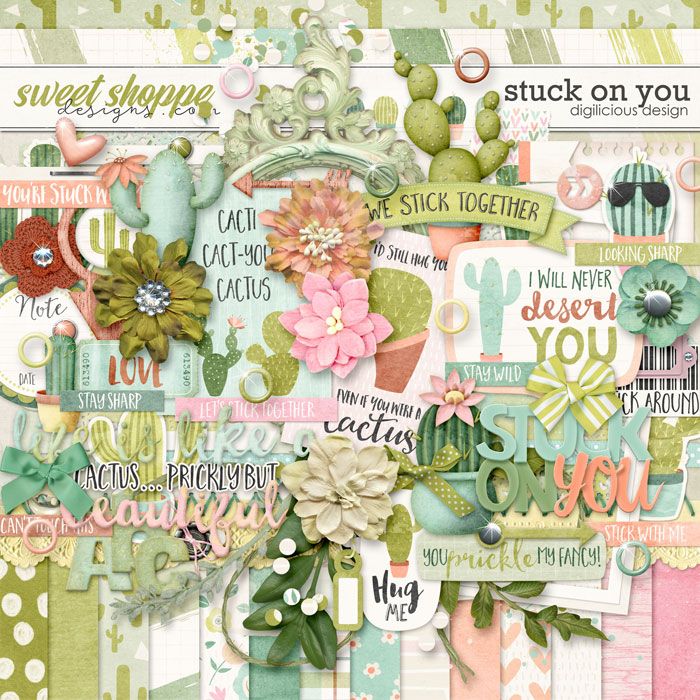 I love the theme of this kit and the way it takes the theme of the song and gives it just a little twist. So fun!
I asked Christine a few questions about this kit and the process she went through to create it. Here's what she had to say:
What song did you choose as your inspiration? Why does it speak to or inspire you?
I chose Lionel Richie's "Stuck On You." I looked on my Favourites playlist, and it's about number 5. I love songs that you can have a good sing-along to, no matter how old or new they are!
How did you decide what direction to take your kit after choosing the song for our mix-tape?
Part of the reason I chose that song was because I've been wanting to do a kit with a cactus theme, and that title worked perfectly!! I'm obsessed with cactus—there's pretty much one in every nook and cranny of my home! I also propagate them and have a greenhouse packed to the rafters with cacti and succulents. I've always had the intention of selling them from a roadside stall. I'll get there one day!
I also asked Christine a few more questions about herself, her love for this hobby of ours, and some of her favorite layouts or products:
Do you have any plans for kits or collections coming in the future? Get us excited about what's on the horizon for you!

I'm currently working on a sloth-themed kit, which I'm absolutely loving! I'm using my youngest son as inspiration, hahaha! With all this time in isolation, there's plenty of opportunity to be lazy.  I'm also planning a gardening/cleaning-up-the-yard type kit, inspired by my recent efforts at home.
When you aren't designing digital treats, what do you spend most of your time doing?
I have a cleaning business that is usually quite busy, but since Rona came to town (COVID19), I've lost most of my work. So now my time is split between homeschooling, gardening, and various other projects that I haven't had time to take care of. I just re-vamped the veggie garden a few days ago—it was like a jungle, so feral and overgrown!
Are you addicted to anything? What is it and why are you addicted?
Besides gardening, particularly cactus and succulents as I already mentioned, I am absolutely addicted to coffee and almonds! As long as I have those two things in my day, I'm happy. 
Show us the last layout you scrapped!
Oh my goodness, it has been FAR too long since I scrapped! But, it is on my mind and hopefully now that I have a little more time on my hands, I can get a couple of pages done here and there. I do love scrapping, I find it so therapeutic and rewarding. But anyway, here are the last two I did—about a hundred years ago!! I couldn't choose which one to show, so I included both. 
The Babes created some amazing layouts with Stuck On You, and as always, we love seeing how each member of our talented team brings their own style to each and every page they create! All our Babes are brilliant at showing off the versatility of each product in the Shoppe, and we hope their layouts inspire you. . . .
With that, go fill up your shopping cart with $10, and Stuck On You will be automatically added for FREE! This special offer will only be available through Friday, May 1st when our new releases go live, so don't delay! And don't forget to come back next week when we have a little sneak peek into our fun, bi-weekly sale involving our amazing featured designers! Have a great weekend!