Featured Designer FWP – Simple Pleasure Designs
Happy Friday, friends! We've come to the end of another week. How's everybody doing? Wherever you are in the world, I hope you and your loved ones are safe and healthy. I'm really grateful for our sweet community, especially right now when things are so strange. It's good to have a bit of consistency here in our little corner of the interwebs.
Today I'm excited to introduce Jennifer Fehr of Simple Pleasure Designs as our Featured Designer!
As you know, the current theme for our Featured Designer freebies this year is a Mix Tape. Each designer will create something inspired by one of their favorite songs, and at the end of the year, we will have an amazing mix tape compilation! Jennifer has created a beautiful kit for us, inspired by an iconic song from the musical, The Sound of Music—A Few of My Favorite Things. Take a look . . .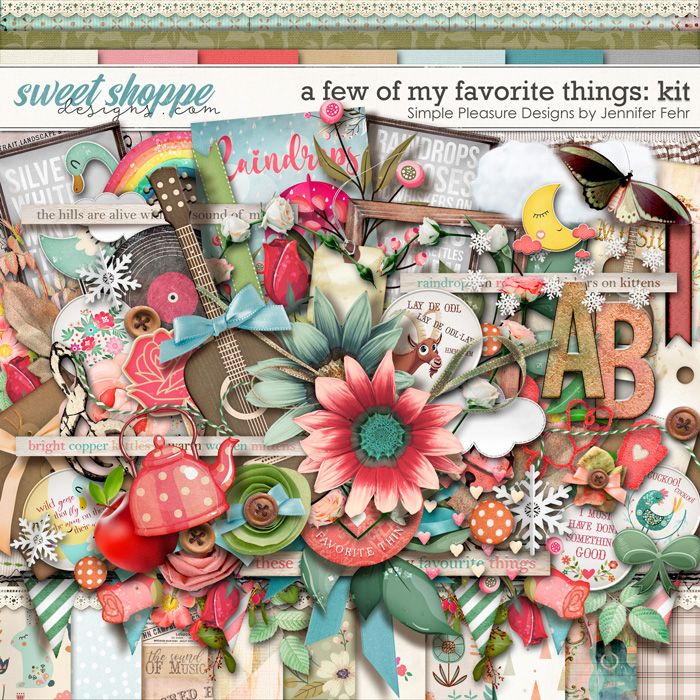 This kit is so warm and inviting! It feels fresh and happy—just what we need right now!
I asked Jennifer a few questions about this kit and the process she went through to create it. Here's what she had to say:
What song did you choose as your inspiration? Why does it speak to or inspire you?
I chose the song "My Favorite Things" from The Sound of Music!
At first, I had a several ideas kicking around in my head! I am an absolute music lover and have sooo many favourites, so it was a difficult choice! A couple months back at a family party, for fun, I began asking everyone what song I should select for my feature coming up in April. We were all tossing around ideas from rock songs, like Purple Rain by Prince and Broadway hits like  Singin' in the Rain. But, it ended up being a canvas on my sister-in-law's wall "SILVER WHITE WINTERS THAT MELT INTO SPRING" that sparked the plan!

I have ALWAYS loved The Sound of Music. It was a family fave growing up. We watched it every year together, so the song "My Favorite Things" seemed like the perfect April mixed tape-inspired kit for me to create!
How did you decide what direction to take your kit after choosing the song for our mix-tape?
To find inspiration I began listening to the soundtrack and watching parts of the production to come up with a colour scheme & design elements. I LOVE the scene where Maria sews clothing for the Children from the damask curtains, so I knew I needed damask papers! I was also inspired by the Austrian "folk" artwork seen throughout the film and set. I chose to go with soft muted tones of sage green, yellow, pink, and blue. I also loved the idea of incorporating the "winter melting into spring concept" such a fun way to incorporate a wide variety of elements!

The collection morphed into more than just the song itself; it ended up being inspired by the entire film and the collection of songs as a whole! It was truly such a FUN way to design. I listened to the soundtrack as I worked into the wee hours of the morning, and to be honest, during this difficult time we are in,  it brought a constant source of fun and joy as I listened and watched. The story really is quite inspirational, and it was a great motivator for me as I (like each of us) am struggling with the news and what is happening around us right now. I found it to be a wonderful distraction, and I hope the collection brings everyone a little bit of hope and joy as they play with it!
I also asked Jennifer a few more questions about herself, her love for this hobby of ours, and some of her favorite layouts or products:
What kit are you most proud of creating in the last year? Why?

I think I am most proud of ArtDeco this year. It was one of those collections that just really came together easily, and I LOVED the end result. The mix of black, white, and grey along with bold accent colours connected with my eclectic style of mixing vintage/retro and shabby styles together. It came together in a way that just worked. I am in love with that one.

Here is an example of a page I made using it. It is one of my all time faves!
Your Featured Designer 15 is coming up, what product are you most excited to put on sale?
I am actually most excited about one of my newest releases "Everything's Gonna Be Alright." I decided to put it back up for sale (even thought it is new) as one of my FAVE 15 because it is genuinely a reflection of how I am coping RIGHT NOW—choosing to live through this one day at a time. It helps to allow those words to ring in my mind and will hopefully serve as a reminder to everyone who works with it to take it one day at at time and remember that everything is going to be alright! xo
Show us the last layout you scrapped!
Here is the last layout I scrapped (I still have yet to create a page with this NEW collection), This is from Everything's Gonna Be Alright. This page is a special one of my youngest and myself at home. It allowed me to reflect on the joy of just "being together" right now.

I had to share ONE more HA! I made this one last minute with the NEW A Few of My Favorite Things!
Show us three layouts from your creative team that made you smile when you saw them.
This layout by Julie Wells is an all time FAVOURITE using Art Deco!

THIS one by Em Stafrace using the  NEW A Few of My Favorite Things just blew my MIND!!! SO adorable, right?

This layout using Everyday Blessings by Cheryl Ashcraft is just simply incredible—such a WOW page!
Honestly… There are SO many from my team that I just look at and am in SHOCK at how gorgeous and incredible they are. It was SO SO hard to choose!! If I may share just ONE more, hehe? This one came in this morning and it literally took my breath away. This is by Neverland Scraps, a new member on my team, using A Few of My Favorite Things." It's just amazing—so soft and beautiful!
The Babes created some amazing layouts with A Few of My Favorite Things, and as always, we love seeing how each member of our talented team brings their own style to each and every page they create! I was SO blown away by the gorgeous layouts the Babes created with this kit! All our Babes are brilliant at showing off the versatility of each product in the Shoppe, and we hope their layouts inspire you. . . .
With that, go fill up your shopping cart with $10, and A Few of My Favorite Things will be automatically added for FREE! This special offer will only be available through Friday, April 17th when our new releases go live, so don't delay! And don't forget to come back next week when we have a little sneak peek into our fun, bi-weekly sale involving our amazing featured designers! Have a great weekend!