Featured Designer FWP – Crystal Livesay
Happy Friday, friends! We've come to the end of another week. How's everybody doing? Wherever you are in the world, I hope you and your loved ones are safe and healthy. I'm really grateful for our sweet community, especially right now when things are so strange. I hope you're all looking forward to a relaxing weekend!
Today I'm excited to introduce Crystal Livesay as our Featured Designer!
As you know, the current theme for our Featured Designer freebies this year is a Mix Tape. Each designer will create something inspired by one of their favorite songs, and at the end of the year, we will have an amazing mix tape compilation! Crystal has created a beautiful template set for us, inspired by a song by 5 Seconds of Summer—Wildflower. Take a look . . .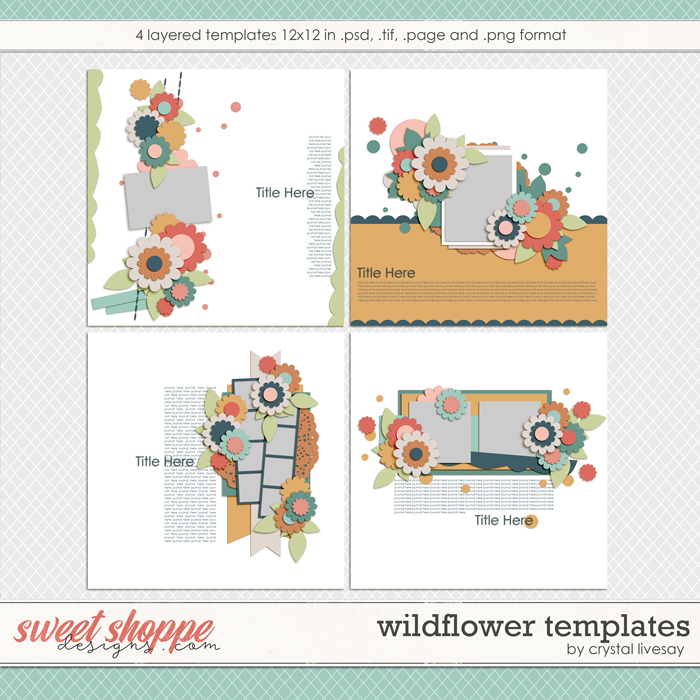 I think the thing I love about Crystal's templates is that she achieves a great balance between keeping things clean and simple and giving you a lot to work with if you really want to cluster it up.
I asked Crystal a few questions about this set and the process she went through to create it. Here's what she had to say:
What song did you choose as your inspiration? Why does it speak to or inspire you?
I chose "Wildflower" by 5 Seconds of Summer. This song has been on repeat on my playlist lately and just feels fun and light, which I need right now! 
How did you decide what direction to take your kit after choosing the song for our mix-tape?
If you know anything about me and my style you know that flowers are my jam, so I knew I just wanted to embrace the clusters and greenery, which is very "Me" and hopefully fun for everyone!
I also asked Crystal a few more questions about herself, her love for this hobby of ours, and some of her favorite layouts or products:
Create and share a playlist for us of music that gets you in the mood for being creative!

I have a "Mood Booster" playlist that was actually shared by a friend and I add to regularly. It gets me dancing sometimes and just puts me in a better mood, which inspires lots of creativity! 
When you aren't designing digital treats, what do you spend most of your time doing?
Working and practicing my photography. I really just want to capture my sweet family and try to bottle up all of those moments that I know I am going to miss one day!
Are you addicted to anything? What is it and why are you addicted?
I am addicted to self help books! I always feel like I need to be a better person and I am lacking in some way, so I am constantly trying to be better. It's just about all I read anymore. 
What is the last book you read? Did you love, hate it or was it just meh?
The last book I finished was "Girl Stop Apologizing" by Rachel Hollis and I loved it. I am a chronic apologizer and it can be really bad and actually negatively impact my relationships. I am trying to learn I don't need to apologize for being myself, but I do need to apologize when I have done something wrong. 🙂 
Share a selfie of you in your natural habitat!
In my home with the sun shining through the window…that's me <3

The Babes created some amazing layouts with Wildflower, and as always, we love seeing how each member of our talented team brings their own style to each and every page they create! All our Babes are brilliant at showing off the versatility of each product in the Shoppe, and we hope their layouts inspire you. . . .

With that, go fill up your shopping cart with $10, and Wildflower will be automatically added for FREE! This special offer will only be available through Friday, May 29th when our new releases go live, so don't delay! And don't forget to come back next week when we have a little sneak peek into our fun, bi-weekly sale involving our amazing featured designers! Have a great weekend!