Going, Going… GONE! Spring & Summer Edition
Happy Friday Sweet Shoppers! Your favorite day of the week is here, and this week is a little sweeter because tonight we're kicking off part two of our semi-annual Going, Going… GONE! sale here at the sweetest spot in town! As you guys know, whenever we do this sale, it's always a little bittersweet for us because we're so proud of the kits we've made over the years, but sometimes, it's time say out with the old to make room for the new!
Like I told you at the start of the year, for 2020, we decided to change things up a bit by having our GGG sale twice this year! This time around, it's time for Spring and Summer's seasonal goodies, and like last time, a fantastic assortment of everyday products are included too, so be sure to look through all of our retiring treats so you don't miss any of your faves!
This time around there are over a 1000 sweet treats retiring, and every single item included in this sugary sweet sale is a whopping 50% OFF which is the biggest discount we EVER offer on our products here at SSD! I know you guys are eager to hit the shoppe to stock up, so read on for the details and a few peeks at some of our favorite retiring goodies…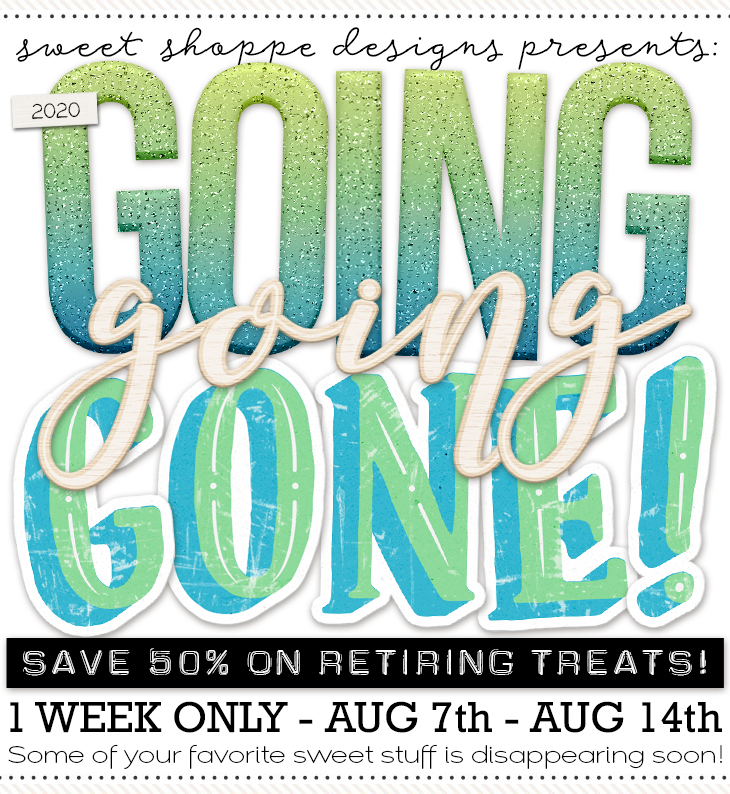 I've looked through the sale myself, and it's honestly hard to believe that some of these products are on their way out as they are every bit as beautiful today as they were the day they were released. It's so hard to narrow down nearly 1000 products to just a handful to share with you guys, but here are some of the designer's personal faves to give you just a taste of the yummy goodies that are being retired into the Sweet Shoppe vault for good…
Seriously guys, this is just a taste of nearly 1000 products that you won't be able to get your hands on once this sale is over. So head to the shoppe now to look through all of our retiring products and snag a sweet steal on your favorites!
Like always, when we do our Going, Going… GONE sale, there will be NO NEW RELEASES hitting the shoppe tonight, except for a couple of very special new goodies to share with you guys that will be FREE with your purchase over the next week or two! Up first is a fantastic trio of templates from the one and only Brook Magee who just went into the spotlight as our newest featured designer!
As you guys know, Brook has been on a bit of a hiatus over the last year, so it's fantastic to see her back to work creating gorgeous new templates for this special offer! I have been a massive fan of Brook's style since day one, and I truly adore her whimsical, one of a kind take one digital scrapbooking templates and kits. The templates she's created for our music inspired, mix-tape series were inspired by Safe and Sound by Taylor Swift feat. The Civil Wars, and I think these framed beauties are sheer perfection! Take a peek…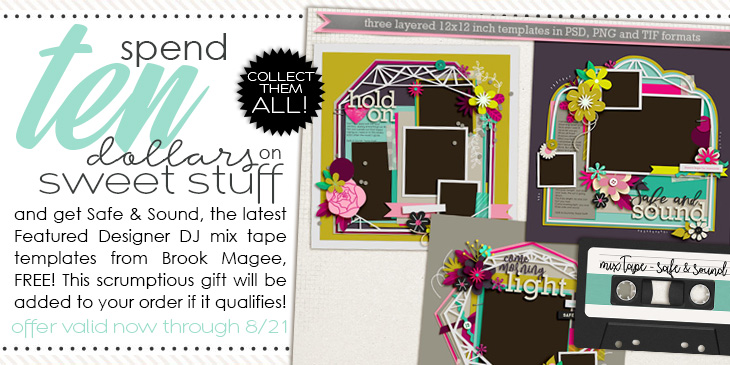 I think it's fair to say that with our Going, Going… GONE sale going on, NOW is the perfect time to splurge on yourself because when you do, you'll also get this beauty FREE when you spend $10 in the shoppe over the next two weeks! But that isn't the end of things because we're also treating you to one of prettiest team mega-collabs, that I think we've ever created!
Meet The Thrift Life, a seriously gorgeous celebration of bargain hunting, looking for treasures, and getting a deal! It's also packed with heaps of gorgeous goodies that are perfect for just about any occasion, and best of all it's FREE when you spend $20 before our new releases go live next weekend…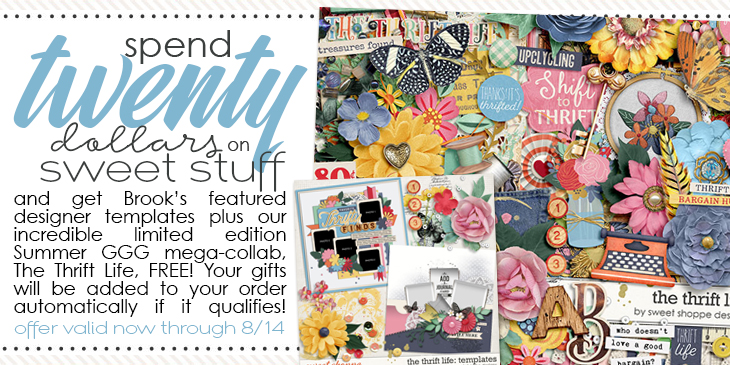 Our Babes made a heap of layouts featuring these two beauties, so before I head off for the weekend, take a peek at some of my faves. I hope this eye candy inspires you to shop, scrap and share this weekend!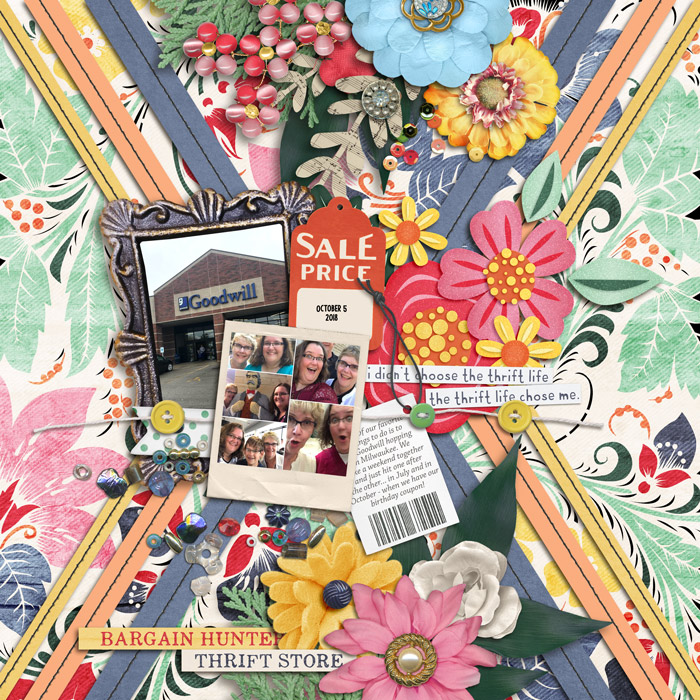 layout by SugarBabe Rebecca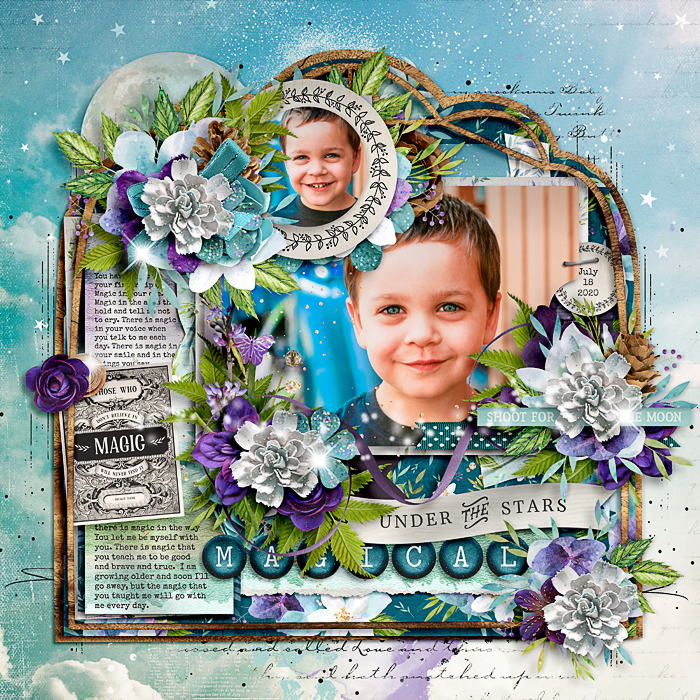 layout by SugarBabe Sheri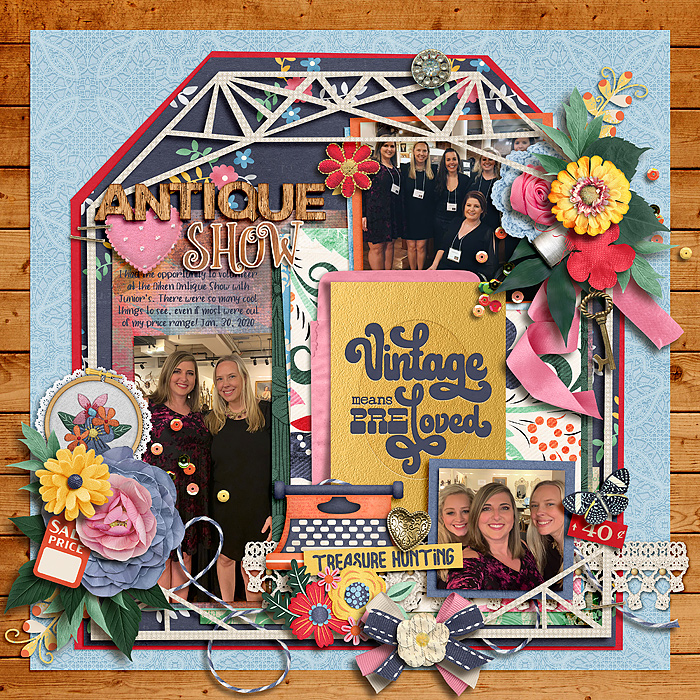 layout by SugarBabe Kendall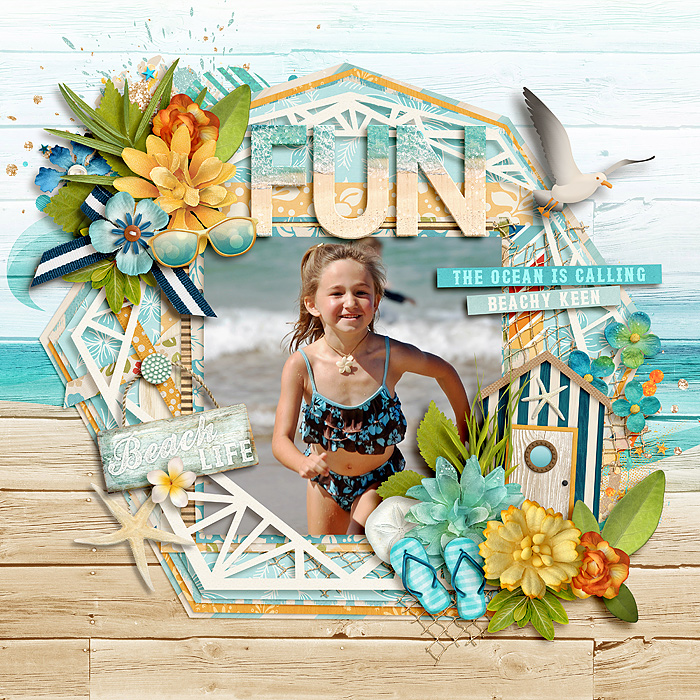 layout by SugarBabe Mary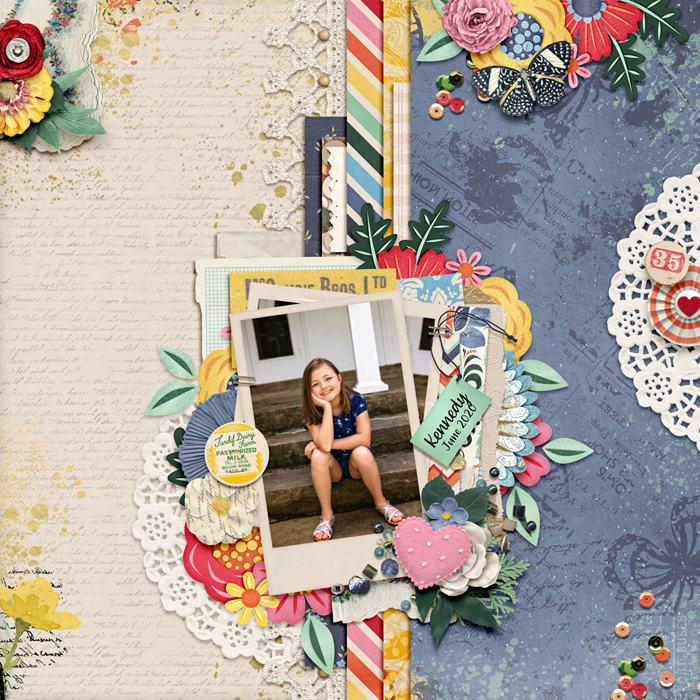 layout by SugarBabe Holly
Whew! On that note, I'm off, but I'll be here in your inbox on Tuesday with a last chance Going, Going… GONE! reminder and again on Friday with lots of sweet new stuff including the return of our Summer Jam Summer Sixlets!
Until next time sweet friends, keep making memories and scrap MORE!