Featured Designer FWP – Erica Zane
Friends, we did it! We survived 2020! I know things are still rough for a lot of people—turning a page on the calendar isn't a magic pill that makes everything better. But, I know we're all hoping that 2021 will bring better things to each of our lives. So, cheers to that!!
Today, I'm excited to introduce Erica Zane as our next Featured Designer, and she is kicking off a brand new series of featured designer freebies for 2021!
This year, our fabulous designers are celebrating some of our most memorable days in our new That Was A Day series of kits! Whether they'll be putting the focus on A Rainy Day, A Zoo Day, A Terrible, Horrible, No Good, Very Bad Day or even a Kinda Nice Day like Erica has done for her spotlight,  I think we can all agree that this theme is open to so many possibilities, and I can't wait to see what all the designers have in store for us!
Erica's take is a celebration of kindness, and we love how creative and out of the box she took her theme for the very first kit in this special series. Take a look . . .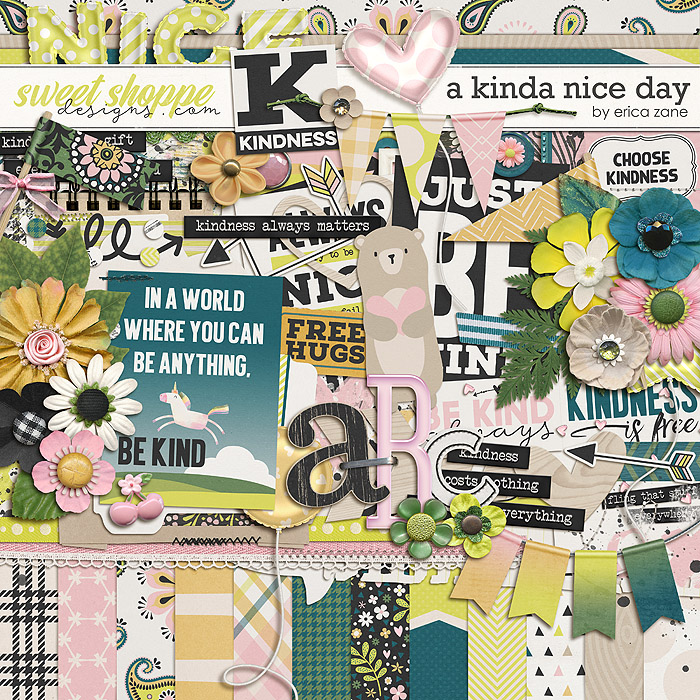 I think we can all agree that, no matter what is going on in our lives, we can all benefit from the kindness of others. AND, when you're having a rough day, spreading kindness is one of the best ways to give yourself a lift. I adore the colors in this kit, and I LOVE the timeless theme!
I asked Erica a few questions about this kit and the process she went through to create it. Here's what she had to say:
What is your favorite way to spend a day?
My most favorite days are always when we are on vacation at the beach in the summer (Outer Banks, NC). I love to wake just before the sun and go for a walk along the beach with my husband while the sun rises. Then spend the rest of the day watching the kids enjoy the ocean and pool while I sit and read, listening to the soothing waves. No schedules, no to-do lists, no computer to sit at all day . . . I look forward to that 1–2 week trip all year!

On a more typical day at home, my favorite way to spend it is going for walks along nature trails with my family (particularly when we have no one whining about said walk, which is super rare—there is always someone whining). There is something about walking through nature that energizes my soul and calms my anxieties (unless I'm alone . . . in which case I take turns being relaxed then totally paranoid I'm about to be abducted at any moment—my mind is a roller coaster).

Here were some of our favorite spots before we moved this past summer.
I also asked Erica a few more questions about herself, her love for this hobby of ours, and some of her favorite layouts or products:
How has the industry changed since you first became a digital designer? Can you share one of your first previews so we can see how far you've come?
The first and most obvious thing that comes to mind is kit size, LOL! These are pretty much super embarrassing now, as they are my some of my very first kits from way back around 2006–07. Back then, this was a typical kit size, now these are like mini-kit/sampler sizes.
What is your least favorite, or hardest part, of designing a product?
Choosing colors. It is rare for me to come up with something I like and can use within minutes, I don't even know if that's ever happened. Usually it's hours, but lately it seems like it takes days! That may be dramatic but if I spend too many hours in a row, I just have to walk away and come back later. Everything starts to look the same and then I start the "ack, that looks the same as my last kit" or "sigh, I've used too much of that color lately" cycle. Sometimes it's hard to shut that part of my brain down. It can be quite obsessive!
Is designing your only job, or do you work outside of designing?
I used to also work in our elementary school as a cafeteria hostess (and for a while as a teacher's aide too) and overall I loved it so much! There were crazy days when I wondered why I was there but then they were days when I'd see a first grader crying on her first day after moving to a new school and I could sit with her and cheer her up, introduce her to some kids sitting near her, and leave her eating her lunch instead of crying. Those were the best days! I started when 2 of my kids were still there, and it was the best seeing them at school with their friends. It also helped me get my youngest of out her shell just a little more, especially on dress up days, even though I still couldn't talk her into dressing up much, and she thought some of my outfits were embarrassing, haha! When we moved to another county this past summer though, I had to quit and I miss seeing all my little buddies. So, for now, designing is my only gig . . . well, besides the usual that comes with being a mother of 4, such as dishwasher re-organizer, laundry avoider, virtual learning monitor & enforcer, bare minimum house cleaner, reluctant grocery fetcher, occasional meal cooker, etc.
Share a photo of your workspace at home!
Before we moved, our family of 6 was in a townhouse so my husband & I just had desks in the main living area. It was loud and crowded and super distracting. When we found this new house, we were super excited to see it had an actual office big enough for both our desks, complete with doors. It has been so amazing, and with virtual learning, I am not having random piles of papers added to my desk daily, I don't miss that!
The Babes created some amazing layouts with A Kinda Nice Day, and Erica even contributed a few of her own. As always, we love seeing how each member of our talented team brings their own style to each and every page they create! All our Babes are brilliant at showing off the versatility of each product in the Shoppe, and we hope their layouts inspire you. . . .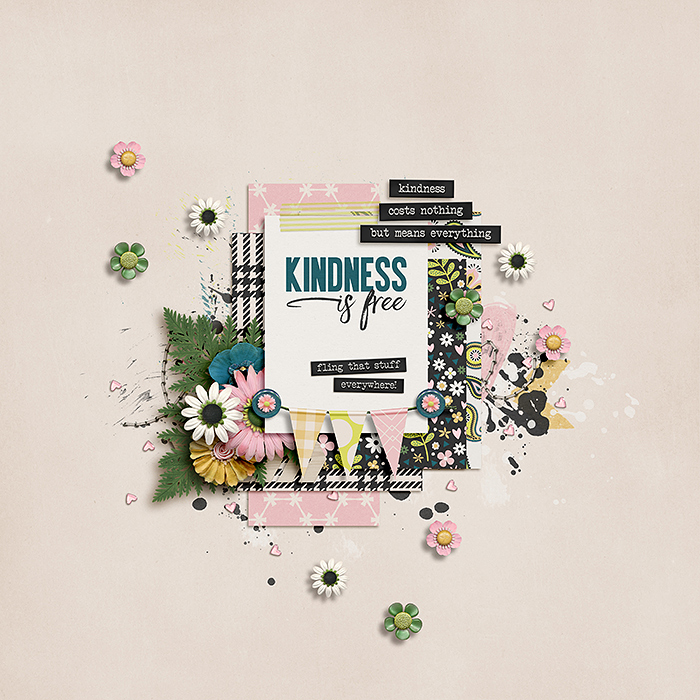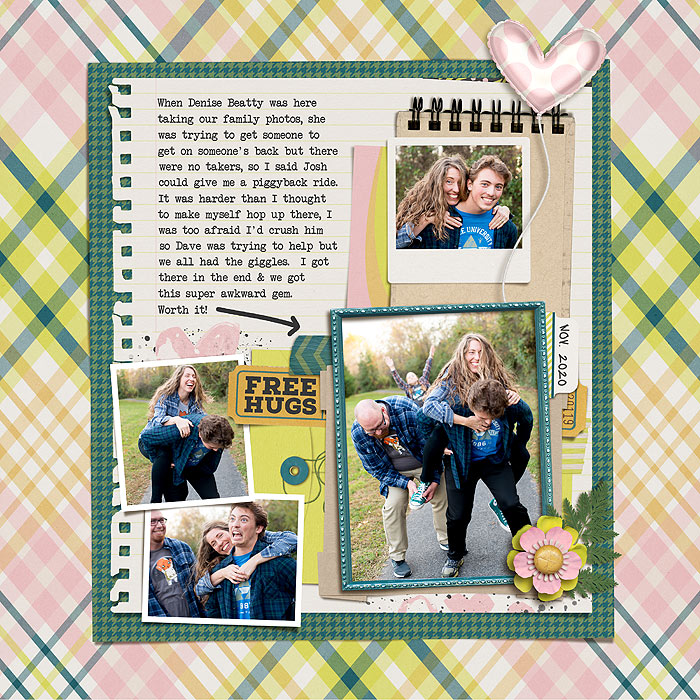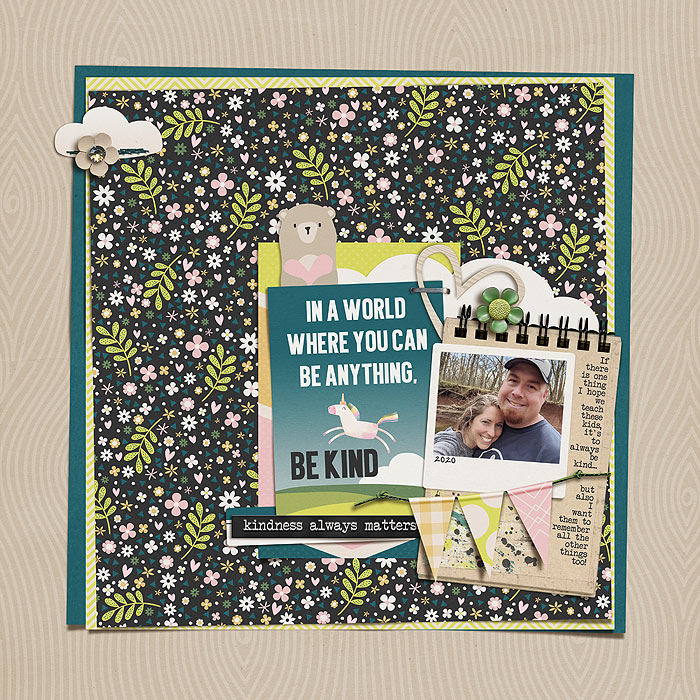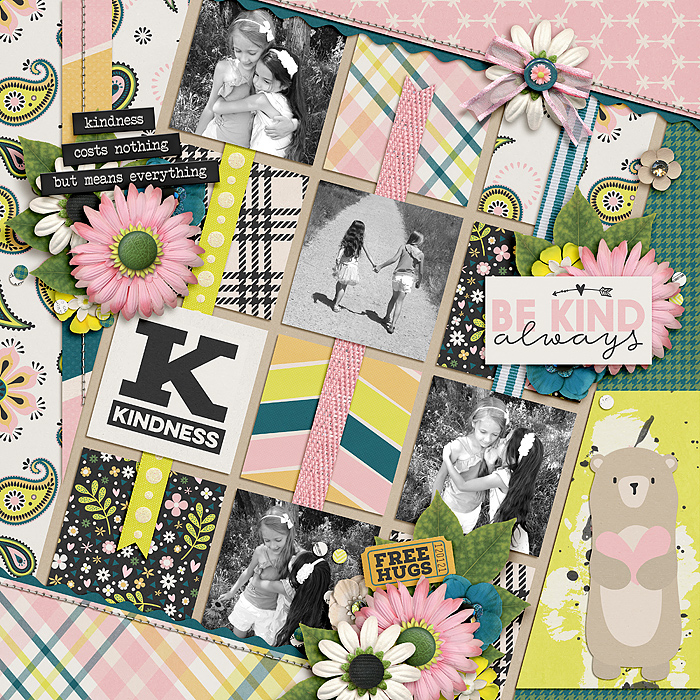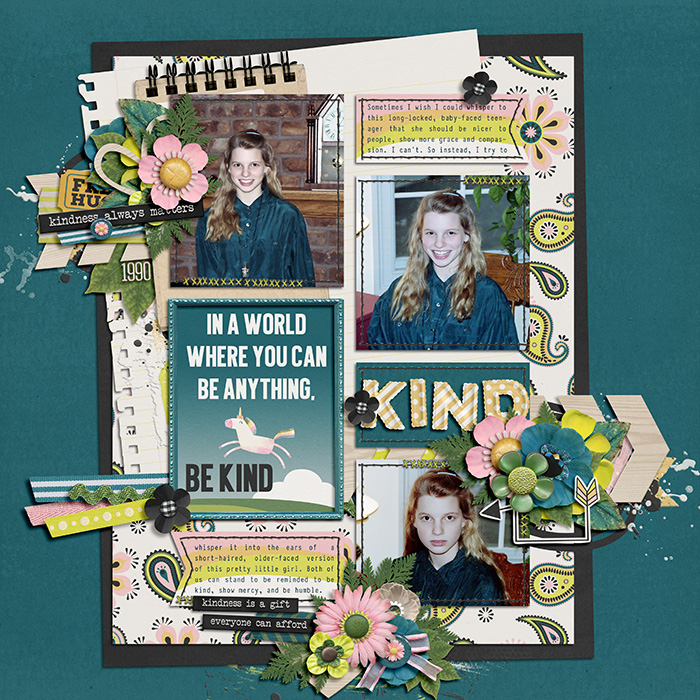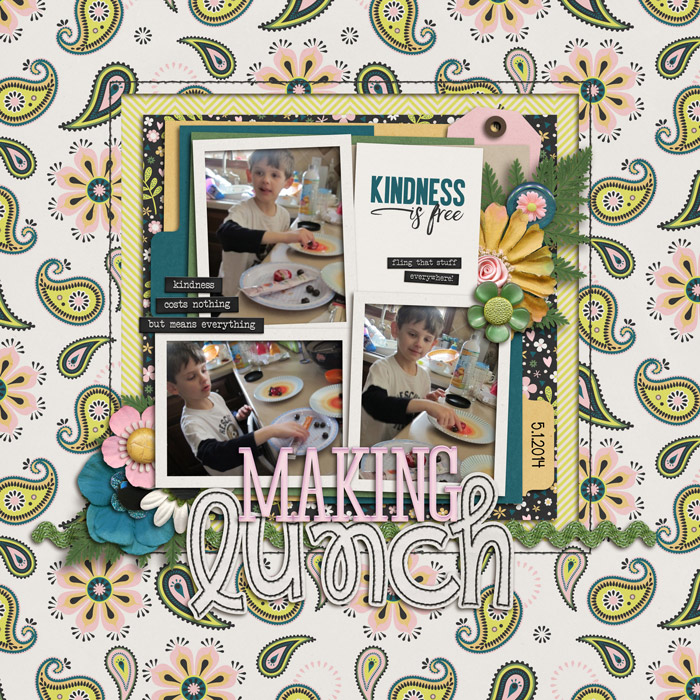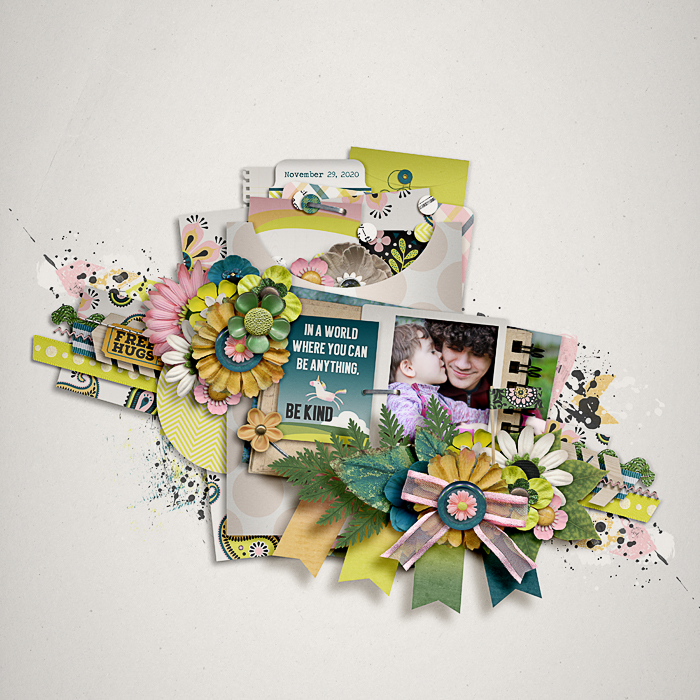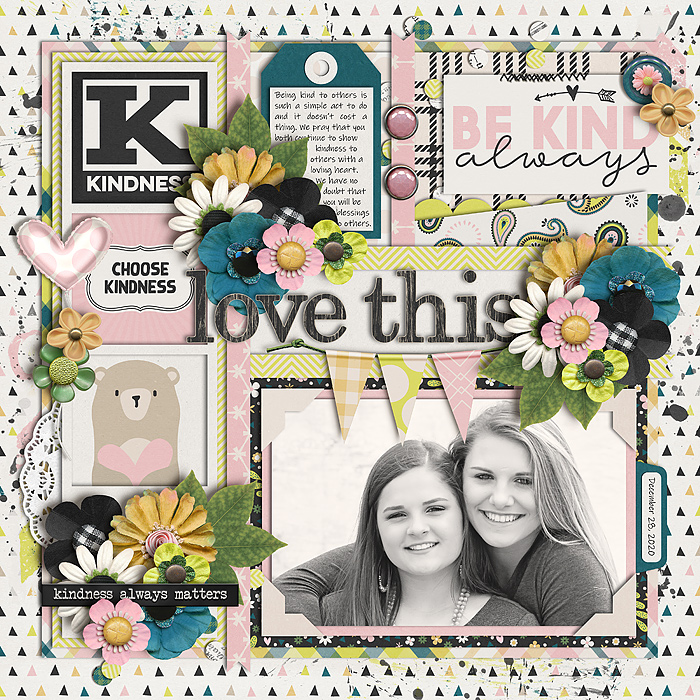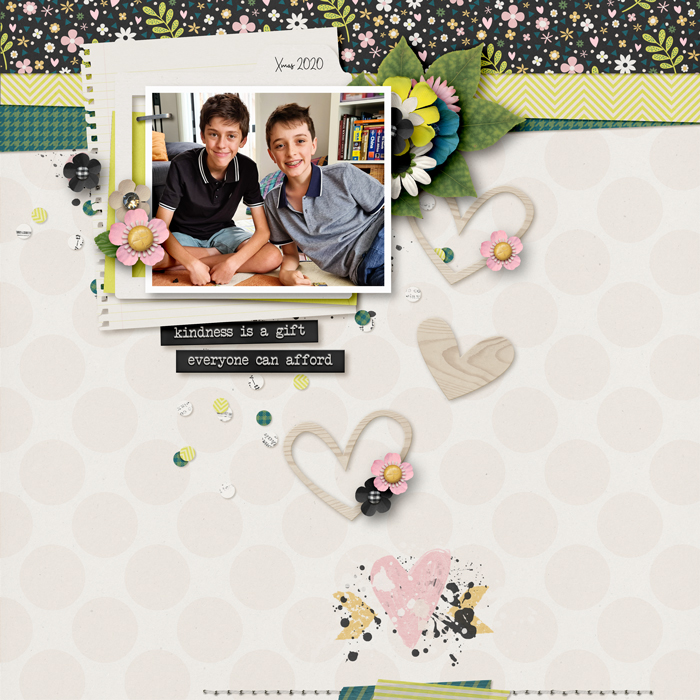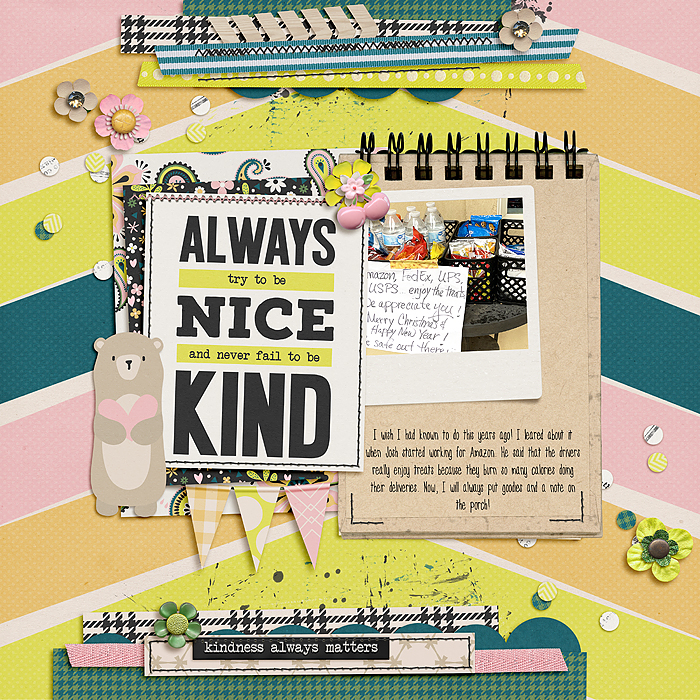 With that, go fill up your shopping cart with $10, and A Kinda Nice Day will be automatically added for FREE! This special offer will only be available through Friday, January 15 when our new releases go live, so don't delay! And don't forget to come back next week when we have a little sneak peek into our fun, bi-weekly sale involving our amazing featured designers! Have a great weekend!