Featured Designer FWP – Studio Flergs
Happy Friday, friends! Another week has come and gone, and we're nearing the end of February. My how time flies! I hope everyone is looking forward to a wonderful weekend making memories doing the things you love with the people you love.
Today, I'm excited to introduce Megan of Studio Flergs as our next Featured Designer! This year, our fabulous designers are celebrating some of our most memorable days in our new A Day To Remember series of kits! Megs' contribution to this theme is so much fun! A Party Day is an AMAZING birthday kit packed full of beautiful papers and elements that are perfect for documenting anyone's special day! Take a look!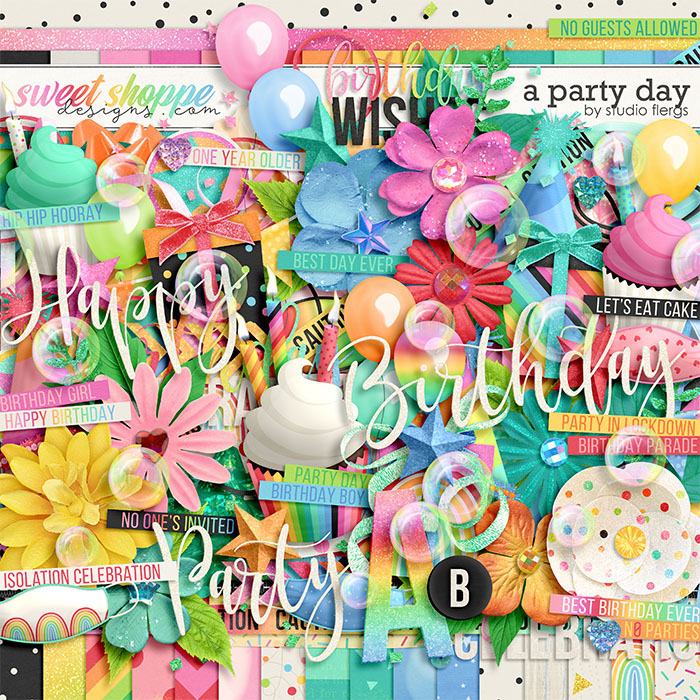 Can you say RAINBOW!? I just love everything about this kit, but I could just about eat that rainbow alpha!
I asked Megs a few questions about herself, her love for this hobby of ours, and some of her favorite layouts or products:
Walk us through a typical "day in the life" of you!
I lead a pretty boring Mum life. I get up and get kids ready for school, do the school drop off, come home and work all day, usually forgetting to eat lunch, then school pick up and driving kids to activities. Housework, washing, cooking, designing . . . that is about it! Then on weekends we try to get out and do something fun or watch movies or go clean up our block and mow the grass. I seem to be stuck in a never ending loop.
Is designing your only job, or do you work outside of designing?
Yes this is my full time job now. I used to also be a hairdresser but gave that up to design full time when I came to SSD.
If you could visit anywhere or anyone, where would you go/who would you see and why?
There are so many places, but I'd really love to go back to the US and see Harry Potter World, New York, the Grand Canyon . . . so many places, but especially places we've seen in movies. I'd love to go see the house from Home Alone, famous landmarks, and other fun places like that.
Are there any TV shows that you've binge watched recently? Why were you hooked?
Sooooo many! I watch on my 2nd monitor while I work. I loved The Witcher and have binged it four times now. Currently I am binging Law & Order SVU while I work. My favourites lately have been The Witcher, RuPauls Drag Race, Lucifer, YOU, Sex Education, Shameless, Schitts Creek . . . too many to list!
What is your least favorite, or hardest part, of designing a product?
I hate making the pocket cards and wish that was something that people no longer liked using so I could stop making them lol.
The Babes created some amazing layouts with A Party Day. As always, we love seeing how each member of our talented team brings their own style to each and every page they create! All our Babes are brilliant at showing off the versatility of each product in the Shoppe, and we hope their layouts inspire you. . . .
With that, go fill up your shopping cart with $10, and A Party Day will be automatically added for FREE! This special offer will only be available through Friday, March 12 when our new releases go live, so don't delay! And don't forget to come back next week when we have a little sneak peek into our fun, bi-weekly sale involving our amazing featured designers! Have a great weekend!