Sweet Shoppe Saturday 8/28
Hey, hey Sweet Shoppers! The final weekend of August is here, and I think for many of us that means summer is nearly over and most of our kids are back to school! After a year and a half of kids at home, it's been a rocky week for me with early mornings and new schedules, but we made it through and I have a ton to tell you about tonight!
In addition to a heap of new goodies that I know you're going to love, we also have a brand new featured designer freebie, the last of our Scrap It! Summer mega-collabs and a surprise second chance New Release weekend sale too! I think we're ending the summer in style here at the sweetest spot in town, so let's get right to it with your first look at…
I think we can agree that our designers have done it again this week because there are so many amazing new treats hitting the shoppe tonight! First and foremost, I have to sing the praises of Tracey's new Zoo-tastic! collection which may be the best zoo kit we've ever had in the shoppe! She's drawn every amazing animal in her collection herself, and they are truly incredible, so be sure to add this one to your stash for your zoo adventures! Of course with kids back to class, we also have some fantastic new back to school kits hitting the shoppe tonight, and while Jennifer has been on a break over the past few weeks, her summer travels have inspired a gorgeous new collection called Explore Dream Discover that is perfect for scrapping your summer getaways! There is truly something for everyone hitting the shoppe tonight, so stop by and see what's new because you're sure to find something to add to your Sweet Shoppe stash this weekend!
While our newest releases are always 25% off throughout the weekend, this weekend we're sweetening the deal by putting ALL of the new goodies we've released during our Scrap It! Summer event back on sale in a surprise second chance new release weekend sale…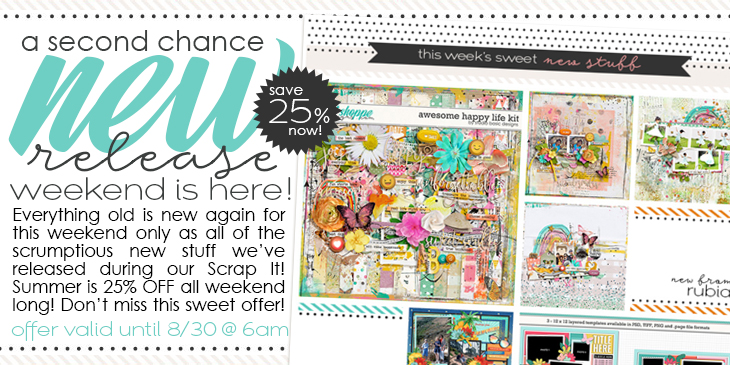 More than 300 sweet new treats have been added to the shoppe since our Scrap It! Summer kicked off in July, and every one of them is back on sale for this special event! Now is the perfect time to stock up on goodies you may have missed this summer because in addition to all of our newest releases being 25% off until Monday at 6am EST, this week, we have not one, but two fantastic Free with Purchase offers for you too!
Up first, earlier this afternoon, Jo Corne of JoCee Designs went into the spotlight as our newest featured designer, and the kit she's created for our Day to Remember series is the perfect way to take a deep breath and have a moment or two just for you! Be it a bike ride, a pajama day or a pedicure, A Self-Care Day is a charming way to celebrate YOU, but is also versatile enough to scrap just about anything! Best of all, it's yours FREE when you spend $10 in the shoppe over the next two weeks, so don't miss it!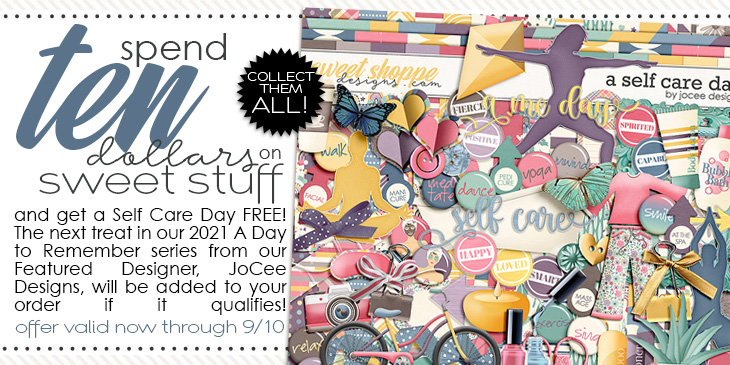 While Jo's free gift is a scrumptious treat on its own, I'm also so excited to show off the last of our Scrap It! Summer mega-collabs which are inspired by a few of our favorite scrapping styles! The final kit in this marvelous series is Art Journal It Up! which celebrates getting deep and grungy on your pages. Packed with color, paint splatters, kraft paper, deep thoughts and so much more, Art Journal It Up! is the perfect way to really play with a fun new style! This beauty won't be available again until our Flashback Finale in February, so stop by NOW, and add it to your stash before it's history…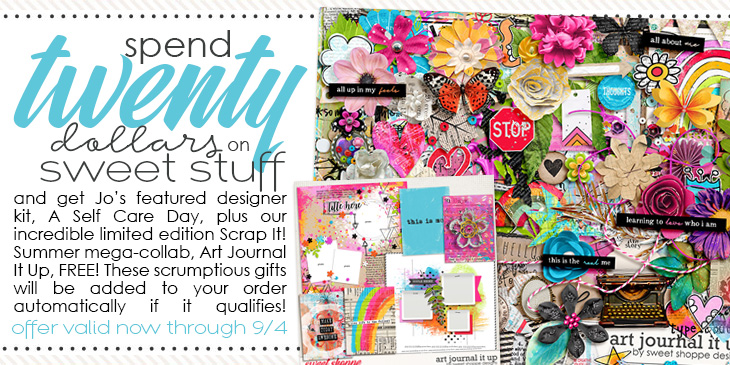 Like they always do, our talented Babes & Designers scrapped their hearts out this week, and created some seriously gorgeous pages with both of this week's sweet freebies and our other new treats, so take a little peek at what they've been up to over the past few days. I hope this collection of eye candy inspires you heading into the weekend…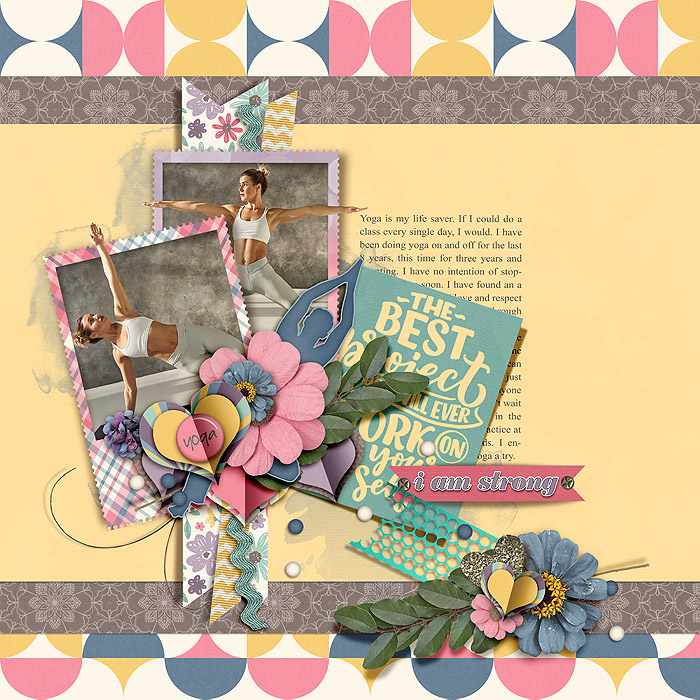 layout by Jo Corne

layout by SugarBabe Sheri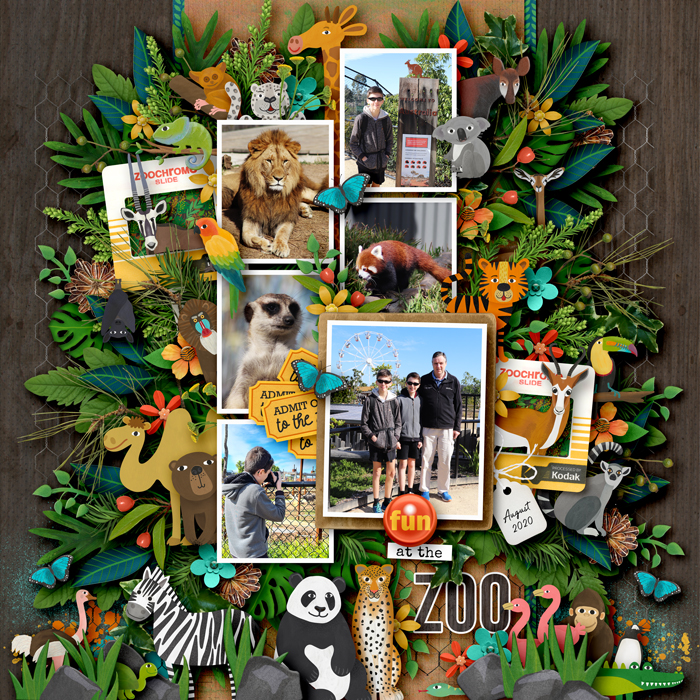 layout by SugarBabe KimB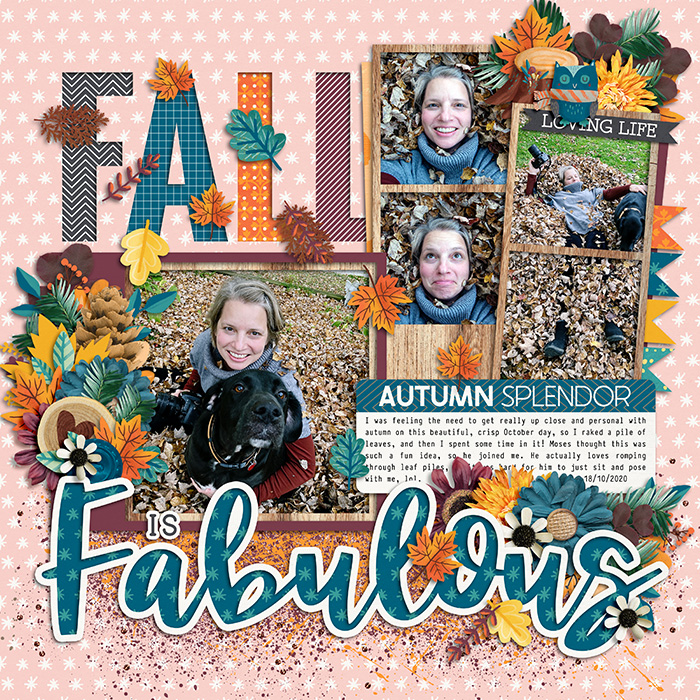 layout by SugarBabe Ally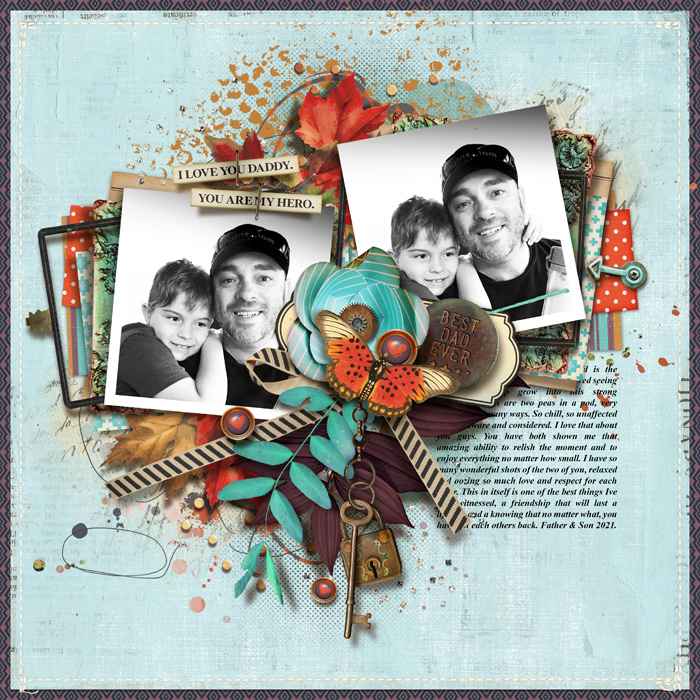 layout by Emma Stafrace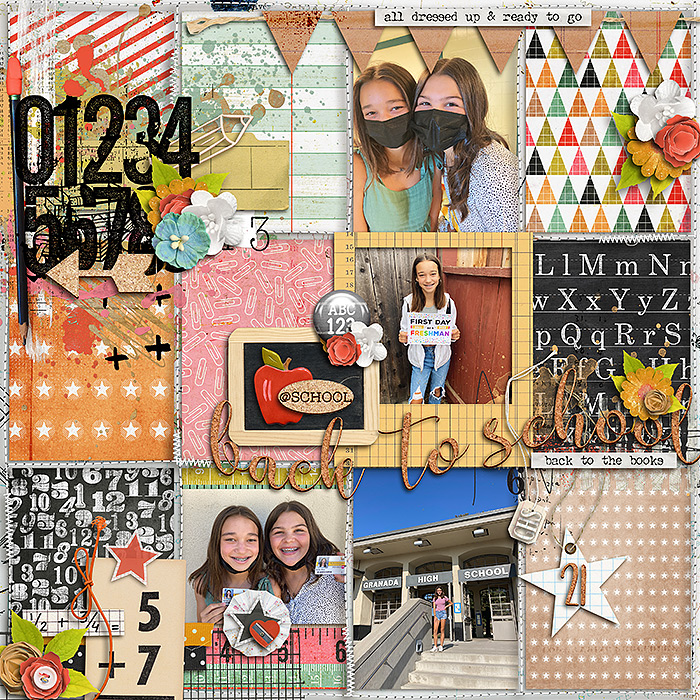 layout by SugarBabe Krista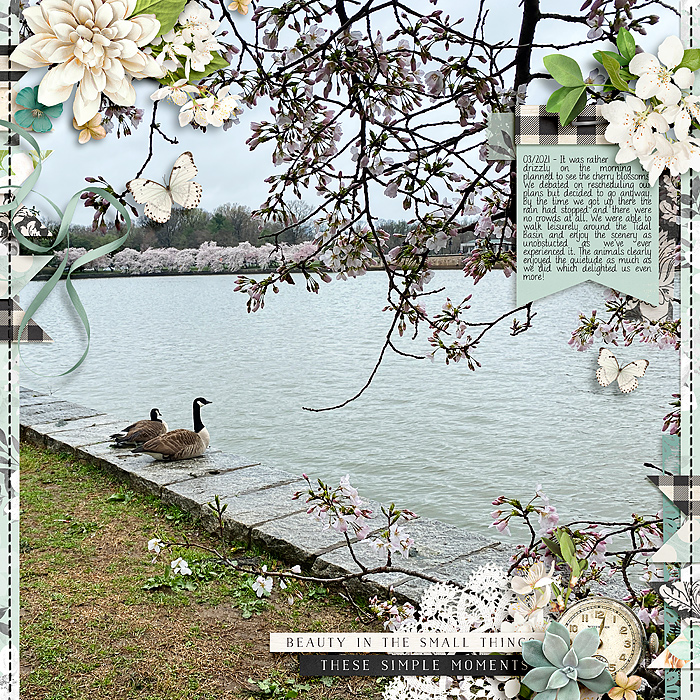 layout by SugarBabe Cassie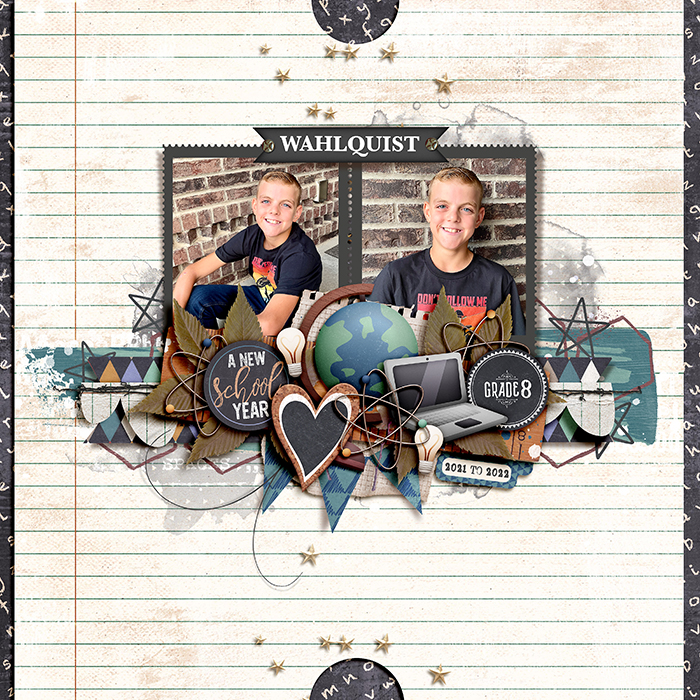 layout by SugarBabe Aly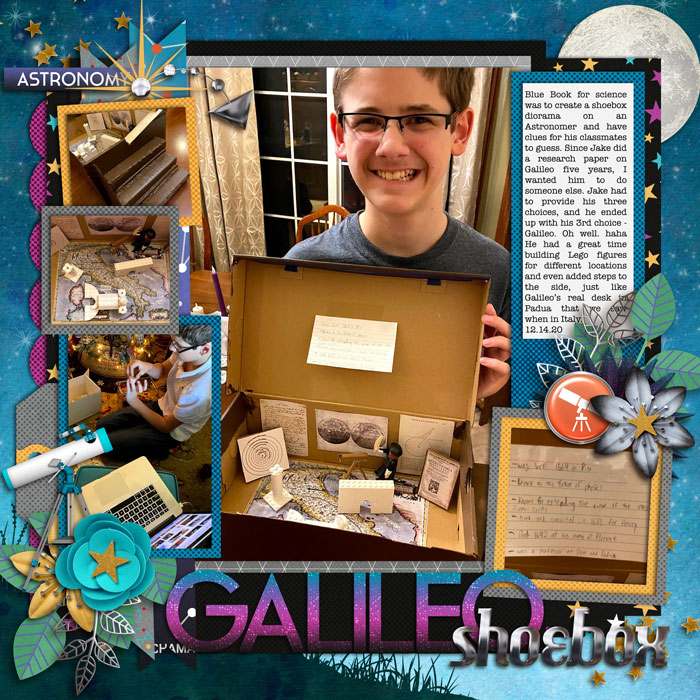 layout by SugarBabe Rebecca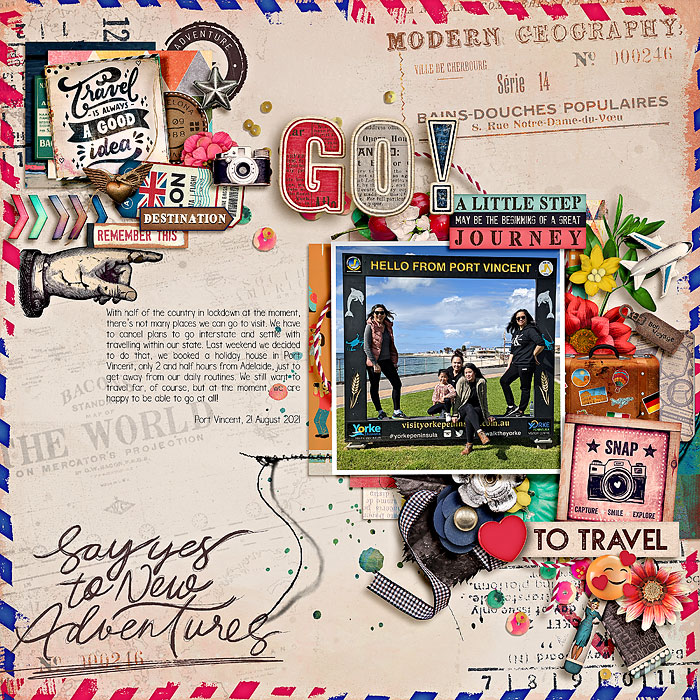 layout by SugarBabe Eve
Before I call it quits for the weekend, I want to remind you that there are just a few days left in our incredible Summer Shadowbox challenges, and while you may have missed some of our daily freebies, there's still time to finish strong for your chance to win your wishlist or join our team of SugarBabes! All 31 layouts must be completed by Thursday, September 2nd at 11:59pm EST, so don't be late. We can't wait to find out who takes home the grand prize or who's the newest member of our team!
With that, I'm off for a couple of days, but I'll be here in your inbox on Tuesday with a fabulous and fun Oldies But Goodies sale!
Until next time sweet friends, keep making memories and scrap MORE!