Sweet Shoppe Saturday 9/11
Happy Friday Sweet Shoppers! We hope your week has been sweet as can be, and that you're ready for some weekend memory making. Our designers are absolutely on fire this week, and there are some seriously scrumptious new treats hitting the shoppe tonight including a heap of incredible templates that I know you're going to love! I'm excited to show off what's making its debut this week, so let's get right to it with your first look at…
As you guys can see above, there are so many amazing goodies hitting the shoppe tonight that are creative, fun and perfect for so many things! Ru, Jennifer and Blagovesta have you covered for the changing of the season, Bobbie is ready to help you scrap those cozy moments at home,  and believe it or not, we have not one, but two crazy collections from Meagan and Lorie that will help you take care of business in the bathroom!
Like I mentioned earlier, there are also some fantastic new templates from Cindy, Em, Tracie, Nat and Erica too, so if you're looking for a way to make scrapping this season's memories quick and easy, our designers have you covered! Those treats are just the beginning of the sweet new stuff hitting the shoppe this week, and best of all, ALL of our newest goodies are 25% off all weekend long, so head to the shoppe now to treat yourself to a favorite or two!
While our newest releases are always sweet on their own, a brand new designer went into the spotlight a short time ago which means this week, we also have a scrumptious new kit that's yours FREE when you spend $10 in the shoppe too! I think Amanda knocked it out of the park with her bright and playful kit, A Happy Day, and I think this little kit is going to be perfect for scrapping just about anything! Take a look…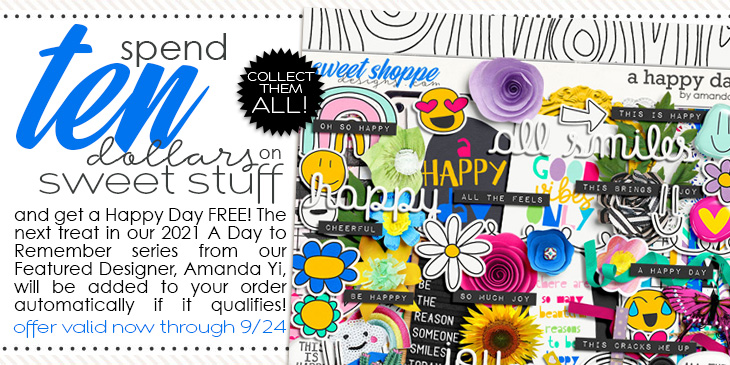 Don't forget that all of the fabulous kits from our 2021 Day to Remember series are still available in the shoppe, so stop by and make sure your collection is complete NOW!
Like I always do, I wanted to share a slew of incredible pages from our team of SugarBabes because they were on fire this week! I had such a hard time narrowing down their layouts for tonight's newsletter, so I hope you'll indulge me by checking out this week's eye candy from the team…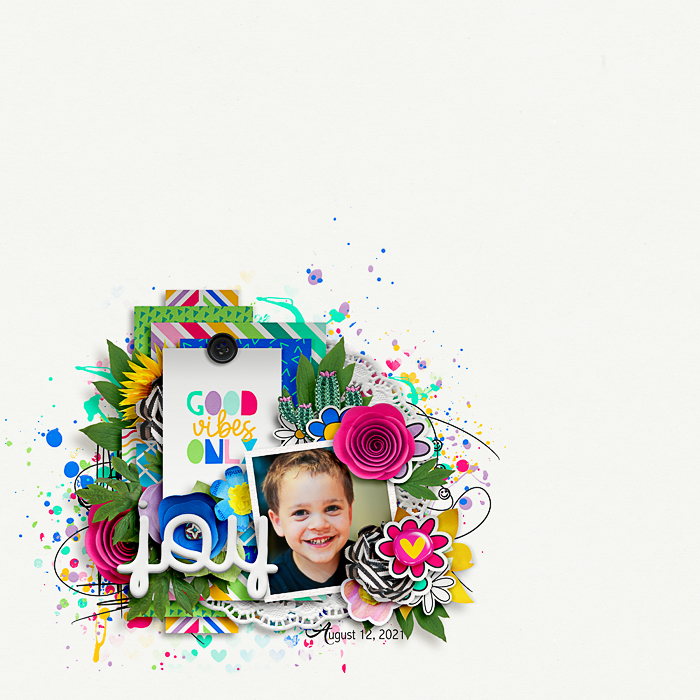 layout by SugarBabe Sheri

layout by SugarBabe Ally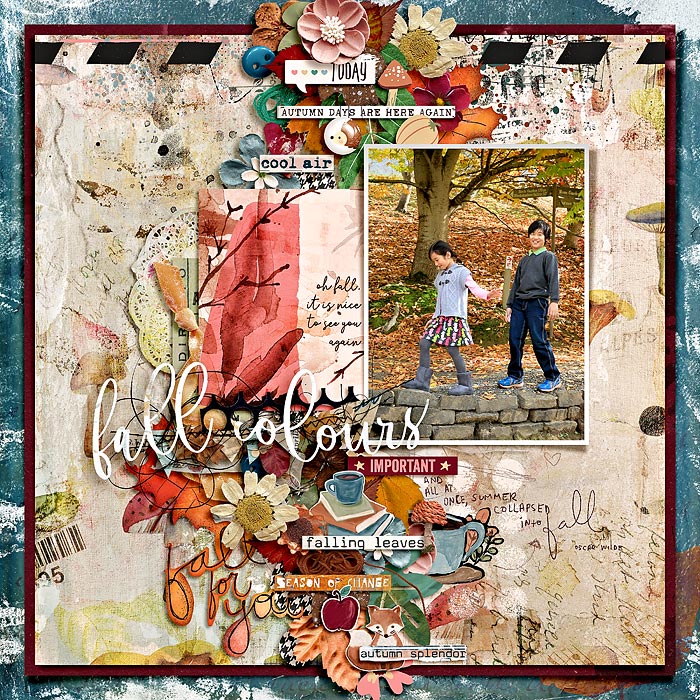 layout by SugarBabe Eve

layout by SugarBabe Rebecca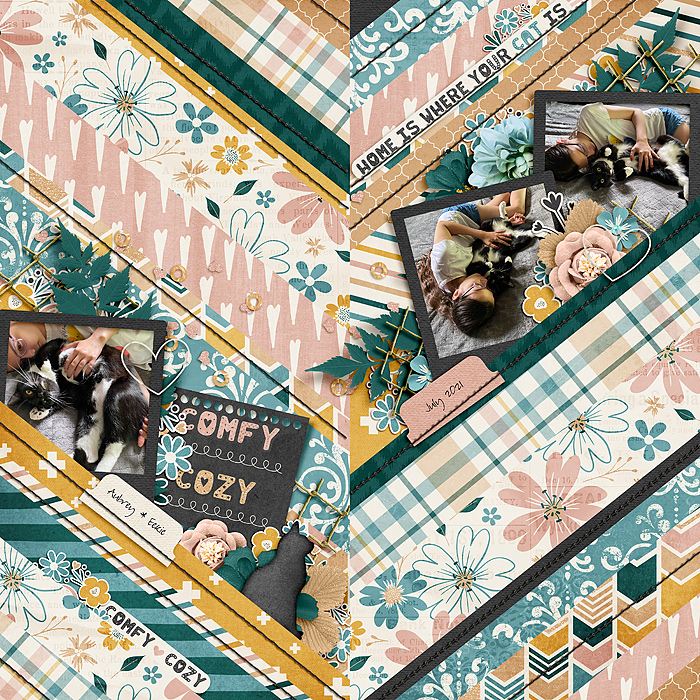 layout by SugarBabe Cassie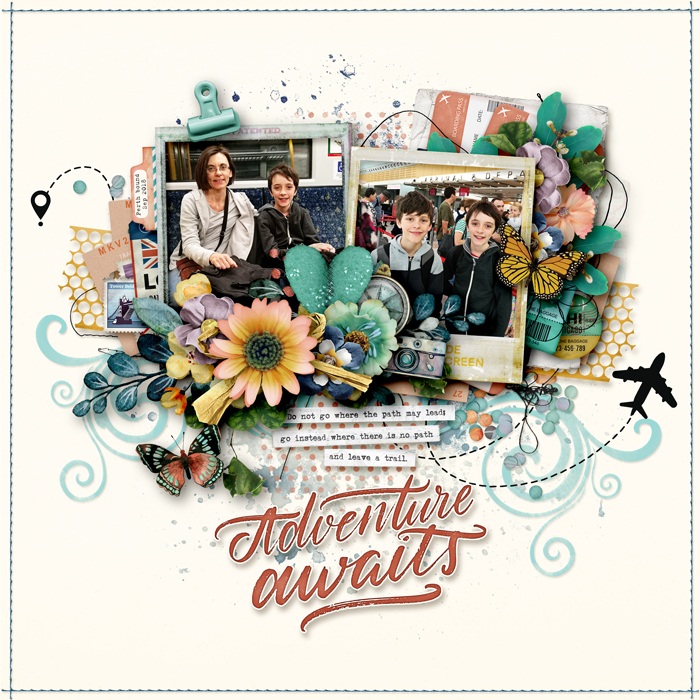 layout by SugarBabe KimB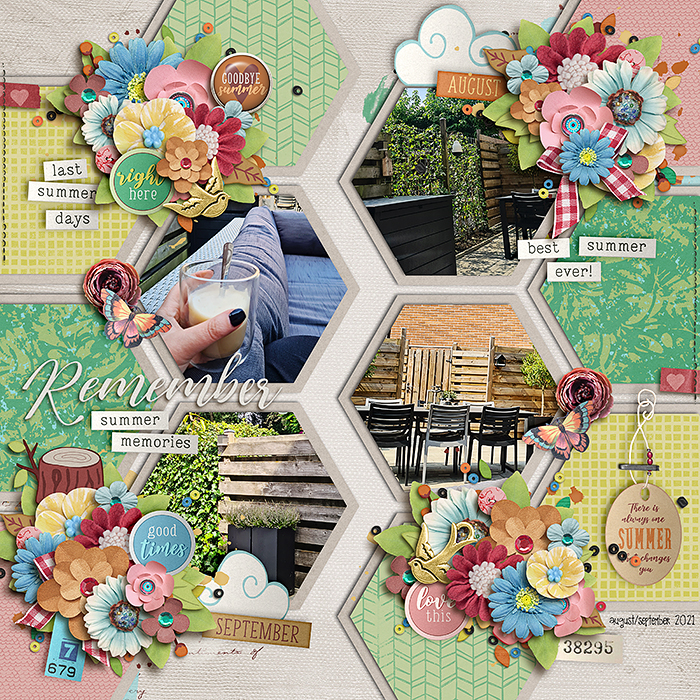 layout by SugarBabe Biancka
Speaking of our SugarBabes, I know some of you are dying to find out who the newest members of our team will be, and the reality is, we are really struggling with this decision! So many of you who want this spot are incredibly talented and wonderful members of our community, but unfortunately, we can't take you all and have to narrow things down somehow! Our hope is that by this time next week we'll be ready to make the big announcement. In the meantime, your patience is sincerely appreciated.
Finally, before I head off for the night, I also have the bittersweet job of bidding farewell to a designer who has been part of our sweet team for more than a decade! The sweet and talented Misty Cato has decided it's time to follow the path to new adventures, but I think you'll agree that she'll be missed!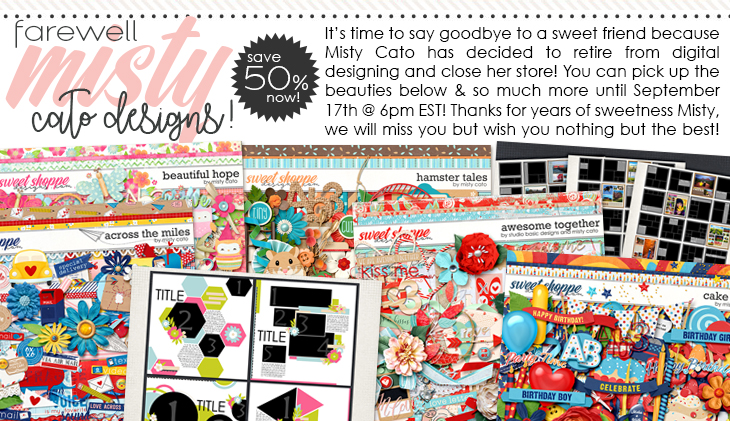 As you can see, Misty's scrumptious designs will be available for one more week at a whopping 50% OFF, so stop by before our newest releases go live next weekend to grab these treats before they are gone from the shoppe for good! Misty, thank you for so many years of sharing your amazing designs here at the sweetest spot in town. It has been a joy having you on the team, and we wish you nothing but happiness and success wherever life takes you next!
On that note, I'm off for the weekend, but I'll see you soon with another fabulous Oldies But Goodies sale that you won't want to miss!
Until then sweet friends, keep making memories and scrap MORE!