Our BIGGEST sale of the year is HERE!
Hey, Hey Sweet Shoppers! As promised, I'm here in your inbox a day early this week to kick off our biggest sale of the year! That's right, Black Friday is upon us, and this year's promotions are as scrumptious as they've ever been! Like last year, we've got some sweet steals for you to take advantage of all weekend long including some seriously fun limited time doorbuster offers you won't want to miss! I know you guys are eager to get shopping, so read on for all of the details of what's going on this weekend here at the sweetest spot in town…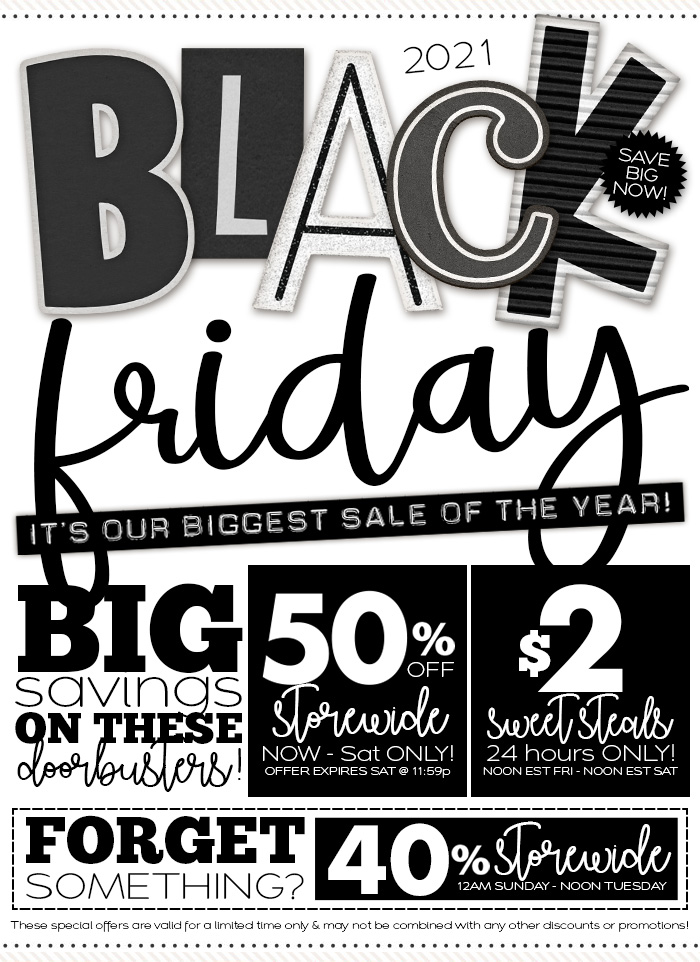 As you can see, we're kicking off our Black Friday event with an absolutely screaming deal for those of you who shop over the next 48 hours or so because we're giving you guys the biggest discount we ever offer on ALL of our products STOREWIDE! This fantastic offer expires on Saturday at 11:59pm EST, but even if you miss our initial offer, you'll still be able to snag a sugary-sweet 40% off for the remainder of the weekend too!
Every single product in the shoppe is a breathtaking 50% OFF during this incredible sale including all of our newest releases, and there are nearly 200 delightful new goodies making their debut tonight! The designers have been working hard to make this Black Friday incredibly festive and fun for you guys, so without more babbling from me, take a peek at…
Those tiny pictures don't do this week's new releases justice, and with so many new releases hitting the shoppe, we can't include them all, so be sure to take a closer look at our special Black Friday category so you don't miss a single one of this week's new treats! Don't forget, if you're a designer you won't want to miss shopping our HUGE assortment of CU tools because they're also included in this weekend's big event!
While we think our biggest sale of the year is a fabulous reason to shoppe, we're still going to sweeten the deal with an exclusive limited time offer on our gorgeous 2021 Black Friday mega-collection, The Collector. As you can see, when you spend $20 in the shoppe during our Black Friday event this weekend, you'll also pick up this beauty absolutely FREE!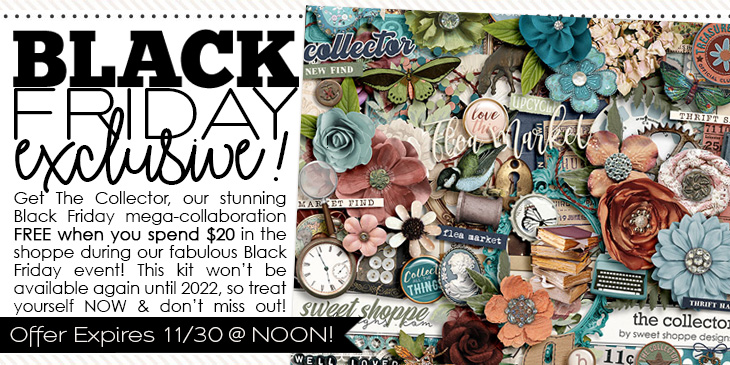 Our entire team seriously adores this massive tribute to those well loved family heirlooms and doo-dads that are near and dear to our hearts, and the warm, rich colors are seriously scrumptious! This sweet offer expires on Tuesday at Noon EST, and won't be available again until our Flashback Finale event during our Anniversary in February, so be sure to stock up soon so you don't miss out on having this fun kit in your stash NOW!
If you held out last weekend waiting for our Black Friday event, don't forget that an incredible new Featured Designer freebie from Blagovesta is also FREE when you spend $10 in the shoppe over the next week too! Her contribution to our Day to Remember series of Featured Designer freebies, A Busy Day, is such a fun collection of goodies that are perfect for documenting the hustle and bustle of being a busy mom! I love this collection, so be sure to add this one to your stash before it's too late!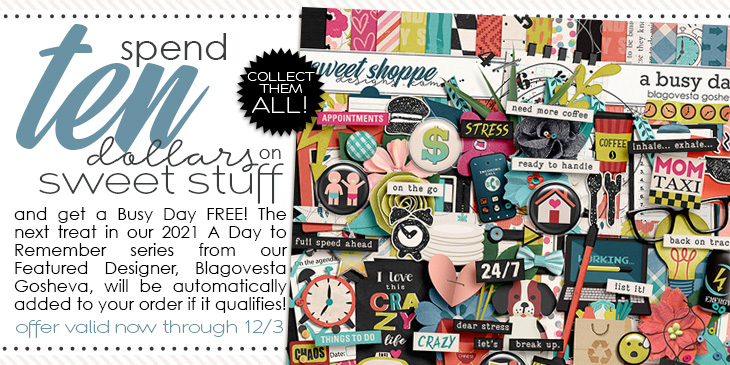 If all of this isn't scrumptious enough, and you're looking for MORE ridiculously sweet steals this weekend, you'll definitely want to come back tomorrow starting at Noon EST because tomorrow's doorbuster offer has been so popular over the last couple of years, we're doing it again for 2021! Like last year, our designers have each picked a favorite kit or template pack from their stores, and those yummy treats will be just $2 each for 24 hours ONLY! I've seen the kits and templates in this doorbuster deal, and they are going to be an amazing splurge, so be sure to stop by tomorrow afternoon and evening to spoil yourself!
Finally, before I head off for the night, I can't believe it, but December is just around the corner which means it's time to mark your calendars and bookmark this year's 25 Days of December Delights advent calendar! In addition to awesome savings throughout the month of December, we also have a gorgeous new holiday mega-collab that you'll be able to collect absolutely FREE just for checking in each day to see what's behind each door of our fun & festive advent calendar! This event is a fan favorite every year, so don't miss it!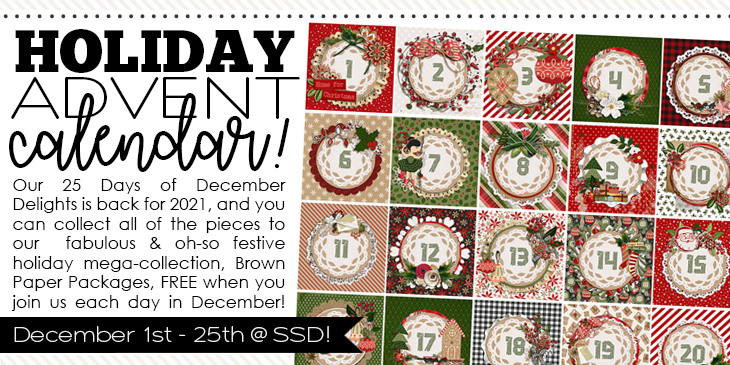 On that note, I hope all of our friends in the U.S. are having a wonderful Thanksgiving and that each of you makes the most of Black Friday. Whether that's staying up until the wee hours of the morning to grab this year's steal of a deal at your favorite retail outlet or staying cozy in bed to make the most of your online shopping, we wish you an amazing and memorable holiday shopping season!
I'm sure to be popping up in your inbox this weekend with reminders on what not to miss, so until next time sweet friends, keep making memories and scrap MORE!