Mellow November greetings, my scrapbooking friends! I know this time of year means hectic schedules and overflowing to-do lists. It will only worsen in the 40 days remaining 'till Christmas and 46 days remaining in 2021. It's my hope, however, that you're taking some time this Sunday to rest, relax, and recuperate. The fact that you're here, reading this post, is an excellent way to start!
Today is Standout Sunday, which means I get to highlight some of the gorgeous layouts our community members have recently posted. Several SugarBabes joined me this week in picking out a Baker's Dozen of Standout layouts to share with you. So grab something to drink, get comfortable, and get ready for some seriously gorgeous eye candy.
That photograph! Oh, my word, a sweet baby girl in a great big bow with her head propped on her hand looking all kinds of sassy – it's a standout all by itself. But when you combine it with vivid colors, a stunning rainbow ombre background, and word strips that are as sassy as she is, you have true scrapbooking kismet. The technique that has me absolutely marveling both at this layout and the skill of this scrapper is that cascade of little elements and how it draws our eyes across the page precisely where she wants them to go. See where it starts with the glittery stars atop the rainbow in the upper left corner? It then continues with the bows, moves across the photo precisely at the level of the baby's eyes, and picks up again with the big pink rose. Then it trails down the page and ends at the journaling block. Now that is a master at work!
SugarBabe Mary Ashbaugh chose this layout, saying, "I'm such a fan of alinalove! I love the flow of paint, the ribbons, and the string of bells that she has going in the direction of her photos. Her shadows are amazing on the dark background paper. She is such a creative artist!"
As someone with chronic health issues, I feel so much empathy for the struggle joelsgirl describes in this moving journaling-only layout. Her choice of a limited color palette – black, white, grey, and touches of turquoise – reinforces the feelings of bleak despair and sadness interspersed with moments of hope. Expertly done.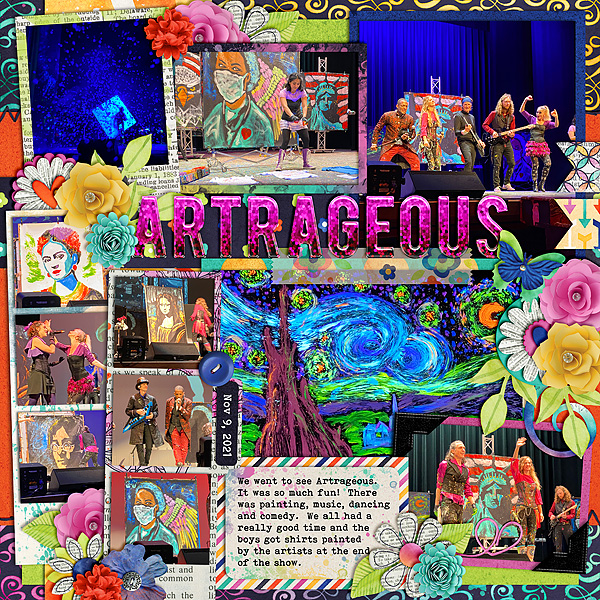 SugarBabe Dalis picked this layout. She says, "The explosion of color on this page mimicking the show is courageous and brilliant. I feel like I am experiencing the show when I look at this bright page."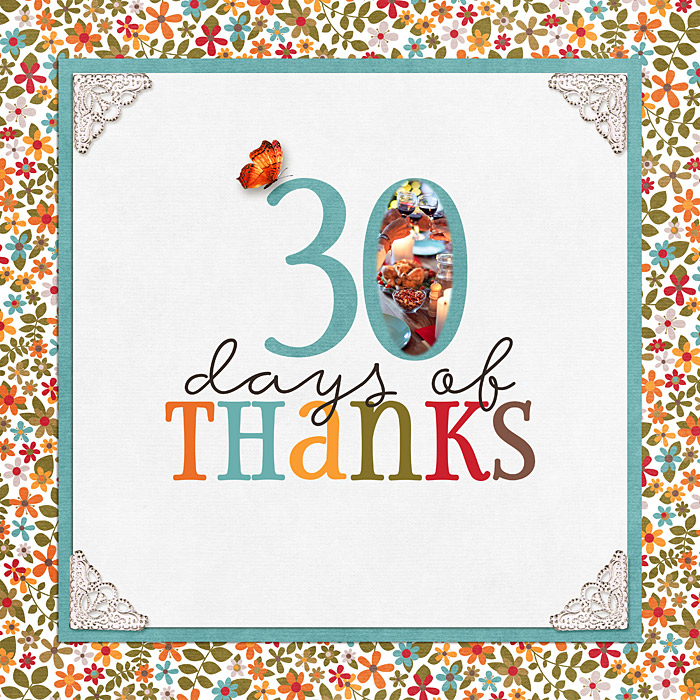 This cover layout might seem simple at first glance, but look closer – the center of the zero is an image of a toast taking place over a Thanksgiving table. The butterfly that's about to land on the three is perfectly shadowed to look like it's coming in for a landing. And the four metal filigree corners add just the right amount of texture and dimension. This will make a beautiful album cover!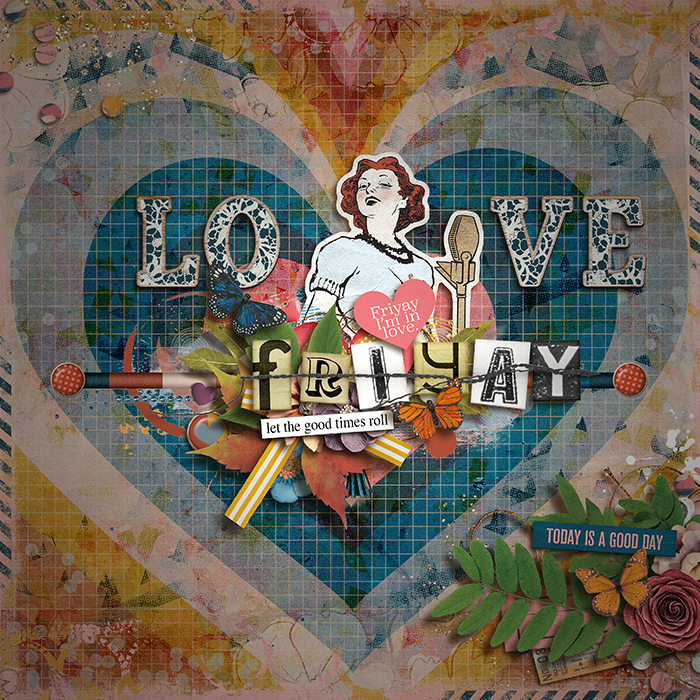 SugarBabe Jaye selected this as a standout. She said, "This one by Angels stood out to me for the bold background paper choice and how she put her elements right in the middle. The deep shadows really make it stand out. It's a fun but bold page."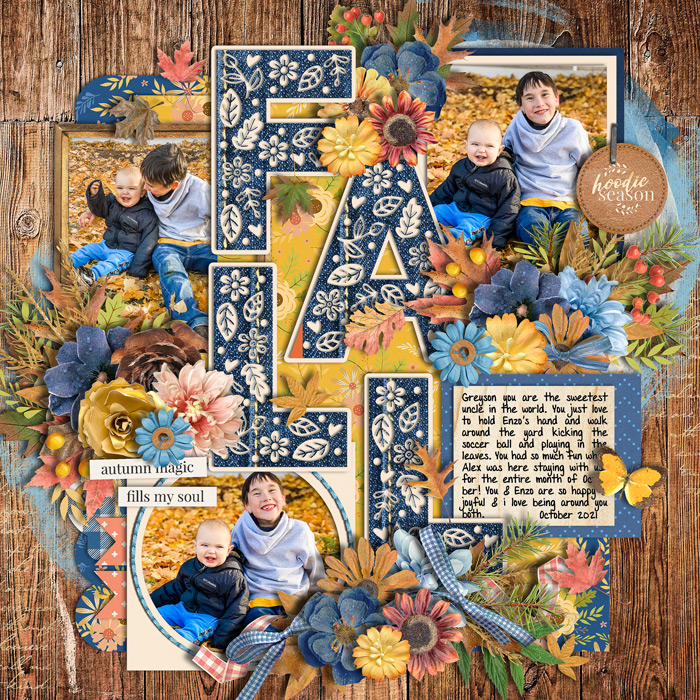 This layout popped right out of the gallery with the gorgeous colors and levels of contrast between the center paper block and the two layers of paper making up the letters in "FALL." The texture and color of denim against cream are a stunning combination! I also love the element clusters with those lovely foliage sprays made up of a mixture of pine branches, autumn leaves, and berry sprigs.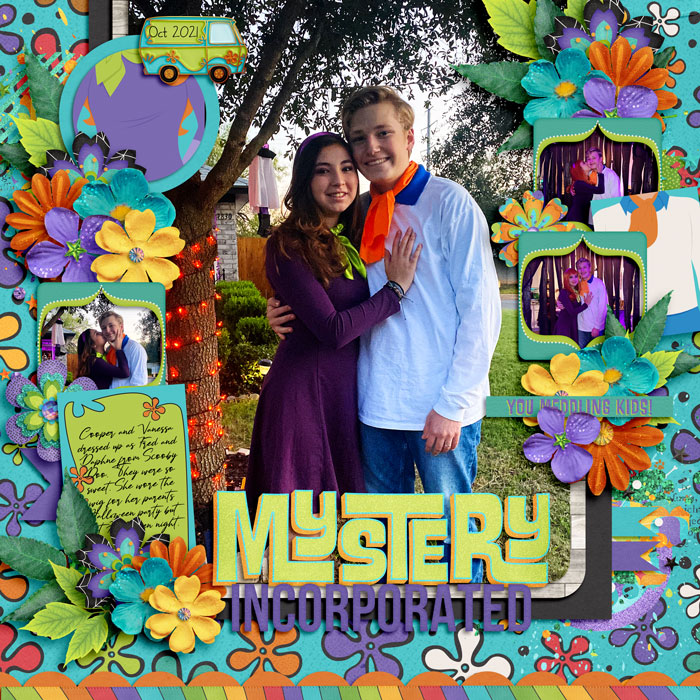 SugarBabe Dalis chose this layout by Kimberly27, saying, "The best thing in the scrapbooking world is to find the perfect kit for your photos. To then rock it in a way that you are literally looking for details and clues around it's an amazing skill!"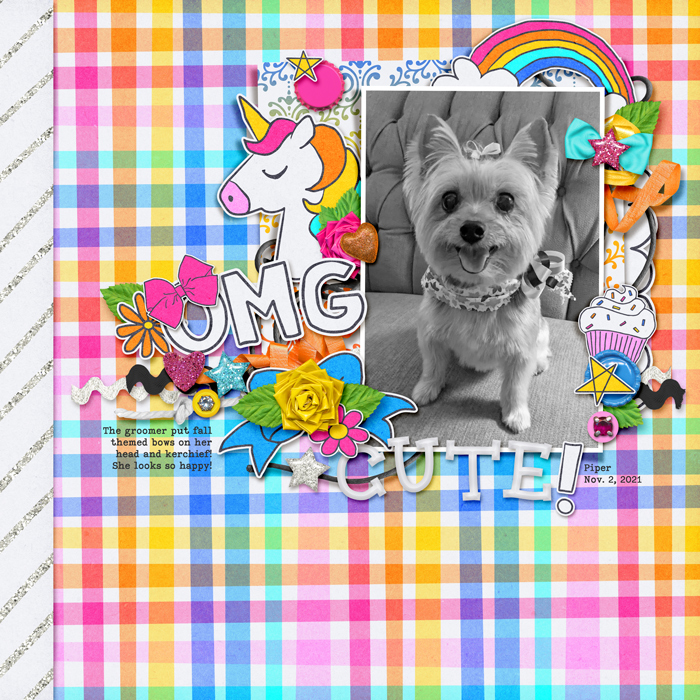 I adore the bright colors LivyBug chose, from her background to all those fun elements in that big ol' cluster around the photo. I also love that she chose a black-and-white treatment for her photograph to contrast with all the technicolor loveliness, so it really stands out as the layout's focal point. Further, I am impressed by her choice of the white and silver glitter striped paper as a border to balance the page and repeat the colors from her photograph. But more than anything, I can't stop looking at that adorable little terrier and her sweet smile! Squee!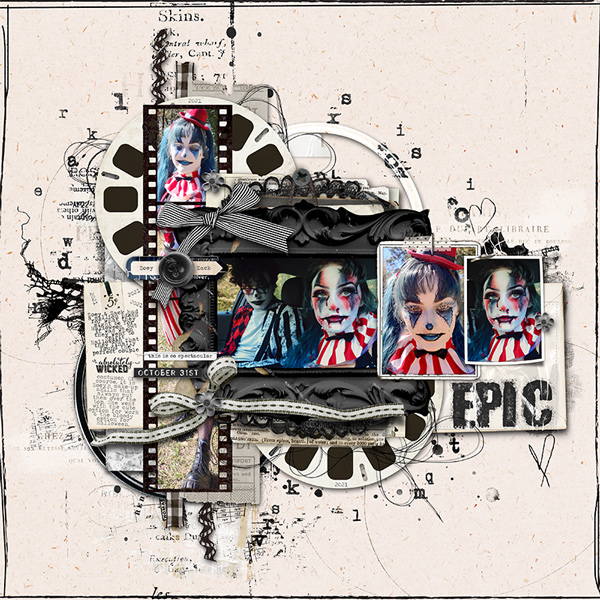 SugarBabe Ally picked this layout as a standout. She said, "I love the monochromatic background with those awesome pops of color from these photos! Amazing make-up here, too."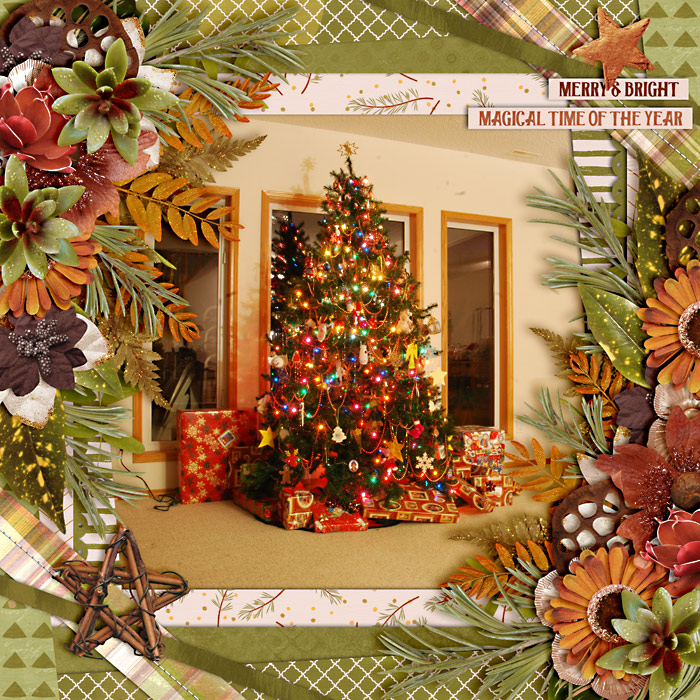 I love it when a kit's colors are a perfect match for a photograph, and that's just what we have here. I would have thought olive green, mustard, brown, and cinnamon red were an unusual color palette for a Christmas layout, but this is stunning! And those large floral & foliage clusters frame the photograph beautifully.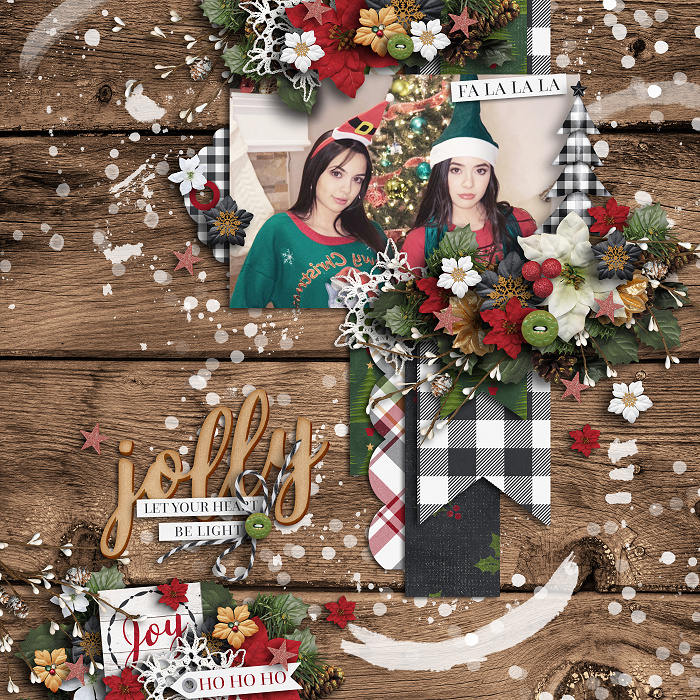 SugarBabe Dalis says, "The wood background warms up this holiday page. All the paint addition to this makes you immediately think of a chilly Winter day all bundled up. Gorgeous!"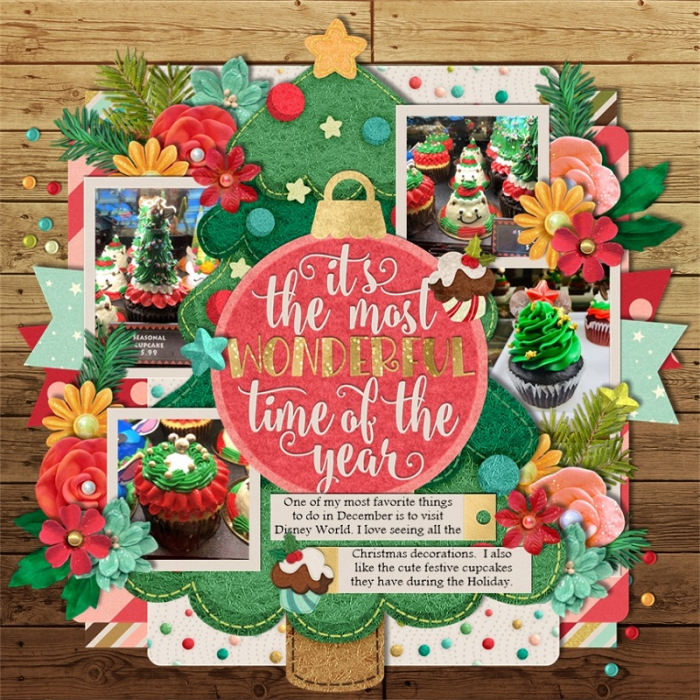 While the bright colors in this layout caught my eye, it's the combination of textures that make it a standout for me. The rough textured papers that make up the Christmas tree, against the silky smooth patterned paper, atop the wood grain of the background … mixed with the glitter on some of the flowers and the sharp pine needles and the creamy thick red rosette flowers with those tiny, smooth pearls in the center. This whole layout is a mixture of textures, and it's shadowed so well, it makes my fingers itch to reach out and touch it.
Why not take a few moments to leave some feedback for one or more of these scrappers? Just click on their layout to jump directly to it in the gallery, and scroll down to leave them a comment. Nothing is more encouraging than getting a quick note from someone telling you they like a page you created, and the more love you leave for others, the more you'll find on your own pages!