WOW! That was a whirlwind weekend wasn't it?! Good food, lots of scrapping, a ton of sales all around the web, and a bit of relaxation filled my weekend. The designers this year certainly gave us a run for our money didn't they?! (lol) I don't know about you though, I'm actually ready to get back to a bit of normal.
Were you able to pick up some goodies during the Black Friday sale? Did you grab any other Christmas list gifts from other 'hot' sales across the web? This was the first year that I didn't buy anything in a Black Friday sale. I did a bit of shopping for my kids earlier this month with all the shipping shortages I wanted to get a jump on things so this weekend I didn't need to get anything during the sales. It felt weird not to buy anything, but my bank account is happier for it. 🙂
It's Tuesday and the end of November which means today is the last day for your Passport Challenge layouts. How are you coming along with them? There's some sweet rewards and prizes up for grabs every month for playing along including that amazing $50 gift certificate to the shop. If you need inspiration for that last 1 or 2 layouts be sure to check out the gallery to see what other members are whipping up creatively.
As with other Tuesdays I'm here to show off some of your amazing layouts!!! This week we're back to pocket style and I've found quite a bit of beauty in the gallery to share: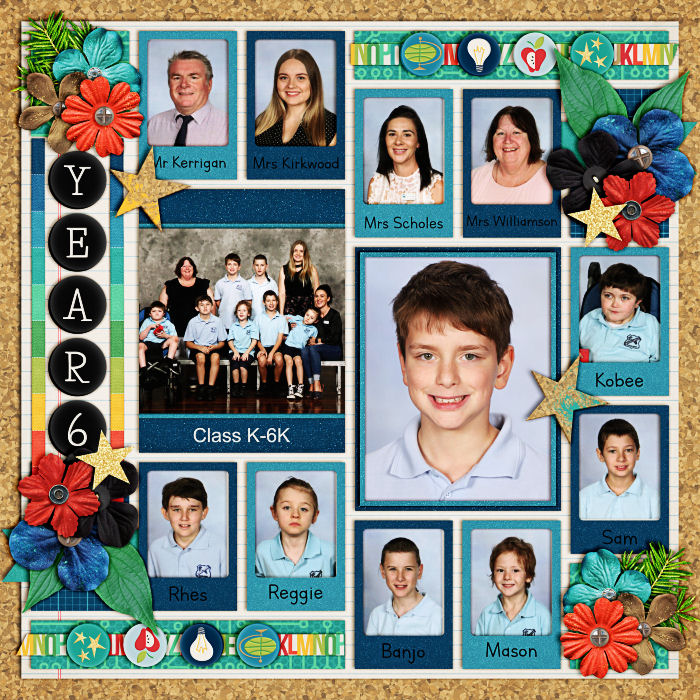 This page reminds of those school memory books parents would buy and you could fill in your details like teacher name, favorite subject, etc I love the overall design of this one with the cute clusters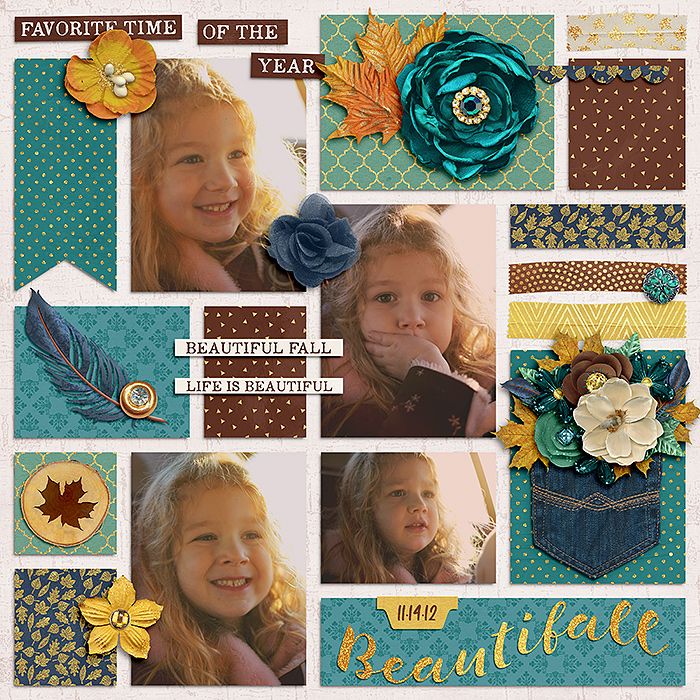 The grid look here is perfect for the bits of word strips and pretty patterns, those photos are adorable and that pocket of flowers…is so well done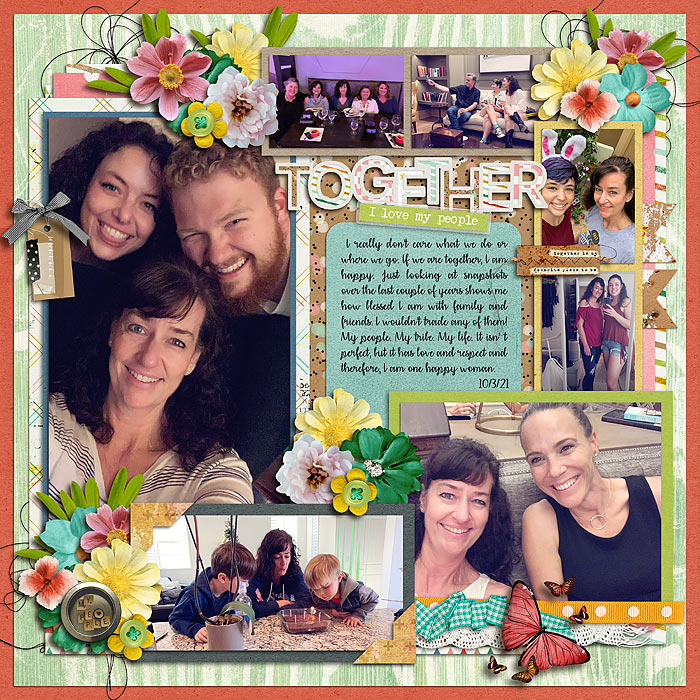 Not sure where to land my eyes first…the super fun photos or all those tucked flower clusters or the fun little butterflies, I also really like the title and journaling in the middle of all the photos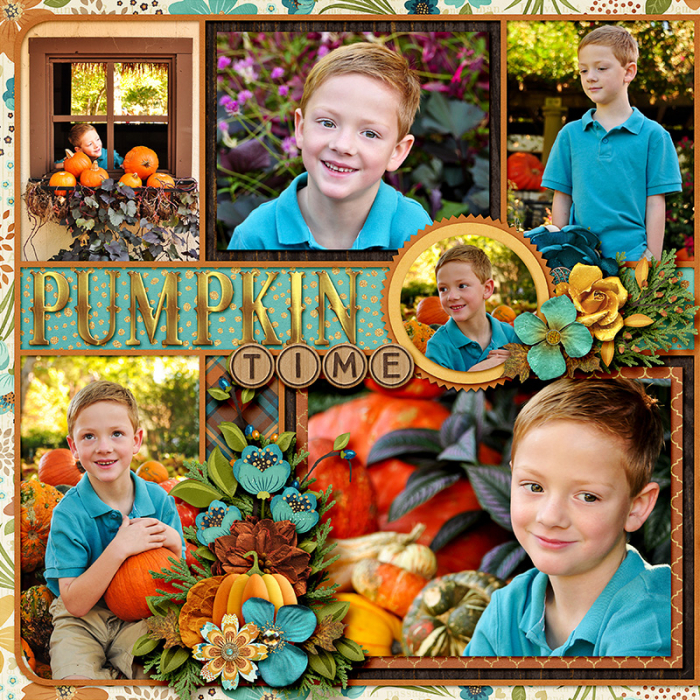 This page really jumped out at me because of those gorgeous blues…in the photos and the flowers, great coordinating the touch of gold and the bottom cluster really add a little debonair elegance with his cute smile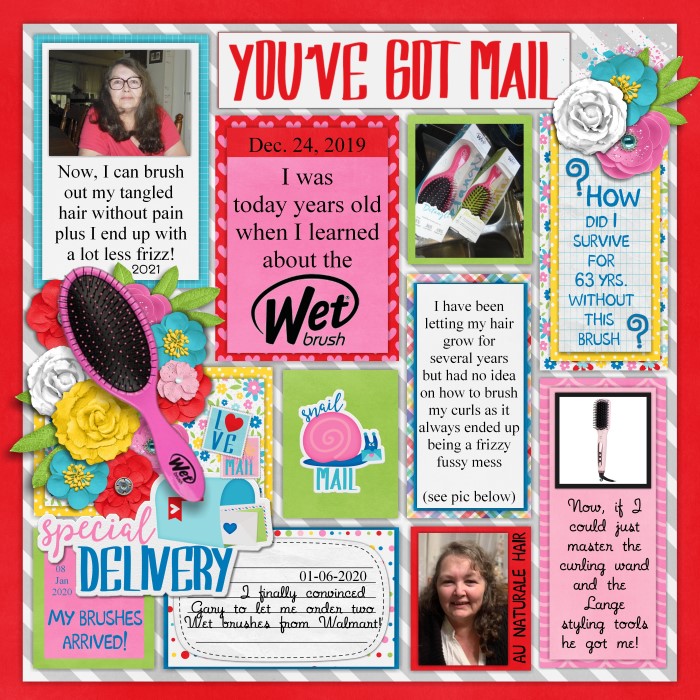 I love that this page is about a brush…ok her experience with a brush and her hair. The fun blocking with patterned mats under all the various journaling is a great eye catcher, plus that extracted brush is perfection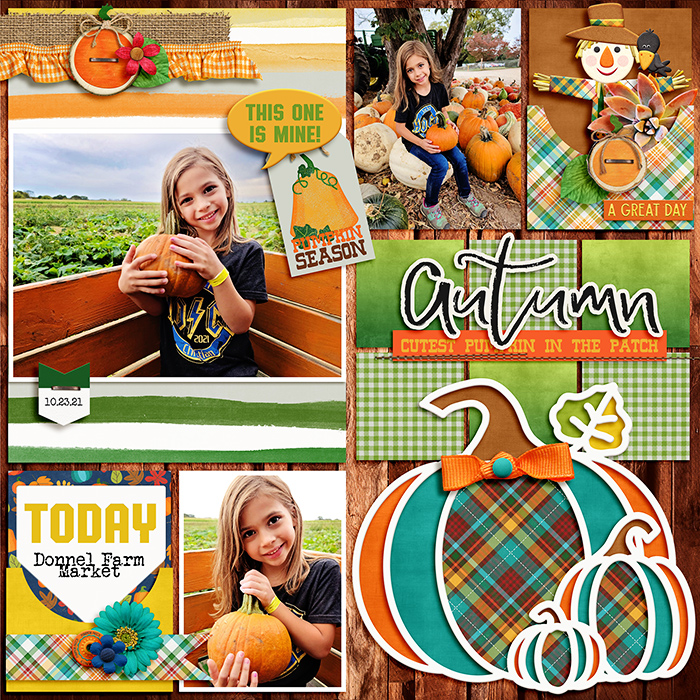 Not only is she adorable but all of the patterns here on top of the wood background…WOW! The literal pocket on this pocket page with the scarecrow is super cute and I really like the grid of green patterns for the title area.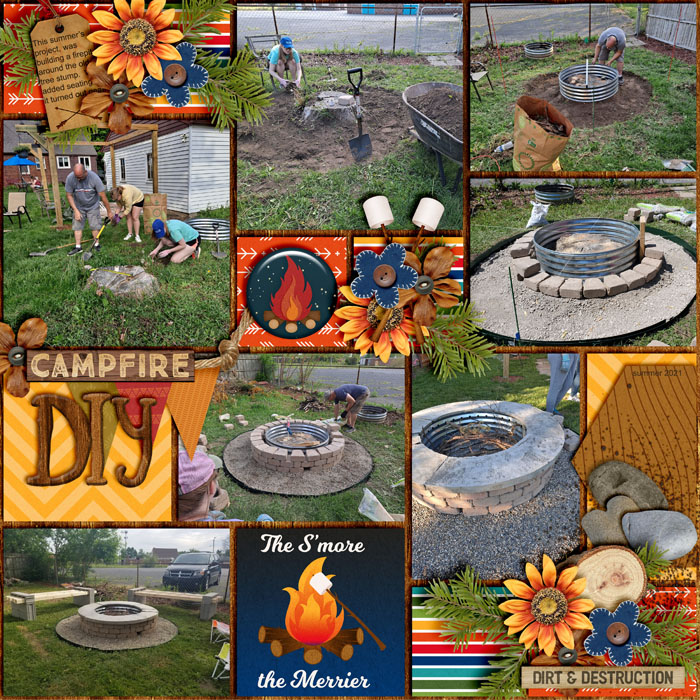 I love seeing progress photos and it looks like they did awesome with this fire pit. The cute clusters going diagonally lead your eyes. Hopefully she get lots of use out of her new yard accessory.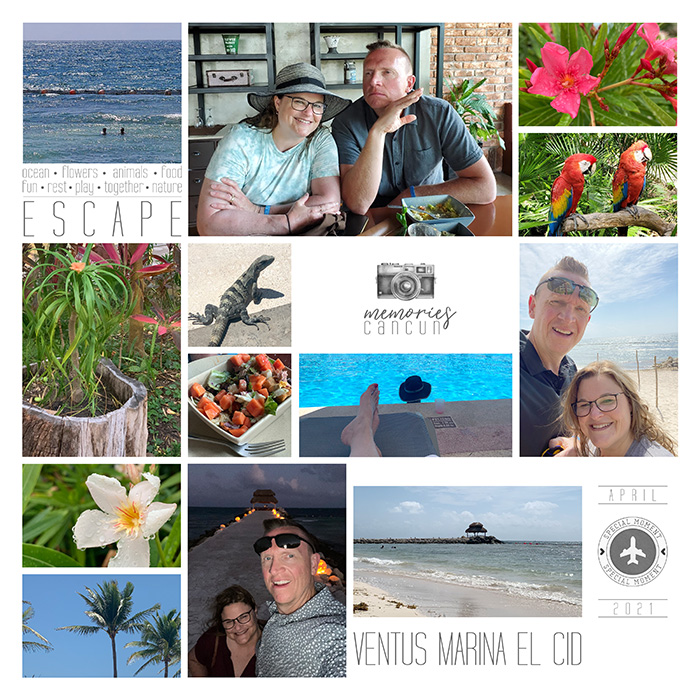 The literal grid on the white background just allows all these great photos to take the stage and let the colors pop! That great typography is super well done too.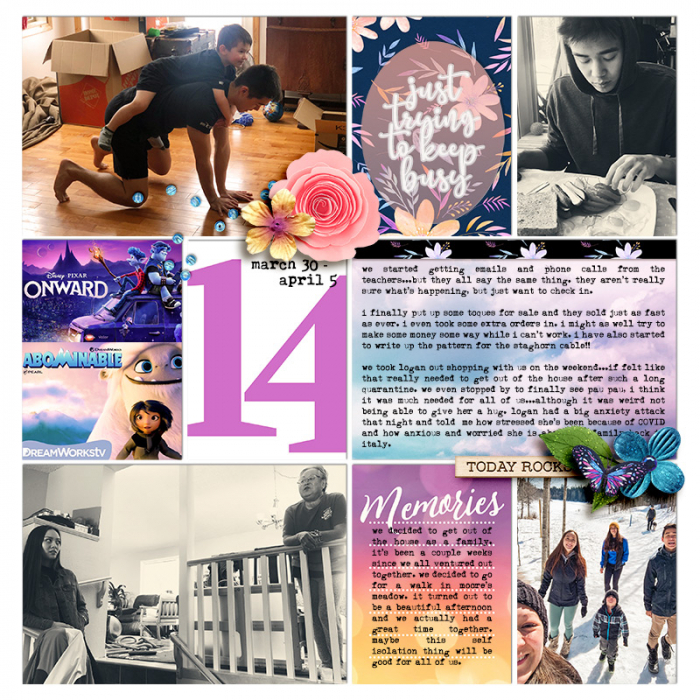 Weekly pages are always fun for me to look at. I like seeing a glimpse of other's lives like this. The bright colors add a bit more fun to the still life photos and I like the mix of color vs. b&w photos.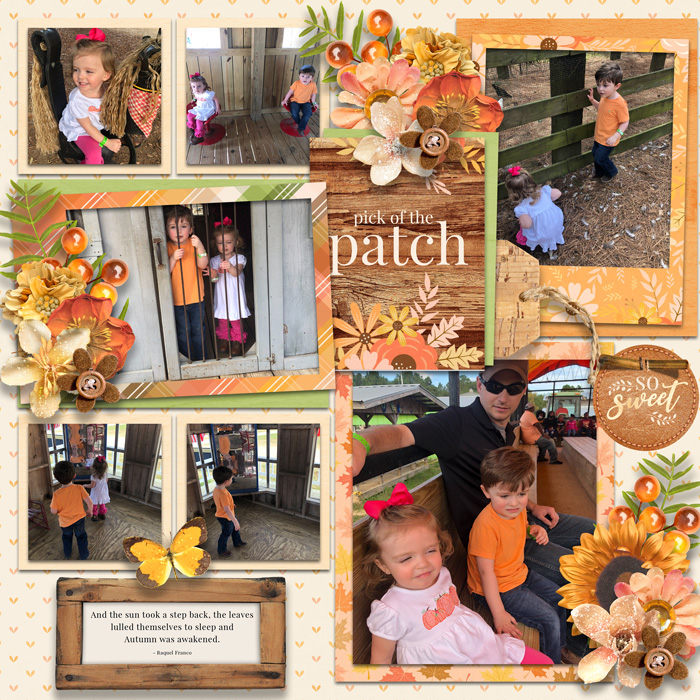 Super great, a little quirky, pocket style page here. The titled framing on some photos and well shadowed clusters add dimension while the cute photos tell the story.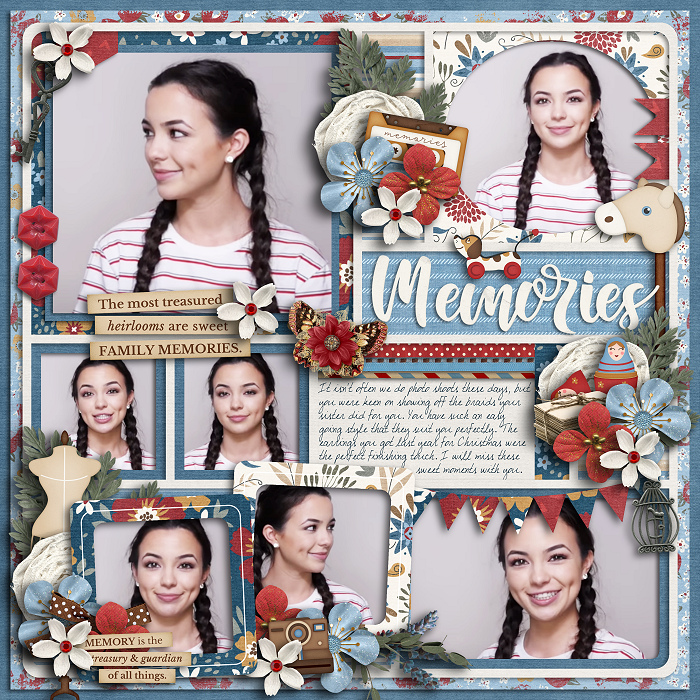 So I know that pocket pages were created outside of digiscrap and meant to look boxy and have definable grid lines….but when I think of pocket pages this is what I envision 100%. Lots of elements on top of a grid-like montage of photos with word bits, journaling and a title. Love this page and her great photos & dimples!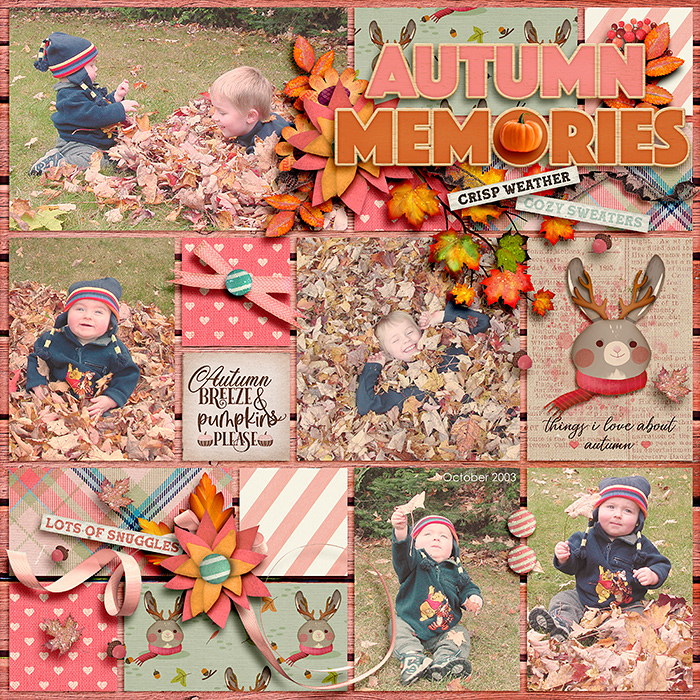 And this page is more inline with the traditional pocket style that was created long ago with a defined grid of photos and patterns. But the addition of elements and wordart add that pop of pizazz that only us digiscrappers can do. This is a great page and I love these adorable photos too!
My heart♥ is full!!! I love that I was able to find so many pocket style pages this time 🙂 I hope that means more of you are creatively inspired to keep including pocket style pages in your albums. That's all I've got for today so if you've got a bit of time this week, share a smile and leave a little love on these beautiful layouts in the gallery. See ya next time.