Tuck it Tuesday – 12/14 The Minimalist
Hey everyone I'm back on the blog for another Tuesday full of pocket style and pocket inspired layouts. We're halfway into December and as we near the end of the year I was thinking about how we as digi-creatives use pocket style in our lives. I won't pretend that I am an avid pocket style scrapper but I do enjoy making them on occasion and putting my own spin on the pages I create for me and my family. But when choosing the blog days I wanted – Tuck it Tuesday – was something I felt I could tackle. Of course, by bringing my own ideas and creativeness, I am here to push your boundaries and hopefully inspire you to think outside of the grid.
However, I know that pocket style pages were embraced as a simple, easy, and mostly quick way of getting your albums done. That can still be true even while I attempt to pile on element after element on my own pocket style pages, lol. So this week I want to talk about 'The Minimalist', the digi-creative that wants that easy & mostly quick way to get her (or his) albums/pages done. There are some things that you'll need to keep things as simple & easy as you can and this will increase the speed in which you can get those pages completed. Let's get into some simple tips for quick, easy and beautiful pages.
You need a system for how your pages will look, what product(s) you will use and what photos will go into the album. Some of the questions you might ask yourself include:
Is this going to be an album for an event, like a wedding? Maybe you need to finish your last vacation album or that baby book? Perhaps you want to take on the 52 weeks of the year? Are you looking to add clusters or other embellishments on your pages too?
My advice would be to start as simple as possible – basic grids with little to no embellishments are going to be the simplest & quickest.
Here's a few ideas for templates that offer just that, with clean grids perfect for all the photos, some journaling and perhaps a journal card or two.
Janet has a complete 52 Weeks template set that is perfect for any of the above mentioned. With places for the week (or title) lots of journaling to tell the story and some photo and card spots this set can get you through multiple albums with different looks.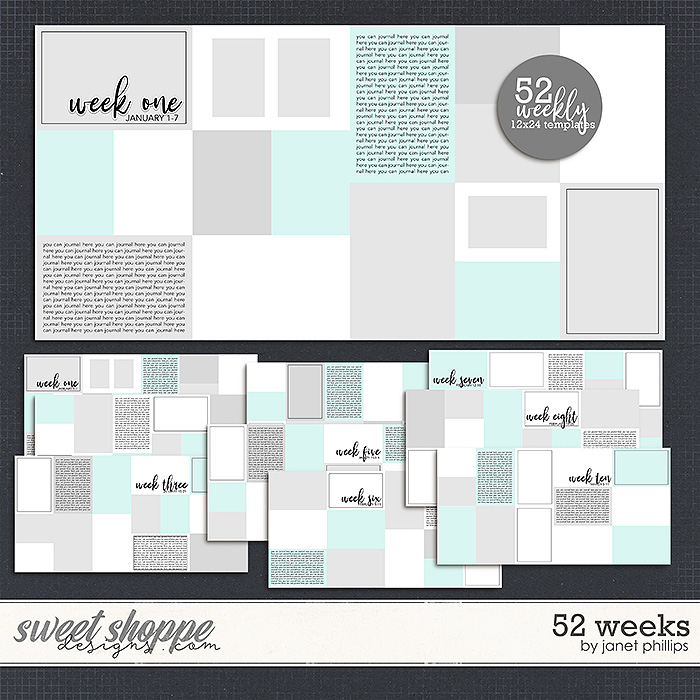 Along with those I found a few other choices like, EZ Albums from Erica, Project Temps from Amanda Yi and Stories by Kristin Cronin-Barrow – all clean & organized grid templates with no embellishments that can get you started on your albums.
Claire used the Project Temps from Amanda Yi  and just a few elements for her Anniversary Fun page.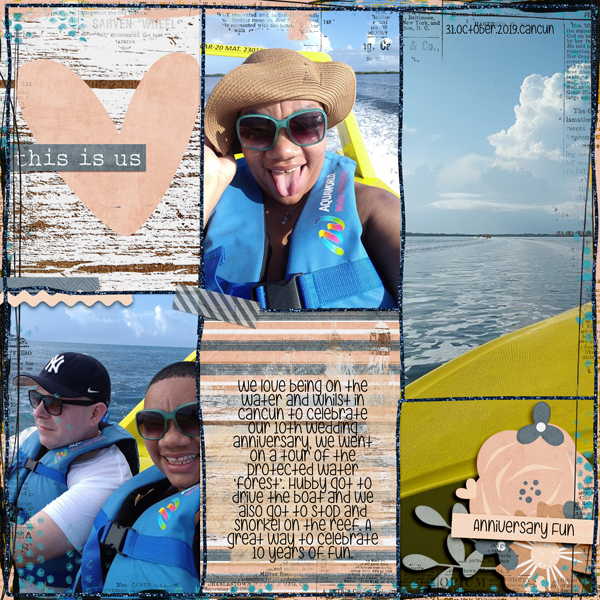 Maybe you like the idea of using a few embellishments, like some word art, word strips or some small flowers. You can definitely incorporate those, on a small scale and used minimally these shouldn't take much longer to add to your pages and can give you that little "something extra" that we digi-creatives tend to crave on our pages.
You can even use templates that have placeholders for extra elements. By adding or subtracting from the template you can still come out with clean, minimal pages that allow the story to take center stage.
Amber of Southern Serenity Designs has some great sets and this My Life Project for January is a super cute start for those looking to add some extra to their pocket style layouts without being "over-the-top" with clusters and layers. Browsing the gallery today I happened upon some great examples where this ONE template set was used for multiple pages and they all are unique and beautifully done.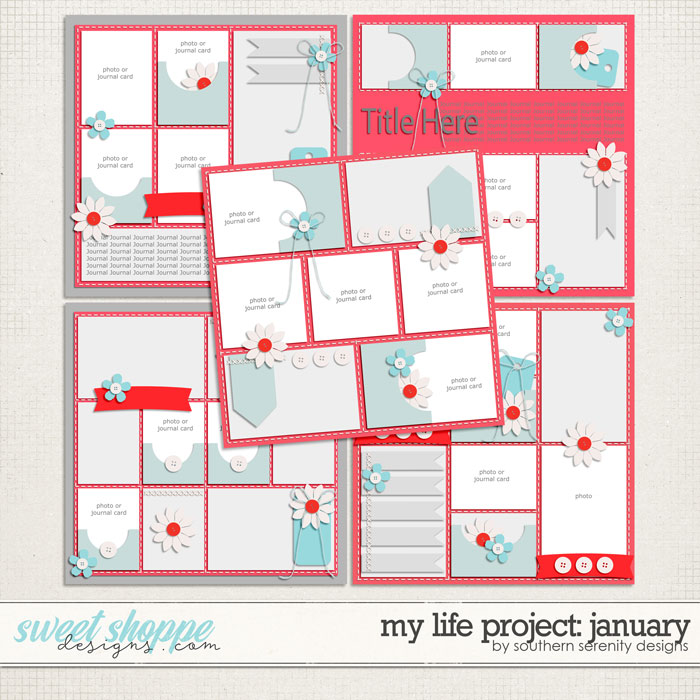 1terresa1 used the 'January' set of templates for these 3 layouts. By removing some of the embellishment spots from the templates and adding smaller ones or journal cards, word strips & word art she has extended the use of these and even if these pages are all in the same album, they will appear cohesive since they all use the same grid styles.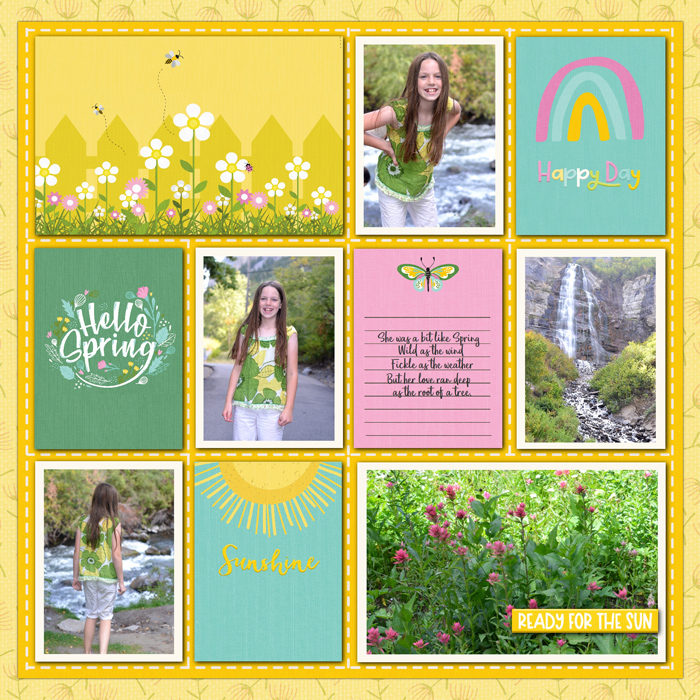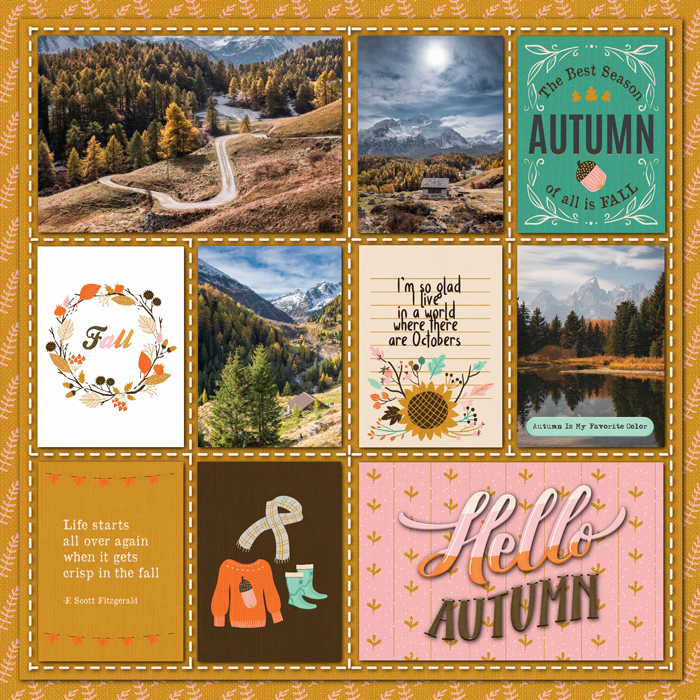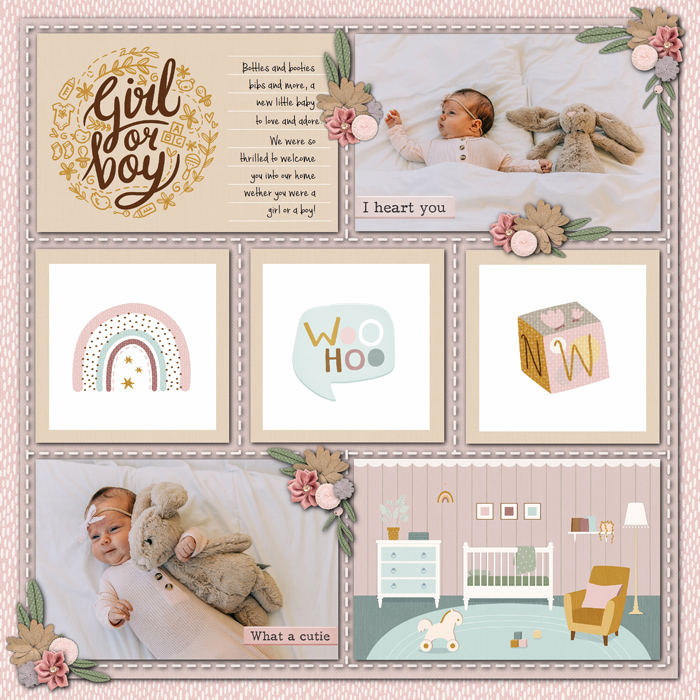 Traci has some great stitched templates, 365Unscripted, for a quirky grid look that you can use as your base and then add a few embellishments for a super cool looking minimal page in your albums.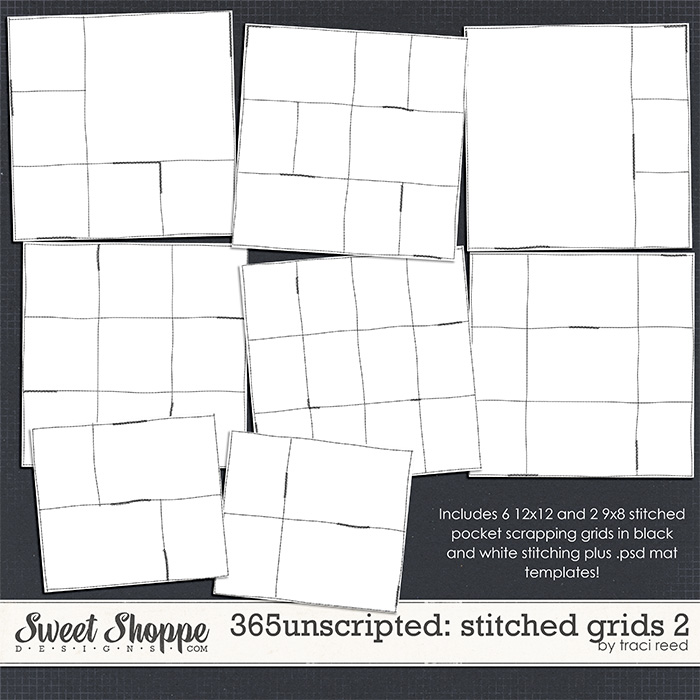 bienejen used them for her layout about the park and the little details from the elements she chose don't over power the photos or the story she's shared at all.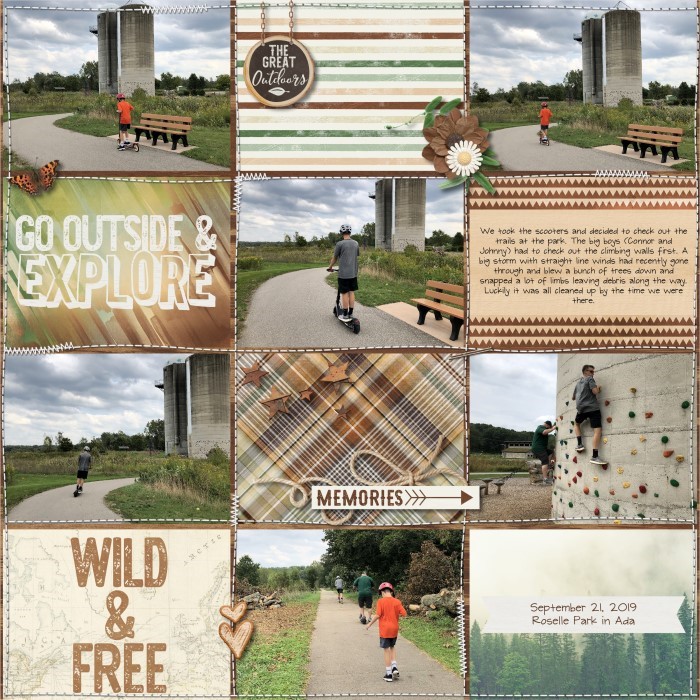 Of course maybe you just want to wing it and create your own signature grids for a weekly project or event.
If you are comfortable creating grids you could totally create 1-3 of your own premade grids for your album. Then all you have to do is plug in the photos, papers & journaling etc.
Ga_L has more than enough examples of this in her gallery but these two have the same grid where she's inserted her photos with a few cards/papers along with a bit of journaling & themed elements for quick layouts all about the week at hand. Including the calendar for October can make it easy to circle which week you're on too.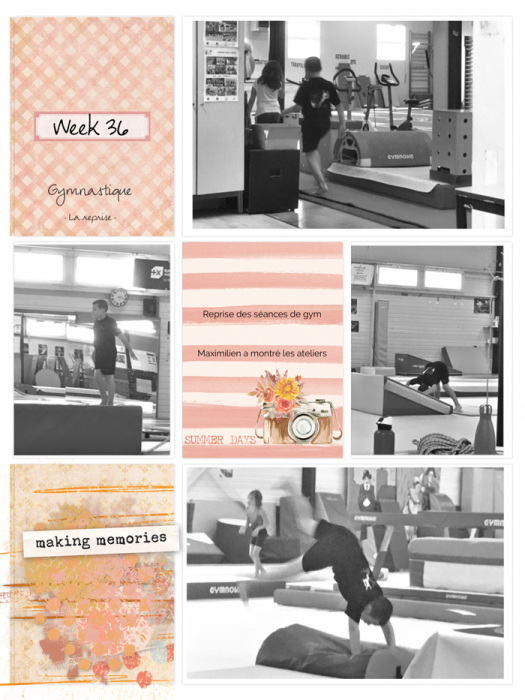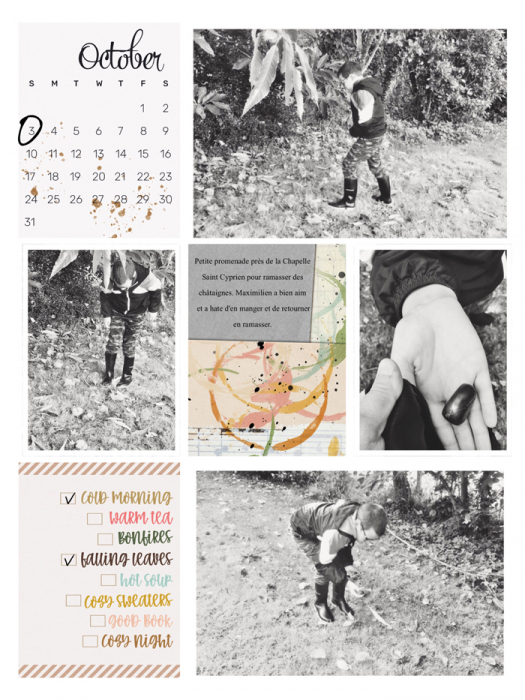 And our own SugarBabe Krista creates almost the majority of her pages as pocket or grid style. When I asked the Babes about pocket pages in the forum, she said: "You all know I love pockets. 99.9% of my layouts use the same template." The same template??!!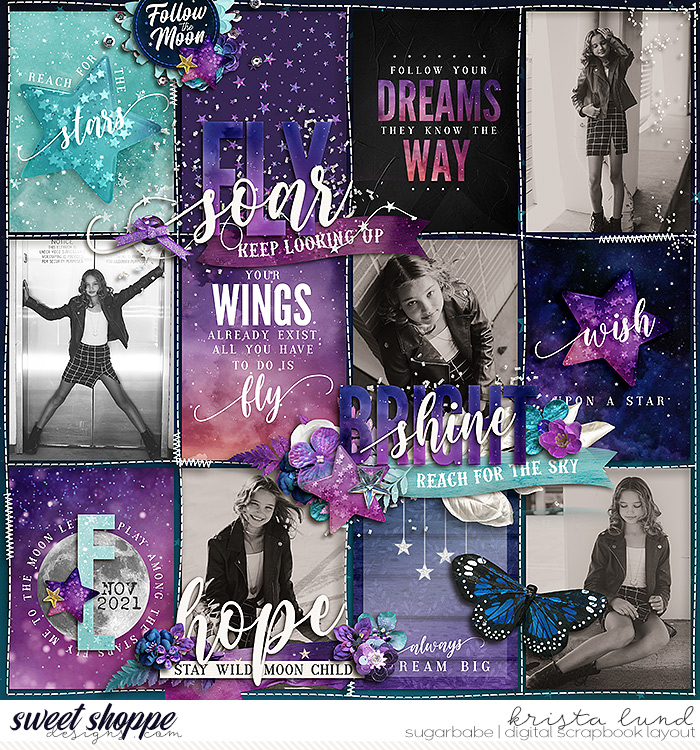 That speaks a lot to the versatility of pocket style pages. Each page she creates looks so different from one another, even using the same template. Maybe not 'The Minimalist' look – I just had to share one of her signature pocket pages because she does them SO amazingly well. And to think, they all use the same template from Traci Reed that bienejen used above. Now that's creativity in full glory!
Well that's it for this week. Everything is linked up so when you have a few moments, leave a little love. If you have ideas about pocket style pages or want to see me cover something, let me know in the comments or you can message me in the forum too. See ya next week.