There's still two days remaining to complete your February This or That? Challenges, Sweet Shoppe Scrappers! How many do you have left to reach your next reward goal?
If you're unfamiliar with our challenge-and-reward system, here's how it works: each month, the Sweet Shoppe issues 15 pairs of scrappy challenges. You choose one or the other to complete – "this or that" – and depending on how many you finish by 11:59pm EST on the last day of the month, you can earn a 20%, 30%, or 40% discount in the Shoppe. Finish all 15 challenges, and you're entered in a drawing to win a $50 gift certificate to spend on Sweet Shoppe supplies. Last month's winner was Leablahblah aka Lea … this month, it could be you!
So, with two days left to scrapbook and qualify for those sweet, sweet rewards, I thought I'd share some creative inspiration from the Sweet Shoppe Community. Here are six standout layouts I found in the This or That? Challenges Gallery. Let's take a look, and I'll tell you why I think each one of these beauties is worth a second look.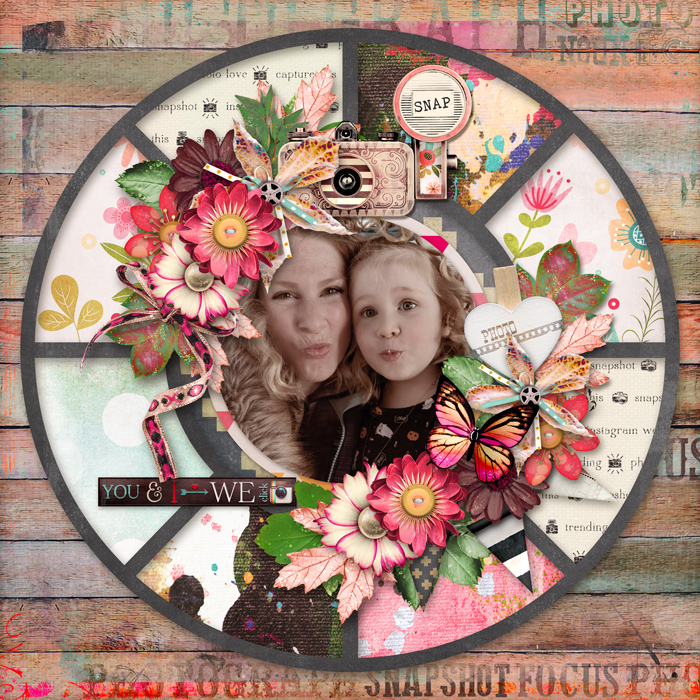 Snap! by Lidia G
Challenge #9a – In honor of Great American Pie Month scrap a page with a pie chart
This is one of those layouts that popped right out of the gallery and practically screamed, "Look at me!" The symmetry of the page design is super eye-catching, the use of the pie chart as a big ol' photo mat allowed Lidia to use many of the gorgeous papers from this kit, and those lovely element clusters she created serve as beautiful frames for that adorable photograph. Speaking of which, the choice to go sepia-toned on that photo so it matched the kit? An excellent one!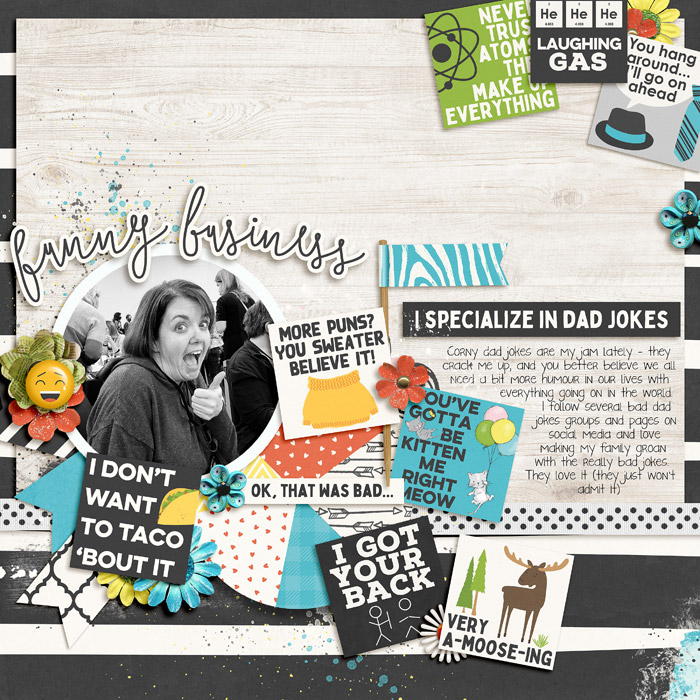 Funny Business by tjscraps
Challenge #9a – In honor of Great American Pie Month scrap a page with a pie chart
It is SO important for us to show up in our scrapbooks, and this "about me" page is just fantastic! There's so much to love here: the photograph is hilarious and shows a part of her personality you don't get from a standard smiling portrait; the collection of corny journaling cards reveals what makes her laugh, which tells us about her sense of humor; and the journaling helps us understand the deeper reasons behind her desire to keep things lighthearted and fun with her family. What looks like a silly layout at first glance actually carries a great deal of meaning and reveals a lot about the artist. What a treasure this will be to future generations of her family one day as they get to know this about her!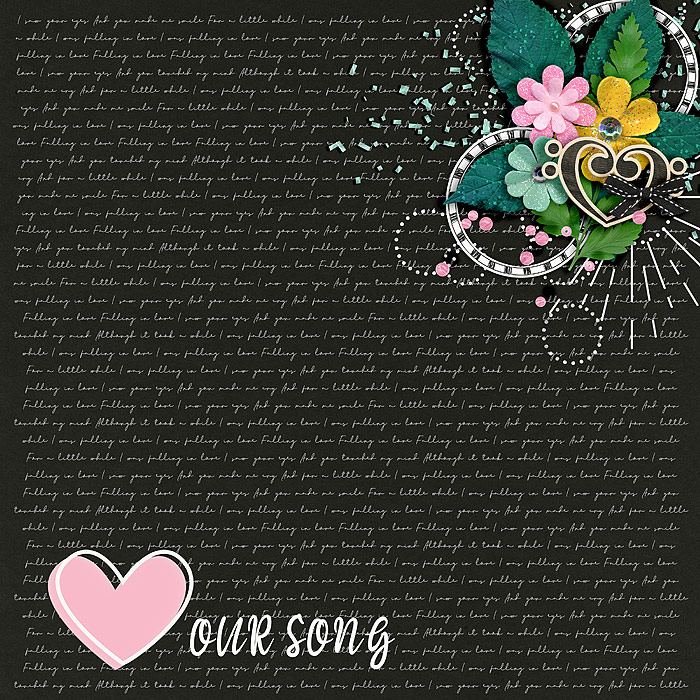 Our Song by tanyiadeskins
Challenge #7a – Use the lyrics from a love song on your next page
Two things really pulled at me about this layout: the cluster work and its simplicity. The repetition of the song lyrics in a small, scripted font across the background makes me think of it almost as background music, like this song has probably been the background music to their love story. And that cluster – WOW! I get the sense of fireworks from the paint she chose for the background as well as the scatters, and who doesn't love the idea of fireworks going off that first time you kiss ? Add in the bass clef heart (a genius choice for this layout, by the way) and the clock rings to symbolize time, and this is a simple-looking layout with some pretty hefty symbolism. I love it!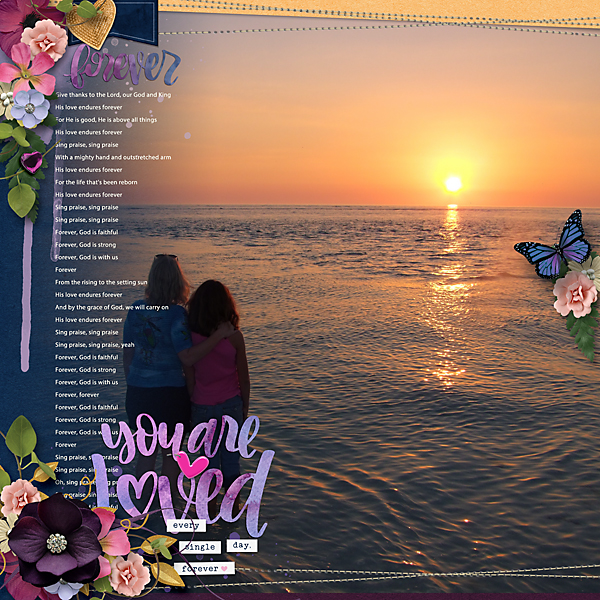 Forever by chai
Challenge #7a – Use the lyrics from a love song on your next page
I've said it before, and I know I'll say it again – I am a sucker for a gorgeous, full-page photograph. This is quite a lovely sunset (or sunrise?) shot over the water, but it's the addition of the worshipful song lyrics along the left side of the page and the lovely watercolor-style title and word art that add depth and help us understand what that image means to the scrapbooker. It's not just a sunset, it's a reminder of God's presence in her life. The addition of the floral clusters at the left top and bottom corners create anchors for the page and the tiny cluster to the right with balances it out. Simply lovely!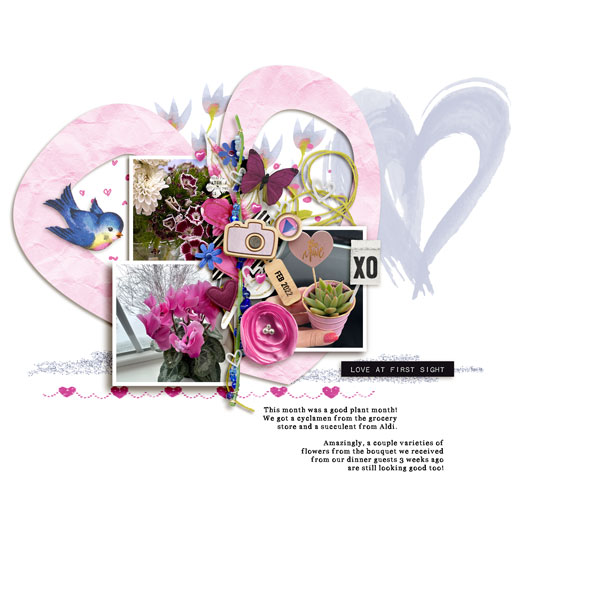 Plants (Feb '22) by Cristina
Challenge #15b – Use a love template & kit from the shoppe
Oh, the white space! And the layering! The clustering and the shadows! That lovely, simple color palette – shades of magenta and periwinkle blue plus a spot of green – there's so much going on here, and so much to look at, yet the layout doesn't feel cluttered or overwhelming. That takes a truly masterful hand! I love the way the large paper cut-out heart is echoed in the smaller watercolor wash painted heart. I'm entranced by the different textures incorporated here, from the crayon-like scribbles to the tiny beads to the wooden veener pieces and the rough coiled twine or string. Cristina did a lovely job with this layout, and it's a treat for the eyes to be sure!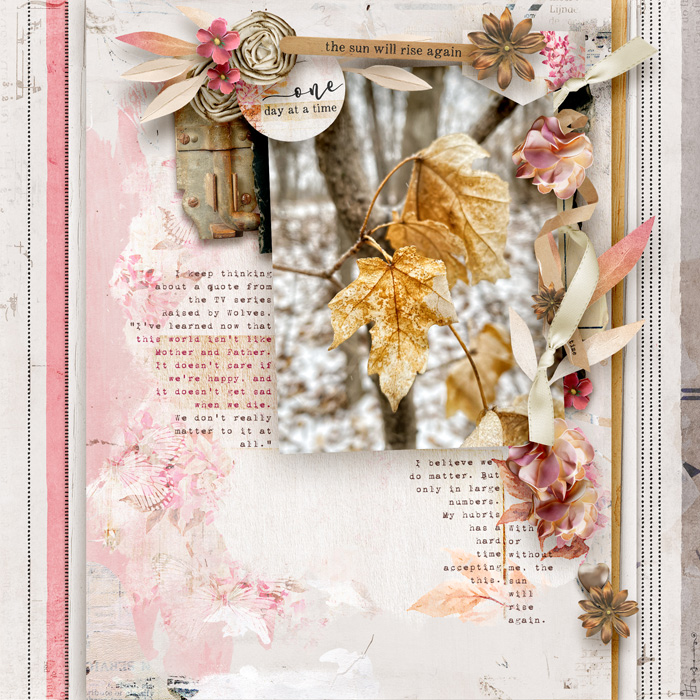 Hubris by armygrl
Challenge #14a – Scrap with a product you purchased this month
Take a look through her Member Gallery, and you'll see that Armygrl isn't just a scrapbooker – she's a digital artist. Her layout, "Hubris", is just the latest example of her artistry. The journaling is emotionally evocative, perfectly paired with the photograph of dying leaves clinging to their tree branch, set against a snowy backdrop. The vertical cascade of ribbons and flower petals mimics the idea of what will happen when those leaves inevitably fall, yet the word art she chose to anchor the top of her layout speaks of hope. It's a fascinating piece filled with both beauty and sadness.
---
Hopefully, your creative juices are flowing and you're ready to scrapbook. So what are you waiting for? Check your February This or That? Challenge List and make a plan for which layouts you want to complete by the deadline of 11:59pm EST on Monday, February 28th. I know you can do it!
And if you missed out on this month's challenges, don't worry – a whole new set of challenges will be posted on March 1st! Keep an eye on the This or That? Challenges Forum for the new post coming this Tuesday, and I'll see you in the Gallery!