"Daylight saving time: Only the government would believe that you could cut a foot off the top of a blanket, sew it to the bottom, and have a longer blanket." – Unknown
Whether you struggled with "springing forward" this morning and ostensibly losing an hour, or if you are excited for the longer days and later sunsets that are in store for us, I'd like to wish you all a Happy Daylight Saving Time Sunday. Regardless of your mood, nothing brightens the day quite like browsing pages of standout layouts, so why don't we indulge?
Today is Standout Sunday, which means I get to highlight some of the outstanding work our community members shared in the Sweet Shoppe Gallery.  I've got seven layouts for your viewing pleasure today. Be sure to click through to view them in the Gallery and leave the artist some feedback – it only takes a moment, and comments are an easy way to make someone's day!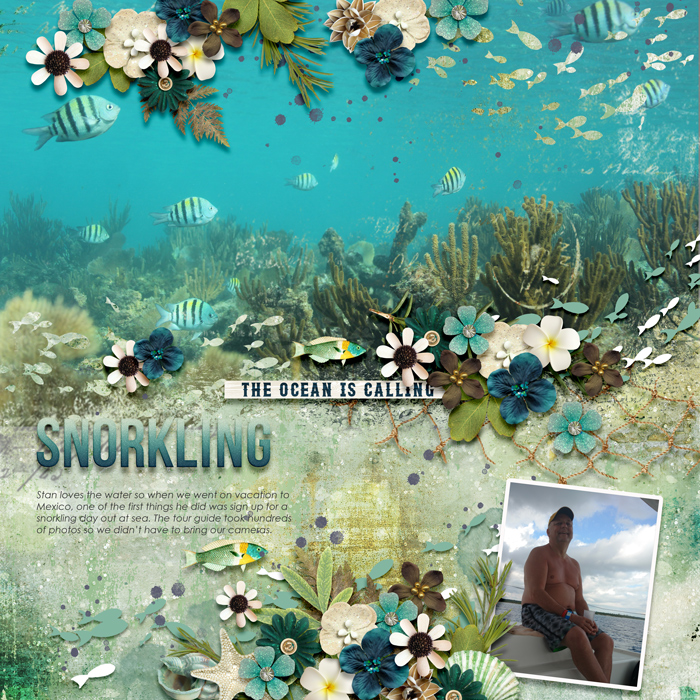 I am in awe of the way Lidia blended that big, beautiful underwater photograph into her background paper before proceeding to decorate it with stamps and floral clusters to make it look like one seamless whole. WOW! Those little stamped fish at the top swim right alongside the Sergeant Major fish; the floral cluster in the middle blends beautifully with the coral reef. I feel like I'm looking through a window right out into the reef. Beautifully done!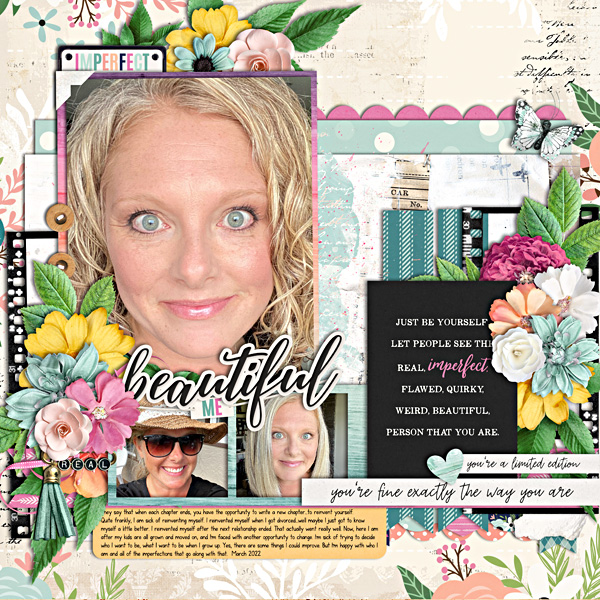 That big, beautiful self-portrait was the first thing to catch my eye! It's got gorgeous lighting and her eyes are the perfect focal point. From there, it's the title and journaling that drew me in. Leah talks about how each chapter of her life has been an opportunity to remake herself, and how she's at a point where she's happy with who she is, imperfections and all. That theme is reflected in the journaling card she selected for her layout as well as the small bits of word art. Her floral clusters are absolutely lovely, and that yellow flower especially does a terrific job of drawing the eye around the page.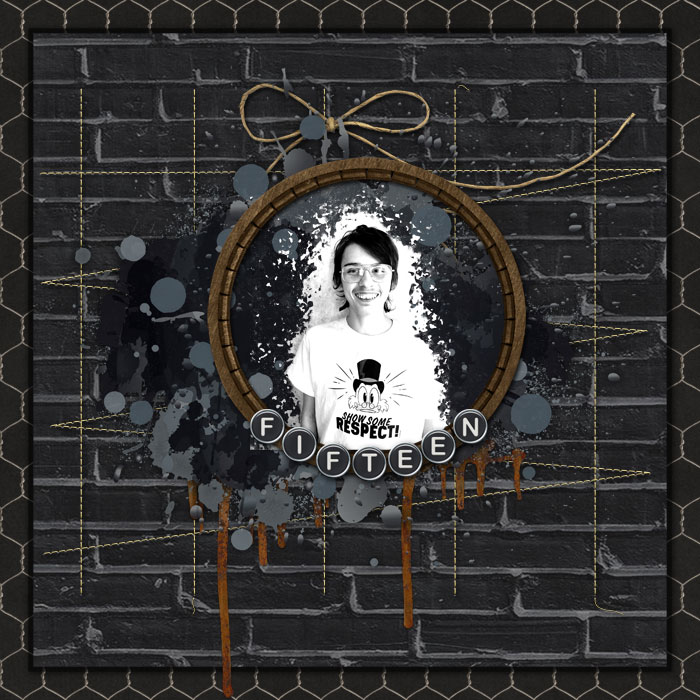 This is such a grungy, textured, dark and masculine layout – I absolutely love it! From the chicken wire placed behind the photo mat to the drips and drops of paint and the stitched grid on the background paper, hichchei built the page foundation with rough textured elements. Adding onto that with the leather photo frame and metal-rimmed letters in her title, she's reflected a lot of the personality of her subject at the age of 15 without a single word of journaling. Very nicely done!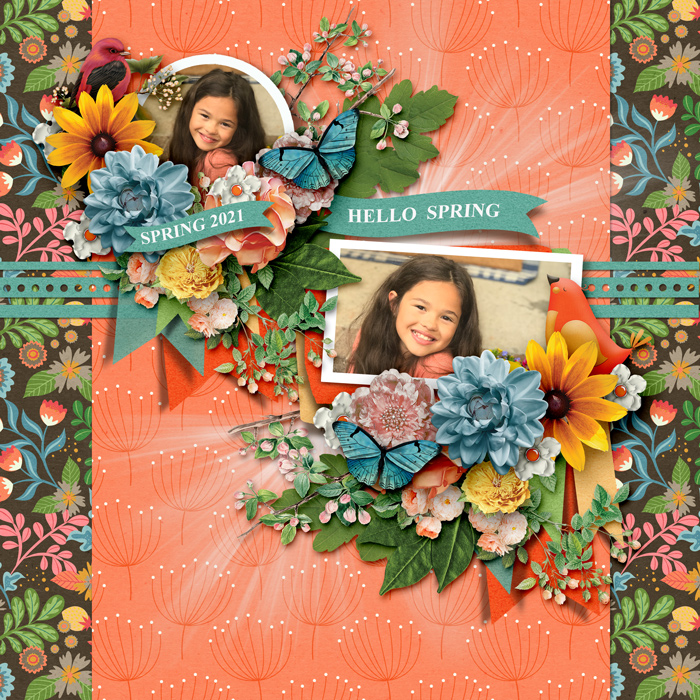 Oh, what technicolor loveliness! I adore that bright orange background and the patterned paper borders, and the cluster work on this layout is pure excellence. I especially like the lighting effects EvelynD2 added behind the focal point photo, as if rays of light are emanating from that sweet photograph. This is a gorgeous layout, and it makes me absolutely ache for springtime!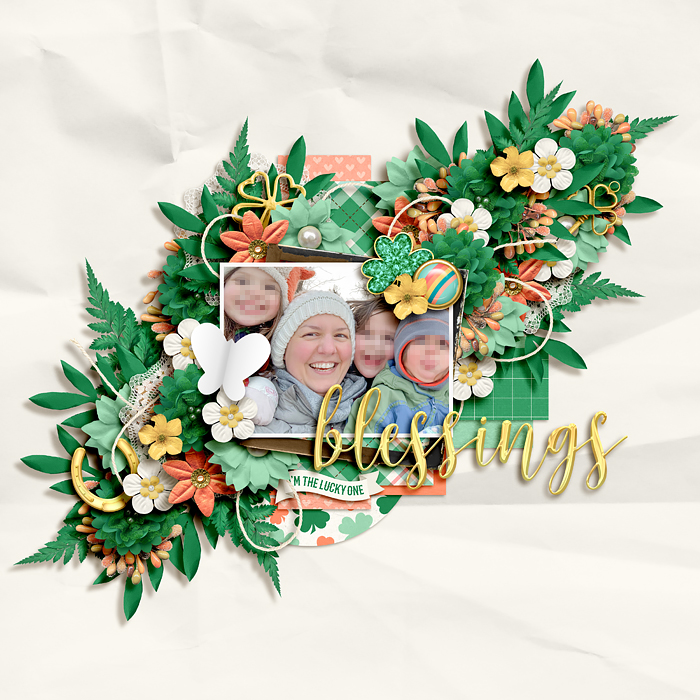 This one is allllll about the cluster work! What a gorgeous job Lea did in building this as one big diagonal composition, a swath running across her page, anchored by the photo and stack of paper mats in the center. Then she mixed at least two different pieces of foliage – the fern and the leaves – which creates a base for her clusters with some great depth. And if you look at the clusters themselves, you'll find a mix of flowers, metal decorative elements, string, and doilies. It's absolutely stunning!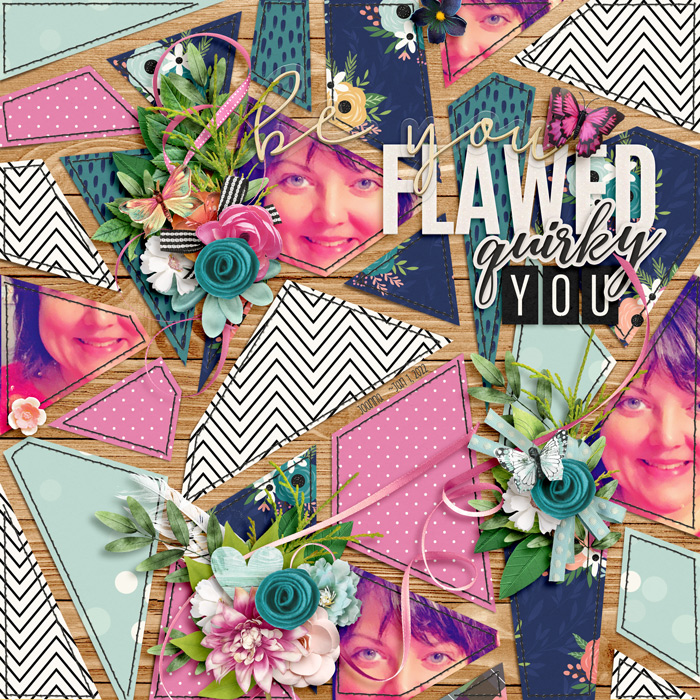 This is such a clever, creative layout! I love the "shattered" look of the paper pieces against the wooden background, and the five spots she chose to use for her photograph. The filter or treatment she applied to the photo is a fantastic match for this kit and gives the pics a fun, quirky look perfectly in line with her title. And I love the three clusters and those perfectly shadowed ribbon curls – they're the ideal adornment to this fun layout!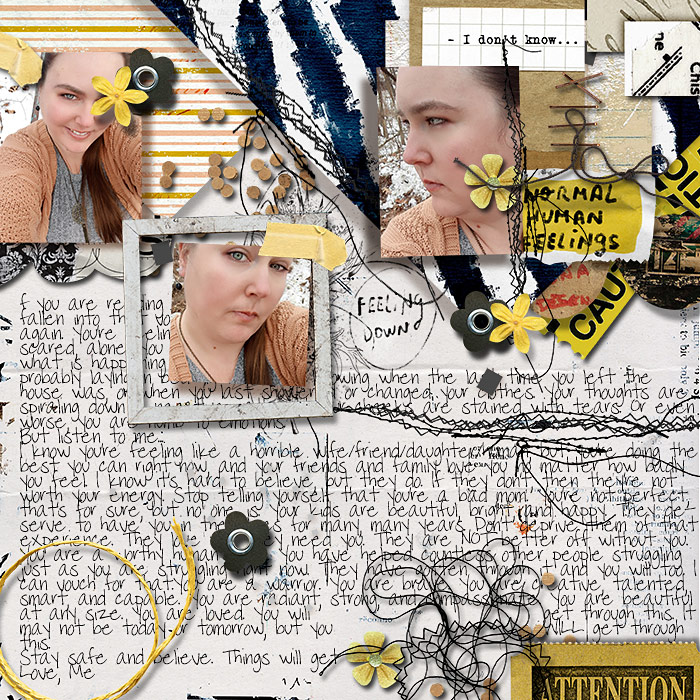 This is an art journaling layout inspired by the phrase "Feeling Blue". You owe it to yourself to click through to the gallery listing and read the journaling – it's listed in full in the gallery comments. The artist has written a letter to herself – her depressed self – and it's poignant, touching, and, for many of us, deeply relatable. Her letter is validation of the depth of hurt and ache and emptiness that goes with depression, but a reminder that those thoughts are false … that life is worth living, that she has great value to those who love her, and that things will get better. What a gift she's given not only herself on a future dark day, but her children on a future day when they might also be struggling.
---
I'll leave you today with some final Daylight Saving-related thoughts from comedian Victor Borge: "I don't mind going back to daylight saving time. With inflation, the hour will be the only thing I've saved all year." Ouch!