Show-Off & Shout-Out with the SugarBabes – 4/3
"Being able to uplift others is the biggest miracle in the world." – Sri Avinash Do
If you could use some of that miraculous positivity in your life, the "Show Off & Shout Out" thread in our This or That Challenges forum is a great place to start. Here's how it works:
Reply to the thread to claim your spot. Throughout the month, update it with
links to 15 pages in the Gallery on which you've left a comment (we call it "leaving love"),
an image of a layout you created this month and posted in the gallery you want to show off,
a sentence or two about why you're proud of the layout you created or why you love it so much,
an image of a layout someone else created and posted in the gallery to which you want to give a shout out, and
a sentence or two about why their layout inspires you or what you love about it.
That's all there is to it: leave love for 15 layouts in the gallery, share your Show Off, and share a Shout Out, and at the end of the month, you could win a free kit or mini bundle up to $15 in value. Our winners in February were CathQuillScrap, chai, and MrsPeel. Congratulations!
I asked some of the Sugar Babes to share their own Show Off and Shout Outs to wrap up the month of March. Here's what Mary (mrsashbaugh), Krista (norton94), Jaye, Cassie (kingsqueen82), Esther (mywisecrafts), and Kim (kim517) had to say:
Mary's Show Off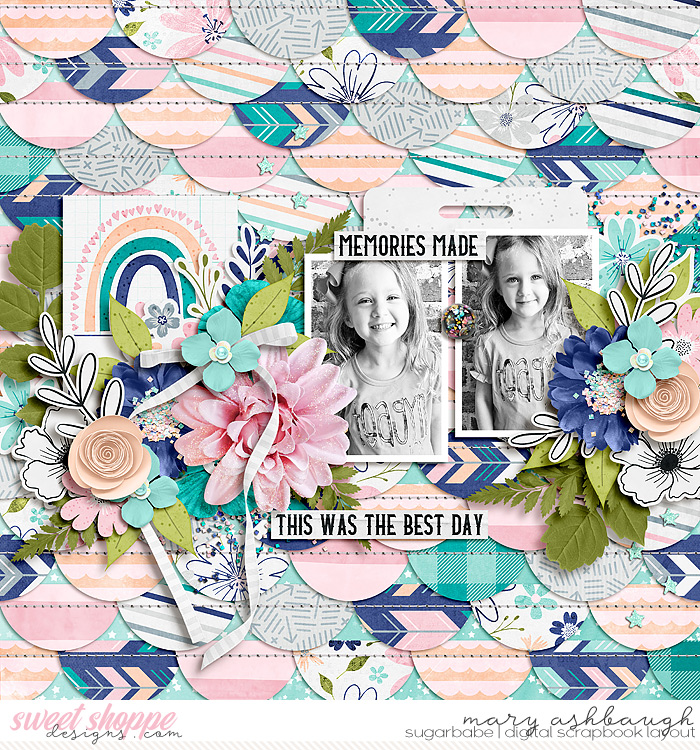 Why Mary is proud of this layout: "I'm a sucker for paper pieces and patterned papers. So when I saw a challenge to do scallops, I knew I wanted to showcase pretty patterned papers. I love the colors in Bobbie's kit and thought it would be perfect for the layout. I love how easily I was able to mix the patterend papers together. I also love the mix of doodled elements within my clusters. I'm not the best with mixing them within my layouts, but love how this came out."
Mary's Shout Out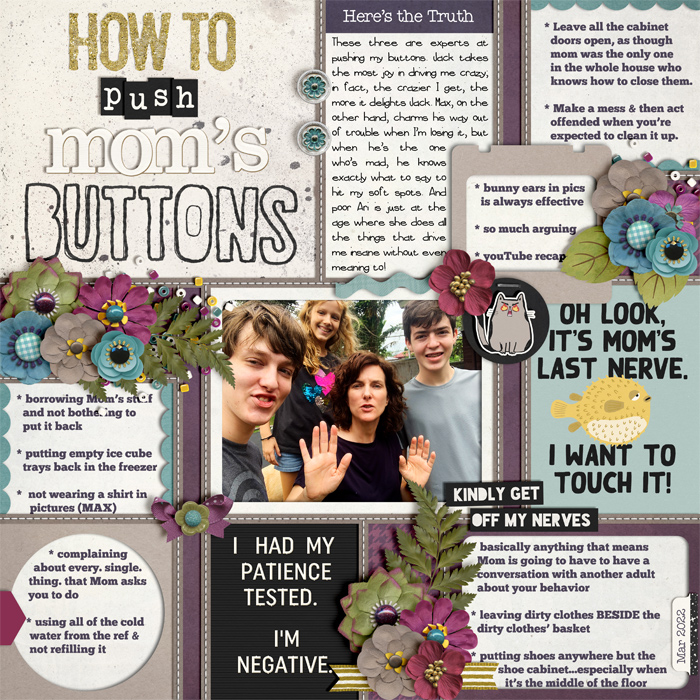 Why Mary loves "How to Push Mom's Buttons" by JoelsGirl: "There are so many things to love about this layout from Kellie! I love how she used this photo palooza template and turned it into a way to showcase all the things her kids do to "push her buttons." I love the mix of alphas she uses for her clever title. The pic is pretty awesome as well and I love the journal cards she picked to emphasize her page. I can also relate with so many of the things her kiddo's do! Awesome page, Kellie!"
Krista's Show Off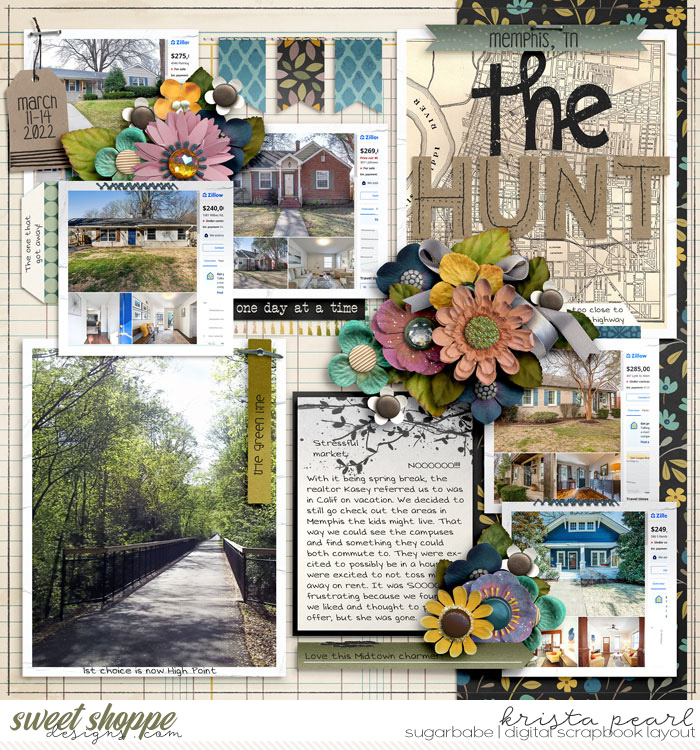 Why Krista is proud of this layout: "I am pleased with this recent page of mine because of the floral clustering, title work, and colors! Erica's kit had such an amazing variety of unique flowers and alphas, I was able to really diversify. It came together just from images online, yet represents a stressful but great new step in my son's life."
Krista's Shout Out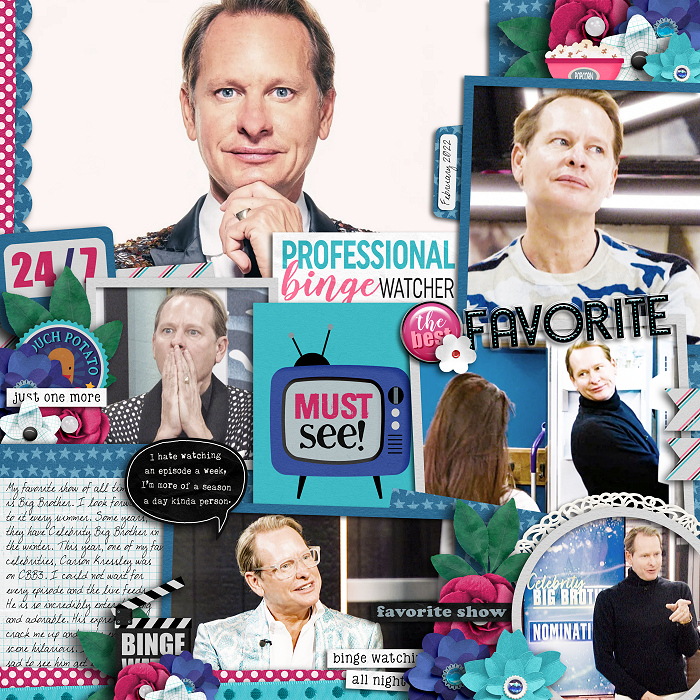 Why Krista loves "Favorite Celeb" by iScrap: "The bold colors and big photos really catch my eye, but iScrap's amazing technique makes me a big fan. I love this filled-page style and those edges trimmed with color pops! I always love when people scrap about the here and now of pop culture and what they enjoy, because really these pages will be so nostalgic."
Jaye's Show Off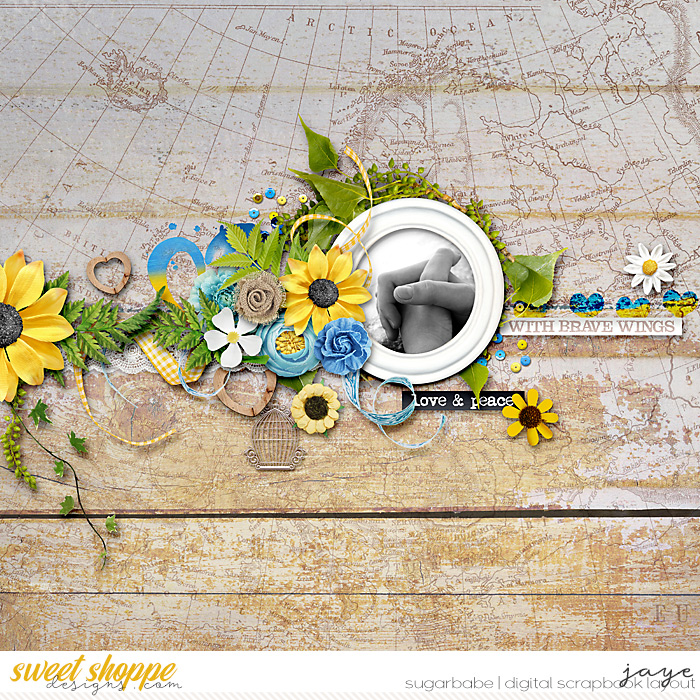 Why Jaye is proud of this layout: "With current events in the world my soul was sore. Wendy's kit and the meaning behind it just hit me, the folded hands a symbol of hope, wishes and peace. I love how the yellow, green, blue and white stand out against the background of a map and it came together quite quickly."
Jaye's Shout Out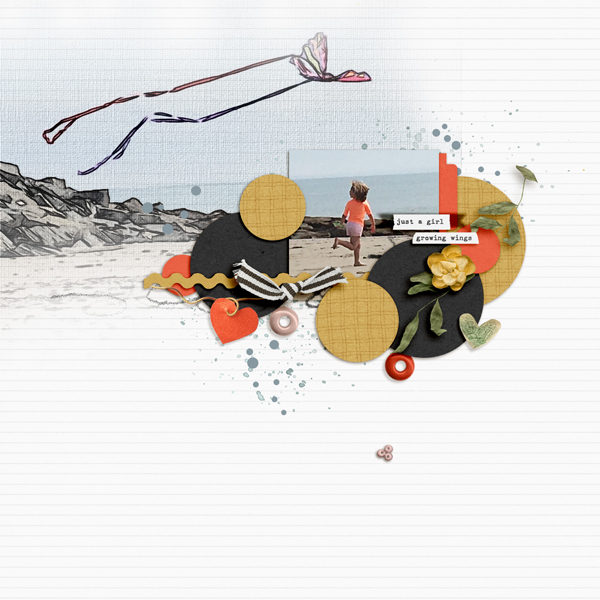 What Jaye loves about "Flying Kite" by Dady: "Can I just say everything? I love the way Dady turned her photo into a sketch for the background and kept part of it a photo. The movement she created in this is fabulous. The simple circles and few elements really let her amazing artwork of the photo/sketch shine."
Cassie's Show Off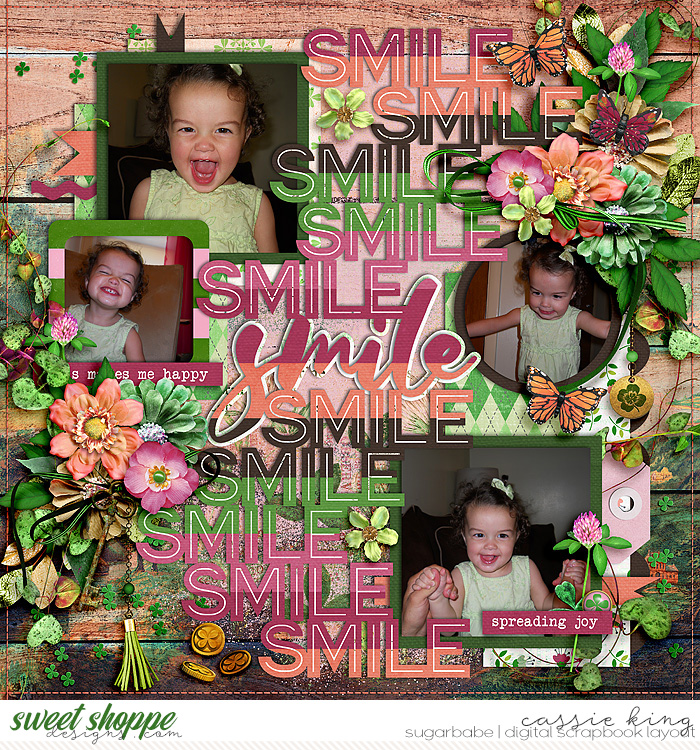 Why Cassie is proud of this layout: "I really like how this page turned out! Green is a color I'm always attracted to but rarely scrap with so I love that I was able to use so much of it on my page! Like usual, I tried to match the color of the kit to the photos but in this page I also matched the theme of the template with the photos too. I had fun color blocking the title and thoroughly embellishing my floral clusters with a variety of different foliage as well as themed elements. I love the end result as it appears as though the flora is almost growing wild throughout the page!"
Cassie's Shout Out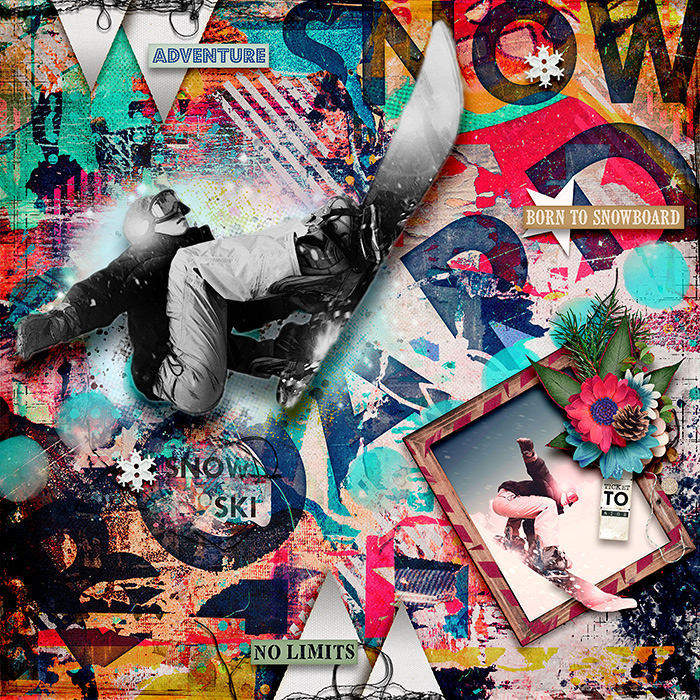 Why Cassie loves "Snow Boarding" by HeatherH: "This layout just SCREAMS for attention and boy, did it get mine! I absolutely love the loud background she chose and how she managed to still allow the large photo to stand out by turning it black and white. Her out of bounds extraction is fantastic and the placement of her photos gives such a feeling of energy and movement to the page! Last but not least, I am in love with the stitched down triangles! I'm sure it's no coincidence that my mind automatically thinks of mountains when I see them!"
Esther's Show Off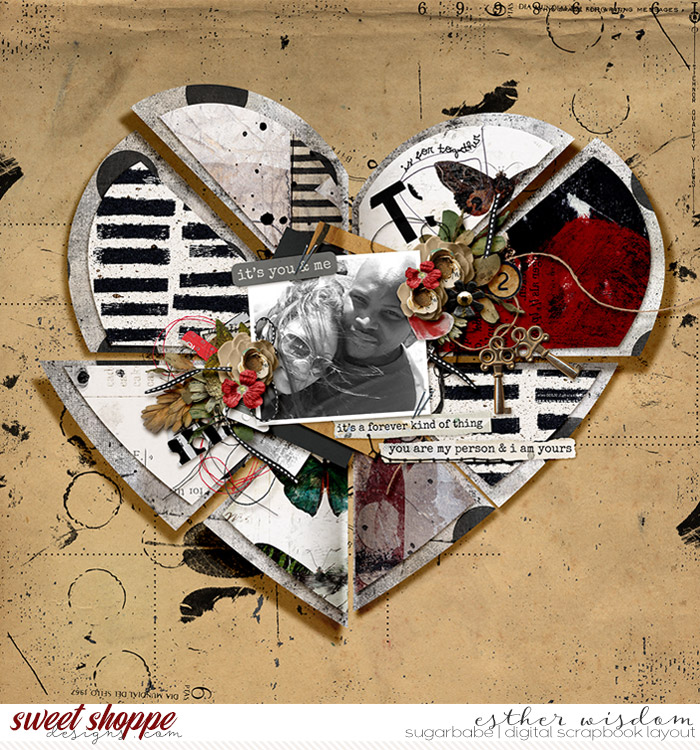 Why Esther is proud of this layout: "I'm proud of this layout as it not only required me think outside the box a bit, but once I came up with my idea–it actually came together exactly how I had imagined. The shadowing/shadow layers took a minute to create to achieve the results I wanted and I'm happy that I didn't let the time factor throw me off and that I saw it through to the end. I also love that these colors are more neutral for that touch of masculinity."
Esther's Shout Out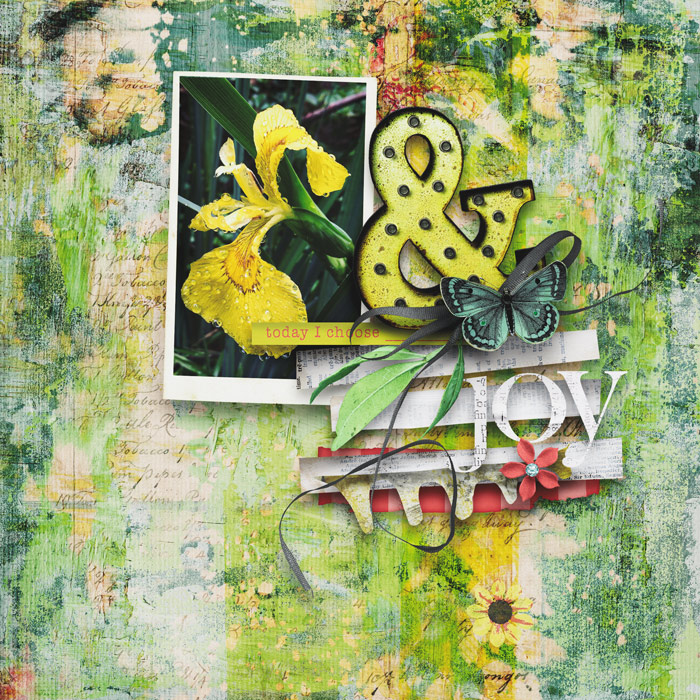 Why Esther loves "Today I Choose" by armygrl: "I love the moody background with those pops of yellow running through it. I love how the yellow was made to pop with the use of the yellow flower in the photo and ampersand sign. The word strip and the strips of papers are understated and they break up the green just enough to pull the red from the background forward. This layout captures the true serenity and harmony of nature."
Kim's Show Off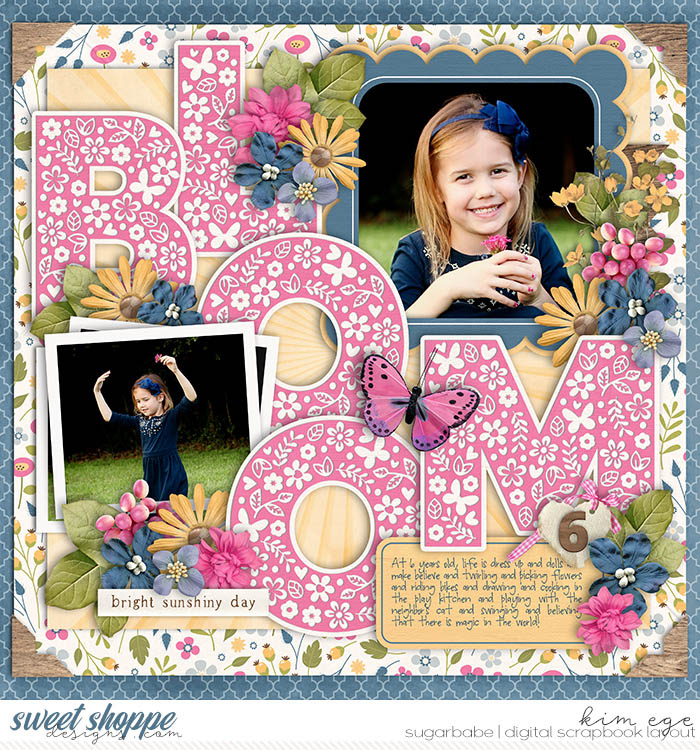 Why Kim is proud of this layout: "Recently in a moment of being nostalgic I was looking back at some photos of my kids. This led to me deciding to scrap with a few pictures of my daughter when she was younger with this new template from Cindy. I just love how it came out as a whole and I love the memory of this time in our family's life. I was also learning more about photography and was proud to snap these pictures on my own."
Kim's Shout Out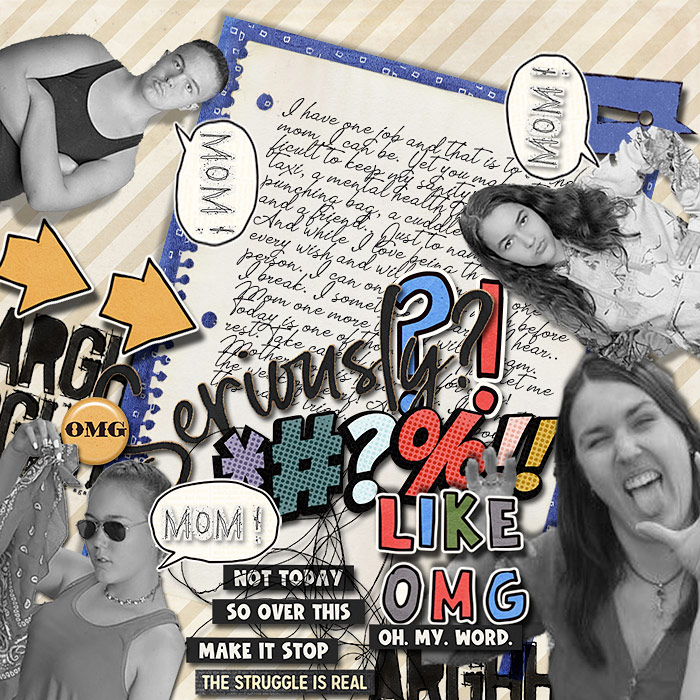 Why Kim loves "Not For The Faint of Heart" bydotcomkari: "This layout jumped out at me right away when I saw it. Part of it is that I relate so much, being also in the stage of life where I'm running teens around all the time and trying my best to support them, and it's tiring! I also love how she scrapped those emotions with the comic book look. It feels like the perfect way to capture the feelings she is expressing. Love it!"
---
"Focus on building up others," said Scott Hamilton, "and your own sense of self-worth will improve. Some call these random acts of human kindness. But the truth is, acting unselfishly is not random at all. Instead, it is a conscious, concerted effort to make the world better by making someone else's life better. The bonus: you will be happier by doing it."
If you 're ready to get started, come join us in this month's Show Off and Shout Out challenge … We'll see you there!