If you are a dreamer, come in,
If you are a dreamer, a wisher, a liar,
A hope-er, a pray-er, a magic bean buyer …
If you're a pretender, come sit by my fire
For we have some flax-golden tales to spin.
Come in!
Come in!
"Invitation" from Where the Sidewalk Ends by Shel Silverstein
In recognition of National Poetry Month, I thought I'd share with you my very favorite poem. You see, I've a life-long love affair with the works of Shel Silverstein. My First-Grade teacher placed this poem on the door to our classroom, so it was the first thing we saw each and every morning. It was an invitation to come inside with open hearts and open minds, with our spirits free and imaginations ready to play.
Today is Spotlight Sunday, and I issue each of you this same invitation – come in! come in! – for these six scrapbook artists have spun flax-golden tales for us with their words, their photographs, and their artistry. If you're as impressed by their work as I am, I hope you'll click through to their layout in the Gallery and leave them a comment to let them know. Now, let's take a look at today's six Sunday Standouts!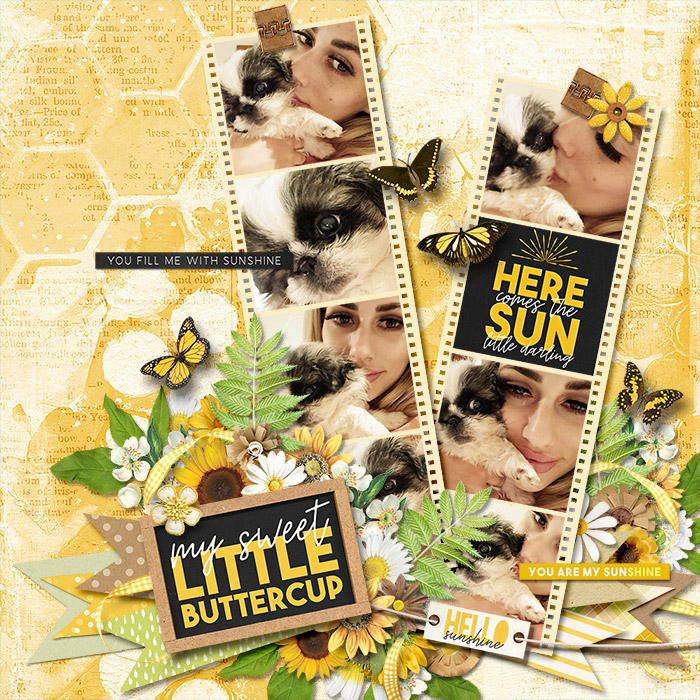 They say happiness is a warm puppy, so it's apropos this sweet, sunshiny layout simply overflows with happiness! The high-key photographs are beautifully lit; I like the variety of image focal lengths she used here – from a close-up of the puppy to middling ones where her face and the dog's fill the frame to a wider shot in the bottom right – it adds visual interest and does a good job of telling a more complete story. Her clustering work is lovely, and the word art selections from this kit are sheer perfection.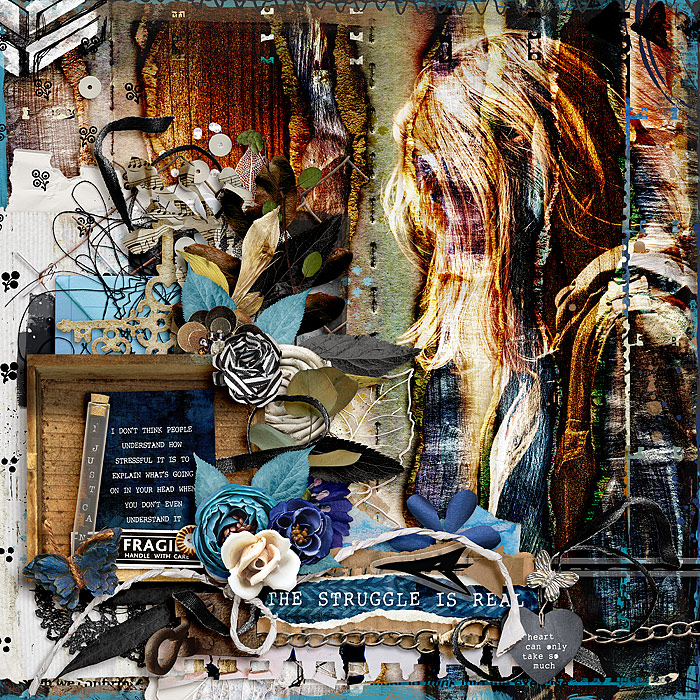 This gritty, art journaling-style layout grabbed me by the throat and wouldn't let go. Although the artist never shares details on precisely what the struggle is, it doesn't matter – what's conveyed here is that it's some kind of internal struggle (the subject of the photograph turned away, hiding her face with her hair, is what communicates that to me) and by layering elements that are ripped, chains, or twine, she shows the internal struggle has her feeling both torn apart and tied in knots. Applying the photograph to the wooden background paper using blend modes gives it a wonderfully distressed feel that further conveys the emotion behind this story. Not only did it stir my imagination, but it caused me to identify with it, recalling moments in my own past. This is exquisitely done.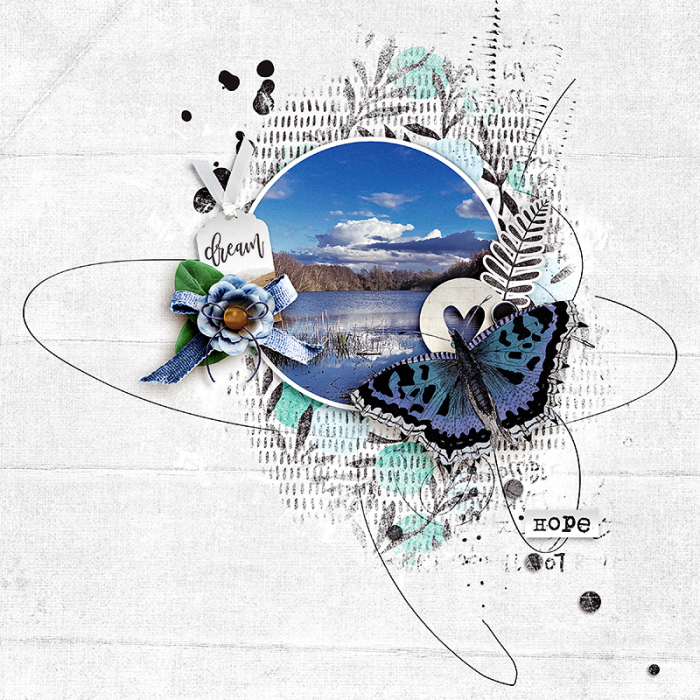 I was immediately drawn to this layout because of the different types of contrast used by the artist. First, contrast in colors – the stark white background versus the vivid blues of her photograph and butterfly. Second, contrast in size – the large photo and butterfly versus the small flower, tag, and word art. And third, contrast in texture – the creases in her background paper, the messy paint, the glossy photo, and the satin ribbon. It's a visually stunning layout, and I want to climb right through that window and go for a hike!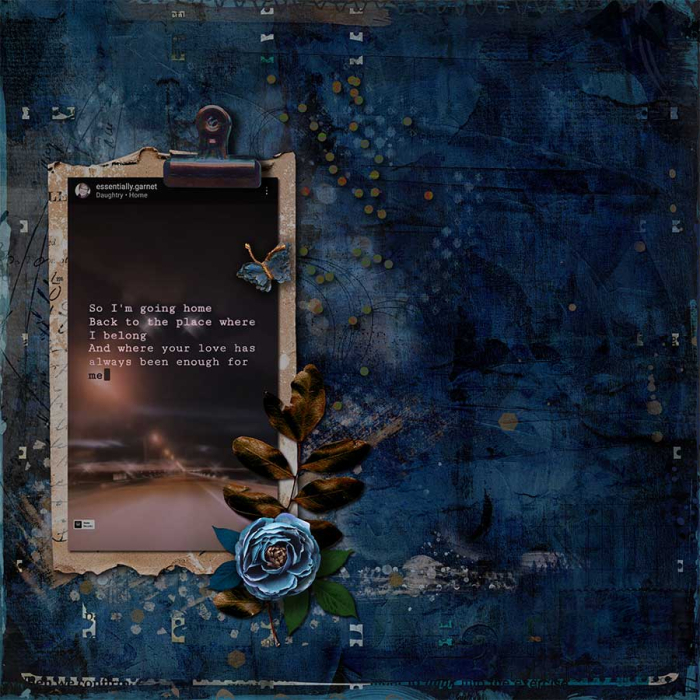 It's my pleasure to welcome gemamac to our community! Though she's been registered on the site for a while, she posted her first layout to the Gallery just one month ago. "Going Home" is the second layout she's shared with us, and I'm so grateful she did! Her asymmetric composition takes advantage of that gorgeous distressed background paper, giving it ample space to shine. She chose a single torn paper piece to mat her photo – a screenshot from a mobile device, I think – and by using that metal clip to "attach" it to the page, it really grounds it in place. Then just a few select embellishments, and everything is perfectly shadowed. But beyond the basic visual design, which is beautiful, her layout evokes thoughts of a road trip. The photo shows a highway with lights up ahead, but there's something about the background paper that makes me think of 3am skies seen out car windows through sleepy eyes from the backseat. Combine all that with the lyrics to Daughtry's song "Home", and I'm nostalgic for summer vacations and the feeling of a great time behind you but home just up ahead. Gemamac, thank you for sharing your work with us – I can't wait to see more!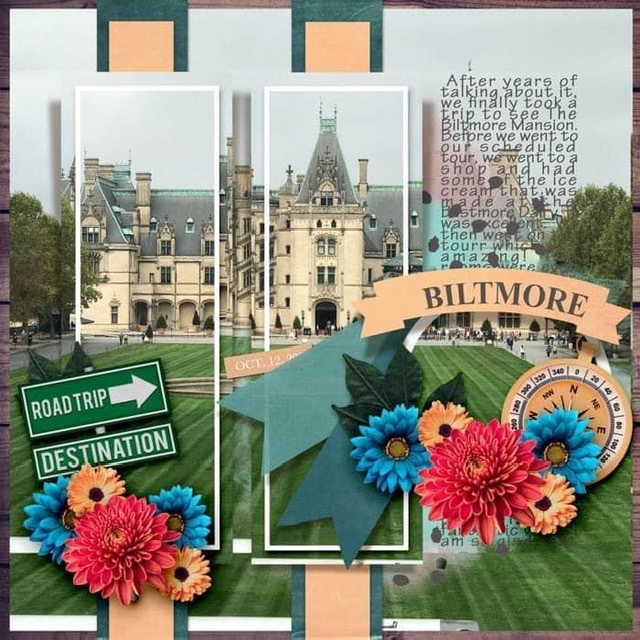 This layout jumped straight into my Favorites, and I've got plans for a scraplift in the near future! I love full-page photographs, but I struggle with how to embellish them. EvelynD2 obviously has no such trouble. I absolutely adore the way she layered those two vertical photo blocks atop the photo with the same photograph and gave them deep shadows. It pulls out the front entrance of the mansion from the photograph, easily making it a focal point, but still including the rest of the gorgeous lawn on the page. She then made brilliant use of the "empty" space on the photo – first by adding journaling atop the sky, then by adding her element clusters atop the open expanse of the lawn. This is a fun approach to using this template for a full-page photograph, and I am completely inspired!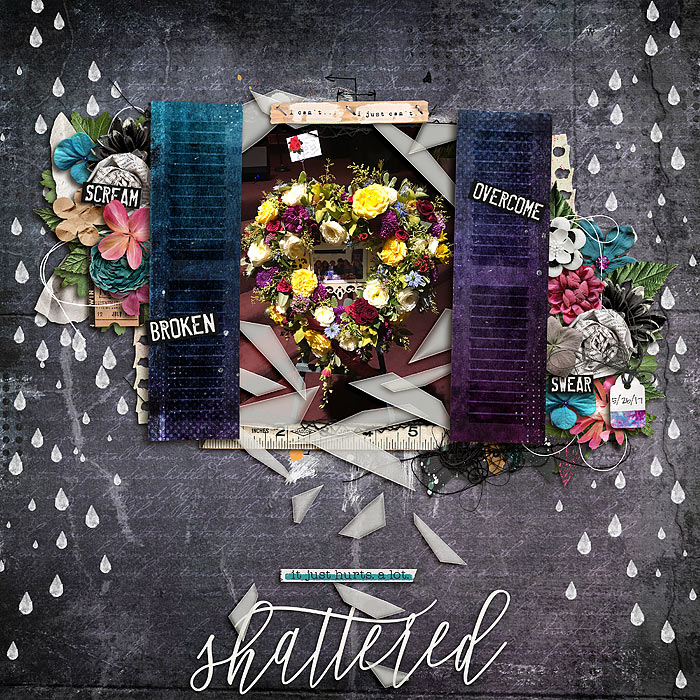 There is so much to pull apart in this layout by scrappurple, and I hope you'll take the time to study all the details she included. She's opened a literal window into her heart, throwing those shutters open to show the shattered glass and the reason why. There's no identification of who, but that is a floral arrangement in memorial for someone at a funeral. The only other detail we're given is a date. The rest is word art describing thoughts and feelings, all surrounded and framed by droplets of tears. This is an absolute work of art, masterfully made.
---
Since I love nothing quite so much as symmetry and bringing things back full circle, I'll close today's post with another poem by Shel Silverstein. While it's true his target audience was small children, and most of his poetry ranges from sublimely sweet ("Hug O'War") to supremely silly ("Crowded Tub"), some of his work is perspicacious and profound. I leave you with his version of Alice in Wonderland:
She drank from a bottle called DRINK ME
And up she grew so tall,
She ate from a plate called TASTE ME
And down she shrank so small.
And so she changed, while other folks
Never tried nothin' at all.
"Alice" from Where the Sidewalk Ends by Shel Silverstein