Sweet Talk with: LeaBlahBlah – 6/13
Hey everyone I'm excited to bring you one of our newest blog features, Sweet Talk, which sheds some light on YOU. Our amazing community members. Once a month we will indulge in some "sweet talk" and have some fun getting to know you all a little bit better.
"When someone tells you a piece of their life, they're giving you a gift." – Patrick Rothfuss
We'll start off with an ice breaker and show off some gorgeous pages then we'll end the interview with a lightning round of 15 questions to learn some fun, interesting and cool things about a different member of the sweetest spot in town!
This month I'm excited to introduce: Lea, (leablahblah in the forum)
A few facts about you?
Lea says: "I was born and raised in France. When I was younger I wanted to be a childcare worker and work in an orphanage but I always failed the entry tests (3 years in a row). Not wanting to pursue a Master's Degree in Psychology, my mom mentioned this au pair program where I could travel to the USA and live with a family for a year. One year turned into two… then turned into a court house wedding! My mom secretly wishes she never told me about being an au pair because I never came back home."
How you came to find digital scrapbooking?
Lea says: "The Summer before I left for the USA in 2006 I tried paper scrapbooking and really liked it but never got into buying all the supplies. I'm not sure how I came to digital scrapbooking. I must have stumbled onto a website. I tried several websites and was on several teams and even a store team at some point and finally found my forever home here at Sweet Shoppe Designs in 2013."
What's your day job, where you live, pets, kids?
Lea says: "My day job is taking care of my husband, French Bulldog named Gaston (10), and 3 daughters. Augustine (almost 8), Eloise (almost 6) and Leonie (3).When we met we, respectively, lived in Maryland and Virginia. When we got married we lived in Washington state and stayed there for 10 years. We moved to Baltimore, Maryland in 2019, just one month before I gave birth to our last baby. It was a heck of a drive across country!"
Our Babes get into everything behind the scenes and more than one nominated Lea for this feature, but I wanted to choose a page from Lea's gallery. I love looking through her gallery and found this cute page:
"This cute page about a frog is so creative with all the triangles. To me the triangles mimic the frog stuck on the wall. The title and the clusters tucked in are perfect."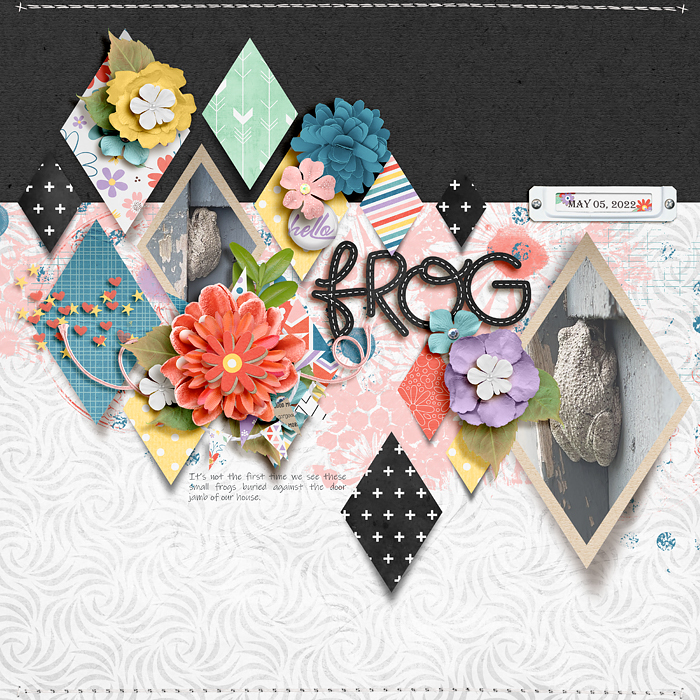 I also asked Lea about her favorite pages from her own gallery here and this is what she shared:
"Oh this is a hard one! I love a lot of layouts. All for different reasons.

I love this kit so much and have scrapped with it several times. For this one I enjoyed taking silly photos of myself. I don't particularly like the way I look but force myself to take selfies because I think I'll want to look back and I'll say to myself that I didn't look that bad! lol"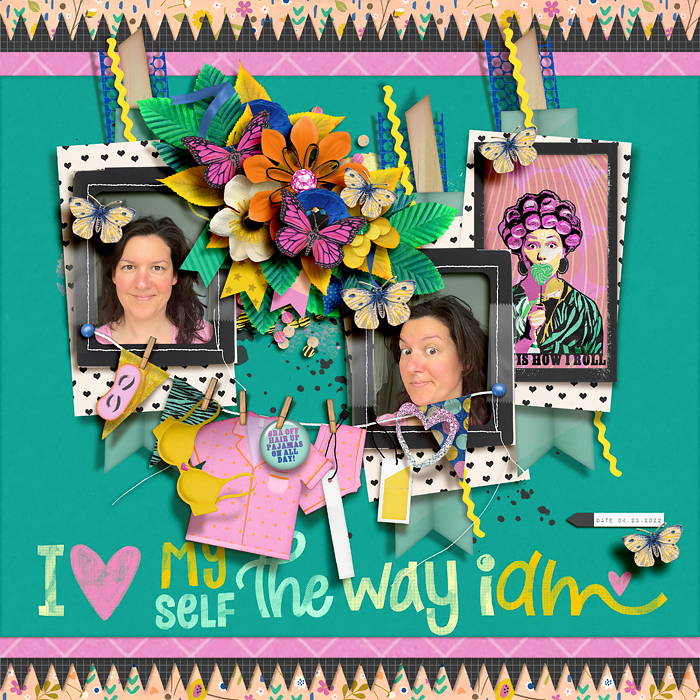 "This one! I always love green and gold kits. I don't care for St Patrick's theme but I always love the colors so I gotta have them! And this template I've also scrapped with several times because the clusters are always so good looking. But I just realized that I forgot to replace the butterfly template and nobody thought to tell me!? I'm one of the persons who love to be told when I do something wrong (in scrapbooking… don't tell me I didn't cook right! haha) so I can improve."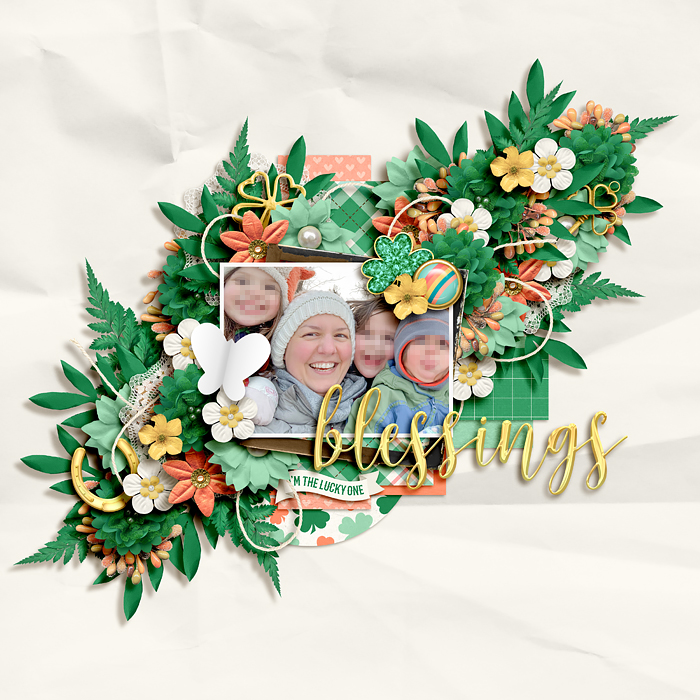 "I'm a sucker for white and crisp photos. I know you can't see my baby's huge eyes and I wish you could! I'm loving white backgrounds mostly. And I love this almost monochromatic page with the bit of kraft as an accent."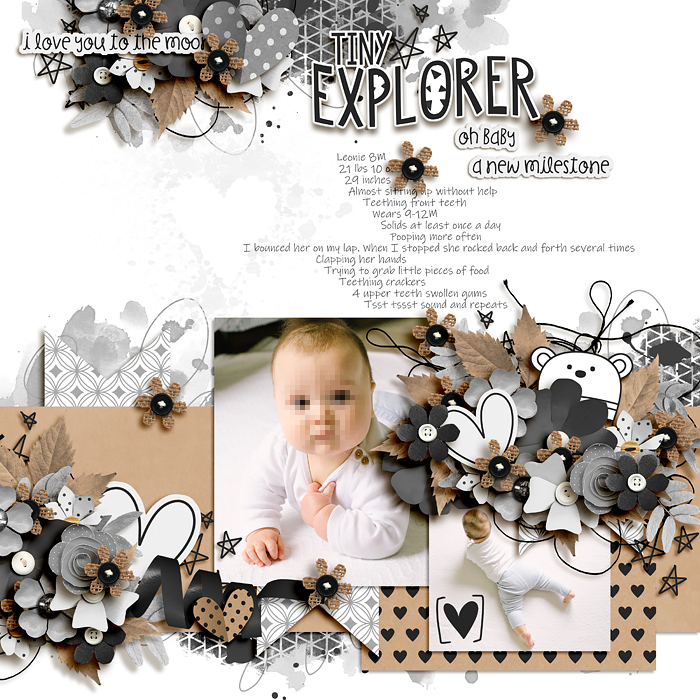 I too am a big fan of Lea's pages and always find something to fawn over while I'm in her 
gallery
 here at SSD. But this interview isn't all about her gorgeous creations before we go let's learn some more about Lea. I gave her a list of questions to choose from and asked her to answer any 15 of her choice.
1. What type of music are you into? – I mostly like pop songs or techno music, just something with a beat that will make me want to dance. But my favorite band of all times is Hanson and it has been since I was 11. Yes, they still make music and they have beautiful voices and make great music. I challenge you to go check out one of their music videos on YouTube. Who knows, maybe you will love them too!
2. What's the next place on your travel bucket list? – I would love to make it to Arches National Park in Eastern Utah or the Painted Desert in Arizona. Two of the places that made me want to visit America one day when I was younger.
3. Are you an introvert or extrovert? – Definitely an introvert. I am glad this interview isn't on video because I would have declined for sure! haha
4. Are you a binge watcher? What's the last show you binged? – I don't binge watch anything because I get tired fast in the evening. But I do like watching a show in its entirety before moving on to something else. I just finished the new season of Working Moms on Netflix. If you need a funny show, that's a good one.
5. What's your guilty pleasure? – I certainly don't feel guilty for eating good food. I live for taste and food. I love trying new things and really loved my trip to Charleston, SC and their amazing restaurants. There was a time when I couldn't end a meal without a little something sweet but I'm glad I don't have to do that much anymore. But if I feel like something sweet I just pop a cold chocolate truffle from Aldi in my mouth and that's enough to tie me over.
6. Tell us one of your nicknames? – I used to be Princess Lea from my husband when we first met. Now he's done with the princess phase so it turned into Sugar Butt. haha
7. Is there a word that you always mispronounce? – I mispronounce a lot of words. Mostly I put the wrong emphasis on a word. But the word advertisement was the first one my husband ever made fun of me on. I guess I pronounced it more like the British would? I'm not even sure anymore.
8. What's one weird fact you remember from school? – Super weird and super embarrassing. I was around 9 or 10 at the growing tiny boobs phase and I was super proud to be wearing my first triangle bra. I don't know what took over me but I lifted my shirt up to show a group of girlfriends during recess and of course the bra came with!
9. If you could create the ideal career for yourself what would it be? – Probably something where I would have to organize things. Sort by color/size/shape sort of thing. Nothing where I would have to deal with customers because I don't handle stressful situations and conflict very well. Owning a bakery would be pretty cool though.
10. What's your favorite season? – Growing up in France I would have picked Spring. Living in Seattle, WA I would have picked Summer. Here in Maryland it's most definitely Spring again, or Fall. Both are lovely.
11. Share a pet peeve with us? – I have many. When I have visitors in my house, I can't stand it when people don't take off their shoes. I always hated when people wanted to hold my babies standing on their legs when they were obviously not ready to walk. I prefer the more natural way of letting them discover their own strength. So many times I had to explain myself…
Also, strong smells. Perfumes, shampoo, lotions, smoking, ugh! People chewing gum with their mouth open. Loud car music, especially in the middle of the night.
12. What is your go-to app for wasting time? – Homescapes thanks to another member here who got me addicted when she scrapped about it one day.
13. You're alone for 24 hours, what do you do? – Go for a walk. Order a Shake Shack Burger with cheese fries (sauce on the side) and watch tv all day. Order Indian food for dinner.
14. Are you cooking at home or picking up to-go? – I would much rather eat out than cook at home but I mostly cook meals at home because who has the money for that?!
15. What's your "regular" coffee order? – It used to be a Tall Decaf Non Fat Latte with Extra Whipped Cream but now that I have an espresso machine I don't order much.
I do get the Pink Drink now that I discovered it from Starbucks and it's delicious!
WOW some pretty interesting things here about Lea. I can definitely relate to being a "mama bear" about my kids and explaining myself about what I want for my kids. It's been a pleasure to get to know Lea more. I enjoyed learning more about her and I hope that you all did too. Thank you again, Lea, for letting me interview you for this "sweet talk" feature.
See you all next time!